¿A quién no le gusta ir de compras? Una casita por aquí o una fábrica por allá, pero por desgracia no puedes entrar en una tienda y comprar rápidamente un parque temático o una isla.
Afortunadamente, existe Internet y Earth 2. Ahora puedes comprar todo lo que siempre has querido tener en este planeta, virtualmente.
---
Who doesn't like to shop? A little house here or a factory there, but unfortunately you can't just walk into a shop and quickly buy a theme park or an island.
Fortunately, there's the internet and Earth 2. Now you can buy everything you've always wanted to own on this planet, virtually.
---
¿Qué demonios es Earth 2?
Un mundo virtual que está conectado geográficamente a una realidad física y crea un mundo surrealista.
En definitiva, se trata de un juego en el que se compran y venden parcelas del tamaño de 10*10 metros, dependiendo de la demanda el precio sube o baja. Hay que comprar con $ reales, pero también es muy fácil cambiar euros a dólares (Paypal).
Todas las parcelas empezaron con un precio de 0,10 dólares, porque todavía estamos en las primeras etapas todavía se puede comprar la tierra a precios muy bajos. He hecho esto. Sin embargo, los precios de los países más populares ya han subido muchísimo, por lo que se paga por la parcela en Estados Unidos más de 45 dólares, en España más de 5 dólares y en Australia casi 9 dólares.
---
What the hell is Earth 2?
A virtual world that is geographically connected to a physical reality and creates a surreal world.
It is ultimately a game in which you buy and sell parcels in the size of 10*10 metres, depending on how high the demand is, the price rises or falls. You have to buy with real $, but it is also very easy to exchange Euros into Dollars (Paypal).
All parcels have started with a price of $ 0.10, as we are still in the initial stage you can still buy land at very low prices. I have done this.However, the prices for popular countries have already risen extremely, so you pay over $45 for the parcel in the USA, over $5 in Spain, almost $9 in Australia.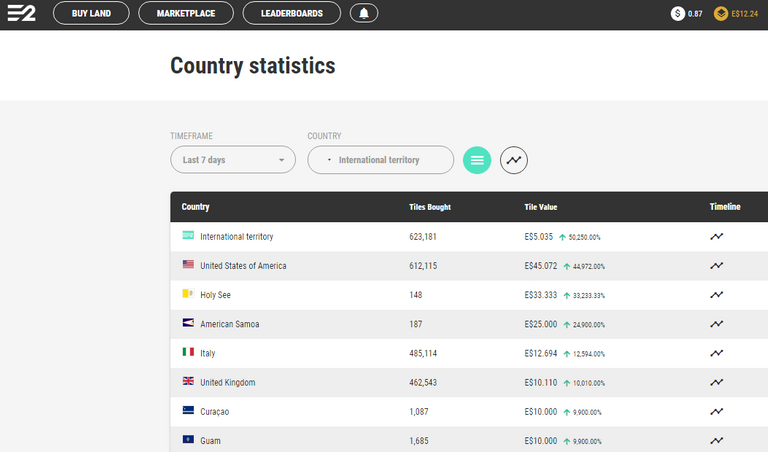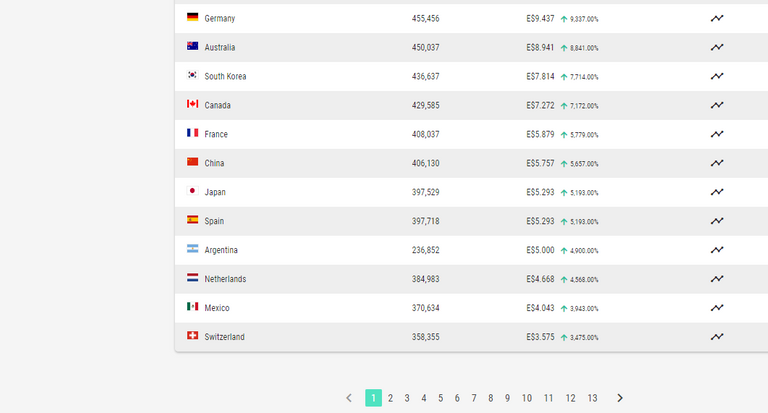 Los países populares ya han subido mucho de precio. / Popular countries have already risen sharply in price.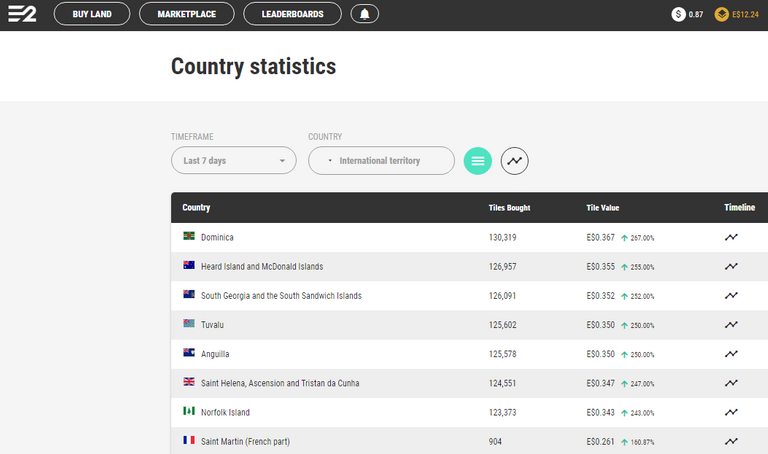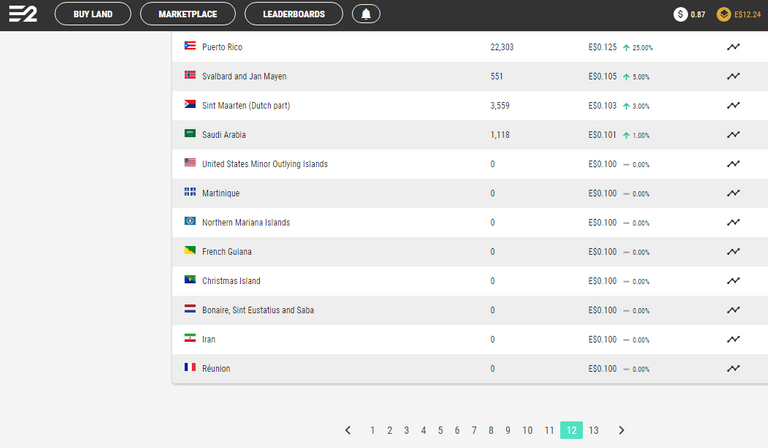 Todavía hay opciones baratas en muchos lugares / There are still cheap options in many places.
He estado contando los billetes que tengo en los bolsillos y he llegado a la conclusión de que no está de más comprar por unos 10 dólares en varios sitios. Una cantidad que estoy dispuesto a apostar.
Por supuesto, la diversificación era muy importante para mí, así que invertí en 4 lugares relativamente diferentes. Podría haber comprado una sola parcela en Australia por algo menos de 10 dólares, pero en su lugar compré Taiwán.
Un país muy hermoso. La parcela de tierra por poco menos de 1,01 dólares para mi gusto ningún país puede ser tan barato, ni siquiera virtualmente.
Se embolsaron rápidamente 5 parcelas. Situado en la capital Taipei, un poco fuera de la ciudad, construido con hermosas casas y lo mejor frente al Museo Nacional con parque.
---
I counted the notes in my pockets and came to the conclusion that it doesn't hurt to buy for about $10 at different places. An amount I am willing to gamble.
Of course, diversification was extremely important to me, so I invested in 4 relatively different places. I went by the principle of "mass instead of class". I could have bought a single plot in Australia for just under $10, but instead I bought Taiwan!
A very beautiful country. The land parcel for just under $1.01 for my taste, no country can be that cheap, not even viritually.
5 parcels were quickly bought. Located in the capital Taipei, a bit outside the city, built up with nice residential houses, and the best, opposite the National Museum with park.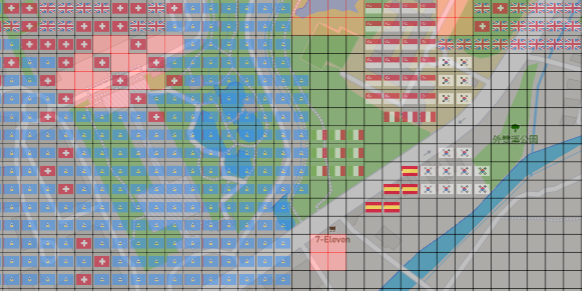 Las cinco banderas españolas me pertenecen. / The 5 Spanish flags belong to me.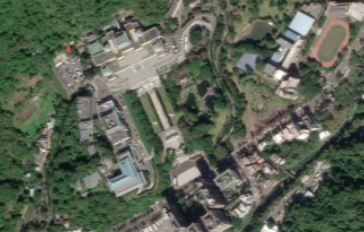 Es cierto que ya se han vendido muchos lugares hermosos, pero todavía estamos en la primera fase del juego en la que se venden terrenos entre todos los que están dispuestos, y todavía hay mucho espacio.
En las fases posteriores del juego habrá más funciones, por lo que deberías poder cambiar su terreno en algún momento (plantar un árbol / construir una casa), por lo que todavía no se ha aclarado exactamente.
Lo bueno de Tierra 2 es que todo es muy intuitivo de usar, casi nadie tendrá problemas para encontrar su camino rápidamente.
---
Admittedly, many beautiful places have already been sold, but we are still in the first phase of the game where land is sold among all those who want it, and there is still a lot of space.
In further phases of the game there will be more functions, so at some point you will also be able to modify your land (plant a tree/remove a house), but that is not yet clear.
The good thing about Earth 2 is that everything is very intuitive to use and hardly anyone will have problems finding their way around quickly.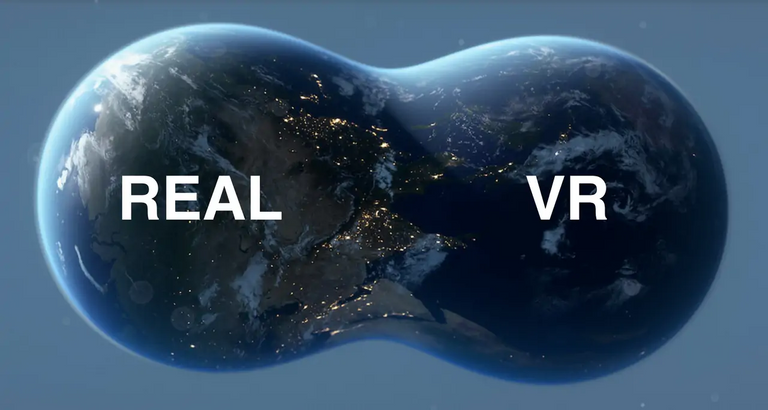 El resto de mi dinero lo he invertido en tres parcelas en Barbados, Haití e Irlanda. El valor actual de todas las 16 parcelas es después de un poco más de 1 semana en


¿Quién también quiere jugar, recomiendo un código de referencia a utilizar.
Entonces obtendrás un 5% Cash Back en cada compra, como yo.
Mi código de referencia: A48BW5YI5K Debe introducirse con cada compra.
Si quieres vender tus parcelas siempre puedes hacerlo en el Mercado y recuperar tus dólares. Yo, por mi parte, me limitaré a esperar a ver qué pasa (o hacia dónde van los precios).
Todavía no se puede anticipar el camino de Earth 2, los operadores quieren sorprender! Me ha cautivado el concepto y lo seguiré con atención.
---
I have invested the rest of my deposit in 3 parcels each in Barbados, Haiti and Ireland. The current value of all 16 parcels is after a little over 1 week at


If you also want to play, I recommend using a referral code. Then you will get 5% cash back on every purchase just like me!
My referral code: A48BW5YI5K Must be re-entered with every purchase.
If you want to sell your parcels you can do so at any time in the Marketplace and get your $ transferred back to you. I will just wait and see what happens (or where the prices go).
The further path of Earth 2 is not yet to be fully anticipated, the operators want to surprise! I have been captivated by the concept and will follow it with interest.