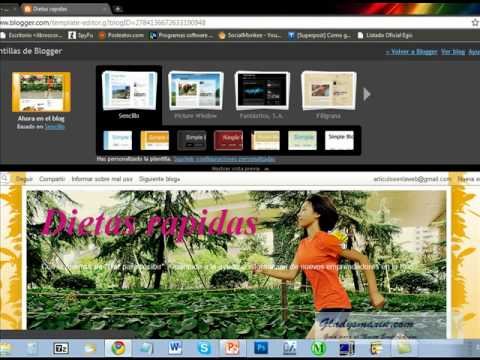 LINK
Customizing your blog is giving it identity according to your brand, this can be done by accessing the administrator panel.
In the case of WordPress, we can choose from hundreds of free themes that you can easily identify our brand and you can do it with just a few clicks.
You can create the appearance that suits you best according to your tastes and needs, within the themes we have the possibility of making changes to the fonts and many other aspects.
You can also install your own theme in "Add a new one",
An excellent topic can be:
Very Simple: When your blog is somewhat confusing it is more difficult to be attractive to readers, and even more to retain them, you must increase the conversion rate.

It must be responsive: remember that most people access from their mobile devices and that is why the site must adjust to different screen sizes.

Make it fast: If the theme is more loaded, it is sure that the site takes longer to load, that is why we take into account the simplicity and that we can carry out the necessary tests, anyway. Who likes that the site takes longer to place an order?
You can use tools like "Page Speed" by entering the URL of the site and find out the loading speed.
---
ESPAÑOL
---

LINK
Personalizar tu blog es darle identidad conforme a tu, marca, esto lo puedes realizar accediendo al panel de administrador.
En el caso de WordPress podemos elegir entre cientos de temas gratuitos que tranquilamente puedes identificar nuestra marca y lo puedes realizar con apenas unos clics.
Puedes crear la apariencia que mas te convenga conforme a tus gustos y necesidades, dentro de los temas tenemos la posibilidad de realizar cambios en las fuentes y muchos otros aspectos.
Puedes también instalar tu propio tema en "Añadir uno nuevo",
Un tema excelente puede ser:
Muy Simple: Cuando tu blog es algo confuso es mas difícil que sea atractivo para los lectores, y mas aún retenerlos, debes aumentar la tasa de conversión.

Debe ser responsivo: recordemos que la mayoria de las personas accede desde sus dispositivos celulares y es por ello que el sitio debe ajustarse a los diferentes tamaños de pantallas.

Que sea veloz: Si el tema es mas cargado es seguro que el sitio tarde mas en cargar, es por ello que tomemos en cuenta la sencillez y que podamos realizar las pruebas necesarias, de todas maneras ¿A quien le gusta que el sitio demore en cargar?
Puedes utilizar las herramientas como "Page Speed" introduciendo la URL del sitio y averiguar la velocidad de carga.
Muchas gracias por visitar mi BLOG!