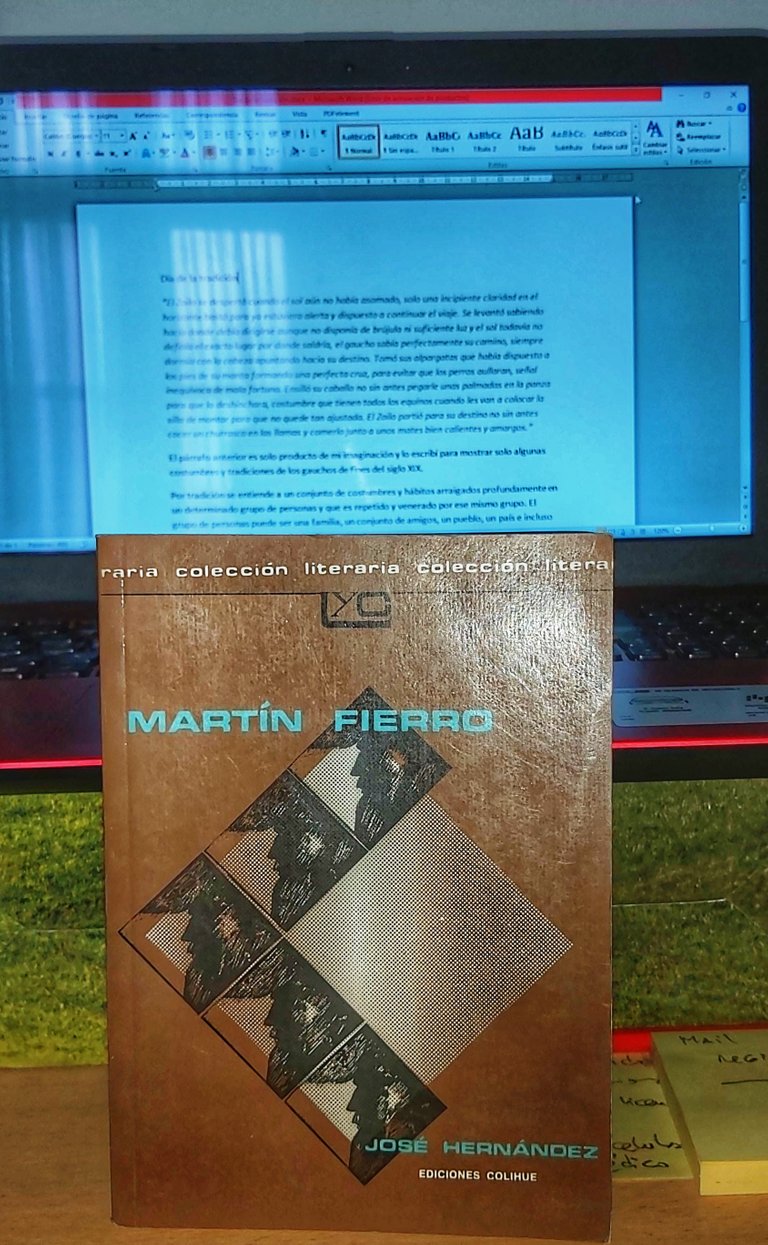 "The Zoilo woke up when the sun had not yet risen, only an incipient clarity on the horizon was enough to already be alert and ready to continue the journey. He got up knowing where he should go, although he did not have a compass or enough light and the sun still did not define the exact place where he would leave, the gaucho knew his way perfectly, he always slept with his head pointing towards his destination. He took his espadrilles that he had arranged at the foot of his blanket, forming a perfect cross, to prevent the dogs from howling, an unequivocal sign of bad fortune. He saddled his horse but not before slapping his belly to deflate it, a custom that all equines have when they are going to place the saddle so that it is not so tight. El Zoilo left for his destination not without first cooking a steak in the flames and eating it together with some very hot and bitter mates."
The above paragraph is just a product of my imagination and I wrote it to show just some customs and traditions of the gauchos from the late 19th century.
By tradition we understand a set of customs and habits deeply rooted in a certain group of people and that are repeated and venerated by that same group. The group of people can be a family, a group of friends, a town, a country and even a race or a continent.
In my country, the day of tradition is celebrated every November 10, in homage to the date of birth of José Hernández, a journalist, writer and poet author of "El gaucho Martín Fierro", recognized by many as the masterpiece of the Argentine letters, a poem where Hernández tells the story of a Creole gaucho and where he also describes in detail the customs of the countrymen of that time (the book was published for the first time in 1872).
Today these customs are almost totally obsolete and forgotten by the vast majority of the country's population, only some remain in the countryside although the phenomenon of migration to the cities and the technologies that are now used in agricultural and livestock work have caused their abandonment and forgetfulness.
Luckily there are books that describe and reissue the country habits of my country and also a few traditionalist events keep those customs alive.
All those who forget and bury their traditions lose part of their identity and what defines them, perhaps that is why we are wandering through life to the beat of the thoughts of the politicians on duty that leads us by the nose.

"El Zoilo se despertó cuando el sol aún no había asomado, solo una incipiente claridad en el horizonte bastó para ya estuviera alerta y dispuesto a continuar el viaje. Se levantó sabiendo hacia donde debía dirigirse aunque no disponía de brújula ni suficiente luz y el sol todavía no definía el exacto lugar por donde saldría, el gaucho sabía perfectamente su camino, siempre dormía con la cabeza apuntando hacia su destino. Tomó sus alpargatas que había dispuesto a los pies de su manta formando una perfecta cruz, para evitar que los perros aullaran, señal inequívoca de mala fortuna. Ensilló su caballo no sin antes pegarle unas palmadas en la panza para que la deshinchara, costumbre que tienen todos los equinos cuando les van a colocar la silla de montar para que no quede tan ajustada. El Zoilo partió para su destino no sin antes cocer un churrasco en las llamas y comerlo junto a unos mates bien calientes y amargos."
El párrafo anterior es solo producto de mi imaginación y lo escribí para mostrar solo algunas costumbres y tradiciones de los gauchos de fines del siglo XIX.
Por tradición se entiende a un conjunto de costumbres y hábitos arraigados profundamente en un determinado grupo de personas y que es repetido y venerado por ese mismo grupo. El grupo de personas puede ser una familia, un conjunto de amigos, un pueblo, un país e incluso una raza o un continente.
En mi país se celebra el día de la tradición todos los 10 de noviembre, en homenaje a la fecha de nacimiento de José Hernández, un periodista, escritor y poeta autor de "El gaucho Martín Fierro", reconocida por muchos como la obra cumbre de las letras argentinas, poema donde Hernández relata la historia de un gaucho criollo y donde también describe en detalle las costumbres de los hombres de campo de esa época (el libro fue publicado por primera vez en el año 1872).
Hoy en día esas costumbres están casi totalmente obsoletas y olvidadas por la gran mayoría de la población del país, solo algunas permanecen en el campo aunque el fenómeno de la migración hacia las ciudades y las tecnologías que ahora se utilizan en las labores agrícolas y ganaderas han provocado su abandono y olvido.
Por suerte hay libros que describen y reeditan los hábitos campestres de mi país y también algunos pocos eventos tradicionalistas mantienen vivas esas costumbres.
Todos los que olvidan y entierran sus tradiciones pierden parte de su identidad y de lo que los define, quizás por ello es que andamos deambulando por la vida al compás de los pensamientos de los políticos de turno que nos llevan de las narices.
Las fotografías son de mi propiedad excepto las que menciono la fuente.
The photographs are my property except those mentioned by the source.
Héctor Gugliermo
@hosgug