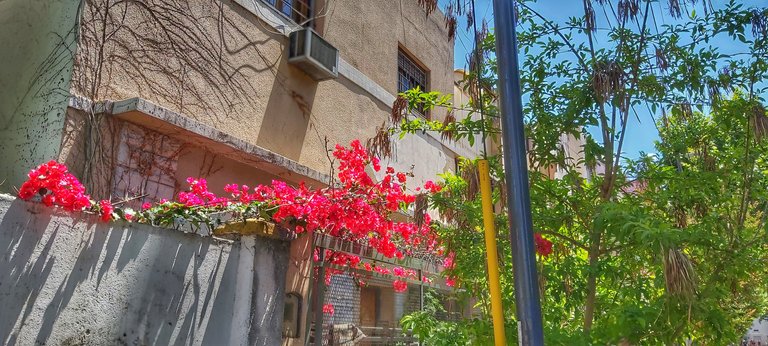 Boungaivillea if we refer to its scientific name. It is a medium-growing shrub with a beautiful flower that can vary in colors depending on its type. It is native to South America.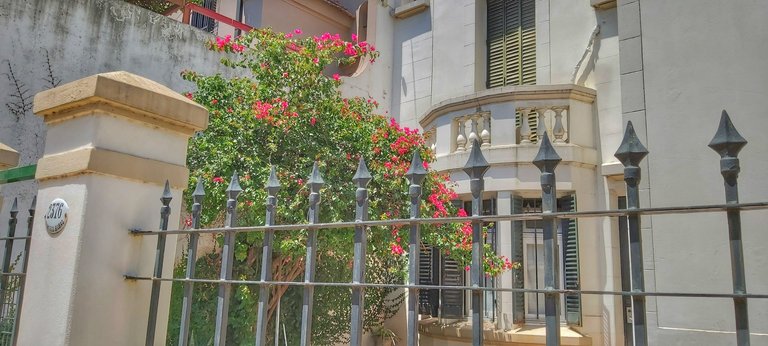 For some reason probably related to the ease of its spread and the beauty of its flowering in the vicinity of my house, throughout the neighborhood in which we have lived for 30 years, it can be observed in many gardens and in some cases also in the sidewalks.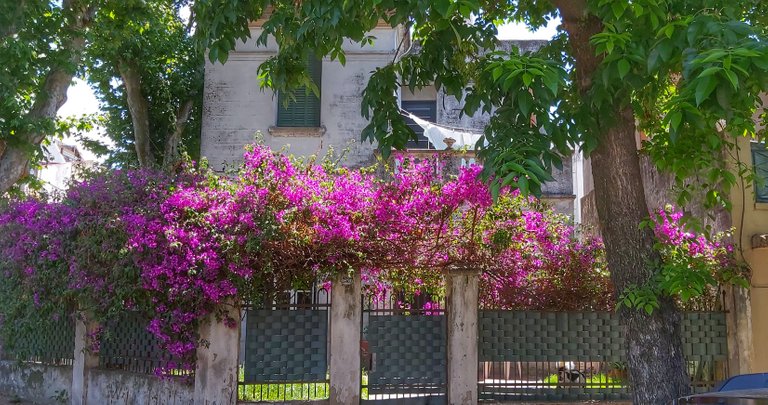 There are several colors, all in the range of reds: carmine, pink, purple, violet, each one of them with a huge attraction for the eye of the occasional passerby.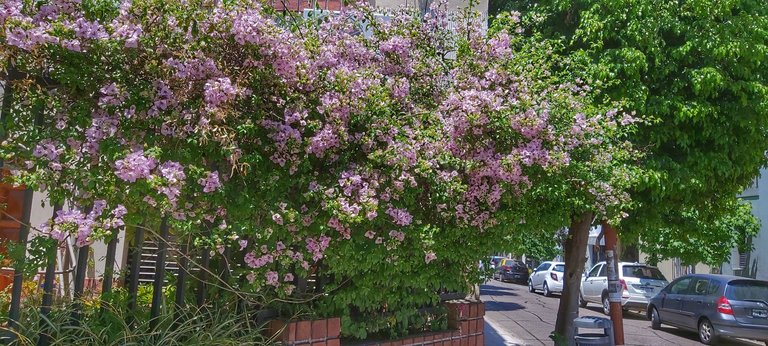 According to what I was informed, it is quite sensitive to the cold, which is why it grows better against walls and in areas where it receives more sunlight during the day. Its flower is complex, on the outside, it usually has three petals, as I said in varieties of the red range and then inside a small flower of another color, generally contrasting like white or yellow for example.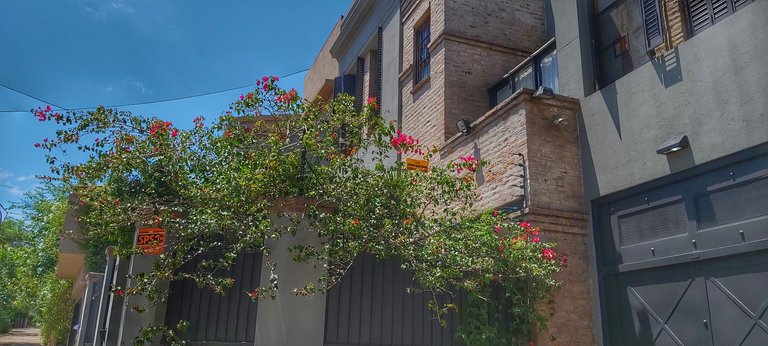 There is a variety that is absolutely white but it is less widespread because it is the most sensitive to cold and I have not seen it here. If one of the several gardeners who work in the area has told me that in the event of a great frost (it never snows around here but if frosts fall) the plant dries completely, but to be patient because its dry stem is very likely to return to emerge the following spring.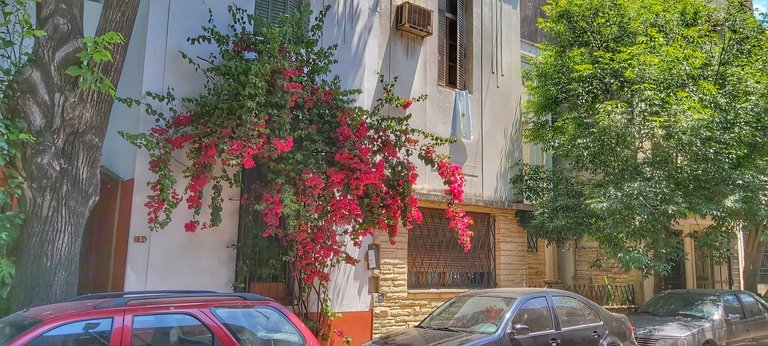 Another thing to be careful about is with its thorns, I did not suspect that it had such sharp points until once I discovered it in a painful way: going under one of these plants, I pricked myself on the scalp.
The truth is that around here in my neighborhood everyone wants those plants and they are in many houses, the photos speak for me.

Boungaivillea si nos referimos a su nombre científico. Es un arbusto de crecimiento medio con una flor hermosa que puede variar de colores según su tipo. Es originaria de Sudamérica.
Por alguna razón probablemente relacionada con la facilidad de su propagación y la belleza de su floración en las inmediaciones de mi casa, por todo el barrio en el que vivimos desde hace 30 años, se la puede observar en muchos jardines y en algunos casos también en las veredas.
Las hay de varios colores, todos en la gama de los rojos: carmín, rosa, morado, violeta, cada una de ellas con una enorme atracción para la vista del ocasional transeúnte.
Según me informaron es bastante sensible al frío por lo que se desarrolla mejor contra las paredes y en zonas donde recibe mayor cantidad de luz solar durante el día. Su flor es compleja, en la parte exterior suele tener tres pétalos, como dije en variedades de la gama de los rojos y luego dentro una pequeña flor de otro color, generalmente contrastante como el blanco o el amarillo por ejemplo.
Hay una variedad que es absolutamente blanca pero está menos difundida por ser la más sensible al frío y por aquí no la he visto. Si me ha comentado uno de los varios jardineros que trabajan en la zona que ante una gran helada (por aquí no nieva nunca pero si caen heladas) la planta se seca totalmente, pero a tener paciencia porque de su tallo seco es muy probable que vuelva a surgir la primavera siguiente.
Otra cosa en la que hay que ser cuidadoso es con sus espinas, yo no sospechaba que tenía esas puntas tan afiladas hasta que en una oportunidad lo descubrí de forma dolorosa: pasando por debajo de una de estas plantas, me pinché en el cuero cabelludo.
Lo cierto es que por aquí en mi barrio todos quieren esas plantas y están en muchas casas, las fotografías hablan por mí.
Las fotografías son de mi propiedad excepto las que menciono la fuente.
The photographs are my property except those mentioned by the source.
Héctor Gugliermo
@hosgug