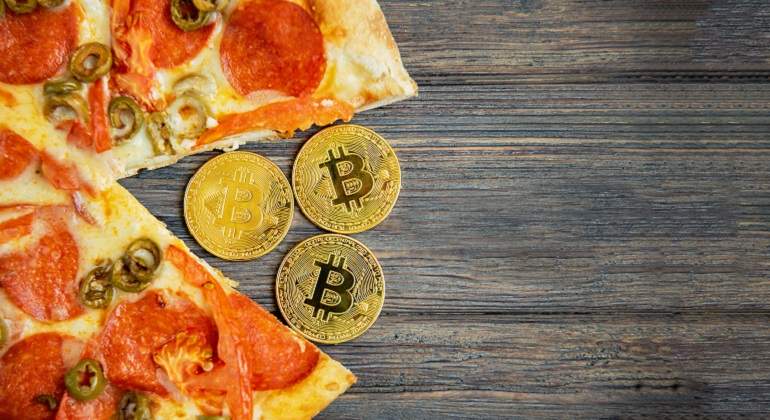 As is becoming customary around the world, on 05/22 of each year bitcoin pizza day is celebrated in many countries around the world.
As most of you know, although not all, since some time ago I published a post where I mentioned this event and someone wrote a comment telling me that he did not know the fact, on 05/22/2010 a programmer named Laszlo Hanyecz bought two pizzas and paid 10,000 bitcoins for them, about $ 40 at the current value, I am not going to count how much that amount of bitcoins would represent to date but obviously, it is a lot and Lazlo could even install a global chain of pizzerias with that money, yes I'd like.
The transaction was made through a forum where the programmer himself had included the offer and a few days later a person named Jeremy Sturdivant, whose alias in the aforementioned forum was Jercos, accepted the exchange and sent him the two large-size pizzas.
The day of that event is not remembered as a mockery of Lazlo but as the first transaction in the short history of cryptocurrencies.
In my country, taking advantage of the importance of the day, a company dedicated to the cryptocurrency exchange called Decrypto and whose link I will not put here because a Chrome extension tells me that it can be potentially dangerous, has just published a promotion where it will give 10,000 pizzas to All new subscribers, in addition to those who take a photo of the pizza received and send it to the company, will participate in a raffle for the equivalent of $ 3,000 in bitcoins. The advertiser is an alliance between Decrypto, a well-known pizza chain called Hells 'Pizza, and two of the most important delivery companies: Mudra and Rappi.
Returning to Lazlo, he has not been too lucky with bitcoin, now he is employed in a manufacturer, however, his action started one of the most important events of the century, hopefully, in the future, he will remember it better than with just pizzas, although they are rich and the favorite food of many.

Como se está haciendo costumbre en todo el mundo, el 22/05 de cada año se celebra el día del bitcoin pizza en muchos países del mundo.
Como la mayoría sabe, aunque no todos ya que hace algún tiempo publiqué un post donde hacía mención a este evento y alguien escribió un comentario diciéndome que no conocía el hecho, un 22/05/2010 un programador de nombre Laszlo Hanyecz compró dos pizzas y pagó por ellas 10.000 bitcoins, unos 40 dólares al valor de aquel momento, no voy a hacer la cuenta de cuanto representaría esa cantidad de bitcoins a la fecha pero obviamente es mucho y Lazlo hasta podría instalar una cadena mundial de pizzerías con ese dinero, si quisiera.
La transacción se realizó a través de un foro donde el propio programador había incluido la oferta y unos pocos días después una persona de nombre Jeremy Sturdivant y cuyo alias en el citado foro era Jercos aceptó el intercambio y le envío las dos pizzas de tamaño grande.
El día de ese evento no se recuerda como una burla hacia Lazlo sino como la primera transacción en la corta historia de las monedas criptográficas.
En mi país, aprovechando la trascendencia que tiene el día, una empresa dedicada al exchange de criptomonedas llamada Decrypto y cuyo link no pondré aquí porque una extensión de Chrome me indica que puede ser potencialmente peligrosa, acaba de publicar una promoción donde regalará 10.000 pizzas a todos los nuevos suscriptores, adicionalmente aquel que tome una foto de la pizza recibida y la envíe a la empresa participará en un sorteo por el equivalente a 3.000 dólares en bitcoins. El anuncia es una alianza entre Decrypto, una conocida cadena de pizzerías llamada Hells' Pizza y dos de las más importantes empresas de delivery: Mudra y Rappi.
Volviendo a Lazlo, no ha sido demasiado afortunado con el bitcoin, ahora es empleado en una manufacturera, sin embargo, su acción dio inicio a uno de los acontecimientos más importantes del siglo, ojalá en el futuro se lo recuerde mejor que con solo pizzas, aunque sean ricas y la comida favorita de muchos.
Las fotografías son de mi propiedad excepto las que menciono la fuente.
The photographs are my property except those mentioned by the source.
Héctor Gugliermo
@hosgug
Posted Using LeoFinance Beta