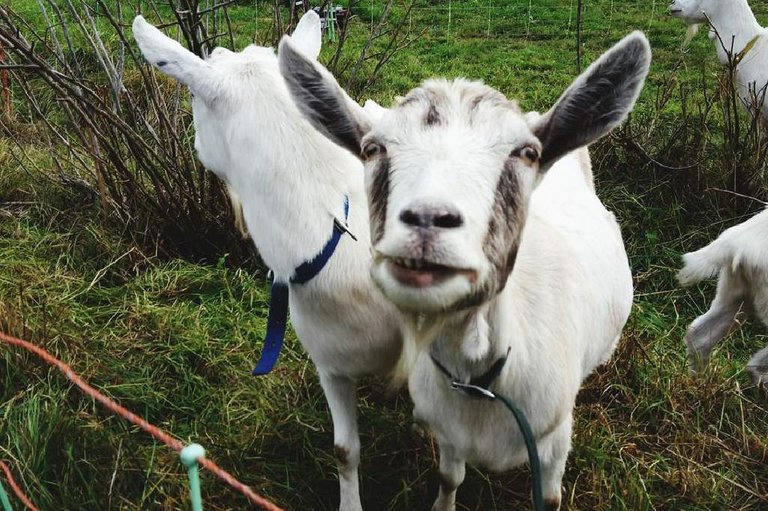 My wise grandmother, whom every time I can remember with affection, had a saying for every occasion and at this time she would say: "We were few and the grandmother had a family."
I thought of her and her sayings when I read a simple and candid note that spoke of a post by Mark Zuckerberg obviously on his own social network, where he showed a photograph and mentioned the name of two goats of which he owns (do not ask why wants two goats because I am not able to answer).
There would be nothing wrong if they were only called "Billy" and "Nanny" or if their owner was grandfather Pedro from Heidi's story, but no, the owner is good Mark, founder and majority shareholder of Facebook and his goats are They call it "Max" and "Bitcoin."
In the Elon Musk style on Twitter, Mark Z's post triggered a series of speculations of all kinds and it is assumed that with that simple but emotional photograph and note he is anticipating that his company or himself will invest in the famous cryptocurrency, or that he has already invested and it will be mentioned in the next week when the company is due to present its balance.
There are many celebrities who invest in cryptocurrencies, it is not news, but there are few who have fortunes and huge businesses with the capacity to mobilize markets. Willingly or unwillingly they launch cryptic messages on social networks that collaborate with the already important volatility of the cryptocurrency markets; Until now, except for some exceptions, only Elon was dedicated to that and lately it is even bringing him a headache. Okay, now it looks like Mark joined the party.
Meanwhile, we will be attentive to the next movements of the networks where dogs, goats, bulls and other nice little animals appear adorning the messages of the powerful businessmen. Maybe we come out of poor.

MI sabia abuela, a quien cada vez que puedo recuerdo con cariño, tenía un refrán para cada ocasión y en estos momentos diría: "éramos pocos y la abuela tuvo familia".
Pensé en ella y en sus dichos cuando leí una simple y cándida nota que hablaba de un posteo de Mark Zuckerberg obviamente en su propia red social, donde mostraba una fotografía y mencionaba el nombre de dos cabras de las cuales es dueño (no pregunten para que quiere dos cabras porque no soy capaz de responder).
No habría nada de malo si solo se llamaran "Billy" y "Niñera" o si su dueño fuera el abuelo Pedro del cuento de Heidi, pero no, el propietario es el bueno de Mark, fundador y accionista mayoritario de Facebook y sus cabras se llaman "Max" y "Bitcoin".
Al estilo Elon Musk en Twitter el post de Mark Z disparó una serie de especulaciones de todo tipo y se supone que con esa sencilla pero emotiva fotografía y nota está adelantando que su empresa o El mismo, invertirá en la famosa criptomoneda, o que ya invirtió y será mencionado en la próxima semana cuando la compañía deba presentar su balance.
Son muchos los famosos que invierten en criptomonedas, no es novedad, pero son pocos los que tienen fortunas y negocios enormes con capacidad para movilizar mercados. Queriendo o sin querer lanzan a las redes sociales crípticos mensajes que colaboran con la ya de por sí, importante volatilidad de los mercados de criptomonedas; hasta ahora salvo alguna excepción solo Elon se dedicaba a eso y últimamente hasta le está trayendo algún dolor de cabeza. Bien, ahora parece que Mark se unió a la fiesta.
Nosotros mientras tanto, estaremos atentos a los próximos movimientos de las redes donde aparezcan perritos, cabras, toros y otros simpáticos animalitos adornando los mensajes de los poderosos empresarios. Quizás salgamos de pobres.
Las fotografías son de mi propiedad excepto las que menciono la fuente.
The photographs are my property except those mentioned by the source.
Héctor Gugliermo
@hosgug
Posted Using LeoFinance Beta