LINK
When we talk about Marketing and advertising we talk about two almost similar terms since they are two concepts that we are handling on a daily basis and that is why it generates some confusion, there the questions arise: How are they different? What does each of them consist of? they?
To begin we must be clear about what it contributes and this can allow you business success, that is why we want to emphasize something on the subject. With this we can understand what is the best strategy to apply and what are the knowledge or information that we must acquire to grow professionally.
Previously we have seen in several publications definitions of marketing, in short we can say that they are all actions, whether they are the planning and execution of commercial activities directed to the buyer or seller.
What is the publicity?
Advertising are those strategies applied to promote a product or service targeting the specific term. Currently the media are the most used and most effective channel to launch these campaigns, in the last 5 years digital advertising has taken a leading role.
The final objective of all this is that the end customer buys the product or service, for this, all the necessary information is offered for this purpose. Advertising is characterized by applied creativity and the ability to persuade to attract buyers.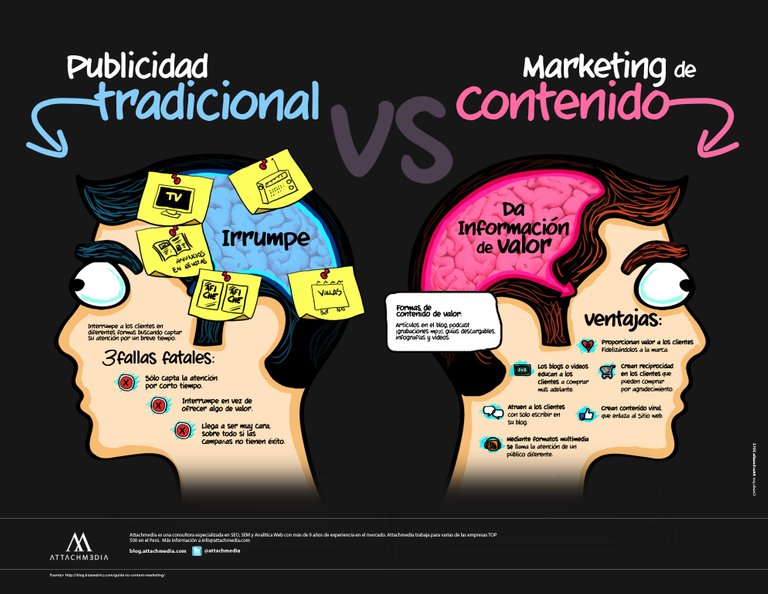 LINK
Cuando hablamos de Marketing y publicidad hablamos de dos términos casi similares ya que son dos concepto que estamos manejando a diario y es por ello que genera algo de confusión, allí surgen las preguntas ¿En que se diferencian?, ¿En que consiste cada uno de ellos?
Para comenzar debemos tener claridad en que es lo que aporta y esto te puede permitir el éxito empresarial, es por ello que queremos enfatizar algo en el tema. Con esto podremos entender cual es la mejor estrategia para aplicar y cuales son los conocimientos o la información que debemos adquirir para crecer en lo profesional.
Anteriormente hemos visto en varias publicaciones definiciones de marketing, en resumidas palabras podemos decir que son todas las acciones ya sean la planificación y ejecución de las actividades comerciales dirigidas al comprador o vendedor.
¿Que es la publicidad?
La publicidad son aquellas estrategias aplicadas a promocionar un producto o servicio apuntando al terget específico. En la actualidad los medios de comunicación son el canal mas utilizado y mas efectivo para lanzar estas campañas, en estos últimos 5 años la publicidad digital ha tomado un papel preponderante.
El objetivo final de todo esto es que el cliente final compre el producto o servicio, para ello se ofrece toda la información necesaria para tal fin. La publicidad se caracteriza por la creatividad aplicada y la capacidad de persuación para atraer compradores.