Comenzando la semana, en algo que es muy útil para el hogar, como lo es tener un baño en la parte exterior de nuestro hogar, la verdad que es muy importante, lo principal es que podemos de esta forma mantener la limpieza interior, buen el baño de adentro esta casi al fondo de la casa, por tal motivo se me ocurrió armar este del lado de afuera, también para darle menos trabajo a mi esposa, porque adentro lo limpia y se mantiene en cambio si no estaría este baño que estoy terminando en la parte interna seria un caos, porque en mi jardín como construí barios juegos para los niños que a veces suman un total de 14 que se vienen a jugar con mis nietas y la pasan muy bien, entonces el uso del baño seria este que estoy terminando de armar.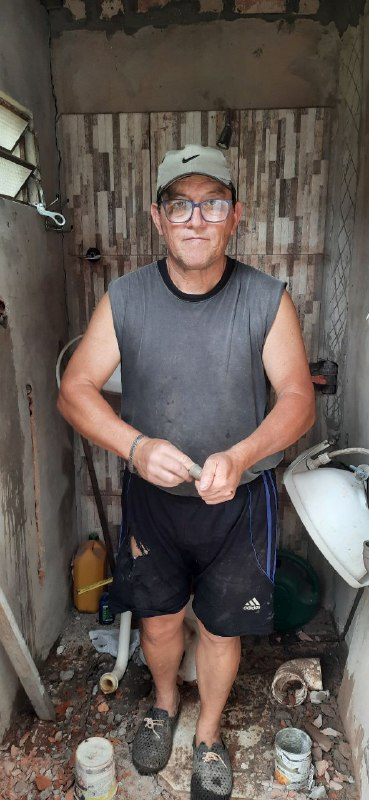 Empezando por colocar correctamente el inodoro, la mochila del mismo y en la parte del frente es donde va colocado la piletita o vanitory, por empezar se tubo que correr de lugar lo que es cañería primero o sea efectuar la ampliación de la misma, luego de picar la pared y dejar los agujeros por donde pasarían los caños de agua.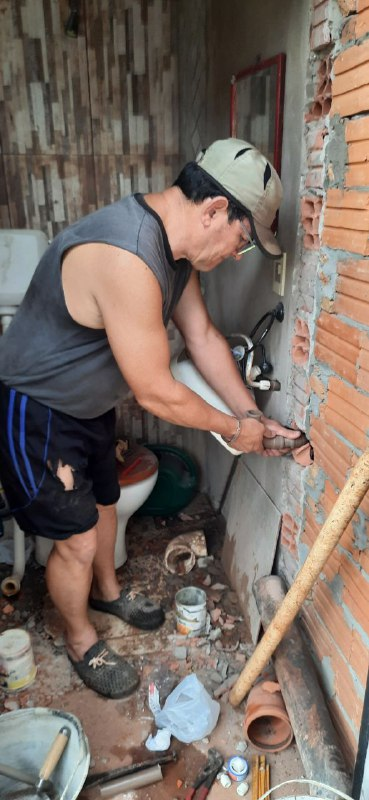 Bueno aparte de la conexión de los caños de agua se tubo que picar la pared donde se coloco los caños para el desagüe de la piletita, todo milimétricamente a medida porque como es una ampliación no podía cortar mas largo o mas cortos dicho caños, para luego de conectados taparlos con mescla en este caso concreto o sea con cemente porque el mismo seca o fragua mas rápido, dejando todo bien fijo sobre la pared.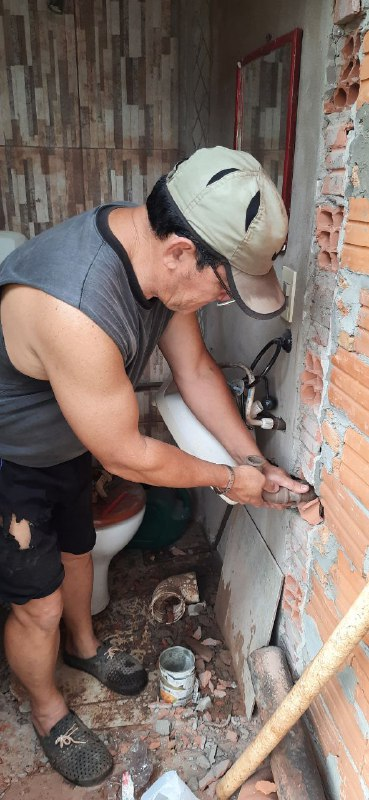 Al estar el caño de la cloaca ya fijo donde se colocaría el inodoro, el siguiente paso fue instalar la mochila para dicho inodoro, como se observa en la foto, tenia que conectar el agua para la misma y la parte de abajo donde se ve el caño mas grueso es para una ves utilizado dicho inodoro se tira de la cadena haciendo que el agua corra, limpiando el mismo, por eso como dije todo tenia que ser bien medido.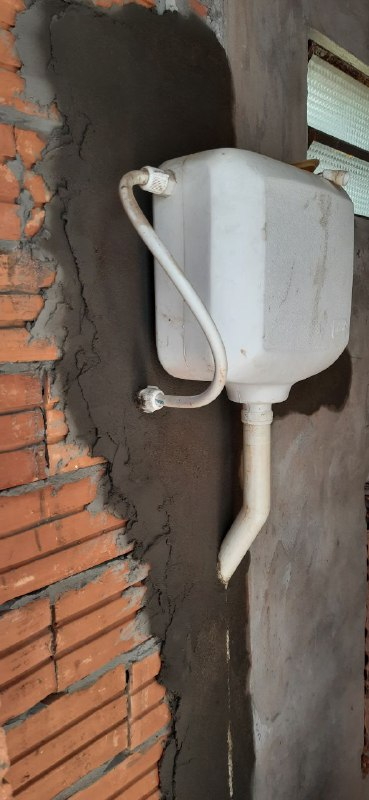 Amigos como siempre digo en estos caso, si todo lo que hacemos le ponemos amor y perseverancia sale bien, por supuesto que antes de efectuar estos cambios efectué unos planos con las medidas, para de esa manera trabajar muy tranquilo en las reformas y remodelación, tratando de dejar armado dicho baño para ser usado, mas por los niños que vienen a jugar, al estar afuera es un gran alivio en la limpieza, porque a veces cuando instalo la picina, imagínense ingresar mojados en la casa para hacer uso del baño, es todo un tema, porque se estaría limpiando a cada rato.
Así que armar un baño en la parte exterior de la casa es una forma muy practica y la verdad fácil de efectuarlo, respetando las medidas de la cual queremos que tenga nuestro baño, el resto es fácil.
Espero haya sido practico lo que explaye en este post, también una buena idea para muchos en el de fabricar un baño en el exterior de la casa, así que me resta quedar a la espera de sus comentarios.
MUCHAS GRACIAS POR LEERME Y SEGUIRME, QUE TENGAN UN EXCELNTE DIA.
TRANSLATED INTO ENGLISH
Starting the week, in something that is very useful for the home, as it is to have a bathroom on the outside of our home, the truth is that it is very important, the main thing is that we can thus maintain the interior cleaning, good inside the bathroom is almost at the back of the house, for that reason it occurred to me to assemble this on the outside, also to give less work to my wife, because inside she cleans and maintains it, but if this bathroom I am finishing on the inside it would be a chaos, because in my garden as I built several games for the children that sometimes add up to a total of 14 that come to play with my granddaughters and have a great time, then the use of the bathroom would be this one that I am finishing to assemble.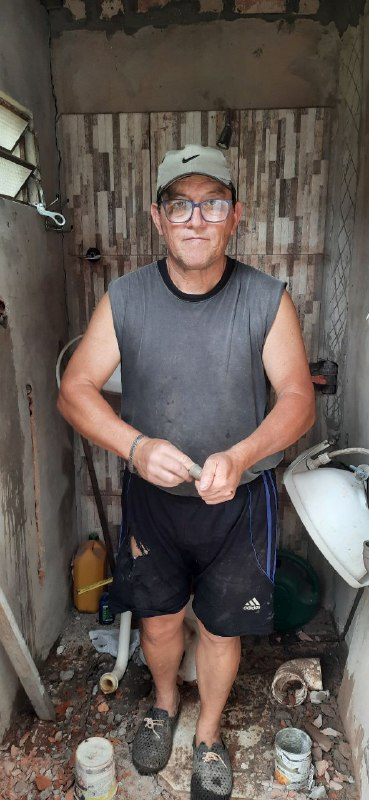 Starting by placing correctly the toilet, the backpack of the same one and in the part of the front is where the sink or vanitory will be placed, to begin with I had to move the plumbing first, that is to say to make the extension of the same one, after chopping the wall and to leave the holes where the water pipes would pass.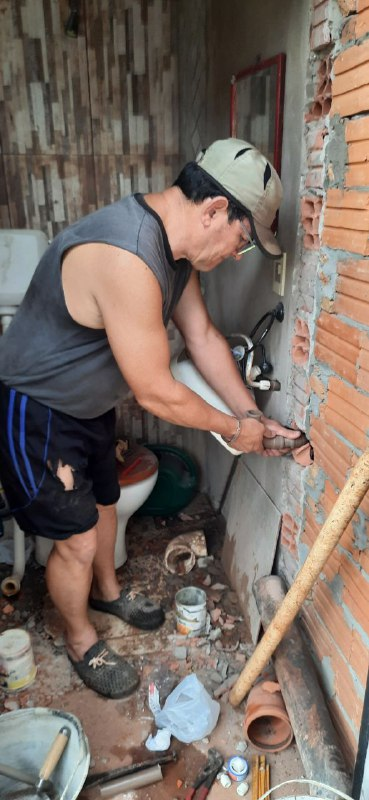 Well apart from the connection of the water pipes I had to cut the wall where I put the pipes for the drainage of the sink, everything millimetrically to measure because as it is an extension I could not cut longer or shorter these pipes, and then connected to cover them with mortar in this particular case or with cement because it dries or sets faster, leaving everything well fixed on the wall.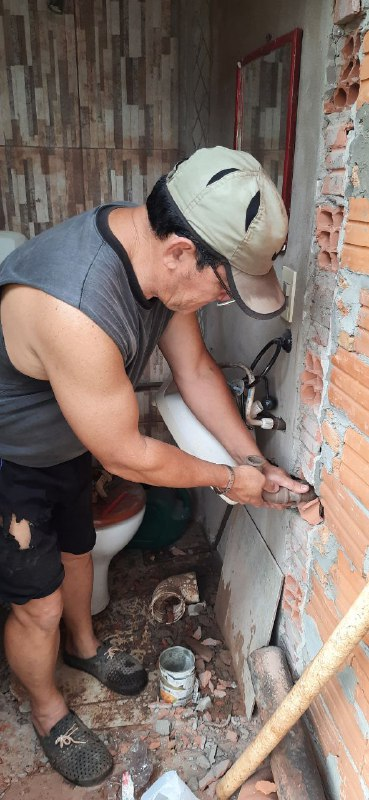 When the sewer pipe was already fixed where the toilet would be placed, the next step was to install the backpack for the toilet, as shown in the photo, had to connect the water for the same and the bottom where you see the thicker pipe is for once used the toilet is used to flush the chain making the water run, cleaning it, so as I said everything had to be well measured.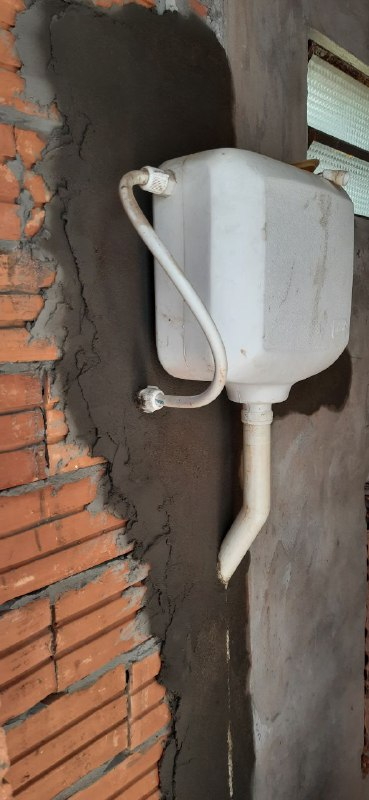 Friends as I always say in these cases, if everything we do we put love and perseverance goes well, of course that before making these changes I made some plans with the measures, so that way I could work very quiet in the reforms and remodeling, trying to leave armed the bathroom to be used, more for the children who come to play, being outside is a great relief in cleaning, because sometimes when I install the pool, imagine entering the house wet to use the bathroom, it is a big issue, because it would be cleaning every time.
So to build a bathroom on the outside of the house is a very practical and easy way to do it, respecting the measures of which we want to have our bathroom, the rest is easy.
I hope it has been practical what I explain in this post, also a good idea for many to make a bathroom outside the house, so I am waiting for your comments.
THANK YOU VERY MUCH FOR READING AND FOLLOWING ME, HAVE A GREAT DAY.