Hola a todos como se sabe cuando llega los fines de semana, es el día en donde la familia en la medida que se puede se unen para compartir un almuerzo, en este caso almuerzo, porque como bien sabemos por el tema de la pandemia y para respetar los protocolos de juntarse, lo cual hay que respetar, o sea yo te respeto y tu me respetas, para así seguir subsistiendo y consumir los días que van pasando.
Como les decía en esta Reunión familiar el asado es el siguiente:
Vacío de ternera
Costilla de ternera
Chorizo casero
Morcilla
Pata y muslo de pollo
Unas rodajas de pan para saborearlo tostado que es mejor.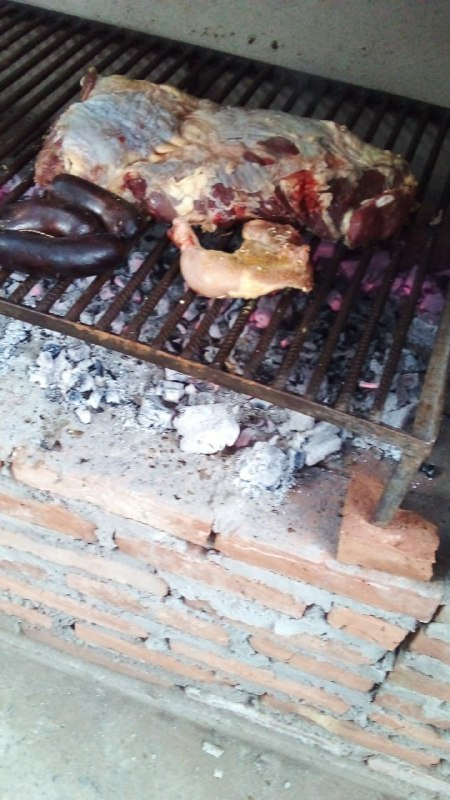 Bueno amigos la manera de preparar el asado es la siguiente, prendemos el fuego con carbón vegetal, una ves que se hace brasa, colocamos la parrilla, cuanto esta se calienta la limpiamos bien y colocamos la carne como se ve en la foto, también las achuras y el pan, cuando notamos que de ambos lados presenta un color marrón la carne quiere decir que la misma ya esta cocinada, de igual manera le efectuamos un corte de una porción para comprobarlo, le digo que al cocinarlo con poca brasa dicha carne sale muy tierna y jugosa.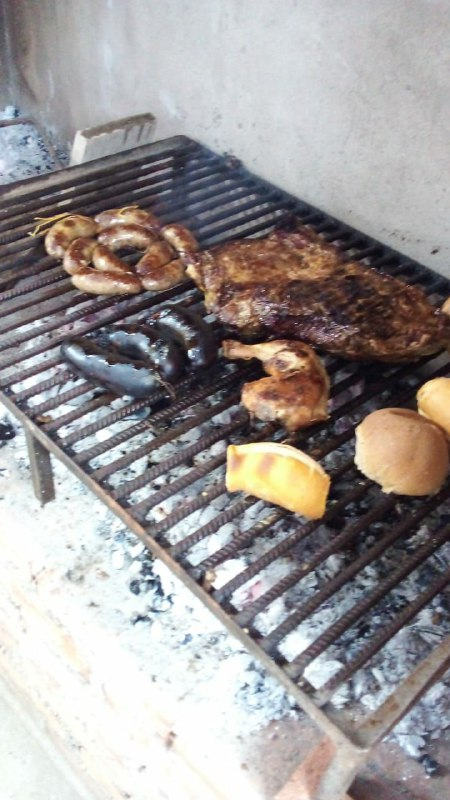 Bueno como ven a dicho asado se lo acompaño con ensalada, la cual contenía papa, remolacha, cebolla, huevo, tomate y mayonesa, la cual salió muy exquisita.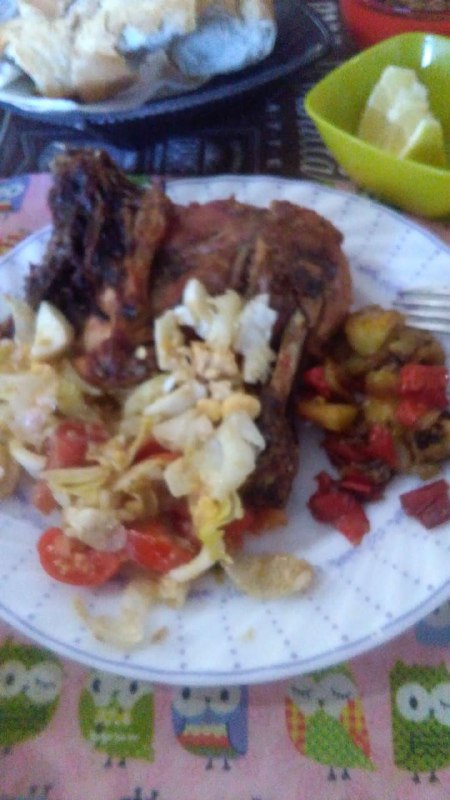 Quizás esta pandemia amigos por el solo hecho de privarnos las salidas y todo el cuidado que exigen, no lleva a esto juntarnos en familia y gozar de esos momentos que por ciertos son inolvidable, así que referente al asado si les agrado quedo a la espera de sus comentarios.
COMO SIEMPRE DIGO GRACIAS POR SEGUIRME Y LEERME, QUE TENGAN UN BENDECIDO DIA.
TRANSLATED IN ENGLISH.
Hello everyone, how do you know when the weekends arrive, it is the day where the family to the extent that they can come together to share a lunch, in this case lunch, because as we well know from the issue of the pandemic and to respect the protocols of getting together, which must be respected, that is, I respect you and you respect me, in order to continue subsisting and consume the days that go by.
As I was telling you in this Family Reunion, the barbecue is as follows:
Veal vacuum
Veal rib
Homemade chorizo
Blood sausage
Chicken leg and thigh
A few slices of bread to savor it toasted which is better.
! [image.png] (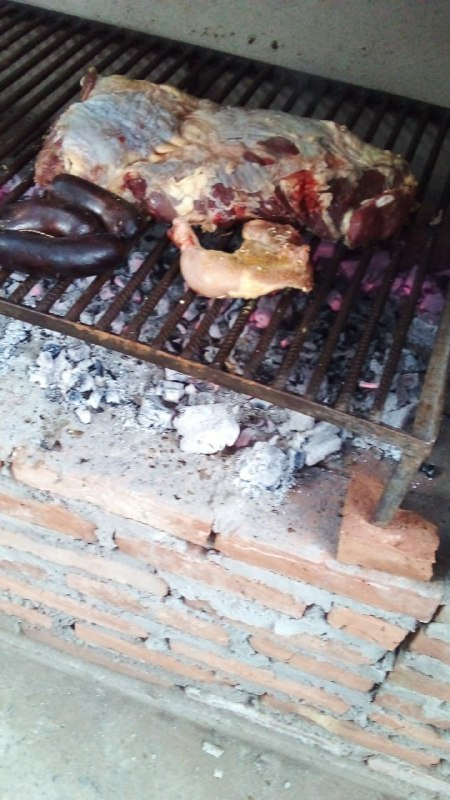 )
Well friends, the way to prepare the roast is as follows, we light the fire with charcoal, once it becomes ember, we place the grill, when it heats up, we clean it well and place the meat as seen in the photo, also the achuras and bread, when we notice that the meat has a brown color on both sides, it means that it is already cooked, in the same way we cut a portion to check it, I tell you that when cooking it with little grill said meat comes out very tender and juicy.
! [image.png] (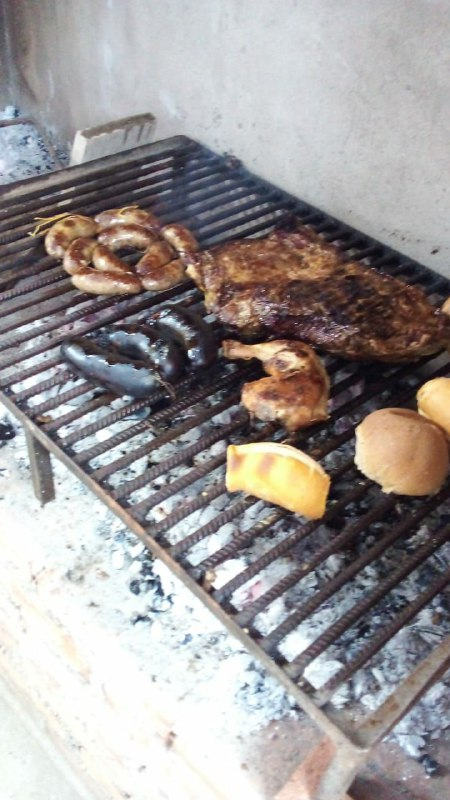 )
Well, as you can see, this barbecue was accompanied by a salad, which contained potato, beet, onion, egg, tomato and mayonnaise, which came out very exquisite.
! [image.png] (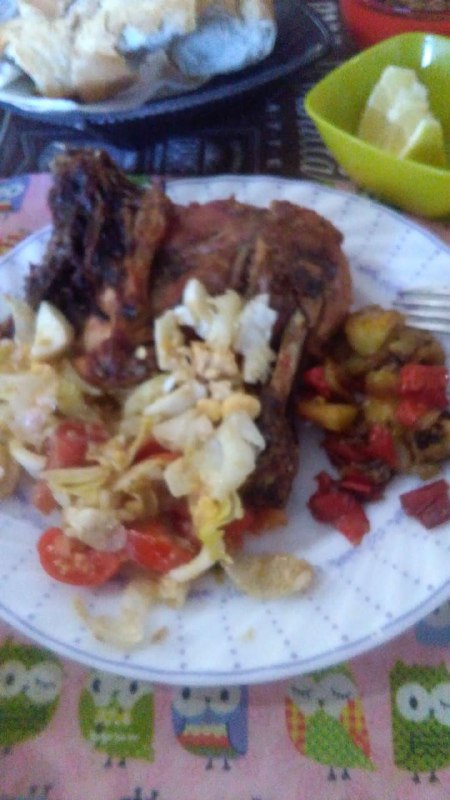 )
Perhaps this pandemic friends, for the sole fact of depriving us of the outings and all the care they require, does not lead to this getting together as a family and enjoying those moments that by certain are unforgettable, so regarding the barbecue if you like it, I'm waiting for your comments.
AS I ALWAYS SAY THANKS FOR FOLLOWING AND READING ME, HAVE A BLESSED DAY.