Hola a todos, como sabemos los días domingos son especiales, lo digo así porque es el día donde se juntan los seres queridos, para compartir como vemos en la foto por ejemplo un sabroso asado
el cual esta integrado con lo siguiente:
Costilla de ternera-red-
Vacío
Tapa de asado
Chorizo casero de cerdo
Morcilla
Berenjena
Morrón colorado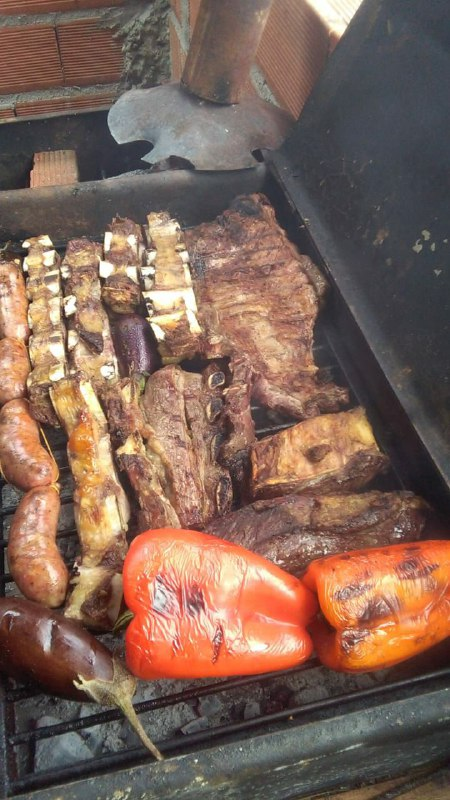 Como vemos en las fotos, bueno lo primero es encender el fuego para preparar el carbón-vegetal- lo cual es una manera de cuidar y preservar el medio ambiente, cuando esta lista las brazas, colocamos la parrilla, la limpiamos, y sobre la misma colocamos la carne de red antes mencionada, también la berenjena y en este caso el morrón, el cual se lo corto al medio, una ves que el mismo se hablando, para luego como vemos colocarle a cada mitad un huevo, el cual se cocina con dicho morrón, de esa manera obtiene dicho huevo un sabor inigualable, el condimento como la sal es a gusto, también otras especias.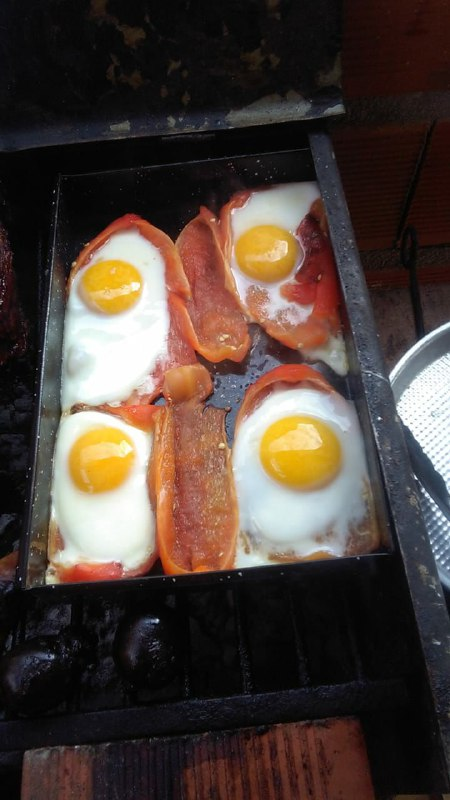 Para acompañar dicho asado, lo hacemos con esta ensalada, la cual se la llama ensalada rusa, que contiene, papa, huevo, cebolla, zanahoria y mayonesa, se prepara de la siguiente manera:
Pelamos y cortamos en daditos la misma, luego la zanahoria y ponemos a hervirla, hasta que notamos que este blanda, luego quitamos de la cocina, la colamos, dejamos que se enfríe, y a la misma le mesclamos con huevo duro, o sea hervido, cortado en pequeños trozos, la cebolla la cortamos en juliana, luego le damos un baño maría o sea la enjuagamos con agua caliente, luego mesclamos todo en una fuente, le agregamos la mayonesa y sal a gusto, así obtenemos dicha ensalada.
Por cierto amigos, la verdad con el día soleado, la temperatura adecuada para este día y con la familia, compartimos este exquisito asado, como el publicado, también con una novedad como lo es la berenjena y morrón con huevo, todo salió riquísimo, así que de haberles gustado lo explayado, no dejen de efectuar sus apreciados comentarios.
GRACIAS POR LEERME Y SEGUIRME, QUE TERMIEN BUEN EL DIA.
TRANSLATED IN ENGLISH.
Hello everyone, as we know Sundays are special, I say it like this because it is the day where loved ones get together, to share as we see in the photo for example a tasty barbecue
which is integrated with the following:
Rib of veal-red-
Empty
Roast lid
Homemade pork chorizo
Blood sausage
Eggplant
Red bell pepper
! [image.png] (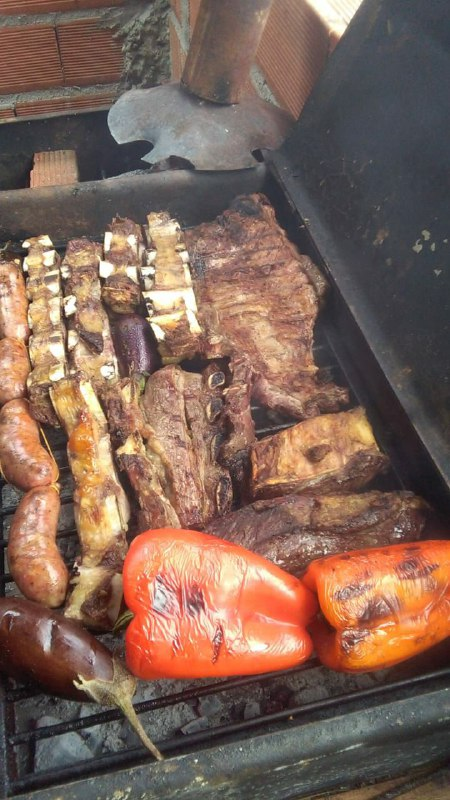 )
As we see in the photos, well the first thing is to light the fire to prepare the charcoal- which is a way of caring for and preserving the environment, when the fathoms are ready, we place the grill, clean it, and on it We place the aforementioned red meat, also the eggplant and in this case the bell pepper, which is cut in the middle, once it is speaking, and then as we see placing an egg on each half, which is cooked with said bell pepper, in this way the egg obtains an incomparable flavor, the seasoning such as salt is to taste, also other spices.
! [image.png] (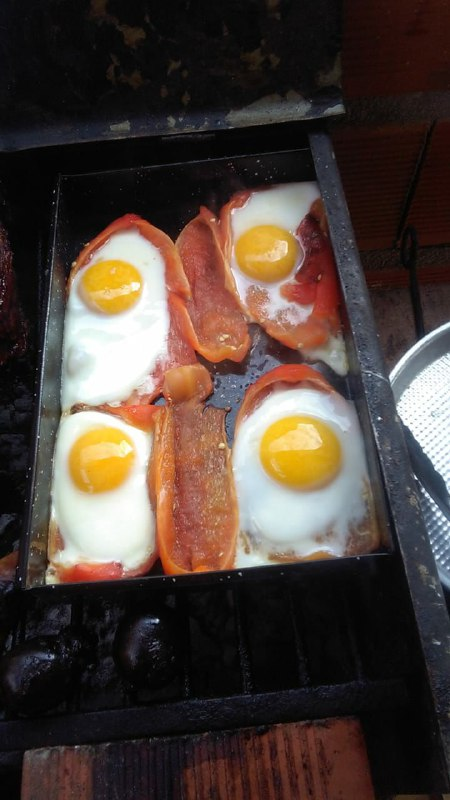 )
To accompany said roast, we do it with this salad, which is called Russian salad, which contains potato, egg, onion, carrot and mayonnaise, it is prepared as follows:
We peel and dice it, then the carrot and put it to boil, until we notice that it is soft, then remove it from the kitchen, strain it, let it cool, and mix it with hard-boiled egg, that is, boiled, Cut into small pieces, we cut the onion into julienne strips, then we give it a bain-marie that is, we rinse it with hot water, then we mix everything in a bowl, add the mayonnaise and salt to taste, thus we obtain said salad.
! [image.png] (
)
By the way friends, the truth with the sunny day, the right temperature for this day and with the family, we shared this exquisite barbecue, like the one published, also with a novelty such as the eggplant and bell pepper with egg, everything came out delicious, like this If you have liked the expounding, do not stop making your appreciated comments.
THANK YOU FOR READING AND FOLLOWING ME, HAVE A GOOD DAY.