Hola a todos, continuando con la reja de hierro para la ventana de una iglesia, por ahora es todo mas fácil, porque lo difícil fue, armar el rectángulo con los ángulos, como bien les dije se trata de hierro reciclado, superando todo eso ahora viene soldar los hierros, en este caso son del 10.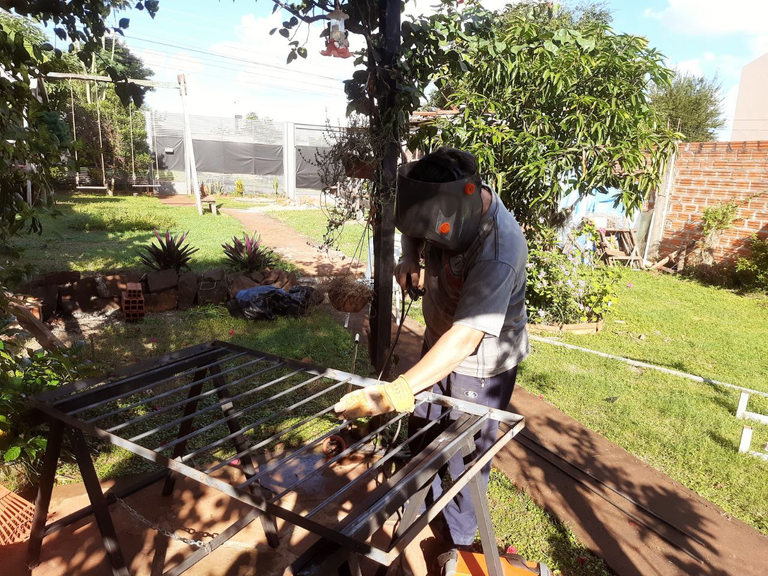 Para efectuar esta soldadura, en la parte de los costados de lo que seria la reja, mido cada 10 centímetros y lo marco con una tiza, de esa manera cuando voy soldando las varillas las coloco sobre donde marque y luego voy soldando, para que quede perfecto.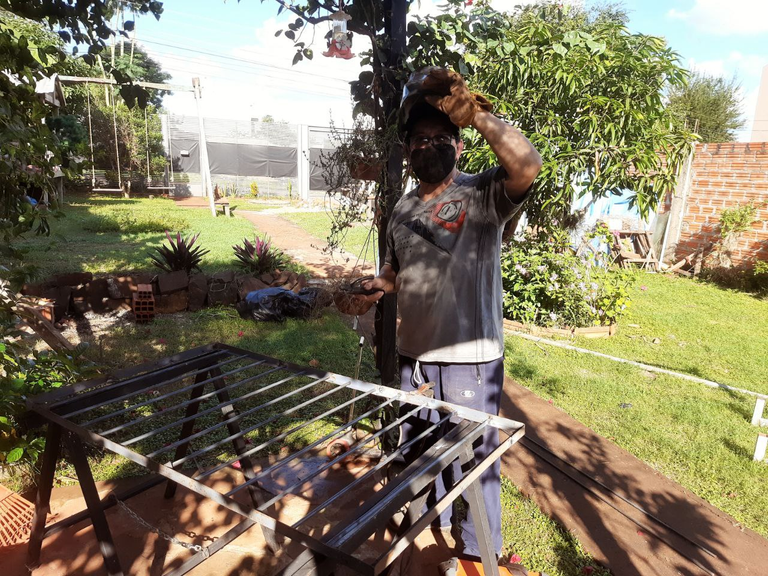 Como se puede ver en la foto, las varillas ya están soldadas, el detalle amigos es soldarlas en la parte interna del Angulo, de esa forma queda para adentro cuando colocamos la reja, dejando una mejor vista de la misma desde afuera.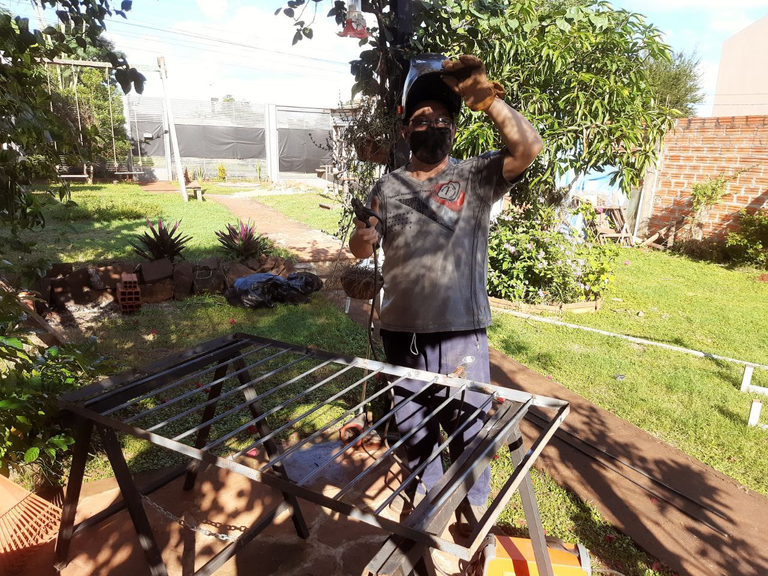 Siempre y como lo tengo como costumbre, cada ves que termino algo como en este caso, lo vuelvo a repasar una por una, para asegurarme de que dichas varillas quedaron bien soldadas y por supuesto mas seguras.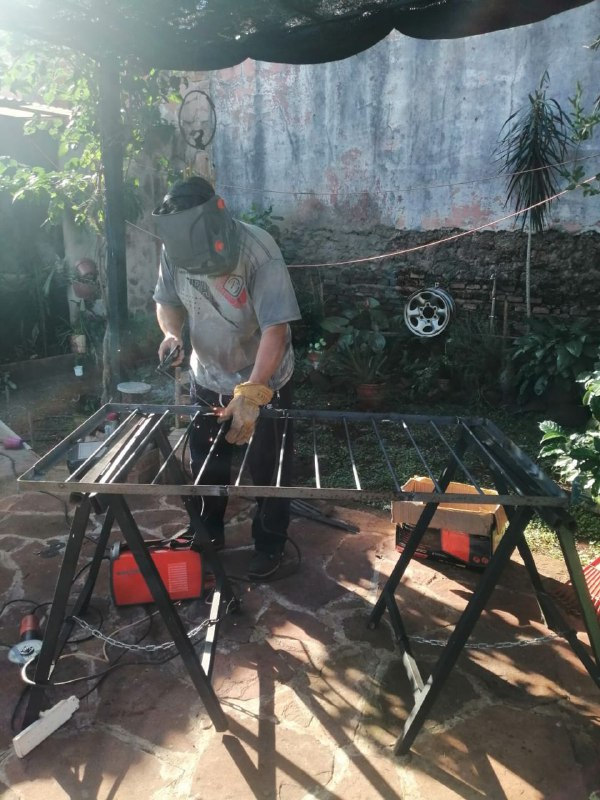 En esta foto se puede ver bien como quedan las varillas en la parte de adentro del Angulo, por supuesto que al marcar de ambos lados es para que quede como vemos, bien derecho y prolijo.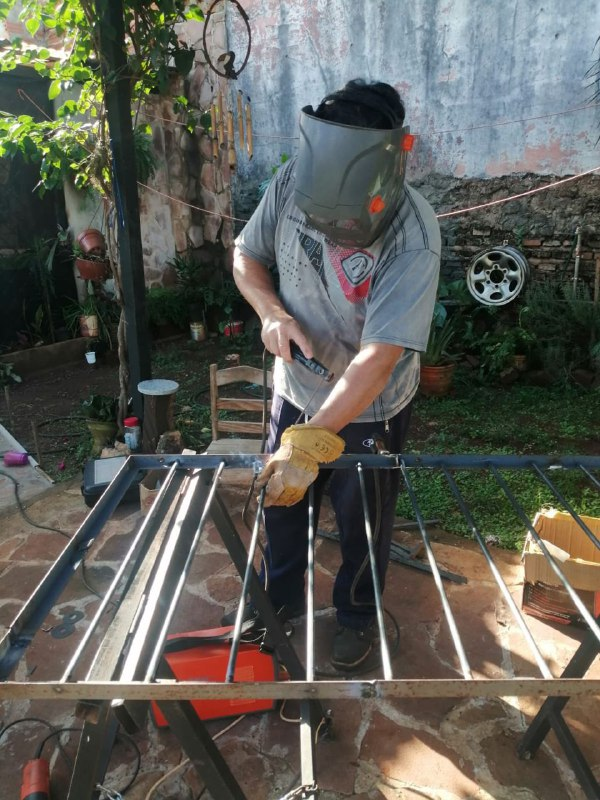 Dicha reja ya esta bien controlada en su totalidad por ende lo que resta es darle una pintada, en esta caso un color gris, que dicha pintura ya tiene el antióxido incorporado, o se pintura y antióxido junto, de esa forma el trabajo es menos porque una ves pintado, queda con el color y terminado.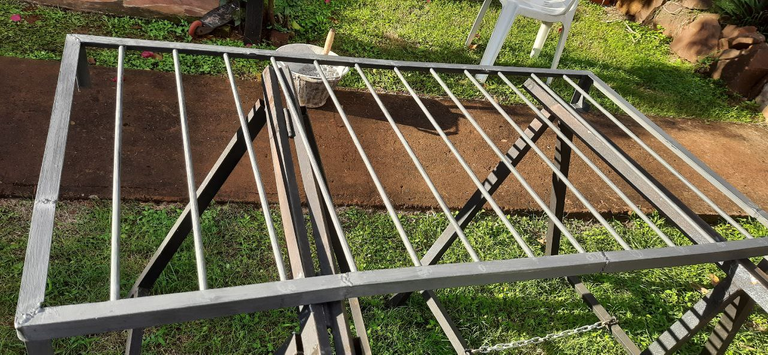 Acá podemos ver que dicha reja ya esta con la pintura seca y terminada, ahora el siguiente paso es colocarla, en este caso cuento con la ayuda del pastor de la iglesia, quien me ayudo a hacerlo, también a verificar que quede bien a nivel todo una ves amurada dicha reja.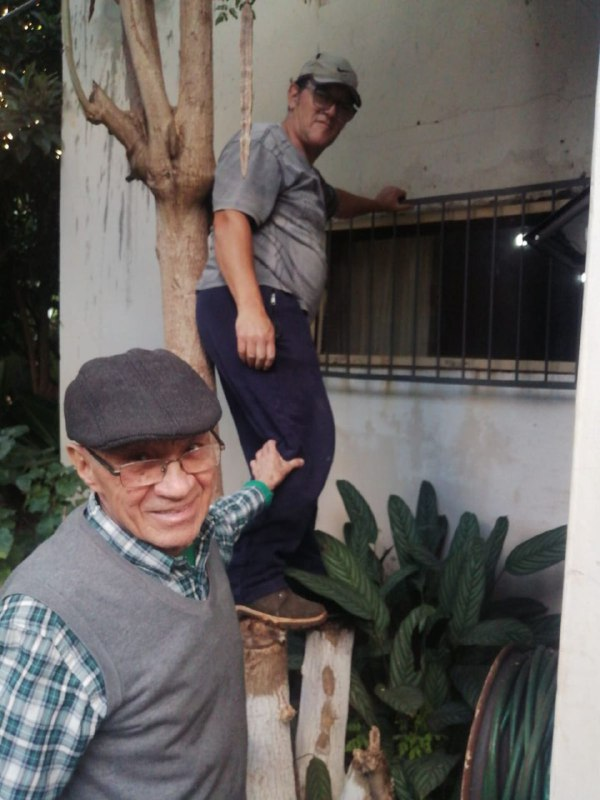 Así que culminando con este trabajo de armar y colocar la reja en la iglesia, por supuesto la alegría del pastor fue inmensa, que me agradeció por la labor realizada.
MUCHAS GRACIAS POR SEGUIRME Y LEERME, QUE TENGAN UN EXCELENTE DOMINGO EN FAMILIA.
TRANSLATED INTO ENGLISH.
Hello everyone, continuing with the iron grill for the window of a church, for now it's all easier, because the difficult part was to assemble the rectangle with the angles, as I told you it is recycled iron, overcoming all that now comes welding the irons, in this case they are of 10.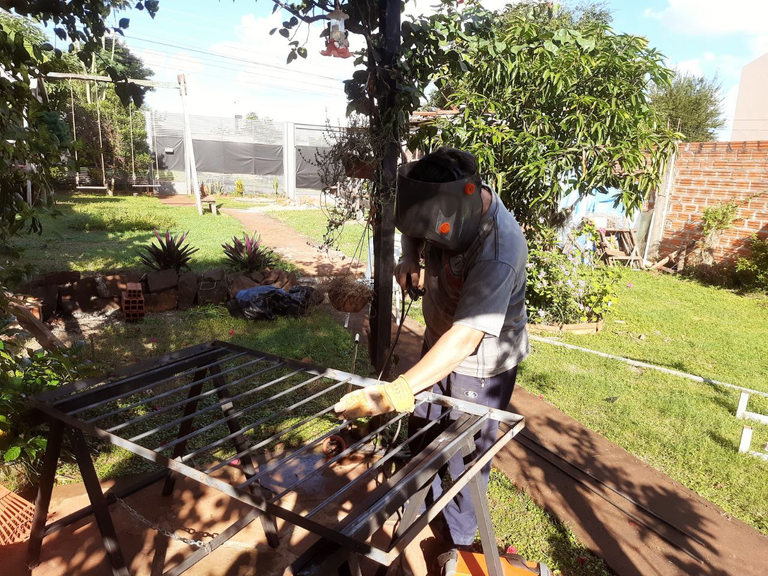 To make this welding, in the part of the sides of what would be the grille, I measure every 10 centimeters and mark it with a chalk, that way when I go welding the rods I place them on where I mark and then I go welding, so that it is perfect.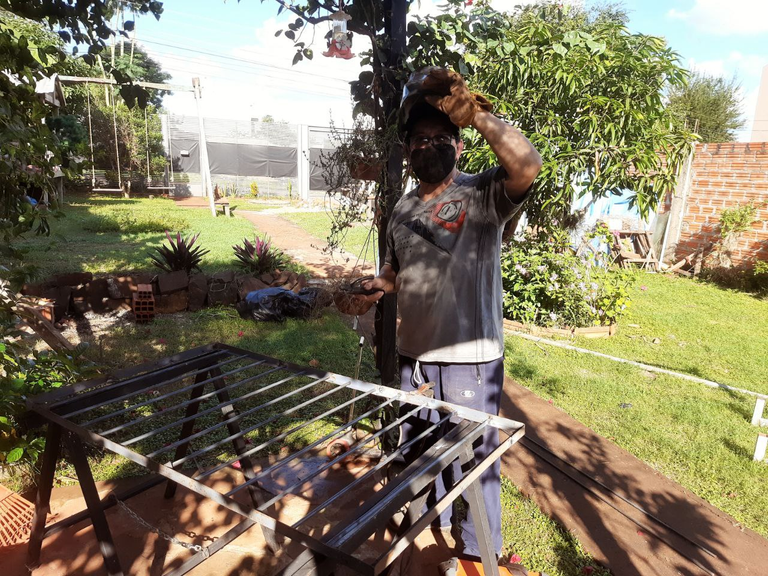 As you can see in the photo, the rods are already welded, the detail friends is to weld them in the internal part of the Angle, that way it stays inside when we place the grille, leaving a better view of it from the outside.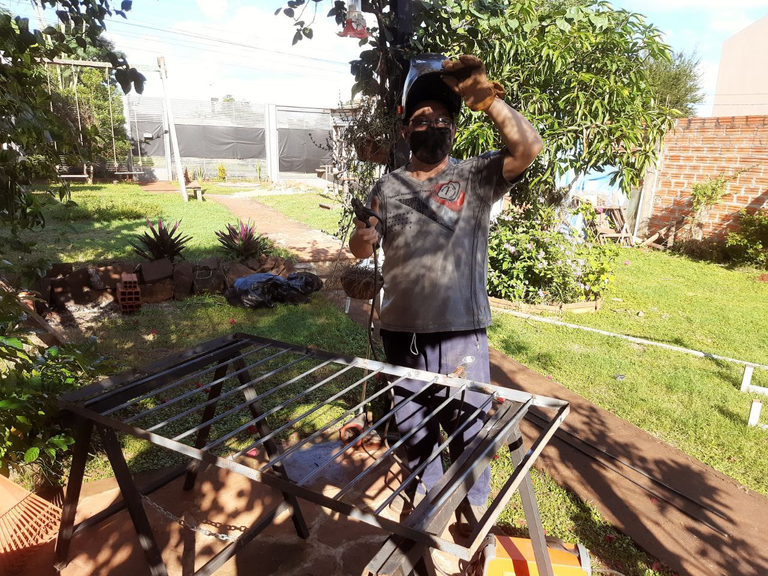 Always and as I have as a habit, every time I finish something as in this case, I go over it again one by one, to make sure that the rods are well welded and of course more secure.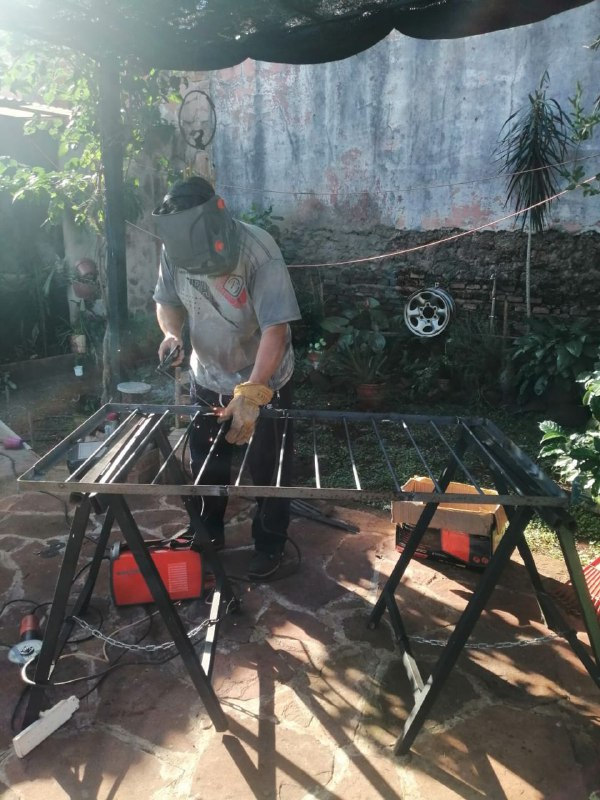 In this picture you can see well how the rods are inside the Angle, of course when marking on both sides is so that it is as we see, straight and neat.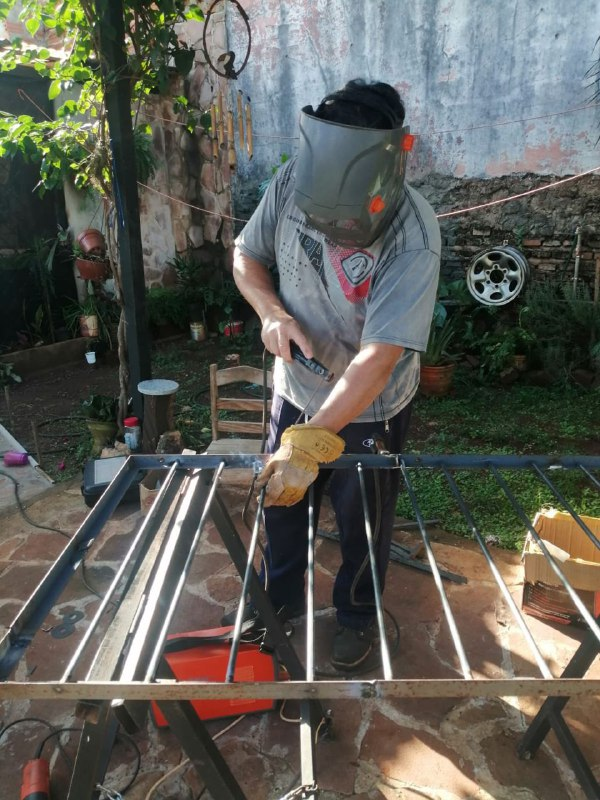 This grille is already well controlled in its entirety therefore what remains is to give it a painted, in this case a gray color, that paint already has the rustproofing incorporated, or paint and rustproofing together, that way the work is less because once painted, it is with the color and finished.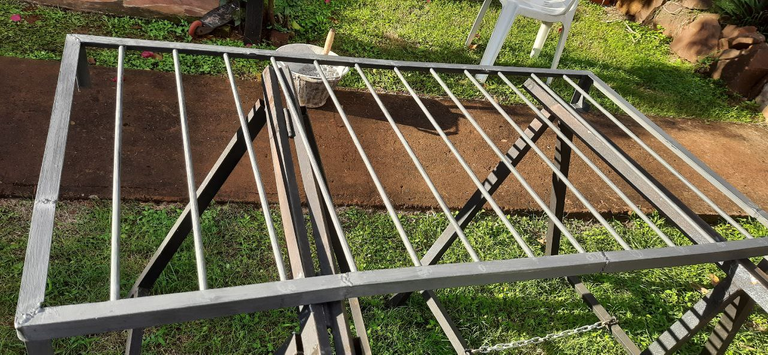 Here we can see that this fence is already with the paint dry and finished, now the next step is to place it, in this case I have the help of the pastor of the church, who helped me to do it, also to verify that everything is well leveled once the fence is mounted.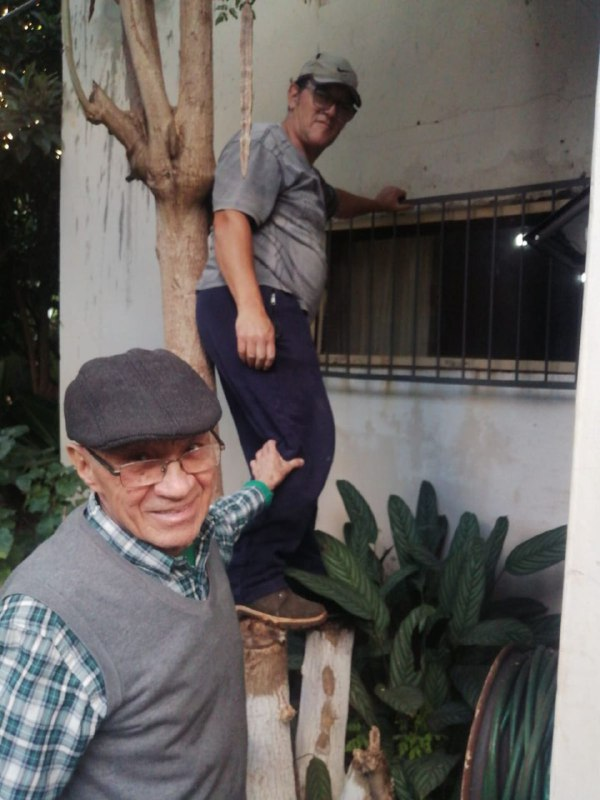 So culminating with this work of assembling and placing the fence in the church, of course the joy of the pastor was immense, he thanked me for the work done.
THANK YOU VERY MUCH FOR FOLLOWING ME AND READING ME, HAVE A GREAT SUNDAY WITH YOUR FAMILY.