Hola a todos los componentes de esta gran comunidad, en la que al interactuar hace que que tengamos mas conocimiento referente a diversos temas, como cultural, social, sobre la naturaleza, viajes y lo mas importante de la vida misma, me refiero a la vida porque como sabemos en la actualidad ya nivel global el tema de la pandemia que es algo que ya se viralizo en todo el mundo, done la existencia se hace mas presionada, pero si seguimos los protocolos correspondientes podemos hacer mas llevadera nuestra existencia y asi subsistir, pero amigos sabemos que existe un DIOS y que para el nada es imposible, el todo lo suple y nos librara de todo esto.
Voy a mi publicacion de hoy, el cual luego de tomar desprevenida a esta cigarra la cual se poso serca de donde me hallaba, asi que tome mi telefono celular y sin perder tiempo la sorprendi de varias maneras y lo mas serca que pude, mientras ella efectuaba su cancion, lo defino asi porque en lo personal su canto parece una melodia, la cual enriquese el alma y llena el corazon de vida.
Hello to all the components of this great community, in which by interacting it makes us have more knowledge regarding various topics, such as cultural, social, about nature, travel and the most important of life itself, I mean life Because as we now know and globally the issue of the pandemic is something that has already become viral throughout the world, where existence becomes more pressured, but if we follow the corresponding protocols we can make our existence more bearable and thus survive But friends we know that there is a GOD and that nothing is impossible for him, he supplies everything and will free us from all this.
I'm going to my post today, which after catching this cicada off-guard which landed near where I was, so I took my cell phone and without wasting time I surprised her in various ways and as close as I could, while she he performed his song, I define it that way because personally his song seems like a melody, which enriches the soul and fills the heart with life.
Como se puede ver la misma se hallaba posesionada sobre una madera como si estuviera desafiandome, asi que aserque el zoom lo mas que pude y logre esta foto, la verdad amigos es digno de ver sus ojos grandes, sus alas transparentes, sus seis patitas, tambien se puede ver su cuerpo el cual es como que se divide en tres partes, dejando asi un incesto muy impulsivo y por ende atrevido, jajajajaj.
As you can see, it was positioned on a wood as if it were challenging me, so I zoomed as much as I could and get this photo, the truth friends is worth seeing its large eyes, its transparent wings, its six legs, You can also see her body which is like it is divided into three parts, thus leaving a very impulsive and therefore daring incest, hahahaha.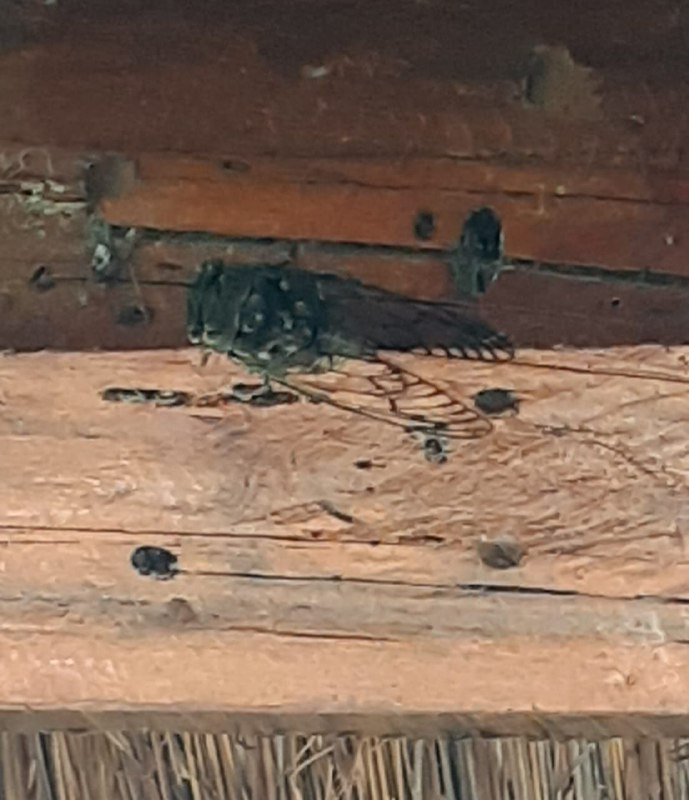 La foto tomada desde arriba muestra lo transparente que son sus alas, se puede ver los puntitos oscuros que tiene y tambien sus antenas, que son las que las orientan.
The photo taken from above shows how transparent its wings are, you can see the dark spots it has and also its antennae, which are what guide them.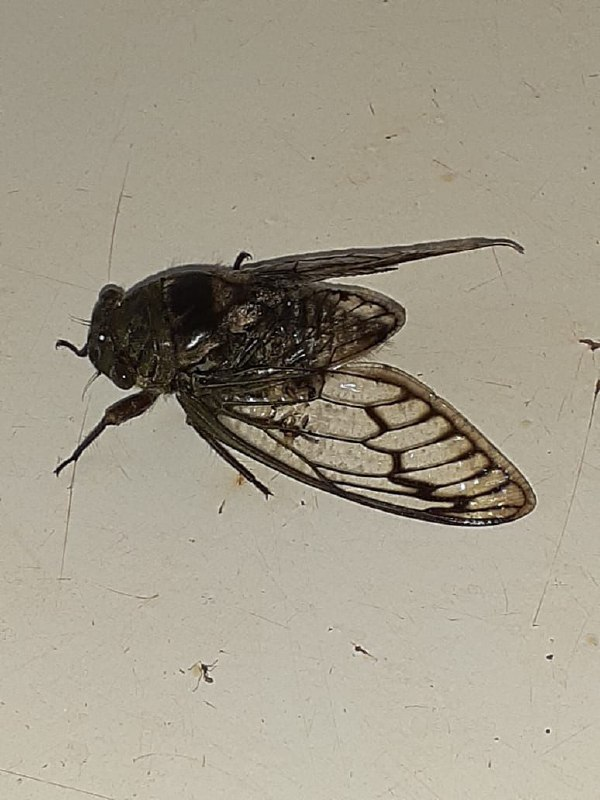 Me sorprendio su forma y su color el cual es medio verdoso, amarronado con negro, bueno el tamaño de la misma es de unos 3 cm. de circunsferencia y con ala y todo 5 cm. de largo, con sus ojos redondos y saltones.
I was surprised by its shape and its color which is medium greenish, brownish with black, well its size is about 3 cm. circumference and with brim and all 5 cm. long, with round, bulging eyes.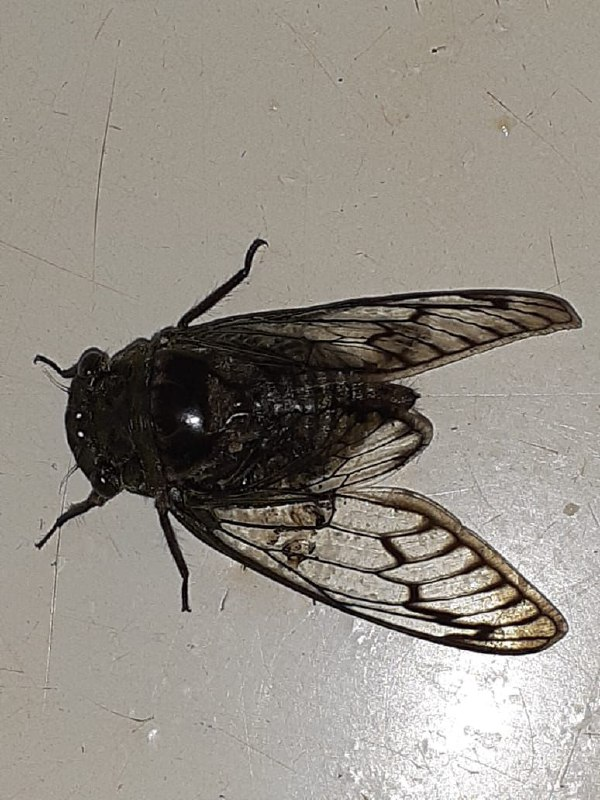 Concluyendo esta descripcion de la cigarra, que segun dicen que cuando canta anuncian el calor, bueno de cierto algo es porque cuando comienzan su canto el calor es sofocante, tambien el canto es una manera de llamar a las hembras y es ahi cuando se aparean, su ciclo de vida es de aproximadamente 6 semanas luego se mueren.
Esto es todo en mi publicacion y como les dije que en la manera de sigamos subsistiendo, siempre y cuando interactuemos de esa manera vamos teniendo mas conocimiento como en este caso, amigos de haberles agradado el post, quedo a la espera de sus comentarios .
MUCHAS GRACIAS.