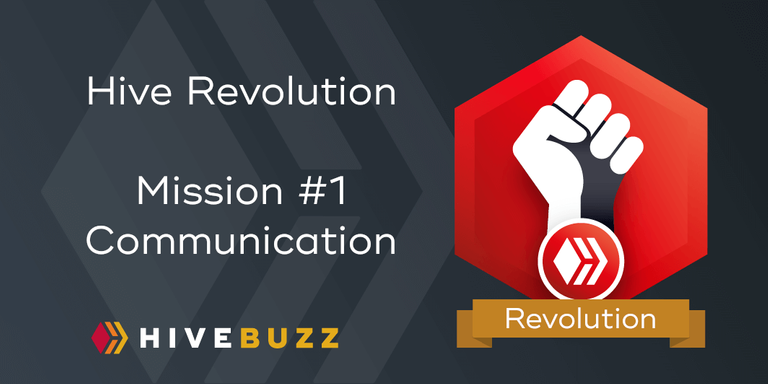 And give me silence, give me water, hope.
Give me the struggle, the iron, the volcanoes.
Let bodies cling like magnets to my body.
Come quickly to my veins and to my mouth.
Speak through my speech, and through my blood.
Pablo Neruda, "The Heights of Machu Picchu"

Dieser Beitrag ist ins Deutsche übersetzt: hier


This post is translated in English - here
Dilo en voz alta pero discretamente
La comunicación y la discreción son factores clave en la preparación para una revolución exitosa.
Por esta razón, el objetivo de esta primera misión es enseñarles cómo compartir información confidencial con otros camaradas de manera eficiente pero segura.
Para esto, utilizamos técnicas de encriptación que nos ofrece la Hive blockchain.
Objetivos de la misión
Transfiere dinero revolucionario entre camaradas
Aprende a usar notas cifradas
Condiciones
Para completar esta misión, ¡debes haber recibido tu insignia de revolución!
Si aún no eres parte de la revolución, todavía puedes unirte. Lee esta publicación, para obtener más información.
Instrucciones
Envíe 0.005 HIVE a @hive.revolution con la siguiente nota: #mission1-ready
Nota: ¡Asegúrate de poner un "#" al comienzo de tu nota! Siempre cuando pones un # delante del texto de tu nota, la blockchain lo cifrará, y, por lo tanto, no podrá leerlo nadie más que tu y @hive.revolution.

@hive.revolution te enviará HIVE con una nota encriptada
Nota: El contenido del memo encriptado es diferente para cada rebelde. Por lo tanto, no tiene sentido compartir su nota con un compañero.

Así es como se ve una nota encriptada:


Descifra la nota con tu clave de nota (Memo-Key)
Nota: Para poder leer una nota encriptada, necesitas tu clave de nota. Hay varias formas de leer notas cifradas. Si no comprendes cómo hacerlo, pregúnteles a tus camaradas revolucionarios. La mejor manera de aprender es descubrirlo tu mismo.
De esta forma, también podemos probar la capacidad de apoyo mutuo y el trabajo en equipo de nuestras tropas.
(Nota: Usa el Canal de soporte de Revolution en Discord para ponerte en contacto con tus camaradas.)

Así es como se ve una nota sin cifrar:

Ahora sigue tus nuevas instrucciones en el memo
Nota: Después de descifrar la nota enviada por @hive.revolution, debes seguir las instrucciones que contiene. En este punto, lamentablemente, ya no podemos decir más, porque las instrucciones son diferentes para todos.
¡Solo puedes participar en las próximas misiones si has realizado todos los pasos anteriores correctamente! ¡Si todo salió bien, recibirás tu insignia con la primera estrella!

Esta misión es monitoreada manualmente. Porque el equipo de comando a veces necesita descansar, es posible que tengas que esperar un tiempo en algunos puntos antes de recibir tus instrucciones cifradas. ¡Se paciente (otra clave para una revolución exitosa)!
Buena suerte camaradas!!
Revolución! Revolución!
---

Apoyo para la campaña de la Revolución se proporcionará en este canal dedicado en Discord.

Danos más poder para compartir:Vota para nosotros como testigo!

HiveBuzz es un proyecto de @arcange!