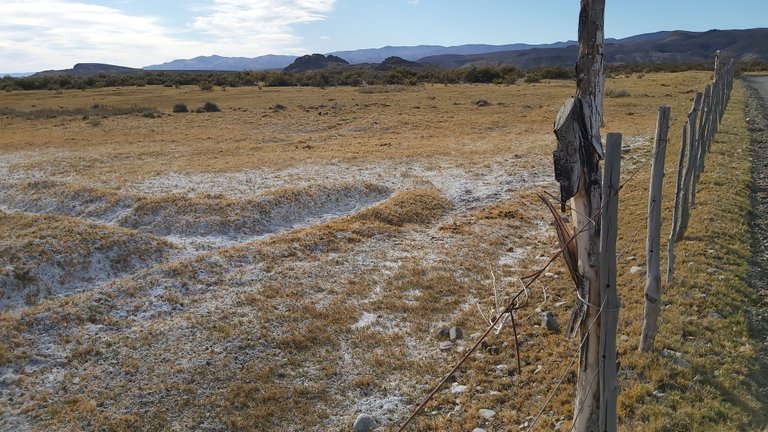 On these days of rest thanks to the long Easter holiday, I went to visit my friend who lives in Esquel and with him practice our favorite activity, fly fishing.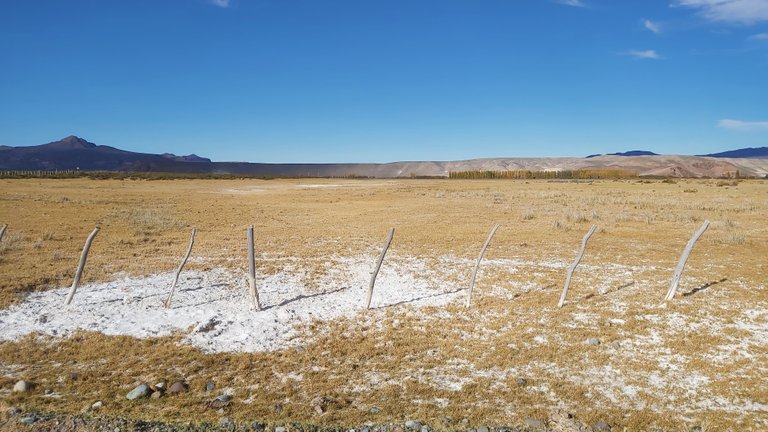 For this, we reserved two days in a modest but comfortable inn in the town of Guajaina, about 100 kilometers from the city. From there we have identified a couple of beautiful and profitable fishing destinations.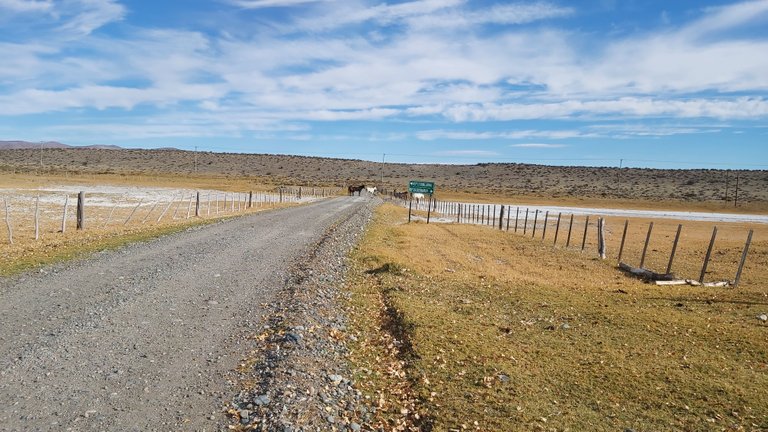 As we imagined it, the fishing was excellent but also the trip where we were able to observe different situations that led me to write about our sensations when traveling through those amazing landscapes.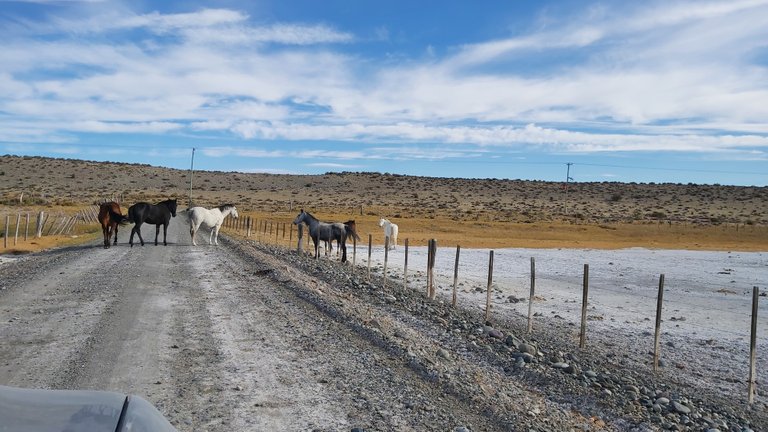 The entrance to the Great Caldera has the features of a mega volcanic eruption millions of years ago and of which I have already written on other occasions, the enormous walls of different types of rocks and ages are the current trace of pyroclastic and lava flows of basalt composition are the setting for an ancestral photograph from the post-vulcanism period.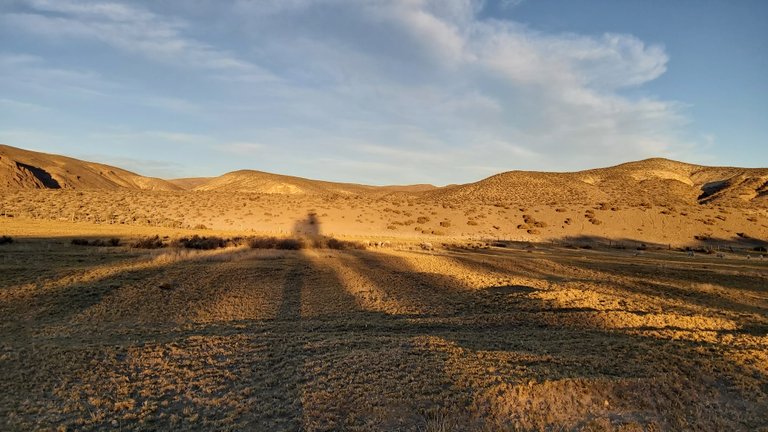 And we were driving along a narrow path right in the center of that formation so ancient that it is almost impossible to imagine.
At first glance patches of salt can be seen everywhere and without being geologists or having tangential professions, we dare to fantasize about its formation and think that there was a sea there in that remote era that, like the Bering Sea, joined the Pacific Ocean. with the Atlantic and that the eruptions and the formation of the Andes mountain range caused it to disappear, leaving room for that arid and uninhabited steppe.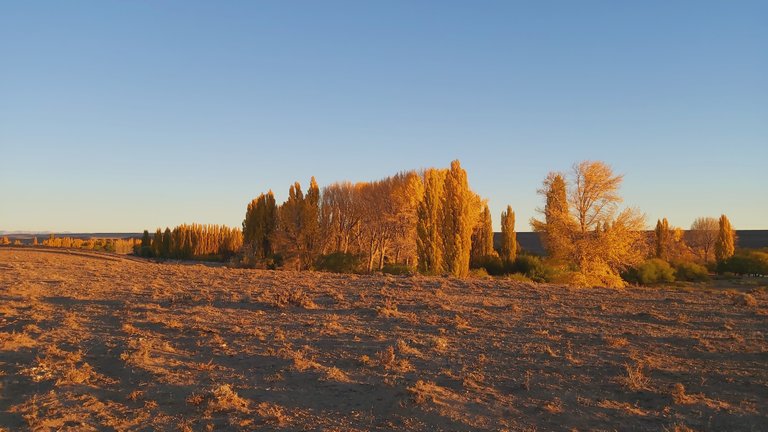 If we know that salt pans are formed in arid areas by the evaporation of saltwater that cannot be compensated by rainfall and that is precisely what happens there, where else can salt water come out if it is not from the sea, but in that place, the ocean is far away, hundreds of kilometers to the east and also to the west.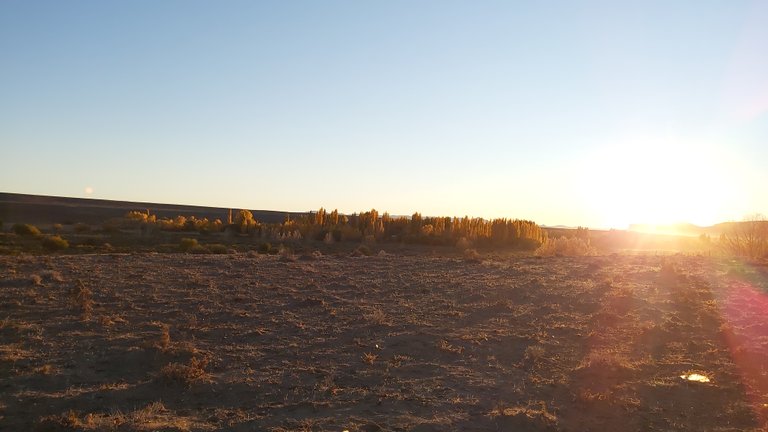 The truth is that there is salt everywhere, as evidenced by the different captures we made with our phones, we continued our way through beautiful landscapes where the beginning of autumn dyes the majestic poplars golden, tall and elegant dressed in their seasonal outfits.
The photographs speak for me.

En estos días de descanso gracias al feriado largo de Semana Santa, fui a visitar a mi amigo residente de Esquel y con el practicar nuestra actividad favorita, la pesca con mosca.
Para ello reservamos dos días en una modesta pero confortable hostería en el pueblo de Guajaina, a unos 100 kilómetros de la ciudad. Desde allí tenemos identificados un par de destinos de pesca bellos y rendidores.
Tal como lo imaginamos, la pesca fue excelente pero también el viaje donde pudimos observar diferentes situaciones que me llevaron a escribir sobre nuestras sensaciones al transitar esos paisajes alucinantes.
En la entrada a la Gran Caldera que posee los rasgos de una mega erupción volcánica de hace millones de años y de la cual ya escribí en otras oportunidades, las enormes paredes de diferentes tipos de rocas y edades son la huella actual de erupciones de piroclastos y coladas de composición basáltica y el marco de una fotografía ancestral de la época póstula del vulcanismo.
Y nosotros circulando por un angosto camino justo en el centro de esa formación tan antigua que es casi imposible de imaginar.
A simple vista se observan manchones de sal por todas partes y sin ser geólogos ni tener profesiones tangenciales, nos animamos a fantasear con su formación y pensamos que allí hubo en esa época tan remota un mar que al modo del Mar de Bering unía al océano Pacífico con el Atlántico y que las erupciones y la formación de la cordillera de los Andes hicieron que desapareciera dejando lugar a esa estepa árida y deshabitada.
Si sabemos que las salinas se forman en zonas áridas por la evaporación del agua salada que no puede ser compensada por las precipitaciones y eso es justamente lo que allí ocurre, de que otra parte puede salir agua salada si no es del mar, pero en ese lugar el océano está lejos, a cientos de kilómetros hacia el este y también hacia el oeste.
Lo cierto es que sal hay por todas partes como lo demuestran las diferentes captures que hicimos con nuestros télefonos, continuamos nuestro camino por paisajes bellísimos donde el comienzo del otoño tiñe de dorado los majestuosos álamos, altos y elegantes vestidos con sus trajes de estación.
Las fotografías hablan por mi.
---
Las fotografías son de mi propiedad excepto las que menciono la fuente.
The photographs are my property except those mentioned by the source.
Héctor Gugliermo
@hosgug