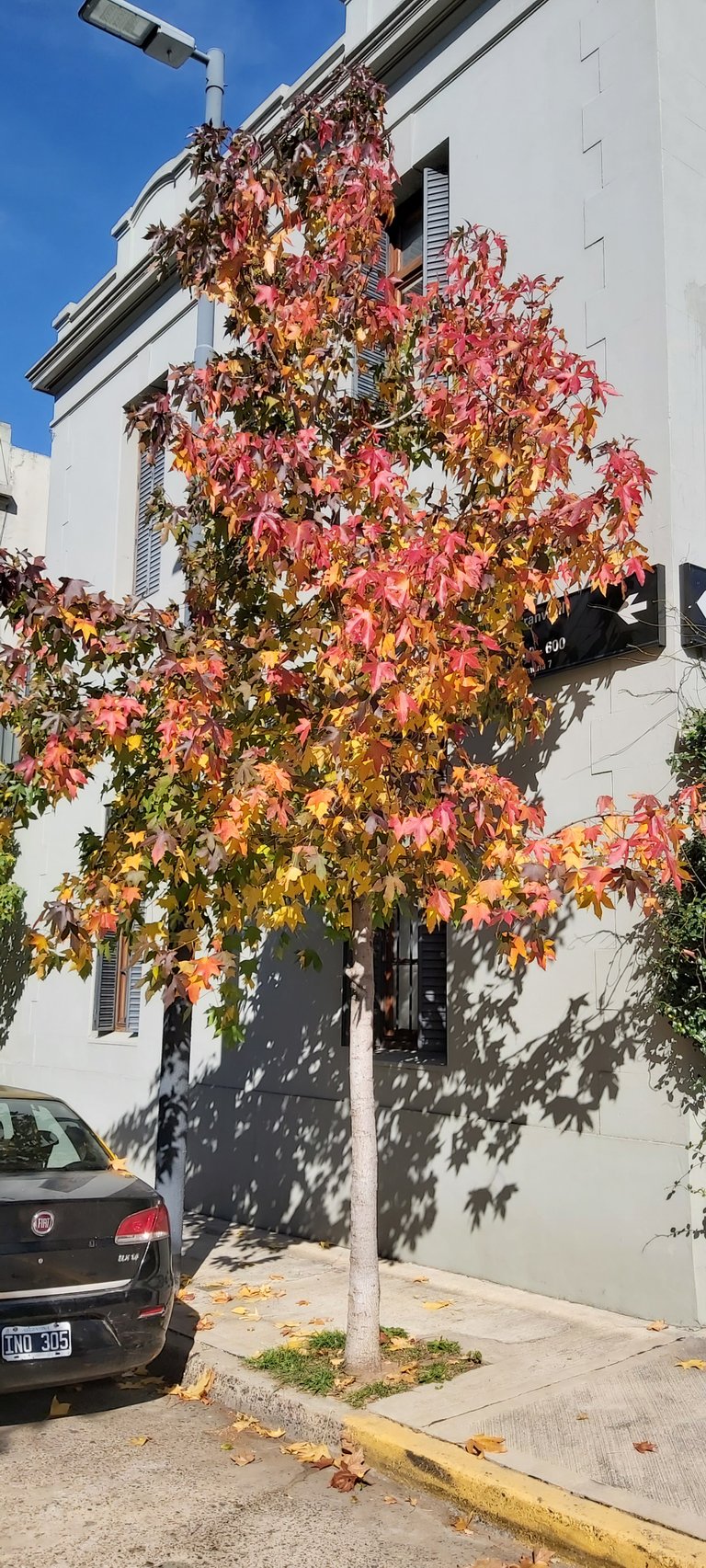 Here in the southern hemisphere, the autumn equinox begins between March 20 and 22 of each year and its exact date and time depend on some factors that I will ignore, of course, it coincides at the same time with the spring equinox in the northern hemisphere.
Its name means "equal night" referring to the fact that day and night have almost exactly 12 hours each, it occurs twice a year on our planet, it is not the same as what happens in the other members of the solar system.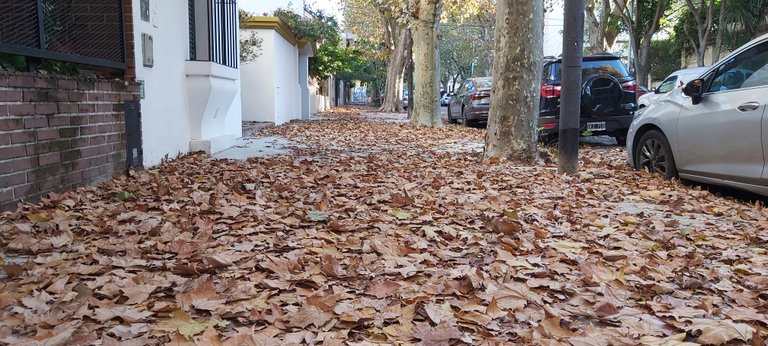 Several phenomena related to the equinoxes occur and one of the most common and well-known is the change in hue and the subsequent fall of the leaves of deciduous trees. A wonderful show of color for everyone except the municipal employees in charge of cleaning streets and sidewalks.
Here in the Federal Capital of Argentina, there is a great variety of deciduous trees, the most widespread is the American Red Ash, which owes the second part of its name to the fact that in autumn its leaves acquire a golden yellow color with red tints, very ornamental, by the way, before the beginning of winter it loses them completely.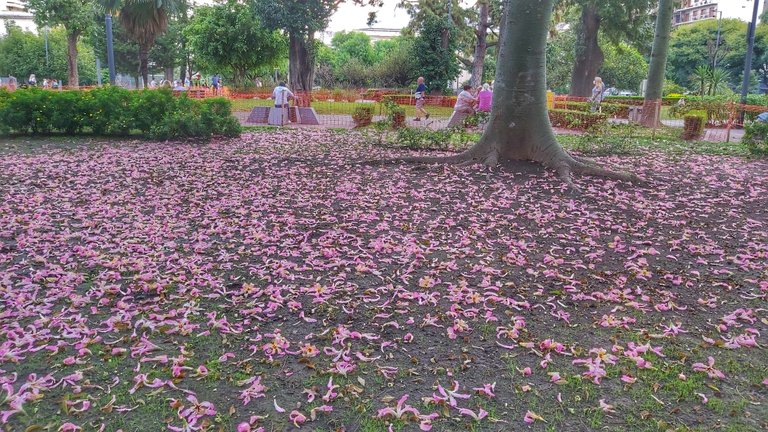 Another tree of great diffusion is the Banano, of great height and with strong and bushy branches, it begins to lose its leaves at the beginning of autumn and the sidewalks of the streets of the city are upholstered with them, resembling a true mattress of different shades.
A less widespread tree, but very common in squares and parks, is the Palo Borracho, a variety of the Ceiba genus where the sacred tree of the Mayans stands out, for whom the Ceiba supported the world with its branches and wove the underworld with its estate. The common variety among us does not seem to be sacred, but it does have a beautiful bloom between lilac and pink that has the peculiarity of losing its leaves in autumn, but without changing its color or shape, the entire surface around its trunk. It is dyed in those colors giving a beautiful contrast.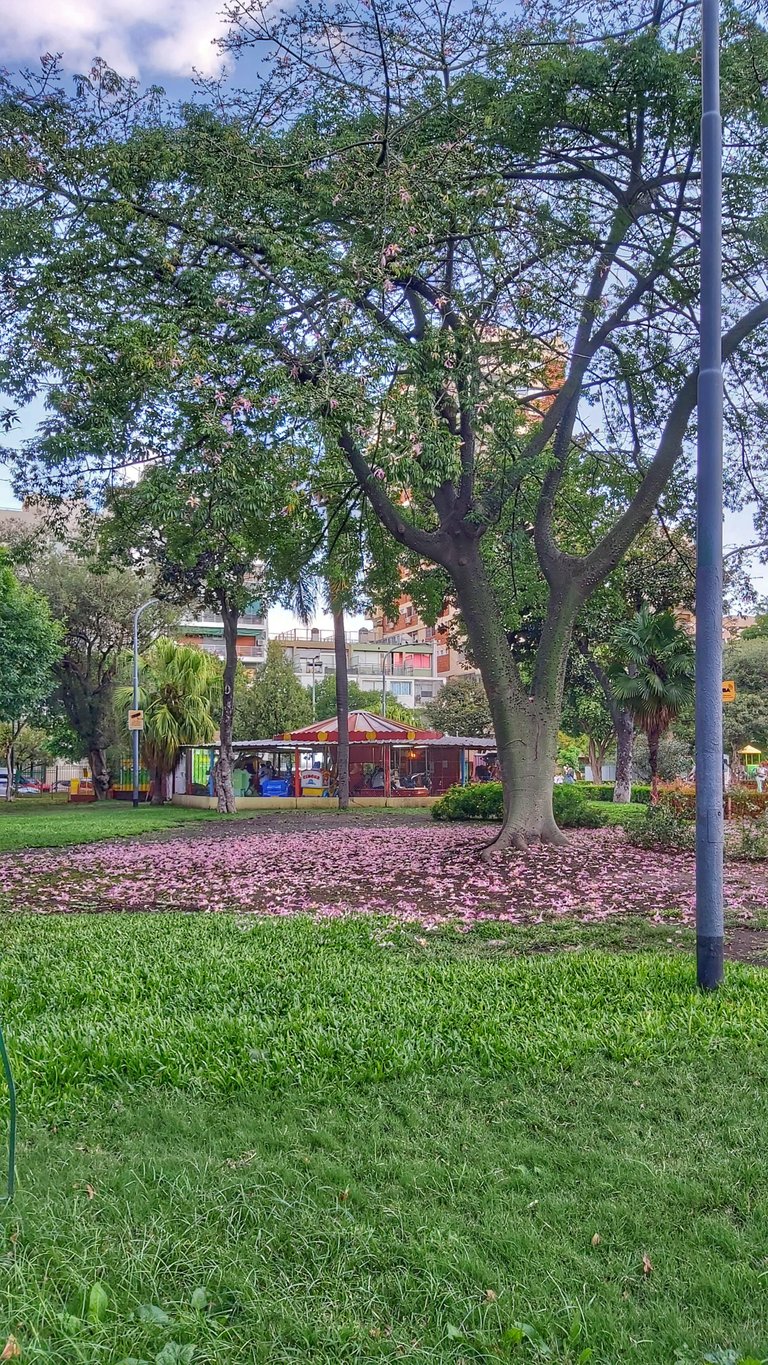 I am among those who get a little depressed when autumn arrives, I enjoy the change of color and the fall of the leaves, but beyond that, I prefer the warmer months; I've been told it's seasonal affective disorder. Luckily we live on planet Earth, because it would be a real hardship for me to have been born on Uranus, for example, it is so far away that its orbit takes 84 years to go around the sun, which means that its winter lasts approximately 42 years.

Aquí en el hemisferio sur el equinoccio de otoño comienza entre el 20 y 22 de marzo de cada año y su fecha y hora exactas dependen de algunos factores que obviaré, por supuesto coincide en el mismo momento con el equinoccio de primavera en el hemisferio norte.
Su nombre significa "noche igual" haciendo referencia a que el día y la noche tienen casi exactamente 12 horas cada uno, se da dos veces al año en nuestro planeta, no es igual a lo que ocurre en los demás integrantes del sistema solar.
Se producen varios fenómenos relacionados con los equinoccios y uno de los más comunes y conocidos es el cambio de tonalidad y la posterior caída de las hojas de los árboles caducifolios. Un espectáculo de color maravilloso para todos menos para los empleados municipales encargados de limpiar calles y veredas.
Aquí en la Capital Federal de la Argentina, hay una gran variedad de árboles de hojas caducas, el más difundido es el Fresno Rojo Americano que debe la segunda parte de su nombre a que en otoño sus hojas adquieren un color amarillo dorado con tintes rojos, muy ornamental, por cierto, antes de comenzar el invierno las pierde totalmente.
Otro árbol de gran difusión es el Plátano, de gran altura y con ramas fuertes y tupidas, comienza a perder las hojas a principios del otoño y las veredas de las calles de la ciudad se tapizan con ellas asemejando un verdadero colchón de diversas tonalidades.
Un árbol de menor difusión, pero muy común en plazas y parques, es el Palo Borracho, una variedad del género Ceiba donde se destaca el árbol sagrado de los Mayas para los cuales la Ceiba sostenía el mundo con sus ramas y tejía el inframundo con sus raíces. La variedad frecuente entre nosotros no tiene visos de ser sagrada, pero si posee una hermosa floración entre lila y rosada que posee la particularidad de perder sus hojas en otoño, pero sin que estas cambien de color o forma, toda la superficie alrededor de su tronco se tiñe de esos colores dando un bello contraste.
Me encuentro entre aquellos que se deprimen un tanto al llegar el otoño, disfruto del cambio de color y de la caída de las hojas, pero más allá de eso prefiero los meses más cálidos; me han dicho que es un trastorno afectivo estacional. Por suerte vivimos en el planeta Tierra, porque sería para mí una verdadera penuria haber nacido por ejemplo en Urano, está tan alejado que su órbita demora 84 años en dar la vuelta alrededor del sol, eso significa que su invierno dura aproximadamente 42 años.
---
Las fotografías son de mi propiedad excepto las que menciono la fuente.
The photographs are my property except those mentioned by the source.
Héctor Gugliermo
@hosgug