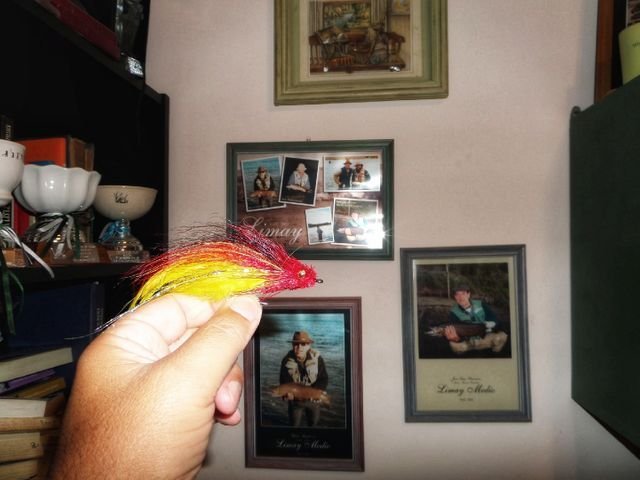 I once wrote about the exalted, that trio that we built as a joke after four fabulous days of fishing in Patagonia. A few days ago reviewing photographs I found some of that memorable excursion and the memories and experiences crowded into my mind after being hidden for a long time.
Javier lives in France and I have not seen him for several years, the friendship remains latent but it is going to wrinkle, like the clothes that we no longer use and is hidden in the back of a closet, if the friendship is not nurtured it is frequently attacked by oblivion.
José committed suicide more than 15 years ago, in one of those outbursts of rage that he got from time to time, probably also motivated by the frustration of not being able to do what he loved, his poorly paid job and his family full of renowned doctors were too much pressure, so big that not even his wife and daughter could contain it, not to mention the friends, who did what we could, well at least that's what I think.
But the memory of that and other fishing trips hit hard in my memories, the Correntoso, the Limay Medio, the Salada Grande lagoon, the trip to Rocha in Uruguay, all beautiful evocations of a beautiful time that will not return. But what is life but a set of experiences that take place at some point and then pass, only the memory remains.
Something similar happens with many situations in our life, supreme moments of infinite happiness I usually say. Moments with family, friends, or alone. This is how life is built over the years, luckily I have a short memory of unpleasant times, I just try to learn what I did or what went wrong, so as not to repeat them but then I keep it somewhere far away from my mind, only good memories remain.
We are about to start another adventure with my wife, in a week counting from today we will do 2000 kilometers by car to visit a couple of dear friends with whom we have shared more than 40 years.
Surely we will have new experiences, new experiences and much happiness to keep in our trunk of memories and have them close to rejoice in the memories when they are already history.

Alguna vez escribí sobre los excelsos, ese trío que construimos como una broma luego de cuatro jornadas fabulosas de pesca en la Patagonia. Hace pocos días revisando fotografías encontré algunas de aquella memorable excursión y los recuerdos y vivencias se agolparon en mi mente luego de estar ocultos por mucho tiempo.
Javier vive en Francia y hace varios años que no lo veo, la amistad permanece latente pero se va a arrugando, como la ropa que ya no usamos y queda escondida en el fondo de algún armario, si la amistad no es alimentada con frecuencia es atacada por el olvido.
José se suicidó hace más de 15 años, en uno de esos arranques de furia que le daban cada tanto, probablemente también motivados por la frustración de no poder hacer lo que amaba, su trabajo mal remunerado y su familia llena de médicos reconocidos eran demasiada presión, tan grande que ni siquiera su esposa e hija pudieron contenerlo, ni hablar de los amigos, quienes hicimos lo que pudimos, bueno al menos es lo que creo.
Pero el recuerdo de ese y otros viajes de pesca golpean con fuerza en mis recuerdos, el Correntoso, el Limay Medio, la laguna Salada Grande, el viaje a Rocha en Uruguay, todas bellas evocaciones de un tiempo hermoso que no volverá. Pero que es la vida sino un conjunto de vivencias que se realizan en algún momento y luego pasan, solo queda el recuerdo.
Algo similar ocurre con muchas situaciones de nuestra vida, instantes supremos de dicha infinita suelo decir. Momentos con la familia, con amigos o solo. Así se va construyendo la vida con el paso de los años, de los tiempos poco gratos por suerte tengo memoria corta, solo trato de aprender que fue lo que hice o salió mal, para no repetirlos pero luego lo guardo en algún lugar muy apartado de mi mente, solo quedan los bueno recuerdos.
Estamos a punto con mi esposa de arrancar otra aventura, en una semana contando a partir de hoy haremos 2000 kilómetros en automóvil para visitar a una pareja de queridos amigos con los que hemos compartido más de 40 años.
Seguro tendremos nuevas experiencias, nuevas vivencias y mucha felicidad para guardar en nuestro baúl de recuerdos y tenerlos cerca para regocijarnos en los recuerdos cuando ya sean historia.
Las fotografías son de mi propiedad excepto las que menciono la fuente.
The photographs are my property except those mentioned by the source.
Héctor Gugliermo
@hosgug