Holybread is a nice game, the second day of his arrival on steem I started to play.
Although it ate a lot of time I enjoyed it.
Holybread es un juego agradable, el segundo día de su llegada aquí empecé a jugar.
Aunque comió mucho tiempo, lo disfruté.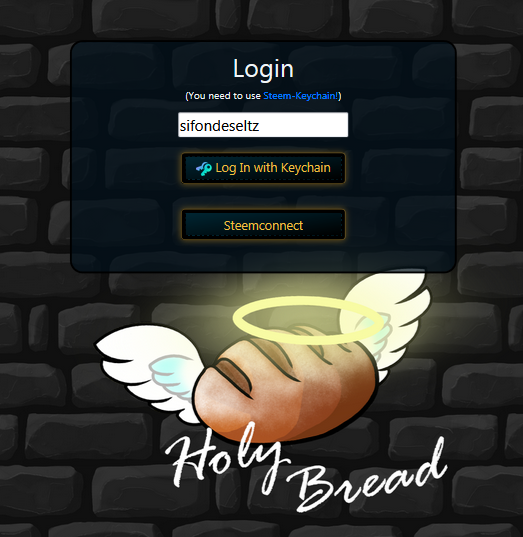 Time goes by, supposedly smaller updates follow.
At rank 150 I started on the first day and have advanced to rank 60 (sometimes 50) so far. It takes not less time but now more.
El tiempo pasa, supuestamente le siguen actualizaciones más pequeñas.
En el rango 150 empecé el primer día y he avanzado al rango 60 (a veces 50) hasta ahora. No requiere menos tiempo, pero ahora más.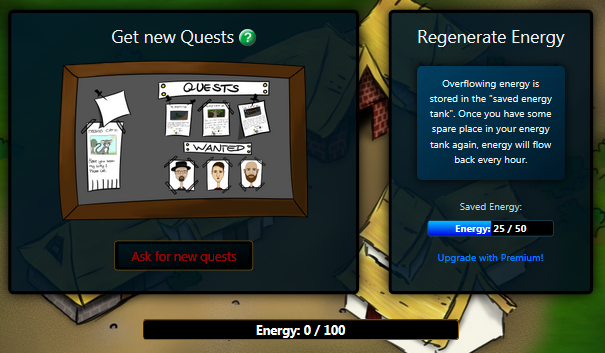 You have to play the quest down to 0 Energy every day to keep up with the pace. In the beginning I sold items quite regularly, even if only for the minimum price, later these sales became rare.
Common heros are now unsaleable, even if they are rare, there is usually no demand.
Epic or legendary heros may still sell if someone is willing to pay dozens or hundreds of stems.
Tienes que jugar la quest hasta Energy_ 0 todos los días para poder jugar en la parte delantera de la manada. Al principio vendía artículos con bastante regularidad, aunque sólo fuera por el precio mínimo, más tarde estas ventas se volvieron escasas.
Los héroes comunes ya no se pueden vender, aunque son raros, normalmente no hay demanda.
Los héroes épicos o legendarios pueden seguir vendiéndose si alguien está dispuesto a pagar docenas o cientos de steem.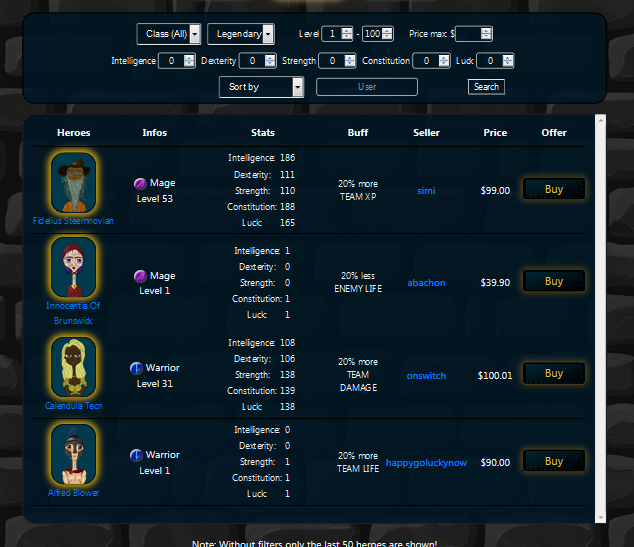 An update has turned the breadcrumbs you could actually turn into steem in an ingame payment method. If you don't reinvest, your rank will go downhill.
Una actualización ha convertido las migas de pan que podrías convertir en steem en un método de pago dentro del juego. Si no reinviertes, tu rango bajará.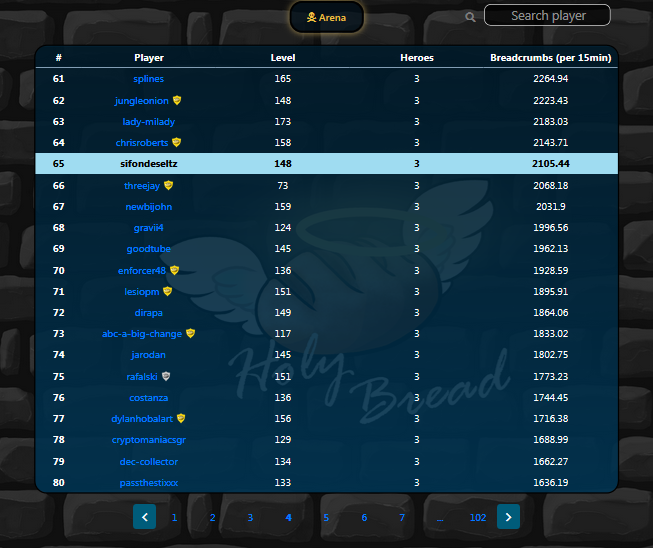 Conclusion:
Even with low demands to get something monetary out of the game, you will be disappointed on every level.
Where a source of income opens up, it becomes obsolete through updates.
The time investment is enormous and there are constantly repeating tasks that do not vary.
The design is acceptably average without any special features.
Buying items or heros is outrageously expensive and most of the money does not go to the seller but to holybread.
Conclusión:

Incluso con bajas exigencias para sacar algo monetario del juego, te decepcionarás en todos los niveles.
Cuando se abre una fuente de ingresos, se vuelve obsoleta a través de las actualizaciones.
La inversión de tiempo es enorme y hay tareas que se repiten constantemente y no varían.
El diseño es aceptablemente promedio sin ninguna característica especial.
Comprar artículos o héroes es escandalosamente caro y la mayor parte del dinero no va al vendedor sino a Holybread.

The game is certainly a good idea, but things could be done much better.
Nevertheless I think it's nice to try it out, maybe you'll like it better.
El juego es ciertamente una buena idea, pero las cosas podrían hacerse mucho mejor.
Sin embargo, creo que es bueno probarlo, tal vez te guste más.