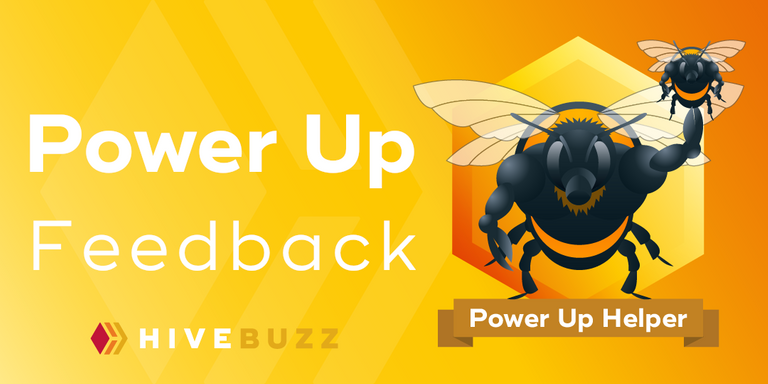 This October edition of the Hive Power Up Day has been absolutely amazing and went way beyond our expectations.
The introduction of the Power Up Helper badge has also been well received by many of you. We were pleasantly surprised by the number of people who decided to help another less powerful user.
As always, it has been a super fun day and many created the buzz on Twitter with the #HivePUD or #HPUD tags.

Este post está traducido al español - aquí
A few words from the PUD organizers

@traciyork
I thought last month's Power Up Day was amazing, but this month (even with all the blockchain hiccups, naughty nodes, and the bearish Hive price, along with some exchanges like Bittrex being in "wallet maintenance" mode, it was nothing short of fantabulous! It just goes to show, "If you badge it, they will stake." 😊

And speaking of, it looks like (based on what I can see on the HiveBuzz board) a good number of people got the Helper badge as well. What a wonderful way to help pull the community together by encouraging larger accounts to power smaller accounts up!

Thank you once again to the HiveBuzz team for creating such wicked awesomesauce BUZZ in support of our blockchain home!

@victoriabsb
I want to highlight how amazing it was to see so much participation even tho we had so many nodes issues that didn't stop people from powering up, showing how everyone wants to show support for the blockchain.
What are the PUD stats of this month?
Let's start with some data on Power Up Helpers (read here the introduction post) since this is the big novelty of this edition.
We have 42 users (~11% of participants) who have made a power-up to another account and have thus allowed 59 other users to have their PUD badge.
And yes, you read that right, some have helped several accounts! This is the case of @blocktrades (4), @louis88 (4), @derangedvisions (3), @tazi (3), @arcange(2), @fw206 (2), @gregory-f (2), @jeffjagoe (2) @schlafhacking (2), @trumpikas (2) and @walterjay (2).
Together, the helpers gifted 2251.652 HIVE, the most generous being @blocktrades (1102,988), @condeas (100), @forykw (100), @ph1102 (100), @engrave (97), @walterjay (78), @satren (50,49), @inertia (50), @tazi (45), @louis88 (40), @derangedvisions (30), @jongolson(30), @fw206 (30), @dannewton (25), @elianaicgomes (25), @jeffjagoe (22), @schlafhacking (21,814), @arcange (20), @gregory-f (20), @pavelsku (20), @sammie (20), @trumpikas (20), @trangbaby (12), @jeffjagoe (11) and @jznsamuel (11) who gave more than the minimum 10 HIVE required.
A huge thank you to them all for their generosity! Show them some love by upvoting one of their recent posts.
Among all the helpers, 37 of them helped at least one less powerful user who never got any power-up from anyone, making its benefactor eligible for the so coveted Power Up Helper badge: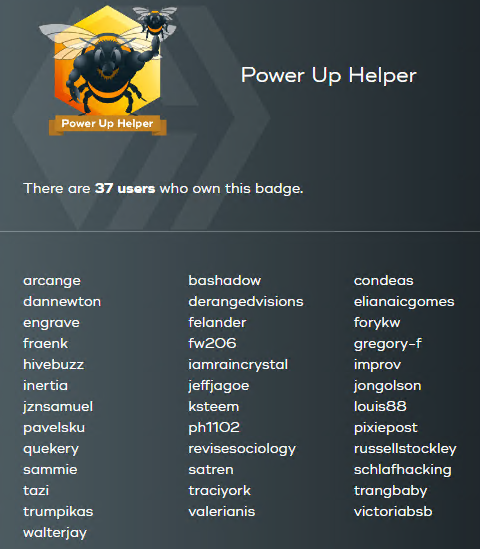 Congratulations to all of them too!
Now, Let's have a look at how it went throughout the day.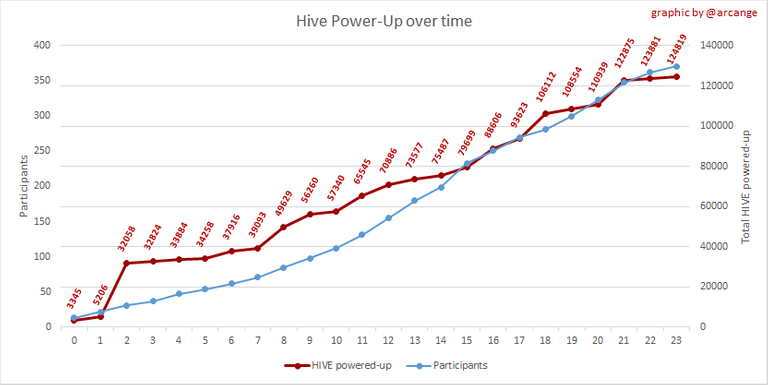 Looks like some participants were eager to power up ~ 25k HIVE around 2am (UTC). The final hours of the PUD were quieter, with participants continuing to join but doing smaller power-ups.
Let's now compare with the previous editions of the PUD.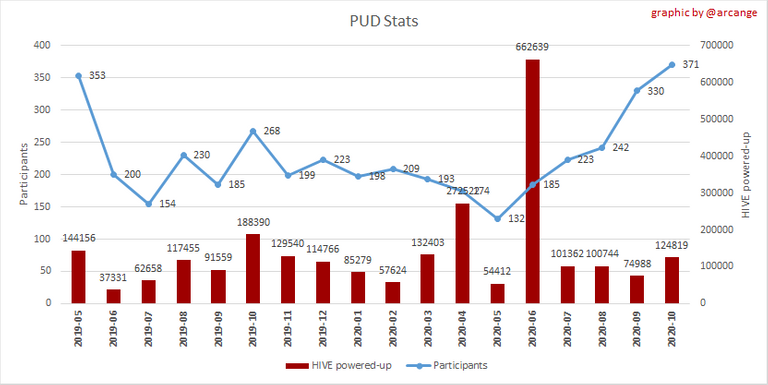 Hooray, we have a new record for the number of participants: 371 users made a power-up or helped someone else to power up. Amazing!
And look, if we remove the peak of the 2020-06 period (which we believe is more of a coincidence than actual participation in PUD), we not only have continued growth in power-up amounts, but also a new record with 124819 HIVE converted into Hive Power! This is an impressive 67% increase!!!
Last month, we introduced the level scale, based on individual power-up amounts. Let's have a look at how it evolved compared to the previous edition: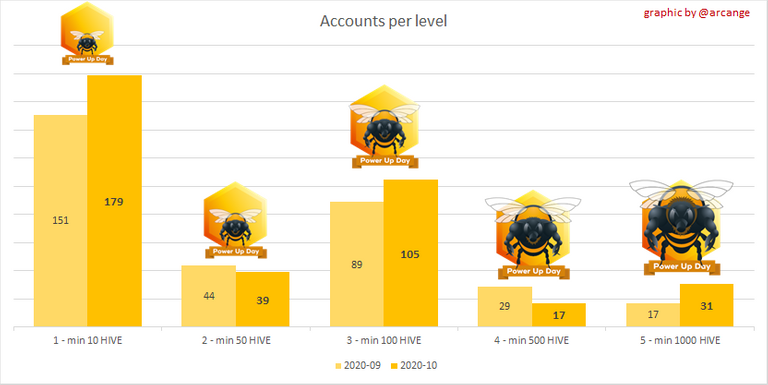 As you can see, the major changes are in the extremes and in the middle.
We have more users who have done a power-up of at least 10 HIVE (+18%) or 100 HIVE (+18%) and a big boom in those who have done a power-up of more than 1000 HIVE (+82%). We must believe that the super-big-power-bee has motivated a few.
Become a Sponsor
Some amazing members of the Hive community are supporting the PUD by providing the event with prizes like delegations or giveaways. Another very appreciated way to motivate people to join.
Shout out to @fionasfavourites, @hiveph, @improv, @jeanlucsr, @livinguktaiwan, @naturalmedicine, @sgt-dan, @traciyork for their unfailing support!
More information on @traciyork's post.
If you want to become a sponsor of the PUD project as well, please get in touch with her.
See you on soon
We look forward to seeing you again next month. We still have a few cards up our sleeves to make this challenge even more fun and to motivate participants.
See you on November 1st
---
HiveBuzz is a project created by @arcange