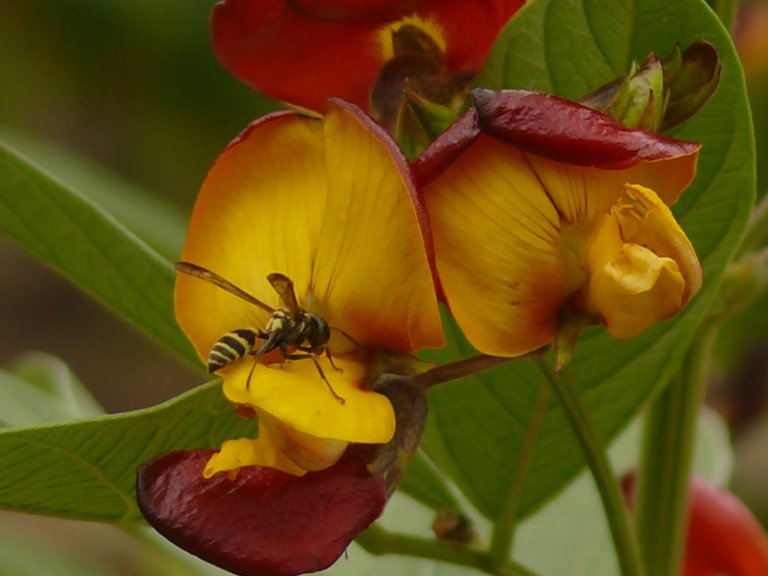 Greetings, my dear Earthlings. The little wasp goes from flower to flower, doing its job of multiplying the love of flowers, I always like to see how insects make that beautiful contribution to flowers since when they walk in them, they carry pollen to others and so the cycle of those lives, something wonderful that the little ones contribute that many do not even notice.

Saludos, mis estimados terrícolas. La pequeña avispa anda de flor en flor, haciendo su trabajo de multiplicar el amor de las flores, siempre me gusta ver como los insectos hacen ese hermoso aporte a las flores ya que al caminar en ellas, llevan el polen a otras y así sigue el ciclo de esas vidas, algo maravilloso que aportan los pequeños que muchos ni notan.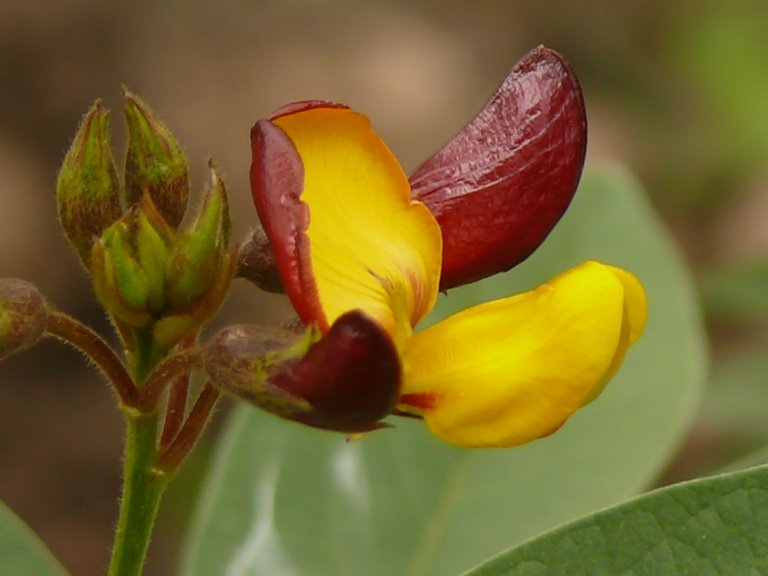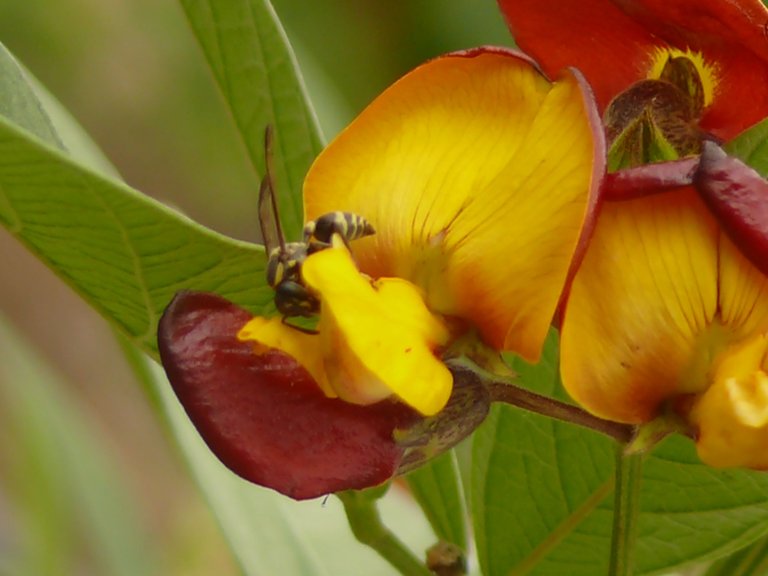 I have always admired insects that help nature, that little work, which in itself is the greatest, since without them, this world would have big problems because the balance would be broken, many plant species would disappear, not to mention the bee that fulfills a large percentage in that natural process, it is those things that I think make me love so much some of these small animals that contribute great things.

Siempre he admirado a los insectos que ayudan a la naturaleza, ese pequeño trabajo, que en si es el más grande, ya que sin ellos, este mundo tendrías grandes problemas pues se rompería el equilibrio, desaparecería muchas las especies vegetales, sin mencionar la abeja que cumple un gran porcentaje en ese proceso natural, son esas cosas las que creo me hacen amar tanto algunos de éstos pequeños animales que aportan grandes cosas.

Although some people do not like photographs of this type of nature, I do, I am fascinated to highlight that, the small details of those beings, of the flowers, of things that many go unnoticed and do not value, so important, although not value them as much as they deserve, the truth is that I prefer to take photos of this type than others, and I like to see them if other people take them.

Aunque algunas personas no les gustan las fotografías sobre este tipo de naturaleza, a mi sí, me fascina resaltar eso, los pequeños detalles de esos seres, de las flores, de cosas que muchos pasan desapercibidos y que no valoran, tan importantes, aunque no las valoren tanto como merecen, la verdad prefiero hacer fotos de este tipo que otras, y me gustan verlas si otras personas las hacen.

The flower is from Quinchoncho, a grain that is eaten here a lot, it is very beautiful, although I have seen two types, because there is only one yellow and this one that is yellow and that reddish color, this one is more striking than the other, because it stands out much, it also attracts more insects, since more movement is seen near them than the others with only yellow color on both sides of the petals.

La flor es de Quinchoncho, un grano que se come acá mucho, es muy bonita, aunque he visto como dos tipos, porque esta una solo amarilla y esta que es amarilla y ese color rojizo, esta es más llamativa que la otra, porque resalta mucho, también atrae más los insectos, ya que se ve mayor movimiento en cerca de ellas que las otras con solo color amarillo por ambos lados de los pétalos.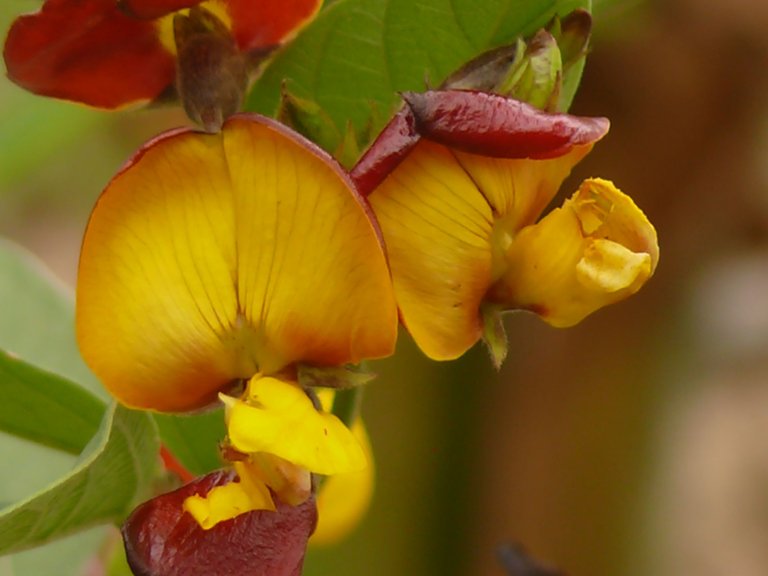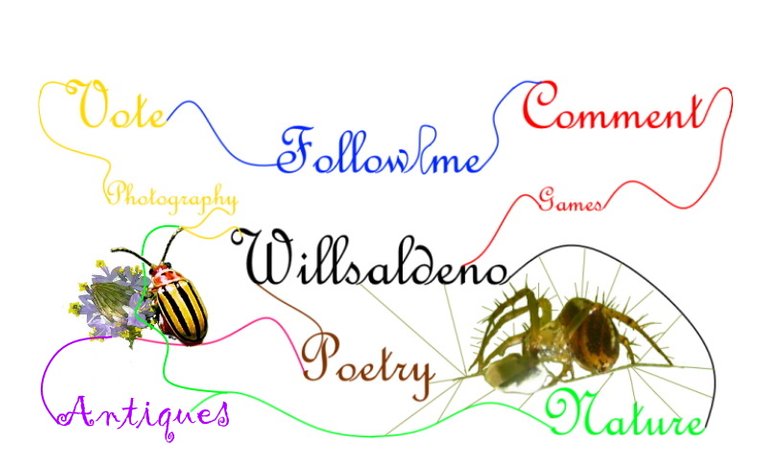 This is where the lyrics go for today, I invite you to continue looking a little more of this world in the next publication, I hope it will be tomorrow, or later, maybe the voice will be seen or will let you see something about games, so if you liked it What is being done for you here, do not hesitate to support the work with something positive, below I invite you to:

Hasta aquí llegan las letras por hoy, les invito a seguir mirando un poco más de este mundo en la siguiente publicación, espero sea mañana, o más tarde, quizás la voz verse o o deje ver algo sobre juegos, así que si te ha gustado lo que se hace para ustedes aquí, no dudes en apoyar el trabajo con algo positivo, allí abajo te invito a: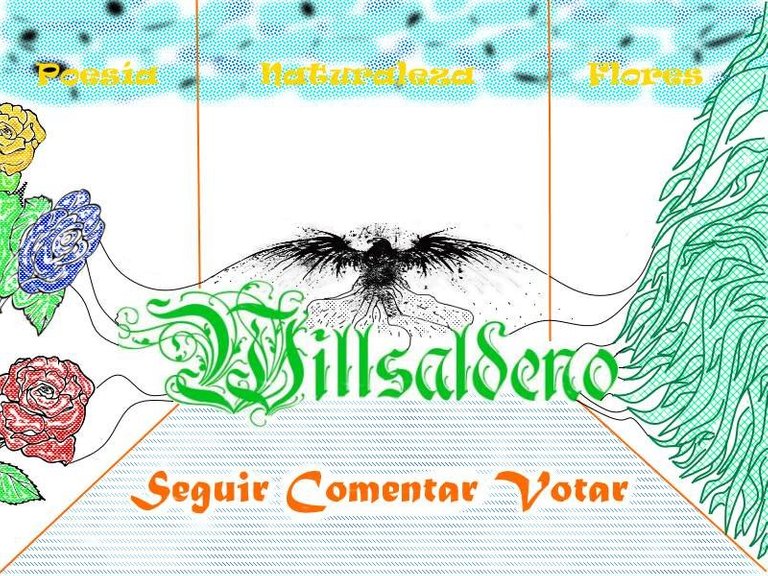 Nota-Note
Bilingüe: Que utiliza dos lenguas al mismo nivel o se hace en dos lenguas
Bilingual: That uses two languages ??at the same level or is done in two languages.
Camera: Panasonic Lumix DMC-FZ50.



Lent: Leica 1: 2.8-3.7 / 7.4-88.8.

Location: Villa de Cura.



Original photographs of willsaldeno, I do not edit the photos, because I like to put only what I achieve with the camera and not something improved with an editor.