Winter Night Lights

LIGHTMIST SCRAPER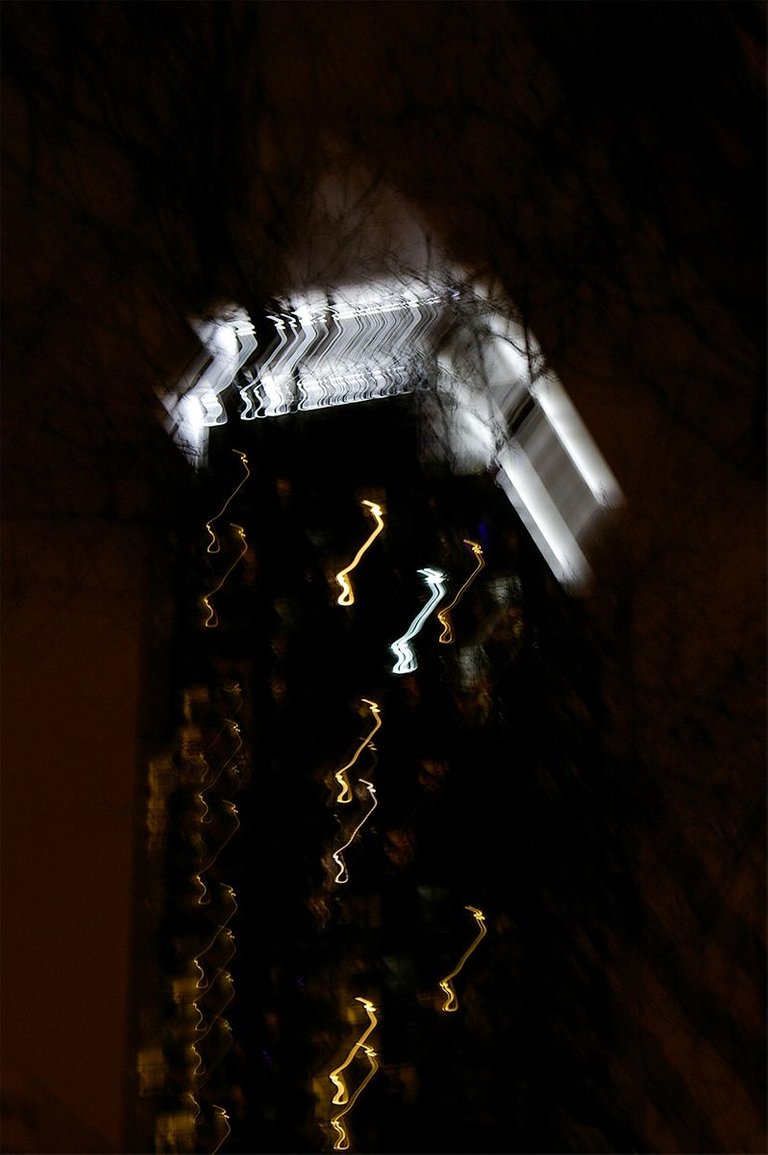 Second shoot through darkness searching for light to colour blast the night. What can I capture trolling some dark parts of the city in areas my eye falls on light? It was even colder than the daytime snow walk I did for Snow Job. I gave myself an internal boot to boot up and get out there a second time after the sun went to sleep.
These photos were taken in a different area of the city than the daytime shoot. It's a part of the city I typically avoid after dark, since it's not a good neighbourhood. It's gang territory. I wanted the photos in this area, due to the lights. I've been waiting, steeling my nerve to wander there after dark with my camera, to take you on a light walk.

LIGHTMIST TOPPER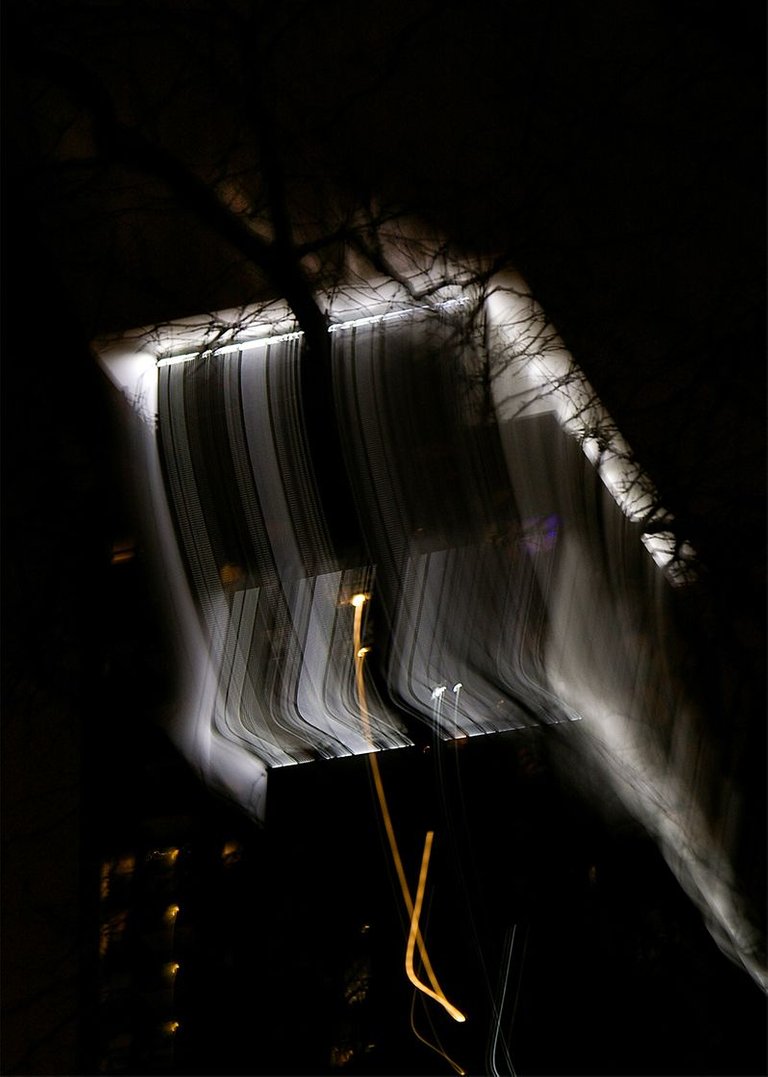 These first two shots are of a very tall skyscraper on the edge of the neighbourhood. The top of the building has a lighted exposed terrace surround with a roof above that. Mist pouring forth from the top of the building caught my eye through naked trees.

LIGHT TUNNEL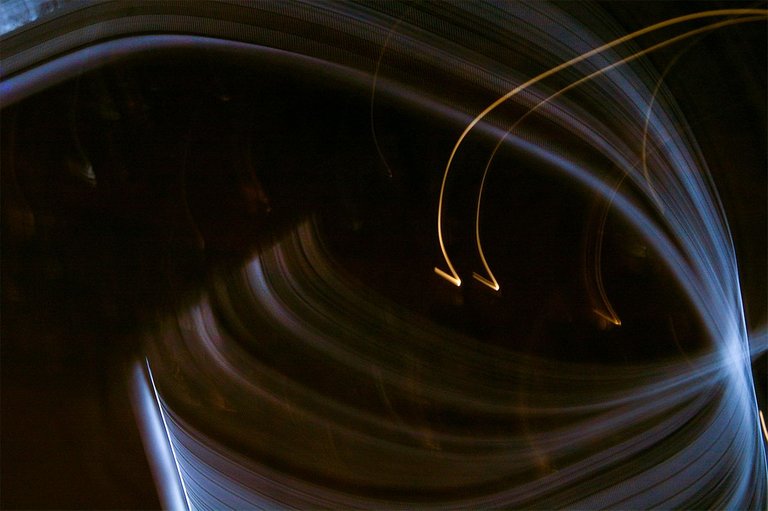 Further along this small side street, two different types of street lights combined to create a light tunnel. Speedy swirl finger click fast to catch it.

WINDOW WEB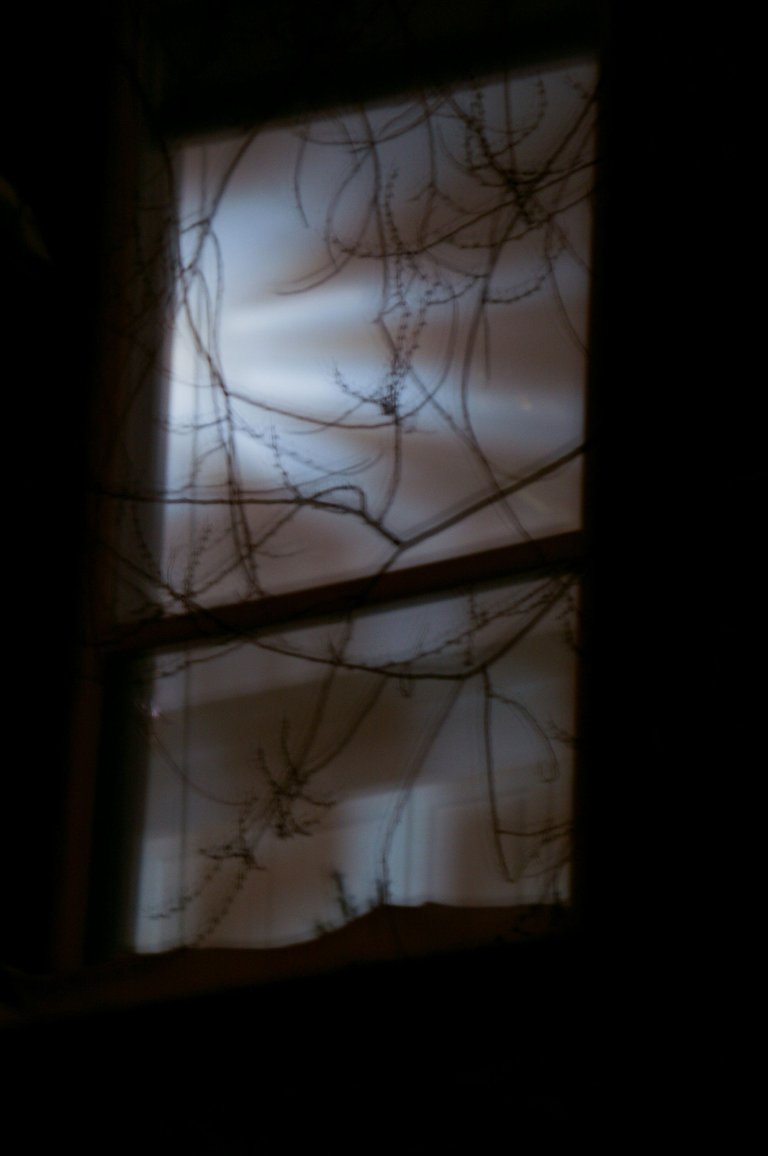 Window watching has taken on a whole new meaning at night. I'm not one for peeping in anyone's windows. Light displays and what I can capture have altered that. This one was shot from the ground, side of a townhouse, second floor. The pattern created is from a ceiling fan inside and bare tree branches on the outside.

PINK FENCE

As I started my walk, a fire engine on full colour speed raced ahead of me, taking a different route. I half-debated on a race chase for those flashing lights before it took off out of sight. Ten minutes later, we meet again where it's parked on a side street, lights still brashly bashing through the dark. It was meant to be. Cast colour flashes on a black metal fence, pink, then red, with notes of blue and hue on snow.

RED FENCE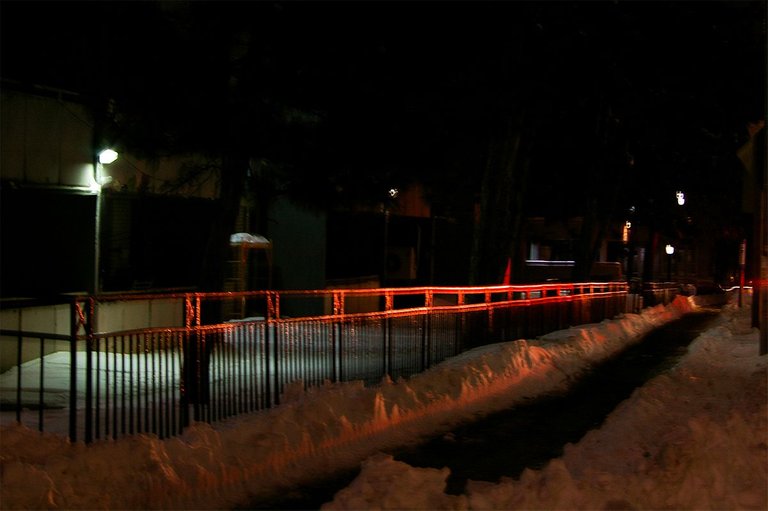 DISTORTED PATH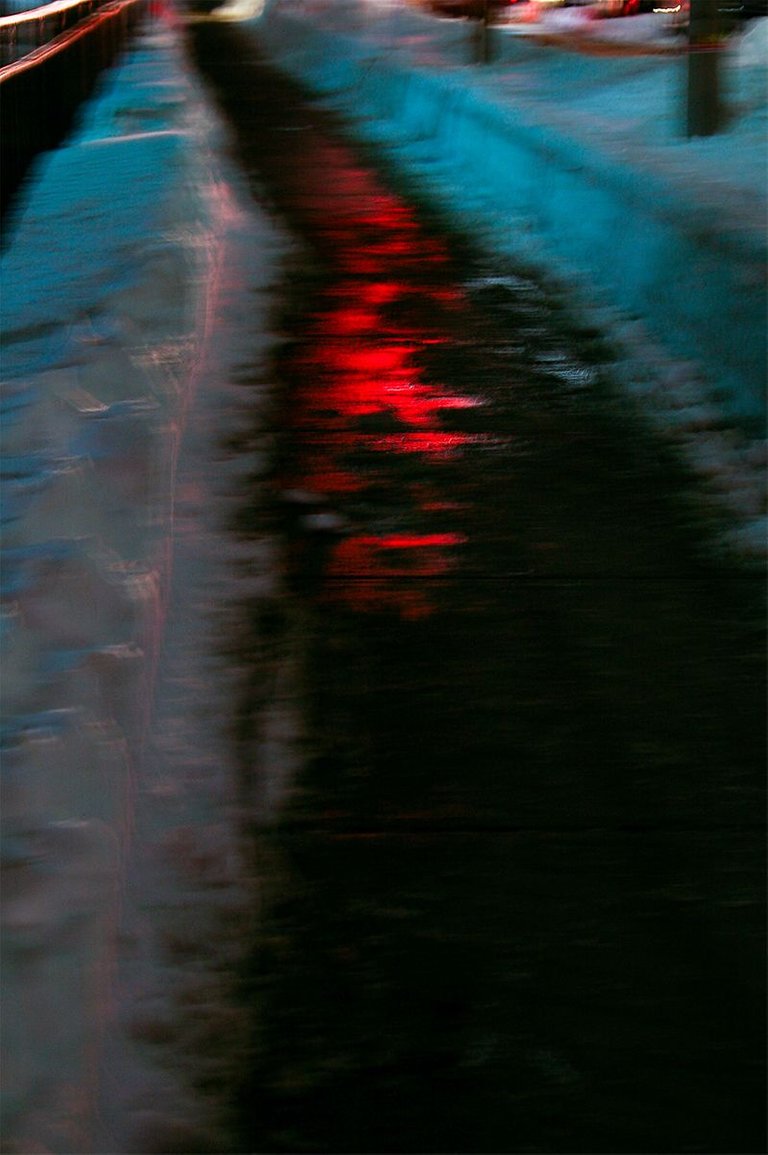 Almost to the center action, all quiet, no guns blazing, no one crazing, blanketed in silent snow cold, fire not blazing. There's a globe light on a stone embedded post fence corner. It's growing red hairy vine branches sleeping, dreaming of green leaves.

HAIRY GLOBE LIGHT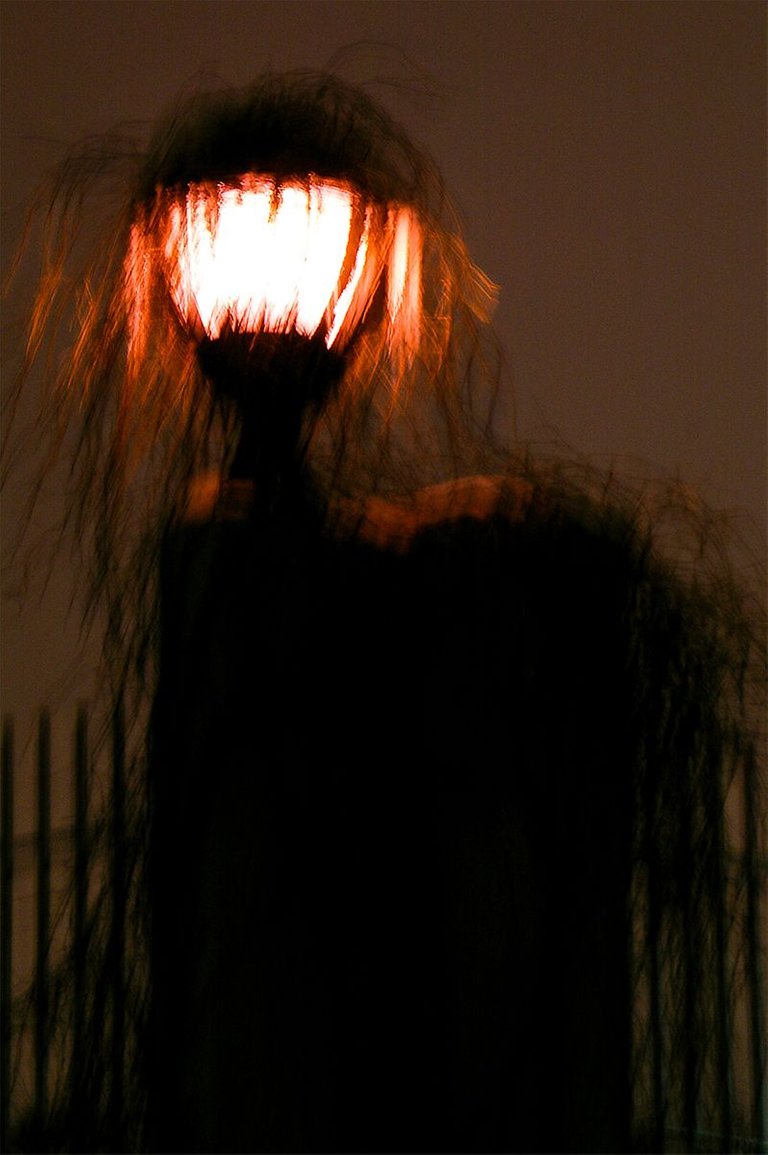 The next six photos were taken in the centre of this neighbourhood. It's densely packed with high rise apartment buildings. It's one of the poorest neighbourhoods in the city, where people have struggled to survive before I was ever born. Many of the balconies and windows are decorated with all manner of lights. They stay up year round; only the December holiday lights are eventually taken down. People love coloured lights here. At the very minimum a string of white lights often decorates balconies.

LIGHT BALCONY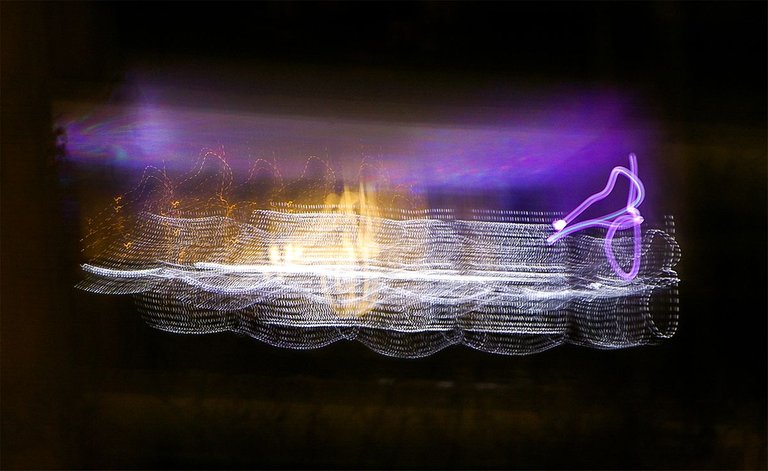 There was a single string of white lights on this balcony and two light sources inside the apartment. Several people have this purple light in their apartments that creates a glow inside and outside. I'm not sure what the source is for that light. A floor lamp of some kind is the other light source inside. I can only see so much several stories from the ground, unless I can grow wings like a bird and flap up there. Why can't I be a hawk? Sigh.

TREELIGHT SHOWER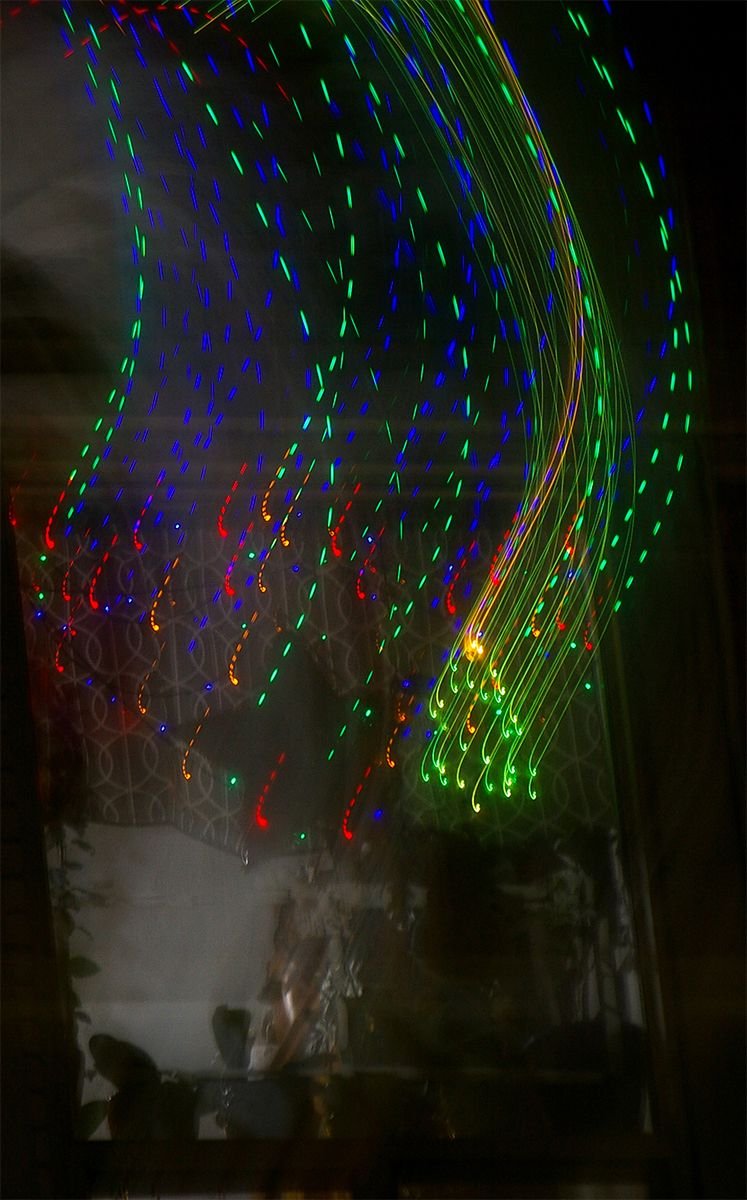 A window adorned with very simple lights, plus a small green tree. The background light source is the interior apartment light, most likely an overhead source.

STARLIGHT SHOWER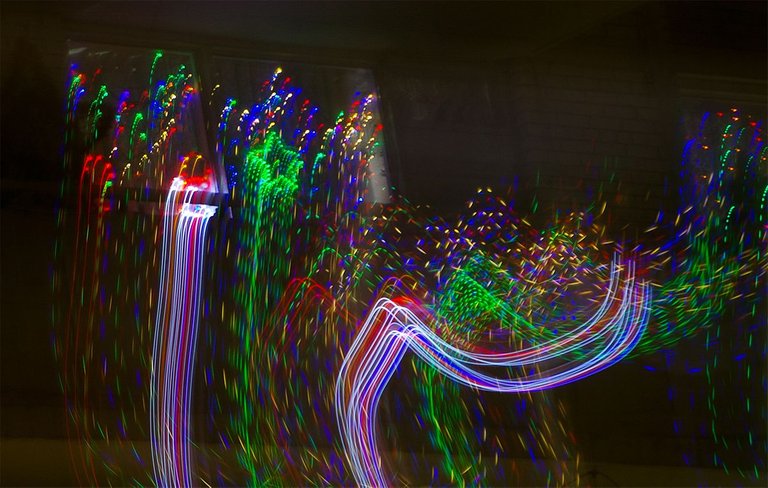 The balcony of the same apartment, adorned with many more lights and a star.

YELLOW ZIGZAG I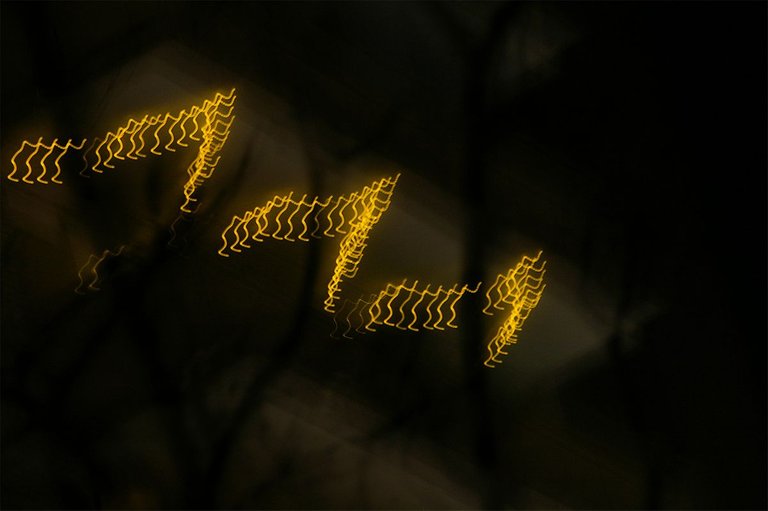 YELLOW ZIGZAG II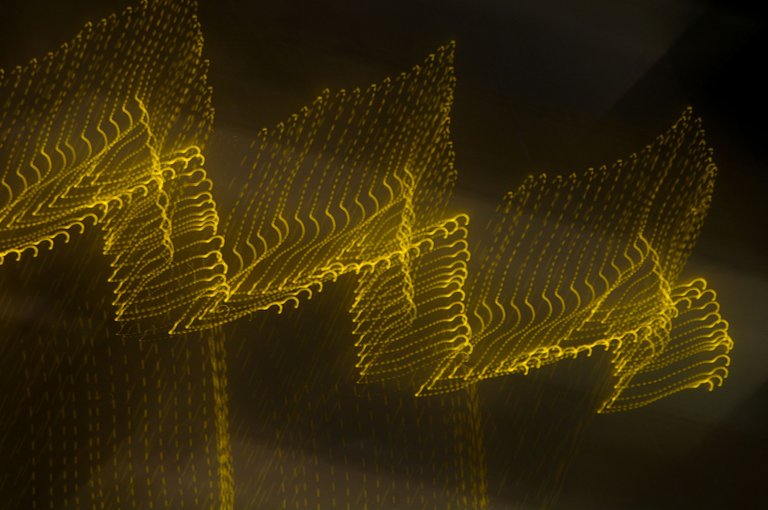 YELLOW ZIGZAG III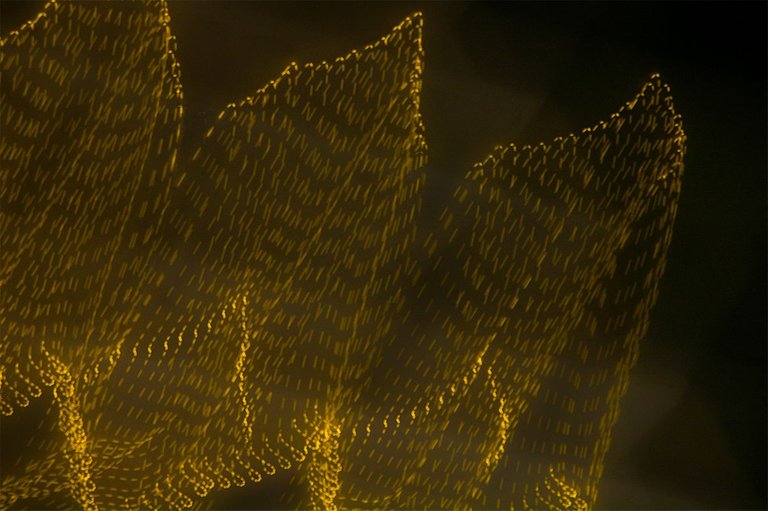 There was a single light source for this apartment, a small jelly bean yellow light string. Lighter tones are reflected ambient light from inside apartments. Dark vertical shapes in the first of these three photos are bare trees. The blackness of the trees in contrast to the brilliant yellow caught my eye with its simplicity of a single colour set against tones.

ELECTRIC SNOW TREE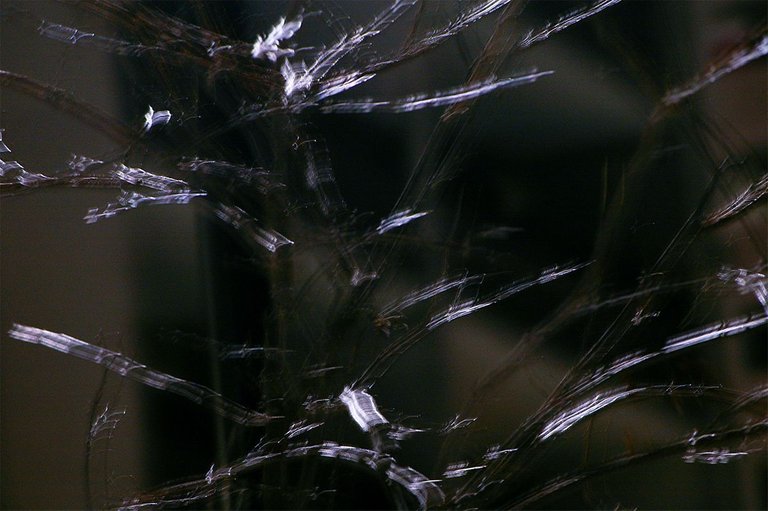 I'm out of the hood now, on the fringe again. A tall bright street light lit up the snow on this fledging tree. Snow or ice on naked dark trees caught by light at night; these highlights have caught my eye for many years. This is the first attempt at photographing what I see in my mind, beyond what is physically manifest in front of me.

ELECTRIC ICICLE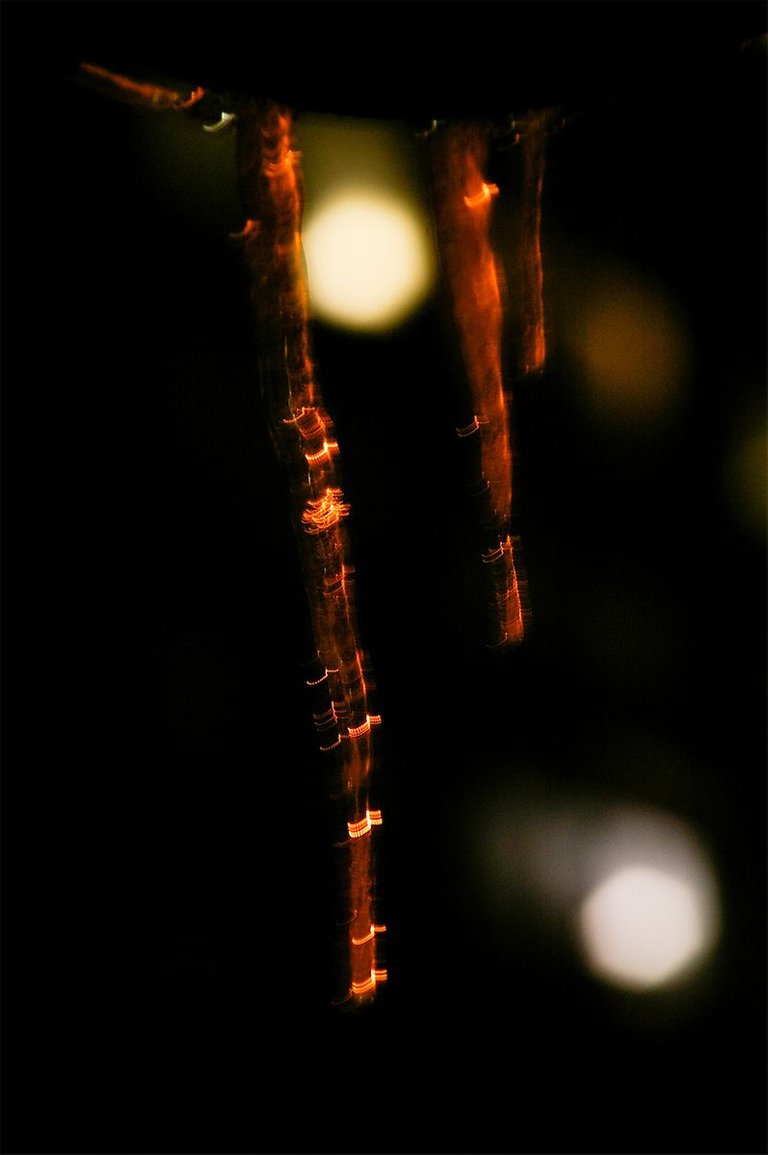 Back on a main street now, different direction, with several abandoned buildings waiting to be demolished, forever spreading condo land. Big money in jail sized tower boxes.
One of these abandoned buildings has an oval canopy with a few icicles stabbing down. I walked off the street and leaned my back against the boarded up door, doing some calisthenics for onlookers (people were staring), trying to freeze frame light icicles.

SHUTTERLIGHT WINDOW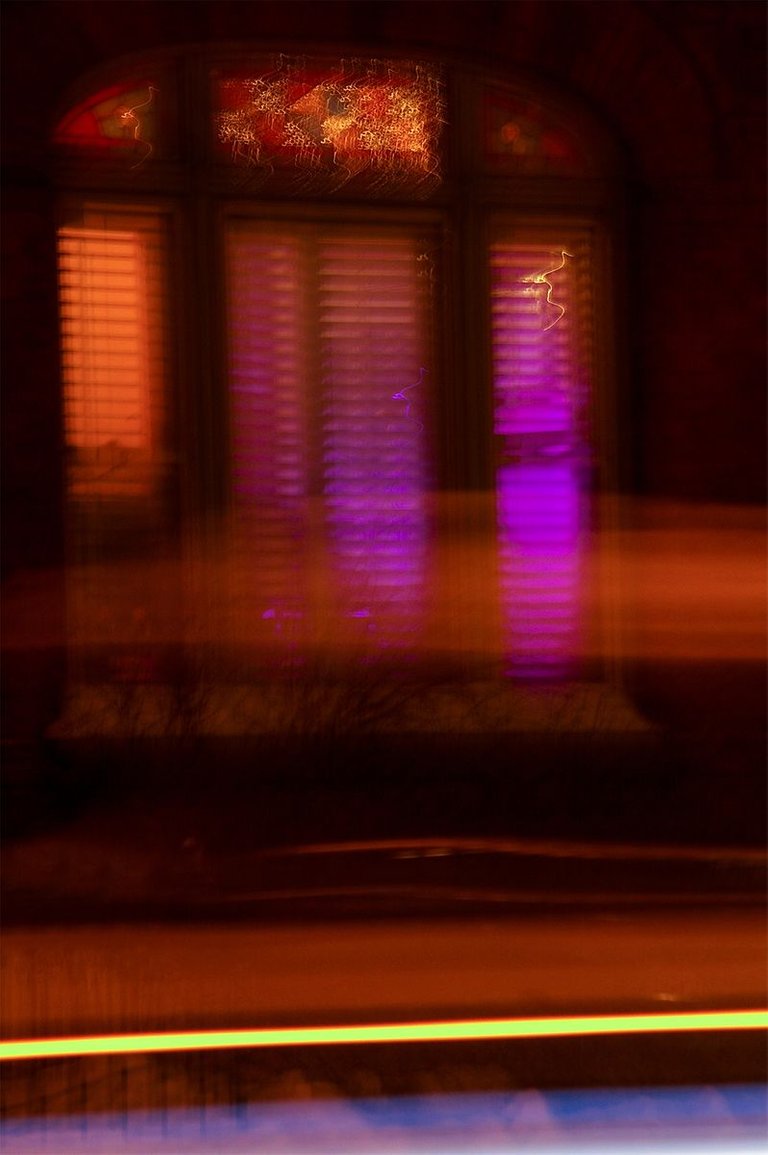 I'm on the sidewalk, crushed up against the snow to the side, I shot this window in an old house, semi-shuttered against the night. I couldn't see the light sources clearly, only one lamp. As I shot it, a bus was zipping past horizontally streaking through with additional underline light.
The next two photos are shot further along looking towards a small side street from a main street. In the first photo, there are young trees with lights strung on them, behind which is a new monster high rise. Snow reflected red light, stage set for dancing light.
In the second photo, an old house machine melded to the monster condo in some mutant manner sits on the corner, facing the main street. Multiple light sources from street lights, lights on the trees, interior building lights, vehicle lights,and signs mixed together for this shot.

LIGHT DANCERS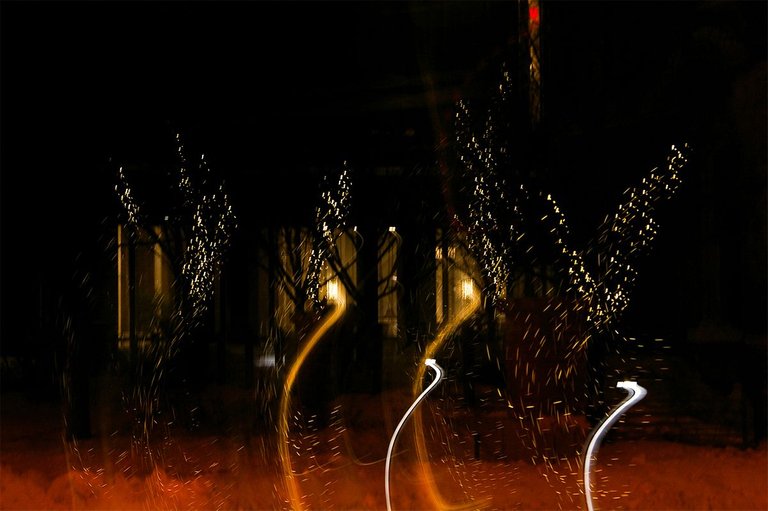 LIGHT HAUNTS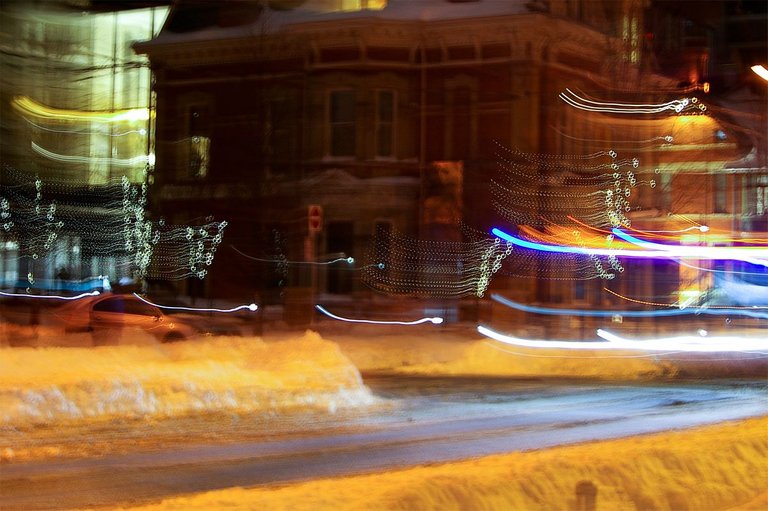 Almost packing it in for the night, double dip into frozen finger land, I was heading home to have one more thing catch my eye. Blue neon lights, wine store bottle sign lights, shot through double glass window pane.

BLUE BOTTLE GLOW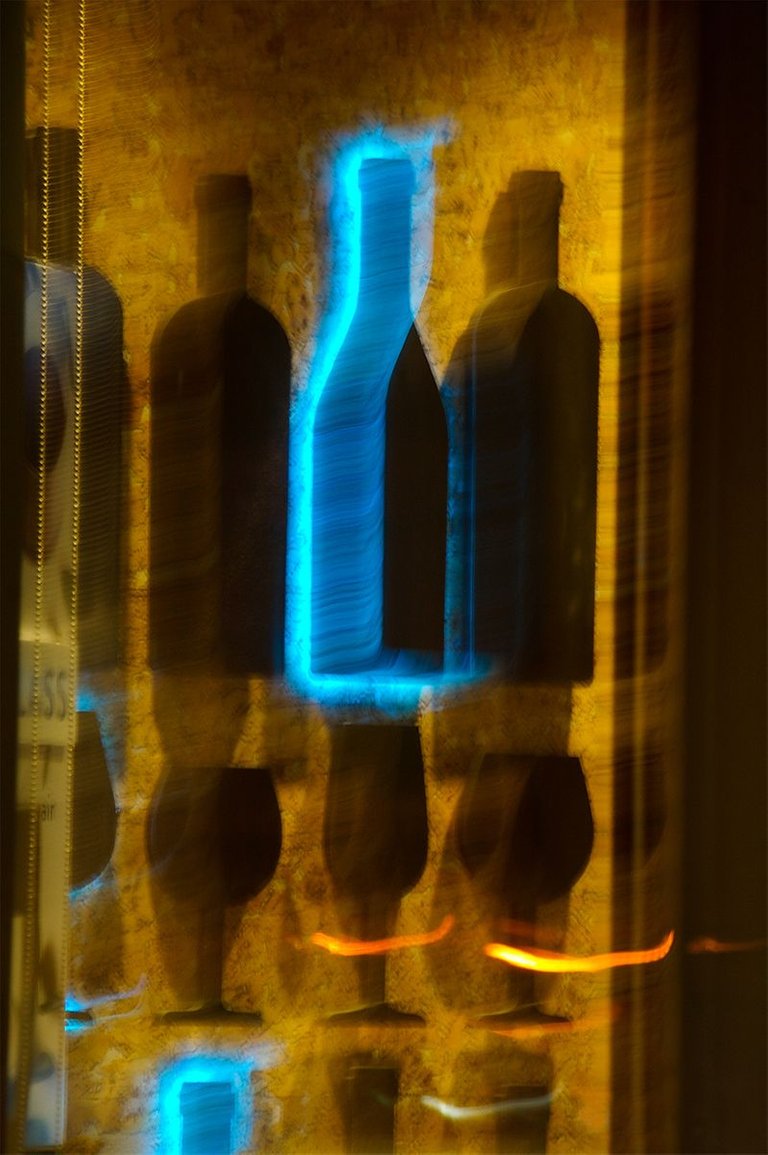 All photos taken by Nine with a Pentax digital 35mm camera.