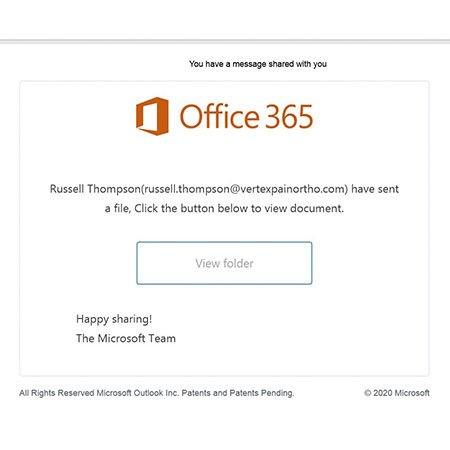 Link
In this last semester, hackers have taken advantage of the remote work of many officials from different companies, including Google and DHL, but the main one is Microsoft, from whom Microsoft 365 identification credentials have been stolen.
Micrososft has reached the first place as the company most used for Phishing attacks, the pandemic has been a great opportunity for those who are dedicated to carrying out these types of malicious attacks taking advantage of the remote work of employees.
The method consists of requesting users, through a false notification, to renew their Microsoft 365 credentials ".
Social networks have also been a great instrument for this type of modality.
Clients and victims are tasted by these means and an email is sent that redirects them to a false page where they must enter their credentials, in this way the attackers are left with the data of the users' accounts and full access to their accounts.
This data is necessary that we take into account since it has not only happened with this company, many users are affected by many other false "companies".
---
---
En este último semestre los hackers se han aprovechado del trabajo a distancia de muchos funcionarios de distintas compañías, entre ellas están google y DHL, pero la principal es microsoft, a quienes le han robado credenciales de identificación de Microsoft 365.
Micrososft ha alcanzado el primer lugar como empresa mas utilizada para ataques de Phishing, la pandemia ha sido una gran oportunidad para quienes se dedican a realizar estos tipos de ataques maliciosos aprovechando el trabajo remoto de los empleados.
Link
La modalidad consiste en solicitar a los usuarios mediante una notificación falsa, la renovación de las credenciales de Microsoft 365".
Las redes sociales también han sido un gran instrumento para este tipo de modalidad.
Los clientes y potenciales víctimas son catados por estos medios y se les envía un mail que los redirige a una página falsa donde deben ingresar sus credenciales, de esta manera los atacantes quedan con los datos de las cuentas de los usuarios y el acceso total a sus cuentas.
Este dato es necesario que llevemos en cuenta ya que no solo ha sucedido con esta empresa, Muchos usuarios se ven afectados por muchísimas otras "empresas" falsas.
Gracias por visitar mi blog.