Es común ver a personas en un video en vivo o grabado que mientras hablan estan con su mirad fija en otro punto que NO es la cámara, y esto no es porque está siendo entrevistado o algo similar, esta situación no permite conectar con el público de manera eficiente.
It is common to see people in a live or recorded video that while they speak they are with their gaze fixed on another point that is NOT the camera, and this is not because they are being interviewed or something similar, this situation does not allow to connect with the public efficiently.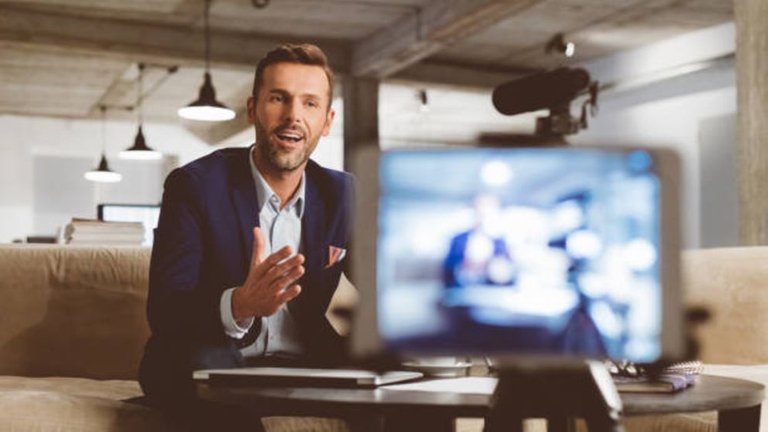 LINK

| Español | English |
| --- | --- |
| ¿Cómo lo hacemos?, Puedes imaginar que tu cámara es una persona, de todas maneras cuando tu video sea visto por el público si lo será, desde el momento en que creas que SI le estas hablando a una persona y solamente a un dispositivo de grabación tu mensaje será mucho mas natural y podrás conectar de manera eficiente. | How do we do it? You can imagine that your camera is a person, anyway when your video is seen by the public it will be, from the moment you think that you are talking to a person and only to a device of Recording your message will be much more natural and you will be able to connect efficiently. |

| Español | English |
| --- | --- |
| Otra manera de verlo, puede imaginarte que le hablas "A una sola persona", de esta manera tu sensación será de alivio y conectarás mucho mas. | Another way of looking at it, you can imagine that you are speaking "To a single person", in this way your feeling will be of relief and you will connect much more. |
LINK
| Español | English |
| --- | --- |
| Una buena opción es invitar a alguien de tu confianza para que te acompañe en la grabación, y puedes pedir que se coloque detrás de la cámara y hablarle directamente a esa persona, esto sin dudas marcará la diferencia. | A good option is to invite someone you trust to accompany you in the recording, and you can ask them to stand behind the camera and speak directly to that person, this will undoubtedly make a difference. |

Lo relatado en esta publicación es 100% de mi autoría, ha salido de mi cerebro por mi experiencia, fracasos y estudio de distintas fuentes. Cualquiera que quiera tomar parte de este relato puede solicitar el permiso correspondiente para hacerlo.

Diseño: Banner realizado por @egonz
Sígueme en:
| LBRY | BitTube |

Ganar publicando tus videos, registrarte aquí | LBRY |