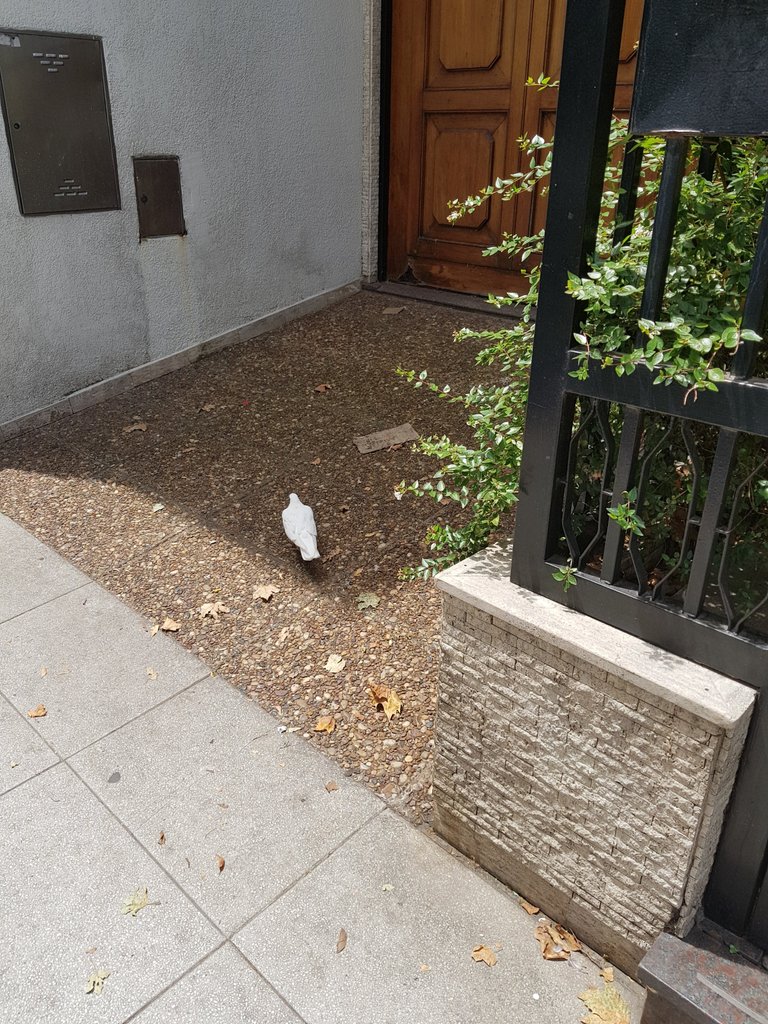 Some time ago walking from home to the subway station to travel to my work, of course at the time when Covid had not yet changed our way of life, I observed a pigeon quietly pecking at the entrance of a neighboring house, years ago I did not see one like that with its totally white, immaculate plumage.
Of course, he caught my attention and I took a couple of pictures of him, probably annoyed by my interference, he took off and disappeared into the sky behind the masses of cement.
I kept thinking about how long it had been since I had seen one of these and I could not remember it so somewhat worried I began to suppose that perhaps they are on the verge of extinction, I searched the Internet and in my few books on birds and this is what I found.
Although they are not in imminent danger of disappearing, the issue of pollution in large cities contributes to the fact that they are not easily found in these large crowds of people, cement, smog, and noise. According to scientific studies, the dark colors in the plumage of birds (it is not an exclusive characteristic of pigeons) help them to eliminate more quickly from their organisms the remains of heavy metals that circulate in polluted environments such as these large urban centers.
This characteristic gives birds with darker colored plumages an evolutionary advantage that will surely cause and is already doing so, an increasing proportion of births compared to light-colored ones.
It is enough to sit on a bench in a square to observe that the vast majority of pigeons have dark pigments in their plumage.
So the bad news is that the beautiful white doves, a symbol of peace accepted throughout the world, will be seen less and less frequently.
Just in case I will keep these photos in my collection to show my grandchildren.

Hace un tiempo caminando desde casa a la estación del subterráneo, por supuesto en la época en que todavía el Covid no había cambiado nuestra forma de vida, observé una paloma que hacía años no veía, su plumaje era totalmente blanco, inmaculado.
Por supuesto llamó poderosamente mi atención y le tomé un par de fotografías hasta que probablemente molesta por mi intromisión levantó vuelo y desapareció en el cielo.
Me quedé pensando en cuanto tiempo hacía que no veía una de estas y no pude recordar así que un tanto preocupado comencé a suponer que quizás estén al borde de la extinción así que busqué en Internet y en mis escasos libros sobre aves.
Si bien no están en inminente peligro de desaparecer, el tema de la polución en las grandes ciudades contribuye a que no se las encuentre fácilmente en estas grandes aglomeraciones de personas, cemento, smog y ruidos. Según estudios científicos, los colores oscuros en los plumajes de las aves las ayudan a eliminar más rápidamente de sus organismos los restos de metales pesados que circulan en los ambientes contaminados como lo son estos grandes centros urbanos.
Esta característica les da una ventaja evolutiva a las aves con plumajes de colores más oscuros que seguramente provocará y ya lo están haciendo, una creciente proporción de nacimientos respecto a las de colores claros.
Basta sentarnos en un banco de alguna plaza para observar que la gran mayoría de las palomas tienen pigmentos oscuros en su plumaje.
Así que la mala noticia es que las bellas palomas blancas, símbolo de la paz aceptado en todo el mundo, podrán observarse cada vez con menos frecuencia.
Por las dudas guardaré estas fotografías entre mi colección para mostrárselas a mis nietos.
Las fotografías son de mi propiedad excepto las que menciono la fuente.
The photographs are my property except those mentioned by the source.
Héctor Gugliermo
@hosgug