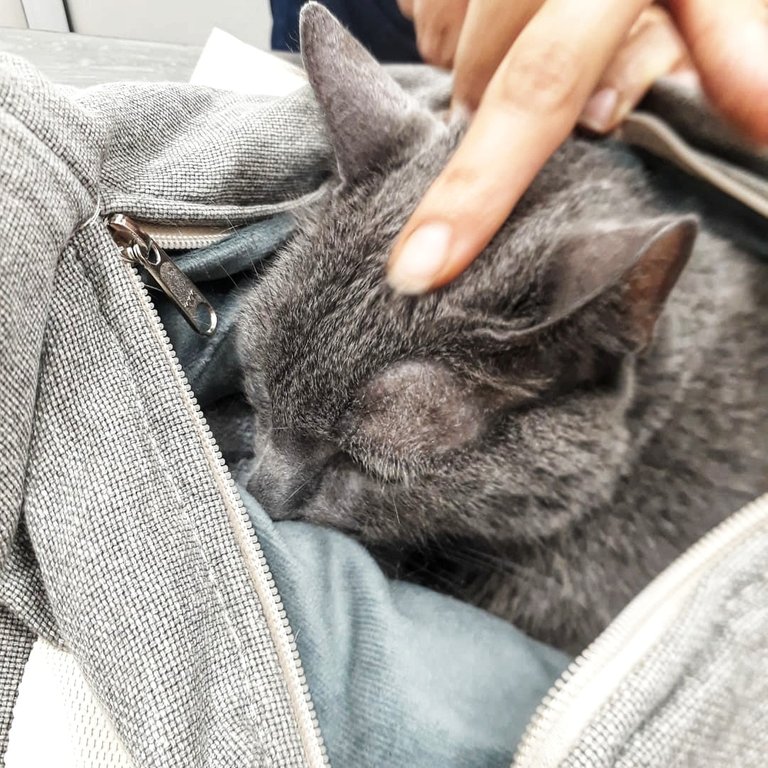 I was never a cat sympathizer until Clemente came to our home. I remember that he was a hairy little thing and very small, so much so that my son brought it in his backpack when he returned from his vacation on the beaches of San Clemente del Tuyú. Hence the name of the feline.
He found him on the beach, wet and starving, picked him up, and took him to a vet. Back then, 12 years ago, he had to interrupt his vacation because he was in a rented apartment among several friends and some did not like animals, so he made the decision to go back, with the cat in tow.
From the moment he entered the house, my animosity towards the felines changed completely, he won my heart and that of the whole family, it is so ingrained here that when my son decided to move to start his independent life he left it against his will because he understood He was so used to the house and the company of Copito, our little dog and ours that he would suffer a lot staying alone most of the time in a small one-room apartment.
Some time ago he was diagnosed with feline immunodeficiency (FIV) which is something that he surely inherited from his mother since he never went out on the street or was in contact with other members of the same species, it has brought him some complications in the intestines but we are taking him well, with medications and special care.
He knows it well although thinner than normal, he is lively and playful despite the fact that he is already a few years old.
These days he had to go to the vet for a dental cleaning, he had accumulated tartar and it was hurting him to chew so we made the serious decision to give him that treatment despite the fact that he needed total anesthesia, always risky and even more so in his condition.
Luckily and thanks to the expertise of the veterinarians who assisted him, everything went well and he is already at home carrying out his normal activity, only a peeling that was carried out on one of his legs was left as a temporary consequence to place a cannula with the serum.
We hope that he does not have any more complications and that he leads a placid and happy cat life while he lasts his earthly time and most importantly that he continues to give us his unconditional love.

Nunca fui simpatizante de los gatos, hasta que Clemente llegó a nuestro hogar. Recuerdo que era un cosita peluda y muy pequeña, tanto que mi hijo lo trajo en su mochila al regreso de sus vacaciones en las playas de San Clemente del Tuyú. De ahí el nombre del felino.
Lo encontró en la playa, mojado y famélico, lo levantó y lo llevó a un veterinario. En aquel entonces, hace de esto 12 años, le generó tener que interrumpir sus vacaciones porque estaba en un departamento alquilado entre varios amigos y a algunos no le simpatizaban los animales por lo que tomó la decisión de volverse, con el gato a cuestas.
Desde el momento en que entró en casa, mi animosidad hacia los felinos cambió totalmente, se ganó mi corazón y el de toda la familia, aquí está tan arraigado que cuando mi hijo decidió mudarse para iniciar su vida independiente lo dejó contra su voluntad porque comprendió que estaba tan acostumbrado a la casa y a la compañía de Copito, nuestro perrito y a la nuestra que sufriría mucho quedándose solo la mayor parte del tiempo en un pequeño departamento de un solo ambiente.
Hace un tiempo le diagnosticaron inmunodeficiencia felina (FIV) que es algo que seguramente heredó de su madre ya que nunca salió a la calle ni estuvo en contacto con otros miembros de su misma especie, le ha traído algunas complicaciones en los intestinos pero lo vamos llevando bien, con medicamentos y un cuidado especial.
Se lo bien aunque más flaco de lo normal, está animado y juguetón pese a que ya tiene unos cuantos años.
En estos días le tocó ir al veterinario para una limpieza dental, tenía sarro acumulado y le estaba perjudicando para masticar así que tomamos la seria decisión de hacerle ese tratamiento pese a que necesitaba anestesia total, siempre riesgoso y más aun en su condición.
Por suerte y gracias a la pericia de los veterinarios que lo asistieron todo salió bien y ya está en casa llevando su actividad normal, solo quedó como secuela temporaria una peladura que le realizaron en una de sus patas para colocarle una cánula con el suero.
Esperemos que no tenga más complicaciones y que lleve una vida gatuna plácida y feliz mientras dure su tiempo terrenal y lo más importante que siga dándonos su amor incondicional.
Las fotografías son de mi propiedad excepto las que menciono la fuente.
The photographs are my property except those mentioned by the source.
Héctor Gugliermo
@hosgug