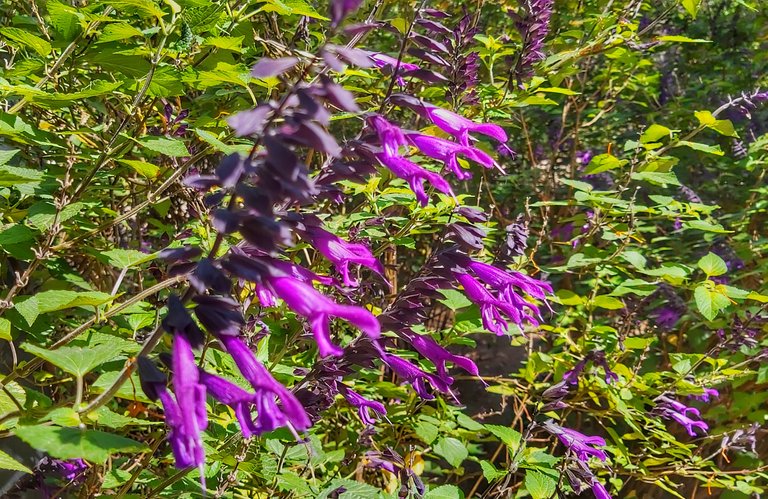 In the Plaza Misericordia, which is a few blocks from my home, there is an area where a large plant stands out with dark blue and purple flowers. The bees dance around her and behind them, there is always someone, usually elderly, with Asian features. The plant is called Salvia Guaranitica and is commonly known as salvia.
Regarding their characteristics, I turned to the internet and in relation to the curious attitude of Asian elderly people to my wife, who knows all the secrets of the neighborhood.
Let's talk first about the plant, this variety of sage (there are many more) is native to South America and belongs to the Lamiaceae family which is one of the largest groups of plants in the world with 245 genera and almost 8000 species.
It has great antiseptic power and has been used at home throughout the history of mankind to treat various diseases including infections of the mouth and skin.
It is a powerful attractor of bees and birds and that is where the other actors I spoke about at the beginning begin to play.
From what my wife told me, the Asian elderly do not seek the plant but the bees, apparently they use them to be stung on purpose by them to cure diseases of old age such as rheumatism and osteoarthritis. Well, this is not confirmed but the fact is that there is always some Asian prowling the plants in search of bees. My wife does not like that they kill bees, we all know of its great benefits for all but I do not think that the fact that some older people take some will jeopardize their existence. You have to look to other more powerful actors to discover the reason for the decline in the world's population of these friendly and beneficial insects.
Curious facts and a beautiful plant that I did not know.

En la plaza Misericordia que se encuentra a muy pocas calles de mi hogar hay un sector donde resalta una gran planta con flores oscuras en los azules y morados. A su alrededor danzan las abejas y detrás de ellas siempre hay alguna persona, generalmente ancianos, con rasgos asiáticos. La planta se denomina Salvia Guaranitica y se la conoce comúnmente como salvia.
Respecto a sus características recurrí a la internet y con relación a la curiosa actitud de los ancianos asiáticos a mi esposa, que conoce todos los secretos del vecindario.
Hablemos primero de la planta, esta variedad de salvia (hay muchísimas más) es originaria de Sudamérica y pertenece a la familia de las lamiáceas que es uno de los mayores grupos de plantas en el mundo con 245 géneros y casi 8000 especies.
Tiene un gran poder antiséptico y se la ha utilizado en forma casera a lo largo de toda la historia de la humanidad para tratar diversas enfermedades incluyendo infecciones de la boca y de la piel.
Es una potente atractora de abejas y aves y allí es donde comienzan a jugar los otros actores de los cuales hablé al principio.
Por lo que me contó mi esposa los ancianos asiáticos no buscan la planta sino las abejas, aparentemente las utilizan para ser picados a propósito por ellas para curar enfermedades de la vejez como por ejemplo el reuma y la artrosis. Bien, esto no está confirmado pero el hecho cierto es que siempre hay algún asiático merodeando las plantas en busca de abejas. A mi esposa no le gusta que maten abejas, todos sabemos de sus grande beneficios para el mundo pero no creo que el hecho de que unos pocos ancianos se lleven algunas haga peligrar su existencia. Hay que mirar hacia otros actores más poderosos para descubrir el porqué de la disminución de la población mundial de estos simpáticos y beneficiosos insectos.
Hechos curiosos y una bella planta que no conocía.
Las fotografías son de mi propiedad excepto las que menciono la fuente.
The photographs are my property except those mentioned by the source.
Héctor Gugliermo
@hosgug