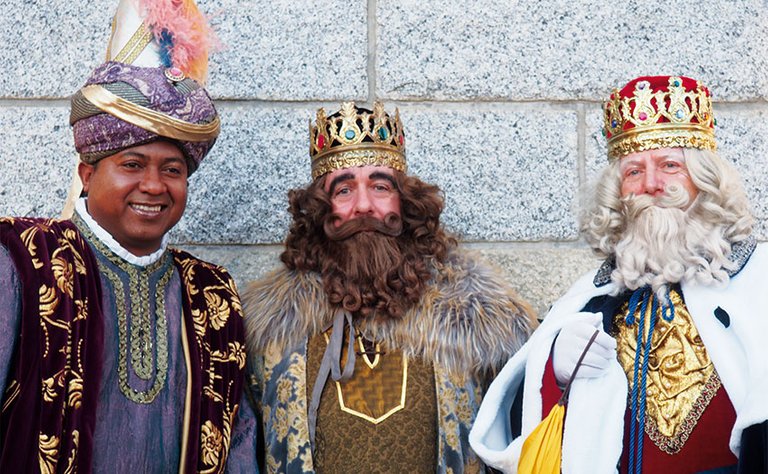 Christmas and the arrival of the Three Kings are among the Christian holidays at the end of the year. The latter has great connotations for the little ones since they are usually entertained with gifts of all kinds.
Here in my country the Kings Day that coincides with January 6 of each year is traditionally celebrated for a long time, that date is known as the day of the epiphany and coincides with the day on which Jesus made himself known. to all the world; surely this is a celebration that arrived or at least reaffirmed itself influenced by Spanish and Italian immigrants, both with strong Catholic roots.
It is also customary to maintain the illusion of children and hide that in reality, those who buy and leave the gifts are their relatives, generally their own parents and grandparents. Here in the great capital of the nation, it is quite difficult to maintain the illusion, the school, the companions, and the social networks to which minors have access make this mission practically impossible despite the fact that many parents try to make it last as long as they can, this revelation is associated with the loss of innocence, it probably has nothing to do with it, but it is what many think. In the interior of the country, the novelty may take a little longer to reveal itself, the granddaughters of a great friend who lives in the small town of Trevelin, are 11 and 9 years old and still believe that the wise men are the ones who bring their gifts if they behave well and study.
Not long ago I found out that the wise men actually did exist but they weren't kings and they were definitely not wizards.
In the Gospel of Saint Matthew, an allusion is made to the fact that some wise men from the East came to Jerusalem in search of the newborn that they considered the King of the Jews, they honored him by leaving them presents and they left; it is the only mention in all the gospels. If there are greater details in the apocryphal gospels, although it is never mentioned that they were kings or magi, it is not mentioned that there were three, much less their names. There was a lot of speculation and as many affirm that there were 3 like 12 others, these two numbers have great meaning in the Bible and perhaps that is why they are mentioned insistently.
The truth is that over the centuries the legend of 3 kings and magi gained strength, they were given names and recognized in practically all of Christianity. For us, it means the end of the year festivities, after the arrival of the kings the end of the celebrations and it is time to save everything for next year.
The magic is in the celebration and the children enjoy their gifts, meanwhile the legend of Melchor, Gaspar and Baltasar continue in force and I hope it continues to do so forever, regardless of whether or not they were kings and magicians.

Entre las fiestas cristianas de fin de año se encuentra la navidad y la llegada de los reyes magos. Esta última tiene grandes connotaciones para los más pequeños ya que se los suele agasajar con regalos de todo tipo.
Aquí en mi país el día de reyes que coincide con el 6 de enero de cada año se festeja tradicionalmente desde mucho tiempo atrás, esa fecha se la conoce como el día de la epifanía y coincide con la del día en que Jesús se dio a conocer a todo el mundo; seguramente esta es una celebración que llegó o al menos se reafirmó influenciada por las inmigraciones españolas e italianas, ambas con una fuerte raigambre católica.
También es costumbre mantener la ilusión de los niños y ocultar que en realidad los que compran y dejan los regalos son sus familiares, generalmente sus propios padres y abuelos. Aquí en la gran capital de la nación es bastante difícil mantener la ilusión, la escuela, los compañeros y las redes sociales a las cuales los menores tienen acceso hacen prácticamente imposible esa misión pese a que muchos padres se esfuerzan por hacerla durar todo lo que puedan, se asocia esta revelación con la pérdida de la inocencia, probablemente no tenga nada que ver pero es lo que muchos piensan. En el interior del país la novedad puede tardar un poco más en revelarse, las nietas de un gran amigo que tienen domicilio en el pequeño pueblo de Trevelin, cuentan con 11 y 9 años y todavía creen que los reyes magos son los que traen sus regalos si se portan bien y estudian.
No hace mucho tiempo me he enterado que los reyes magos, en realidad si existieron pero no fueron reyes y decididamente no eran magos.
En el Evangelio de San Mateo se hace alusión a que algunos sabios provenientes de Oriente llegaron a Jerusalén en busca del recién nacido que consideraban el rey de los judíos, lo honraron dejándoles presentes y se marcharon; es la única mención en todos los evangelios. Si hay mayores precisiones en los evangelios apócrifos aunque jamás se menciona que eran reyes ni magos, tampoco se menciona que fueron tres y mucho menos sus nombres. Hubo muchas especulaciones y tantos afirman que fueron 3 como otros 12, estos dos números tienen gran significado en la Biblia y quizás por ello se los menciona con insistencia.
Lo cierto es que con el correr de los siglos la leyenda de 3 reyes y magos cobró fuerzas, se les pusieron nombres y se los reconoció en prácticamente todo el cristianismo. Para nosotros significa el fin de los festejos de fin de año, luego de la llegada de los reyes finalizan las celebraciones y es hora de guardar todo para el próximo año.
La magia está en la celebración y los niños disfrutan de sus regalos, mientras tanto la leyenda de Melchor, Gaspar y Baltasar continúa vigente y espero que lo siga haciendo por siempre, sin importar si fueron o no fueron reyes y magos.
Las fotografías son de mi propiedad excepto las que menciono la fuente.
The photographs are my property except those mentioned by the source.
Héctor Gugliermo
@hosgug