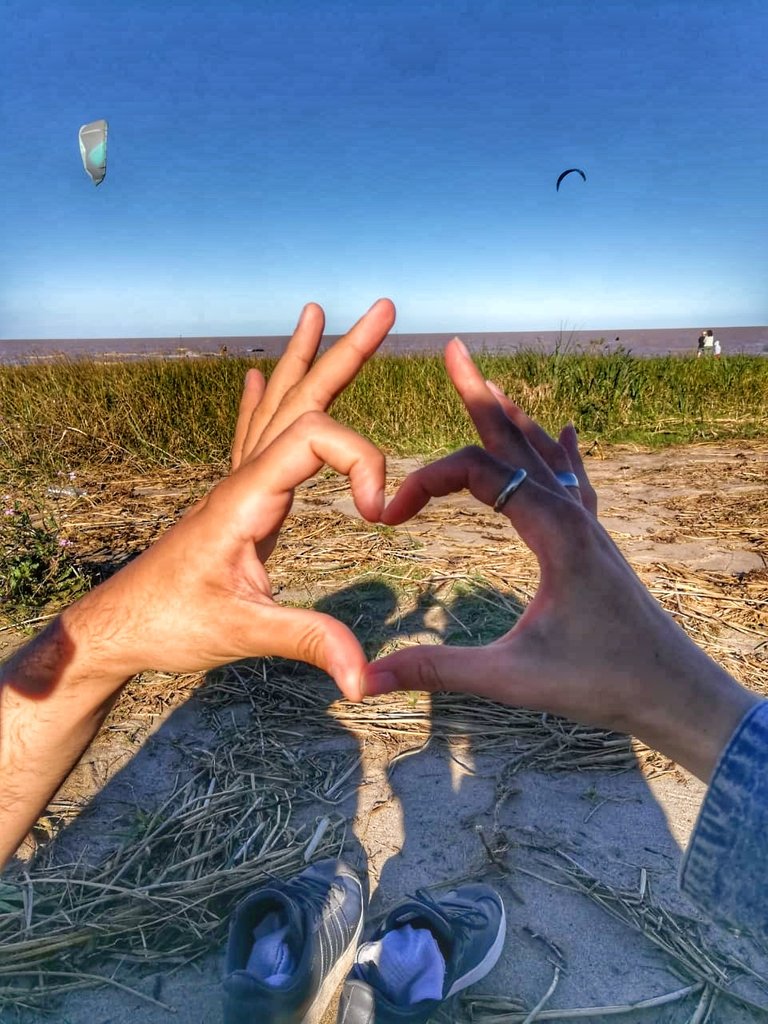 In the first days of January, at the beginning of the summer of 2014, Hernán together with two friends decided to go on an adventure touring the coast of the Río de la Plata until they reached their union with the sea, they had little money and a lot of desire and illusions, they gathered a few things inside their backpacks and they started the road with only a few premises: no buses or hotels, only bicycles and sleeping under the stars, as insurance for rainy or cold days a campsite for which they had a small tent quite deteriorated by the way. Money was also a rare commodity.
They stopped in Quilmes, Punta Lara and Magdalena, in all those places they discovered beautiful beaches, friendly people and also of the others, poverty is something that not only hits the economy of families, it also disintegrates them. Education is deteriorating and crime and drugs find there the breeding ground to make their criminal activities bigger and bigger.
When they arrived at Punta Indio they were pleasantly surprised, it was a dream place, with beautiful and extensive beaches of fine sand, although it is forbidden to bathe due to the pollution, many did not pay attention and the temptation of the refreshing water was almost irresistible. Its forests and some historical places made up captivating conjunction for tourists.
Hernán and his friends went one night to one of the few bars in the area and at one of the few poorly lit tables he saw Raquel for the first time, she was with two poorly dressed children that contrasted with her resplendent white dress, she was reading something to them, probably a story.
Hernán never believed in love at first sight, despite having a good figure and being a lawyer, he did not have much experience with women, his two previous relationships had ended abruptly leaving him resentment in love relationships so he had determined to take it easy, choose well next time. But destiny when it comes to love is usually capricious and unpredictable, he realized that she was the most beautiful and sympathetic girl he had ever seen and her instinct told him desperately that he should approach and conquer her.
The boys were the perfect excuse and after a couple of jokes and praise, he found out that they were children from the place that Raquel taught to read every afternoon, always at that table, as she had arrived on vacation, was there since the end of November and showed no signs of wanting to leave.
For three nights in a row, she went to the bar just at the time that Raquel finished her lessons, and with whatever excuse they stayed chatting, almost until dawn. On the fourth day while he was accompanying her to the inn where she was staying she kissed her for the first time under a sky totally lit by stars and it was magical.
Raquel invited him to visit a small fishing village 40 kilometers from Punta Indio, with only a few inhabitants and everything to do, Hernán loved the place and they began to plan to move there and do some business.
The love lasted almost 3 three years and then some wear and tear motivated by the limited possibilities of personal development in both caused the breakup.
Hernán always remembers Raquel with great affection and from the comfortable office of his law firm, he observes the big city and looks south, trying to guess where Punta Indio is. Maybe or better surely one day he will return to enjoy her beaches, the kindness of the people, the historical places and the magical forests, with a little luck maybe he can find Raquel and tell her that he still loves her.

En los primeros días de enero, en pleno verano del 2014 Hernán junto a dos amigos decidieron salir de aventuras recorriendo la costa del Río de la Plata hasta llegar a su unión con el mar, tenían poco dinero y muchas ganas e ilusiones, juntaron unas pocas cosas dentro de sus mochilas y emprendieron el camino con solo algunas pocas premisas: nada de micros ni hoteles, solo bicicletas y dormir bajo las estrellas, como seguro para días de lluvia o frío un camping para lo cual llevaban una pequeña carpa bastante deteriorada por cierto. El dinero también era un bien escaso.
Pararon en Quilmes, Punta Lara y Magdalena, en todos esos parajes descubrieron hermosas playas, gente amable y también de las otras, la pobreza es algo que no solo golpea la economía de las familias, también las disgrega. La educación se deteriora y la delincuencia y las drogas encuentran allí el caldo de cultivo para hacer cada vez más grandes sus actividades delictivas.
Cuando llegaron a Punta Indio se sorprendieron gratamente, era un lugar soñado, con hermosas y extensas playas de arena fina, si bien está prohibido bañarse por la contaminación muchos no hacían caso y la tentación del agua refrescante era casi irresistible. Sus bosques y algunos lugares históricos conformaban una conjunción atrapante para el turista.
Hernán y sus amigos entraron una noche a uno de los escasos bares de la zona y en una de las pocas mesas pobremente iluminadas vio por primera vez a Raquel, estaba con dos niños pobremente vestidos que contrastaban con su resplandeciente vestido blanco, les leía algo, probablemente un cuento.
Hernán jamás creyó en eso del amor a primera vista, pese a tener una buena figura y ser abogado, no tenía demasiada experiencia con las mujeres, sus dos relaciones anteriores habían terminado abruptamente dejándole un resquemor a las relaciones amorosas así que había determinad tomárselo con calma, elegir bien la próxima vez. Pero el destino cuando se trata de amor suele ser caprichoso e impredecible, se dio cuenta que era la chica más bella y simpática que jamás había visto y su instinto le indicaba desesperadamente que debía acercarse y conquistarla.
Los chicos fueron la excusa perfecta y luego de un par de chistes y alabanzas se enteró que eran niños del lugar a los que Raquel les enseñaba a leer todas las tardes, siempre en esa mesa, ella al igual que el habían llegado de vacaciones, estaba allí desde fines de noviembre y no mostraba signos que querer irse.
Durante tres noches seguidas fue al bar justo a la hora en que Raquel terminaba sus lecciones y con cualquier excusa se quedaban charlando, casi hasta la madrugada. Al cuarto día mientras la acompañaba a la posada donde ella se alojaba la besó por primera vez bajo un cielo totalmente iluminado por las estrellas y fue mágico.
Raquel lo invitó a visitar una pequeña aldea de pescadores distante a 40 kilómetros de Punta Indio, solo unos pocos habitantes y todo para hacer, a Hernán le encantó el lugar y comenzaron a planear mudarse allí y hacer algún emprendimiento.
El amor duró casi 3 tres años y luego algún desgaste motivado por las escasas posibilidades de desarrollo personal en ambos provocó la ruptura.
Hernán siempre recuerda con gran cariño a Raquel y desde el cómodo despacho de su estudio jurídico observa la gran ciudad y mira hacia el sur, tratando de adivinar donde está Punta Indio. Quizás o mejor seguramente un día volverá a disfrutar de sus playas, de la amabilidad de la gente, de los lugares históricos y los bosques mágicos, con un poco de suerte quizás pueda encontrar a Raquel para decirle que la sigue amando.
Las fotografías son de mi propiedad excepto las que menciono la fuente.
The photographs are my property except those mentioned by the source.
Héctor Gugliermo
@hosgug