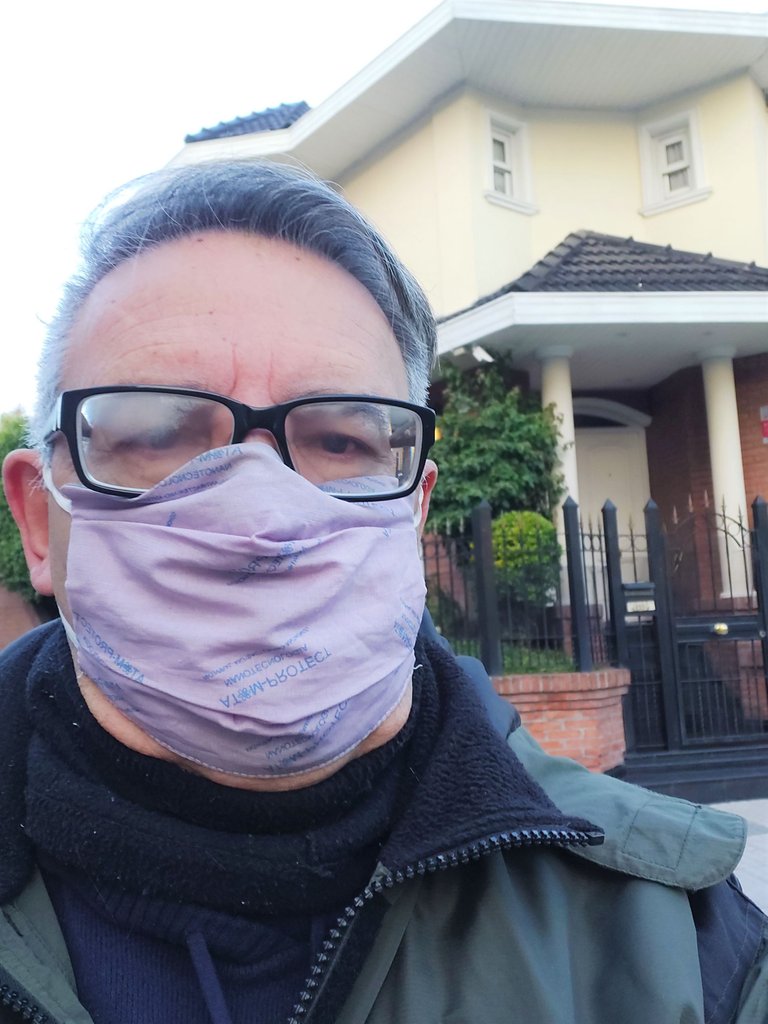 El título que elegí será un contrasentido seguramente pero así he sentido el día de hoy.
En mi país y también en muchos otros alrededor del mundo hoy se ha celebrado el día del padre. Ya se que es una fecha impuesta principalmente por los comercios quienes logran extraordinarias ventas en este tipo de eventos. Sin embargo, no por eso dejaremos de celebrar y hoy fue un día glorioso. Comenzó muy frío por la mañana y temprano tuve que ir a hacer unas compras necesarias para atender a mis hijos, sus parejas y mi madre que venían a casa para pasar juntos un día especial, no solamente para agasajarme a mi sino también a mi hijo que debutará como padre en poco tiempo. También fue una ocasión especial porque debido a la pandemia y al confinamiento que hemos tenido que soportar hacía mucho tiempo que no podíamos estar todos juntos.
Mientras visitaba la panadería y la verdulería, muy abrigado por cierto debido al frío de la mañana, lógico si pensamos que en solo un día comenzará el invierno por estas latitudes, llegó uno de los regalos que entre todos me hicieron en este día: un desayuno increíble adquirido en un comercio de mucho prestigio en cuestiones de pastelería y cafetería. Había de todo en esa caja mágica, hasta una botella de champagne italiano.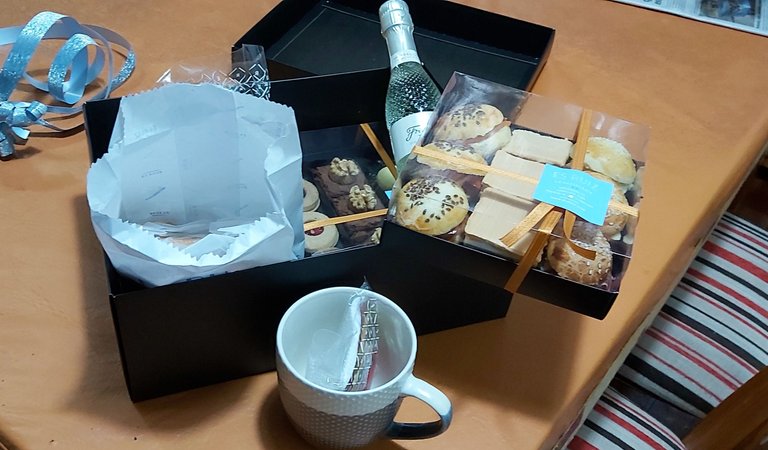 El día había comenzado de la mejor manera.
Y continuó así, junto a mi esposa preparamos un cuantioso y apetitoso almuerzo y cuando llegaron todos, el frío de la jornada se transformó en un cálido almuerzo y festejo. Recibí otros regalos y mi hijo también recibió los primeros como padre aun en proyecto. La jornada se fue demasiado rápido, como habitualmente ocurre cuando se está disfrutando.
Ya cada uno regresó a su hogar pero todavía dura la calidez del encuentro y aunque una nueva y gélida noche se aproxima, el calor del amor familiar permanece en mi casa y en mi corazón.

The title I chose will surely be a contradiction, but that's how I felt today.
In my country and also in many others around the world, Father's Day has been celebrated today. I know that it is a date imposed mainly by businesses who achieve extraordinary sales in this type of event. However, that is not why we will stop celebrating and today was a glorious day. It started very cold in the morning and early I had to go to do some necessary shopping to take care of my children, their partners and my mother who came home to spend a special day together, not only to entertain me but also my son who he will debut as a parent in no time. It was also a special occasion because due to the pandemic and the confinement that we have had to endure for a long time that we could not all be together.
While I was visiting the bakery and the greengrocer, very warm indeed due to the cold in the morning, logical if we think that in just one day winter will begin in these latitudes, one of the gifts that they gave me on this day arrived: a breakfast incredible acquired in a very prestigious business in matters of pastry and cafeteria. There was everything in that magic box, even a bottle of Italian champagne.
The day had started in the best way.
And it continued like this, together with my wife we ​​prepared a large and appetizing lunch and when everyone arrived, the cold of the day turned into a warm lunch and celebration. I received other gifts and my son also received the first ones as a father still in the project. The day went too fast, as it usually happens when you are enjoying yourself.
Each one has already returned home but the warmth of the meeting still lasts and although a new and frigid night is approaching, the warmth of family love remains in my house and in my heart.
Las fotografías son de mi propiedad excepto las que menciono la fuente.
The photographs are my property except those mentioned by the source.
Héctor Gugliermo
@hosgug