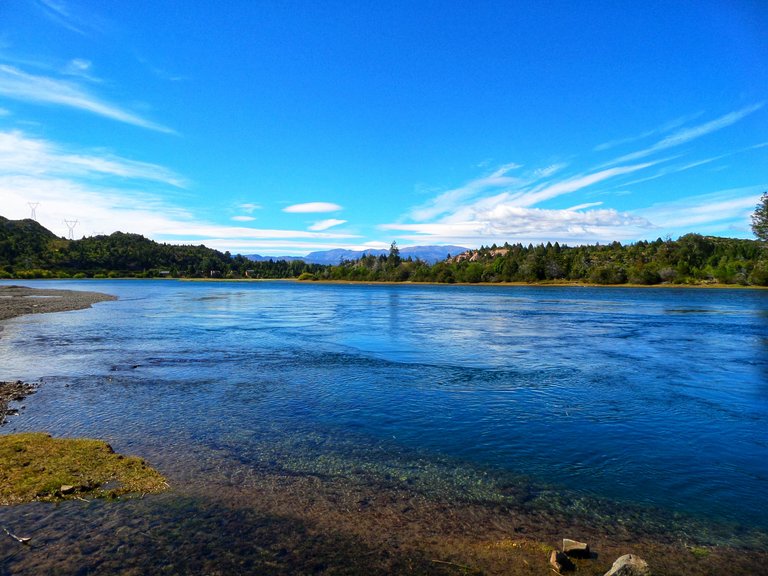 The man woke up with a start, this type of event rarely happened to him but over the years they had been accelerating, he never paid much attention to the phenomenon, until now.
Generally, he did not remember the reason for the startle, some crazy and disconnected dream, without logic, was common, the kind that psychologists insist on deciphering and interpreting, but this time he did remember that he had dreamed and it was something real that had happened to him many years ago when I was a teenager. It was a totally forgotten fact and at that moment he did not think it would have been so serious, just a slightly dangerous but fun adventure, now he realized the seriousness of the fact, not only for him but for the whole group.
In their first years of secondary school, more particularly in the summer, the school used to invite some students to spend a few days of vacation in the mountains, in a beautiful place like few others, with excellent weather, beautiful rivers of crystalline water and lakes deep and extensive.
That season several teammates from the 2nd went on the trip. course with a commercial orientation, all adolescents between 13 and 14 years of age, accompanied by a priest and two guards belonging to the last years of the degree. Everything was organized and controlled as always. The reserved accommodation, the purchased train tickets, the perfectly planned meals.
Of course the vacation days passed normally, everyone had fun and also interacted, knew and learned new things.
The problem arose on a day off, one group decided to go swimming and another to ride, Father Pedro went horseback riding and with one of the helpers and most of the contingent, the small group that would go to the lake was only accompanied by a caretaker and to his own pleasure, he was accompanied by a young woman whom he had met at a celebratory dance a couple of nights before. Of course she entertained herself with that pleasant company and left the young people alone at the lake. What could happen?
The weather was ideal although a little windy, the surface of the water was a bit curly it did not seem to be a problem to swim calmly. Near the chosen beach there was a large tongue of water that penetrated the land and caused a separation between both coasts, they calculated that it was about 300 meters, the idea suddenly arose and was unstoppable, they would swim joining both coasts, of course with Public recognition the first to arrive, nothing extraordinary to do if they would all have been trained and fit, which was not the case in the vast majority of the 7 who attempted the alleged feat.
Before reaching the middle of the journey, several showed signs of fatigue, even one was already exhausted, in the face of reality the dilemma was to continue or return, it could not be determined from that position and with the water quite moved which was the closer distance, as they did not agree they chose the worst situation, some would continue and others would return.
At first, the reaction of some was to help the partner who not only showed signs of fatigue but also began to panic, if not controlled he could not only drown but also complicate the situation of those who wanted to help him.
Luckily and thanks to some miraculous intervention, very little by little those who decided to return managed to calm down enough and reached the starting point, those who continued were able to reach the opposite coast. Our friend from the nightmare arrived last, floating on his back and moving his arms and legs very slowly, totally exhausted.
For some reason not fully understood, that event was hidden by everyone in the deep folds of their own minds and they never spoke of the subject again, as if remorse for a highly dangerous action blocked its disclosure or the collective conscience, convinced of the error, cover with a pious cloak the horror of possible misfortune.
Our man only realized the real danger when he dreamed about it almost 50 years later.

El hombre se despertó sobresaltado, le ocurría poco este tipo de acontecimientos pero con los años se habían ido acelerando, nunca le prestó demasiada atención al fenómeno, hasta ahora.
Generalmente no recordaba el motivo del sobresalto, era habitual algún sueño loco e inconexo, sin lógica, de esos que los psicólogos se empeñan en descifrar e interpretar, pero esta vez sí recordaba que había soñado y era algo real que le había acontecido muchos años atrás, cuando era un adolescente. Fue un hecho totalmente olvidado y en ese momento no pensó que hubiera sido tan grave, solo una aventura un poco peligrosa aunque divertida, ahora se daba cuenta de la gravedad del hecho, no solo para el sino para todo el grupo.
En sus primeros años de la escuela secundaria, más particularmente en el verano, el colegio solía invitar a algunos alumnos a pasar unos días de vacaciones en las sierras, en un lugar bello como pocos, con excelente clima, hermosos ríos de agua cristalina y lagos profundos y extensos.
Esa temporada fueron al viaje varios compañeros del 2do. curso con orientación comercial, todos adolescentes de entre 13 y 14 años de edad, acompañados por un sacerdote y dos celadores perteneciente a los últimos años de la carrera. Todo estaba organizado y controlado como siempre. El alojamiento reservado, los pasajes en tren comprados, las comidas perfectamente planeadas.
Por supuesto los días de vacaciones transcurrían normalmente, todos se divertían y también interactuaban, conocían y aprendían cosas nuevas.
El problema se presentó un día libre, un grupo decidió ir a nadar y otro a cabalgar, el padre Pedro fue a cabalgar y con el uno de los ayudantes y la mayoría del contingente, al pequeño grupo que iría al lago solo lo acompañó un celador y para su propio beneplácito lo acompañó una joven que había conocido en un baile de celebración un par de noches antes. Por supuesto que se entretuvo con esa grata compañía y dejó solos a los jóvenes en el lago. ¿Qué podía pasar?
El clima era ideal aunque un poco ventoso, la superficie del agua estaba un tanto rizada pero no parecía ser un problema para nadar tranquilamente. Cerca de la playa elegida había una gran lengua de agua que penetraba en la tierra y provocaba una separación entre ambas costas, calcularon que era de unos 300 metros aproximadamente, la idea surgió de pronto y fue imparable, nadarían uniendo ambas costas, por supuesto con reconocimiento público al primero que llegara, nada extraordinario de realizar su todos hubieran estado entrenados y en forma cosa que no ocurría en la gran mayoría de los 7 que intentaron la supuesta hazaña.
Antes de llegar a la mitad del trayecto, varios presentaban signos de cansancio, inclusive uno ya estaba agotado, ante la realidad que se presentaba la disyuntiva fue seguir o volver, no se podía determinar desde esa posición y con el agua bastante movida cual era la distancia menor, como no se ponían de acuerdo eligieron la peor situación, algunos seguirían y otros volverían.
En un primer momento la reacción de algunos fue la de ayudar al compañero que presentaba no solamente signos de cansancio sino que también comenzaba a aflorar el pánico, si no se controlaba no solamente podía ahogarse sino complicar la situación de aquellos que lo querían ayudar.
Por suerte y gracias a alguna intervención milagrosa muy de a poco los que decidieron volver lograron calmarse lo suficiente y llegaron al punto de partida, los que continuaron pudieron alcanzar la costa opuesta. Nuestro amigo de la pesadilla llegó último, flotando boca arriba y moviendo brazos y piernas muy lentamente, totalmente agotado.
Por alguna razón no del todo comprendida, ese acontecimiento fue ocultado por todos en los profundos pliegues de sus propias mentes y nunca más hablaron del tema, como si el remordimiento por una acción altamente peligrosa bloqueara su divulgació o la conciencia colectiva, convencida del error, cubriera con un piadoso manto el horror de la posible desgracia.
Nuestro hombre solo se dio cuenta del real peligro cuando lo soñó casi 50 años después.
Las fotografías son de mi propiedad excepto las que menciono la fuente.
The photographs are my property except those mentioned by the source.
Héctor Gugliermo
@hosgug