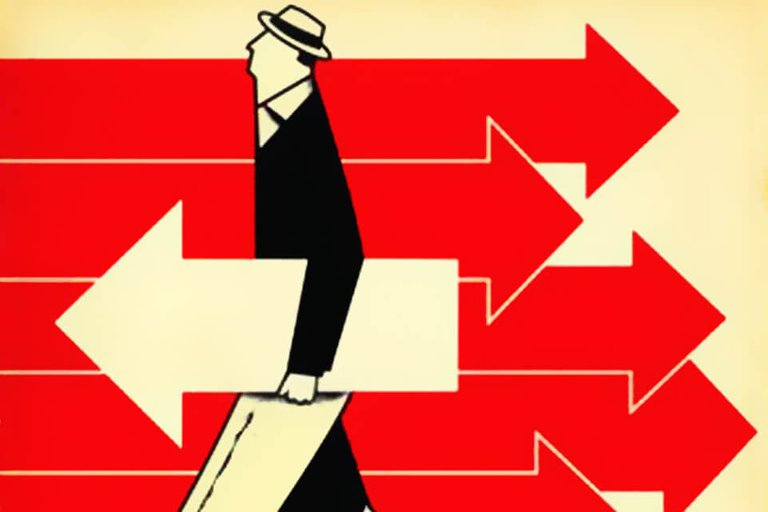 Social media is full of people who want to transcend, be popular, earn money, or just have fun. All this leads to an alarming explosion of the nonsense of all kinds in pursuit of those goals, laudable indeed.
This is why I take those same popular and famous networks with great caution, I know that they are addictive and I have a certain rejection of addictions, at least those that I do not like, I must be consistent too, and having said this I fully adhere to the famous phrase of Groucho Marx: "these are my principles, if you don't like them I have others".
Every so often some enlightened person appears in those same networks, someone who, doing simple things and without gimmicks, stands out; that is fundamental, for me and also for many others: the greatness of simple things.
There is a user of one of these networks whose nickname is "coherenceplease", I have followed him for quite some time and now his fame is enormous. It makes me laugh a lot just by sarcastically mentioning facts of everyday life, mainly political but also others related to common events of the people.
Yesterday I read one of his phrases: "a day like today a Chinese man bought a bat in a market to make a soup". It brought me a huge smile, something not easy these days in my beloved country where many think in a way that I do not find sense. But I don't want to turn this into a reproach to myself for thinking differently. Let's keep trying to develop this which is costing me a lot.
I do not know the person or group of people who are behind this mini-blog within that social network, I do not know who they are but I guess minds awake and attentive to what happens in the world and mainly in the country where every day there are dozens of topics from which to obtain material to ridicule. Bravo for consistency!
I understand that coherence is a very particular quality of people that unfortunately is elusive to the vast majority of humanity, in fact, I do not know anyone who is totally coherent so I will probably propose to somebody that is in charge of these issues to eliminate this word from all dictionaries because it doesn't make sense. Acting in accordance with your own ideas and expressing it that way is almost impossible.
Being consistent is almost like being honest, probably some people who read this might be offended but I would tell them to look at themselves as if they were others and think about whether they are consistent with their thoughts, wishes, and dreams. In that we always fail, most of the time due to circumstances, force majeure reasons, or simply because we have been deceived, sometimes by the same dreams that are unrealizable.
"Coherenceplease" says that if we drink the juice of a lemon squeezed with hot water it helps to lose weight only if the lemon tree is far from your home and you have to walk daily to get your lemon. Simple and funny, it turns us white on black is a popular myth without scientific support.
Well, to be honest, and consistent, I don't know what all this I'm writing about is about, maybe just because I had to put something on my blog and I couldn't think of anything else or because every so often I like to philosophize and make sense of things that They happen to us, in any case, it is not up to me to judge this. I wrote it. You read it and give your opinion, although reading is in doubt, the blessed automatic votes vote for us and then we don't bother to read. Maybe that's why the comment thing is not working.
After all this text is understandable, even for a 5-year-old although Groucho when reading this would say "quick, bring a 5-year-old because for me this text is Chinese".
What is very true is that talent such as "coherence porfavor" is very scarce, but look at the number of accounts with a similar name in that social network, each and everyone trying to hang on to the well-earned fame of this user.

Las redes sociales están llenas de personas que desean trascender, ser populares, ganar dinero o simplemente divertirse. Todo esto lleva a una explosión alarmante de pavadas de todo tipo en pos de esos objetivos, loables por cierto.
Es por esto que a esas mismas redes tan populares y afamadas las tomo con mucha precaución, sé que son adictivas y le tengo cierto rechazo a las adicciones, al menos a aquellas que no me agradan, debo ser coherente también yo y dicho esto adhiero totalmente a la famosa frase de Groucho Marx: "estos son mis principios, si no les gustan tengo otros".
Cada tanto aparece en esas mismas redes algún iluminado, alguien que haciendo cosas sencillas y sin rebusques se destaca; eso es fundamental, para mí y también para muchos otros: la grandeza de las cosas sencillas.
Hay un usuario de una de estas redes cuyo nickname es "coherenciaporfavor", lo sigo desde hace bastante tiempo y ahora su fama es enorme. Me hace reír mucho tan solo con mencionar en forma sarcástica hechos de la vida cotidiana, principalmente políticos pero también otros relacionados con eventos comunes de la gente.
Ayer leí una de sus frases: "un día como hoy un chino se compró un murciélago en un mercado para hacerse una sopita". Me sacó una enorme sonrisa, cosa no sencilla por estos días en mi querido país donde muchos piensan de una manera a la que no encuentro sentido. Pero no quiero convertir esto en un reproche a mí mismo por pensar diferente. Sigamos tratando de desarrollar esto que me está costando bastante.
No conozco a la persona o grupo de personas que están detrás de este mini blog dentro de esa red social, no sé quiénes son pero adivino mentes despiertas y atentas a lo que ocurre en el mundo y principalmente en el país donde cada día hay decenas de temas de donde obtener material para ridiculizar. Bravo por coherencia!
Entiendo que la coherencia es una cualidad particularísima de las personas que lamentablemente es esquiva a la gran mayoría de la humanidad, de hecho no conozco a nadie que sea totalmente coherente así que probablemente proponga a algún organismo que se encargue de estas cuestiones eliminar esta palabra de todos los diccionarios porque no tiene sentido. Es que actuar en concordancia con las propias ideas y expresarlo de esa manera es casi imposible.
Ser coherente es casi como ser honesto, probablemente algunas personas que lean esto podrían ofenderse pero yo les diría que se observen como si fueran otros y piensen si son coherentes con sus pensamientos, sus anhelos y sus sueños. En eso fallamos siempre, la mayoría de las veces debido a las circunstancias, a razones de fuerza mayor o simplemente porque hemos sido engañados, en ocasiones por los mismos sueños que son irrealizables.
"Coherenciaporfavor" dice que si tomamos el jugo de un limón exprimido con agua caliente ayuda a adelgazar solo si el limonero se encuentra lejos de tu casa y tienes que caminar a diario para ir a buscar tu limón. Simple y gracioso, nos pone blanco sobre negro en un mito popular sin asidero científico.
Bien, para ser sincero y coherente, no sé a qué viene todo esto que estoy escribiendo, quizás solamente a que tenía que poner algo en mi blog y no se me ocurrió otra cosa o porque cada tanto me gusta filosofar y encontrar sentido a cosas que nos pasan, en todo caso no depende de mí juzgar esto, yo lo escribí Uds. lo leen y opinan aunque eso de leer está en duda, los benditos votos automáticos votan por nosotros y entonces no nos preocupamos por leer. Quizás por eso el asunto de los comentarios no está funcionando.
Después de todo este texto es comprensible, hasta para un niño de 5 años aunque Groucho al leer esto diría "rápido, traigan un niño de 5 años porque para mi este texto es chino".
Lo que sí es muy cierto es que el talento como el de "coherenciaporfavor" es escasísimo, sino vean la cantidad de cuentas con un nombre parecido hay en esa red social, todas y cada una tratando de colgarse de la fama bien ganada de este usuario.
Las fotografías son de mi propiedad excepto las que menciono la fuente.
The photographs are my property except those mentioned by the source.
Héctor Gugliermo
@hosgug