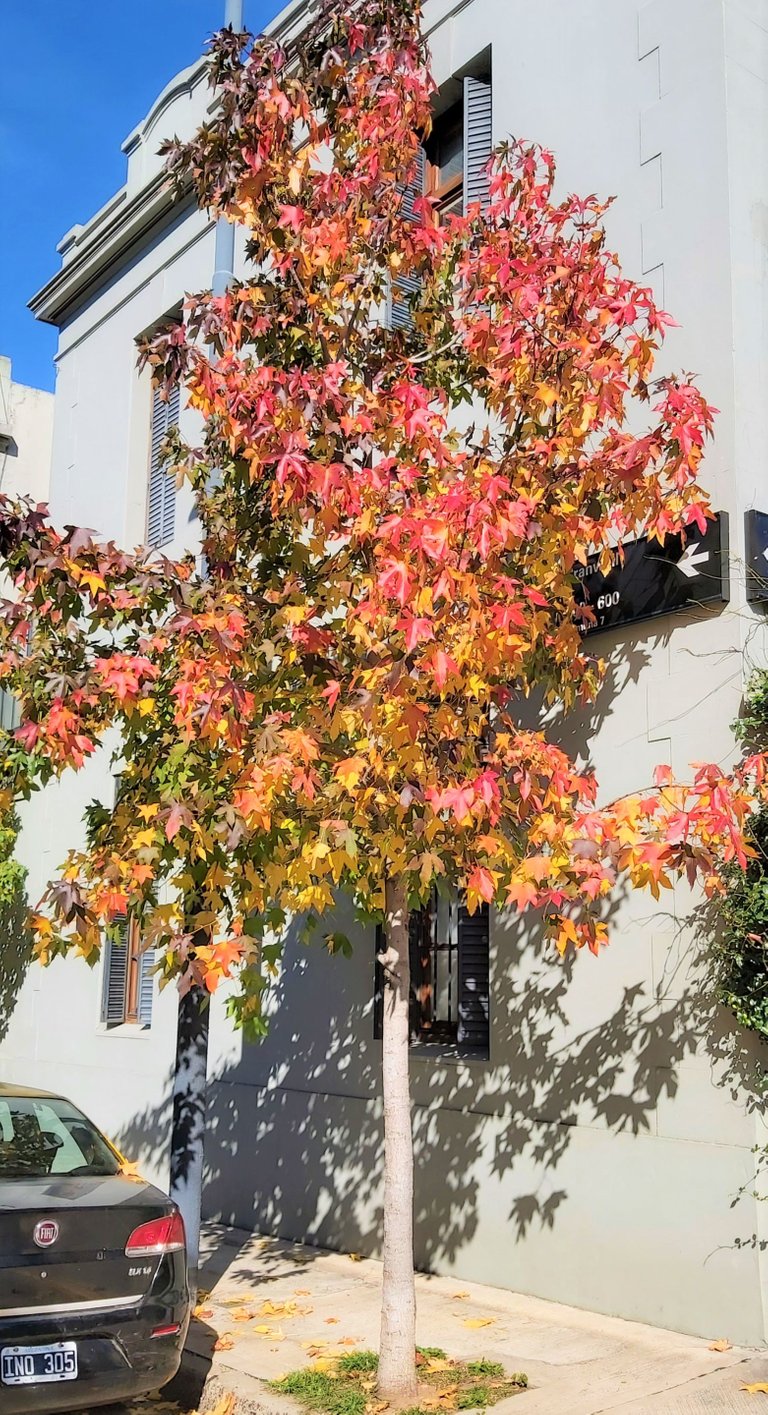 Walking around the neighborhood where I live is something I like to do, almost every day I go for a short walk through the nearby streets, a routine that I have acquired during this long pandemic, a little to exercise my legs and another to do better lunch digestion.
If the time available and the weather allow it, the walk is longer, otherwise, only a few hundred meters are enough to relax the mind and body.
Sometimes I take pictures with my phone, of a house or detail of them, I have mentioned that it is a neighborhood of old houses, many renovated to suit the owner, it is a very fun area to walk and observe. It is also nice to see the flowers in the neighbors' gardens and the trees in the street. I never cease to be surprised by the variety of shapes of the leaves and the color of the flowers of the different plants and trees that I discover in my travels. Of some plants, I know their name and their characteristics, of others not so much. I like that nature surprises me, for example, in the different variants of behavior, we are less than a month before the beginning of winter and some trees are completely bare, they only show their gray branches, almost lifeless, others on the contrary still they show off a luxuriant frond, with gleaming leaves in the whole range of reds, ocher, and yellows. Not far from these, a shrub whose name I do not know appears totally green and with beautiful and delicate yellow flowers, as if it was really late in spring, not autumn. Surely there is a reasonable and scientific explanation for each of the different behaviors of objects in nature.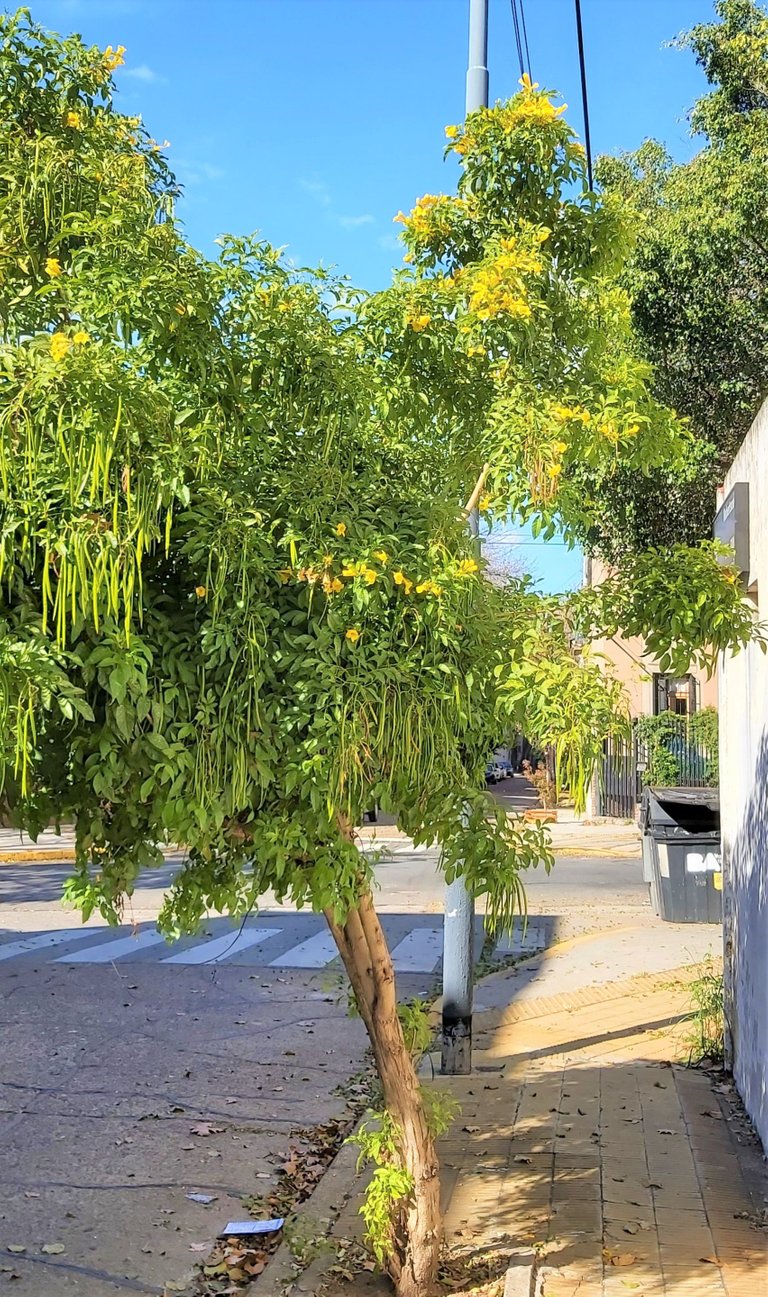 I have always thought that knowledge is good, I like to investigate and learn about many things, to be able to understand how something works and explain it to others is exciting, now I understand that sometimes I also like to be ignorant, because that way you enjoy the surprise. It's like being a child, with a lot to discover.
Nature surprises us at every step, pretending to understand everything is impossible and perhaps not knowing also leads us to interpret the world in another way, man is making the planet suffer and the only way to save it is by being more empathetic and less professorial.
I don't know for sure, I just hope that by observing and enjoying nature we can understand how to preserve it better, there is not much time.

Caminar por el barrio donde vivo es algo que me gusta hacer, casi todos los días salgo a hacer un corto recorrido por las calles cercanas, una rutina que he adquirido durante esta larga pandemia, un poco para ejercitar las piernas y otro para realizar una mejor digestión del almuerzo.
Si el tiempo disponible y el clima lo permiten el paseo es más largo, en caso contrario solo unos pocos cientos de metros son suficientes para relajar la mente y el cuerpo.
En ocasiones tomo fotografías con mi teléfono, de alguna casa o de un detalle de ellas, he mencionado que es un vecindario de casas antiguas, muchas refaccionadas al gusto del propietario, es una zona muy divertida para pasear y observar. También es lindo ver las flores de los jardines de los vecinos y los árboles de la calle. No dejo de sorprenderme por la variedad de formas de las hojas y del colorido de las flores de las diferentes plantas y árboles que descubro en mis recorridas. De algunas plantas conozco su nombre y sus características, de otras no tanto. Me gusta que la naturaleza me sorprenda, por ejemplo, en las distintas variantes de comportamiento, estamos a menos de un mes del comienzo del invierno y algunos árboles están totalmente desnudos, solo muestran sus ramas grises, casi sin vida, otros por el contrario todavía lucen una fronda exuberante, con hojas relucientes en toda la gama de los rojos, ocres y amarillos. No muy lejos de éstos, un arbusto cuyo nombre desconozco aparece totalmente verde y con hermosas y delicadas flores amarillas, como si en realidad estuviera avanzada la primavera, no el otoño. Seguramente hay una explicación razonable y científica para cada uno de los diferentes comportamientos de los objetos de la naturaleza.
Siempre he pensado que el conocimiento es bueno, me gusta investigar y aprender sobre muchas cosas, poder entender el funcionamiento de algo y explicárselo a otros es apasionante, ahora comprendo que en ocasiones también me gusta ser ignorante, porque de esa manera se disfruta de la sorpresa. Es como ser niño, mucho por descubrir.
La naturaleza nos sorprende a cada paso, pretender entender todo es imposible y quizás el no saber también nos lleve a interpretar el mundo de otra manera, el hombre está haciendo sufrir al planeta y la única forma de salvarlo es siendo más empático y menos catedrático.
No lo sé con certeza, solo espero que observando y disfrutando de la naturaleza podamos entender como preservarla mejor, no hay mucho tiempo.
Las fotografías son de mi propiedad excepto las que menciono la fuente.
The photographs are my property except those mentioned by the source.
Héctor Gugliermo
@hosgug