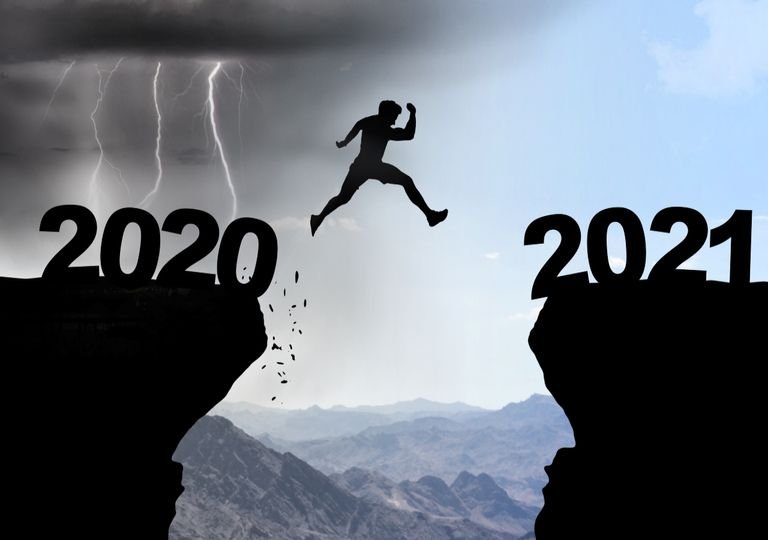 A few hours before the end of the year 2020, many of us are thinking about everything that happened, about the projects that were completed, frustrated or postponed. In relationships, at work, in love.
Some faster memory leaves the memory for the moment when the clock marks the change of year, 0:00 and between the greetings and roars of the fireworks do a comprehensive review of what was left behind, I can not do that for what a couple of days before I begin to review my list.
I don't think anyone will miss that it has been an atypical year, out of the ordinary. The appearance of the Covid changed absolutely everything and not even a feverish or alienated mind could have imagined.
The biggest changes that I have undergone have been in the work aspects, I will soon serve 10 months working from home without ever returning to the offices in the city center, totally unthinkable and even more so when checking that the performance in my tasks has been similar if not better. Of course, I have paid some physical cost, the fact of not having to move so much coupled with the mandatory confinement have charged me some bills in my cervicals and also in my knees. In the office it was common to get up to go to another desk, to look for some input, to pour a coffee or to go to the meeting rooms, even to go out at noon to have lunch. At home, all this does not exist and most of the time I consume it sitting down.
In the human and family aspect, the pandemic has felt strong, especially the first months when isolation was strictly respected here and I spend many days without seeing my mother or my children, now I do it although with a lower frequency than As desired, my relationship with my wife has changed little luckily, we have understood that this stage would be hard and we act accordingly.
Several unfinished projects trip not to mention, vacations totally postponed. I hope that 2021 will give me a little respite in this regard.
If I am happy with my project of participation in the Hive community, I have been able to publish the vast majority of the days of the year and that makes me happy, I have tried to broaden my spectrum of topics and have dabbled a bit in financial matters, no I am not an expert, but I can provide my opinion on this subject, which for many is something mysterious. I have also tried to read more articles and make comments, I must make an effort to read and comment more although I still do not know where I will find time for it.
For next year, of course, I have things pending and perhaps the realization of some new idea that I have in mind but I do not want to get excited, the news about the pandemic is still quite alarming and not even vaccines have brought fresh air to our thoughts enough negative by the way. New strains, second and third waves, lack of social awareness, governments hiding information or giving contradictory news. That is why I have decided to wait, rather continue waiting for this virus to be domesticated to make plans, if I do not do that it is likely that the end of 2021 will find me without the possibility of making a balance, only copying this year.
Greetings, happy holidays and that next year we can plan and carry out positive actions in our lives.

A pocas horas de la finalización del año 2020 muchos estamos pensando en todo lo que ocurrió, en los proyectos concretados, frustrados o pospuestos. En las relaciones, en el trabajo, en el amor.
Algunos más rápidos de memoria dejan el recuerdo para el momento en que el reloj marca el cambio de año, las 0:00 y entre los saludos y estruendos de los fuegos artificiales hacen un repaso integral de lo dejado atrás, yo no puedo hacer eso por lo que un par de días antes comienzo a repasar mi lista.
No creo que a nadie se le escape que ha sido un año atípico, fuera de lo común. La aparición del Covid cambió absolutamente todo y ni siquiera una mente afiebrada o alienada pudo haber imaginado.
Los mayores cambios que he sufrido han sido en los aspectos laborales, pronto cumpliré 10 meses trabajando desde mi casa sin siquiera volver en una oportunidad a las oficinas del centro dela ciudad, totalmente impensado y más aún al comprobar que la performance en mis tareas han sido similares sino mejores. Por supuesto que he pagado algún costo físico, el hecho de no tener que moverme tanto aunado al confinamiento obligatorio me han cobrado algunas facturas en mis cervicales y también en las rodillas. En la oficina era común levantarse para ir hasta otro escritorio, a buscar algún insumo, servirse un café o trasladarse hasta las salas de reuniones, incluso salir al mediodía a almorzar. En casa todo eso no existe y la mayor parte del tiempo lo consumo sentado.
En el aspecto humano y familiar la pandemia se ha sentido fuerte, sobre todo los primeros meses cuando aquí se respetaba a rajatabla el aislamiento y pase muchos días sin ver a mi madre ni a mis hijos, ahora lo hago aunque con una frecuencia inferior a la deseada, la relación con mi esposa ha cambiado poco por suerte, hemos comprendido que esta etapa sería dura y actuamos en consecuencia.
Proyectos inconclusos varios, viajes ni hablar, vacaciones totalmente postergadas. Espero que el 2021 me dé un poco de respiro al respecto.
Si estoy contento con mi proyecto de participación en la comunidad de Hive, he podido publicar la gran mayoría de los días del año y eso me hace feliz, he tratado de ampliar mi espectro de temas y he incursionado un poco en los temas financieros, no soy un experto ni mucho menos pero puedo brindar mi opinión sobre ese tema que para muchos es algo misterioso. También he tratado de leer más artículos y hacer comentarios, debo esforzarme por leer y comentar más aunque aun no se de donde sacaré tiempo para ello.
Para el próximo año tengo por supuesto cosas pendientes de arrastre y quizás la concreción de alguna idea nueva que tengo en mente pero no quiero ilusionarme, las noticias sobre la pandemia siguen siendo bastante alarmantes y ni siquiera las vacunas han traído aire fresco a nuestros pensamientos bastante negativos por cierto. Nuevas cepas, segundas y terceras olas, falta de conciencia social, gobiernos ocultando información o dando noticias contradictorias. Por eso he decidido esperar, mejor dicho seguir esperando a que este virus sea domesticado para hacer planes, si no hago eso es probable que el fin del 2021 me encuentre sin la posibilidad de hacer un balance, solo copiar el de este año.
Saludos, felices fiestas y que el año que viene podamos planificar y concretar acciones positivas en nuestras vidas.
Las fotografías son de mi propiedad excepto las que menciono la fuente.
The photographs are my property except those mentioned by the source.
Héctor Gugliermo
@hosgug