Hola a todos los que integran esta grandiosa comunidad social, lo digo así social, porque todos los que interactuamos de alguna manera, lo hacemos para intercambiar conocimientos en general o sea me refiero a todos los temas, de esa manera nos hacemos mas poseedores de conocimientos llenando nuestras almas de ilusiones que nos conlleva a seguir para adelante, hacia el futuro,
Por eso en esta publicación dejare un poco de conocimiento e iniciativa para aquellos amigos que quieran hacerlos también, como se ve en la foto es algo muy fácil, como armar el piso de una PERGOLA para el jardín con piedras lajas.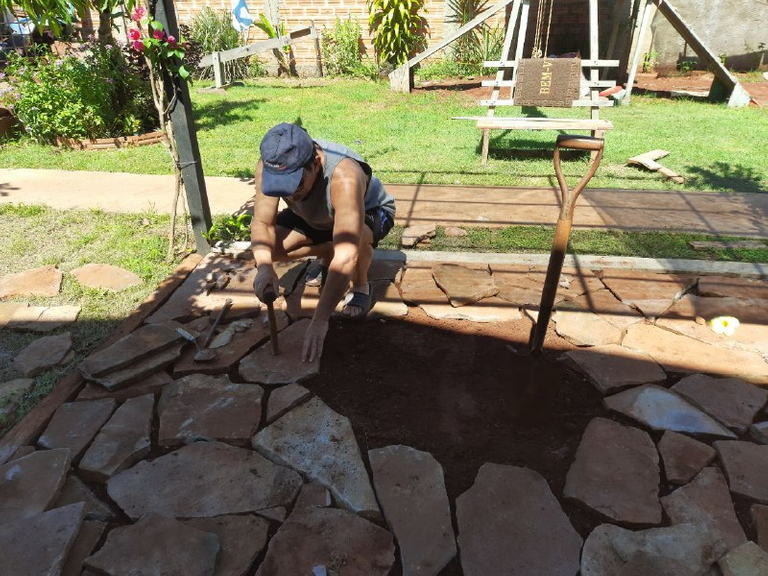 Lo primero que debemos hacer es encuadrar el lugar donde se construiría el piso, en este caso lo hice con tablas y tirantes para tener una referencia como se ve, luego anivelar la tierra hasta la parte mas resistente o sea dura y que quede bien plana, luego al comenzar a armar el rompecabezas con las lajas, es aconsejable colocar arriba de la tierra, piedra bien fina y un poco de arena para que dichas piedras queden bien parejas, en mi caso como es una pérgola en el jardín, la cual no es tan transitable, utilice solamente tierra para anivelar las lajas, utilizando una regla de aluminio con el nivel de mano.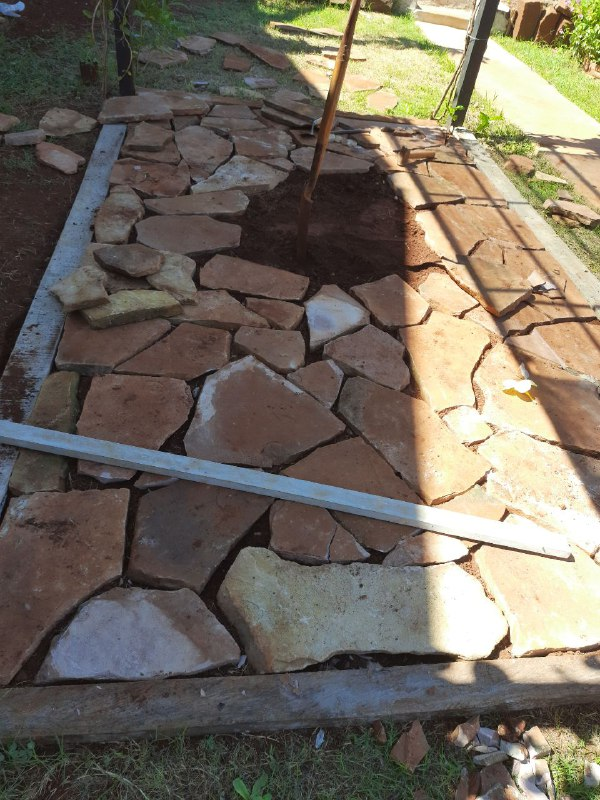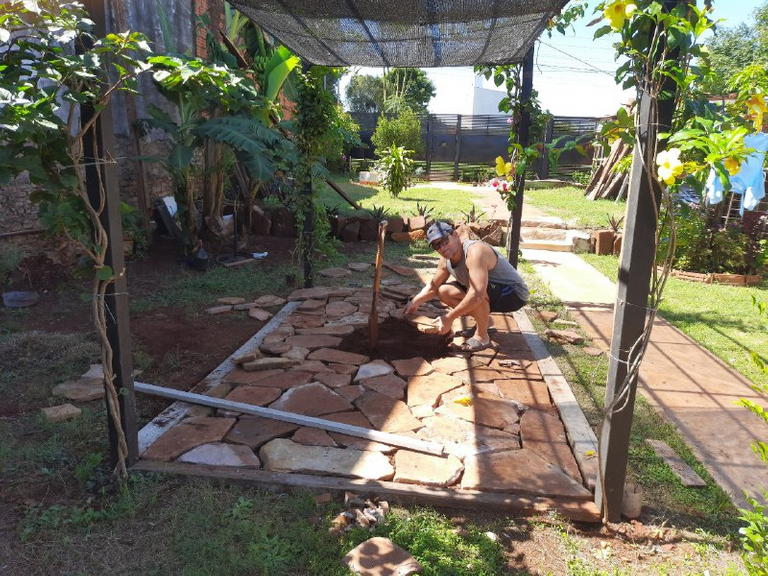 En esta foto vemos como quedo el piso parejito, las juntas como ven están separadas dejando un pequeño espacio entre lajas y lajas, el propósito de dejarlas así es por un motivo, que mas adelante les mostrare o sea en otro post.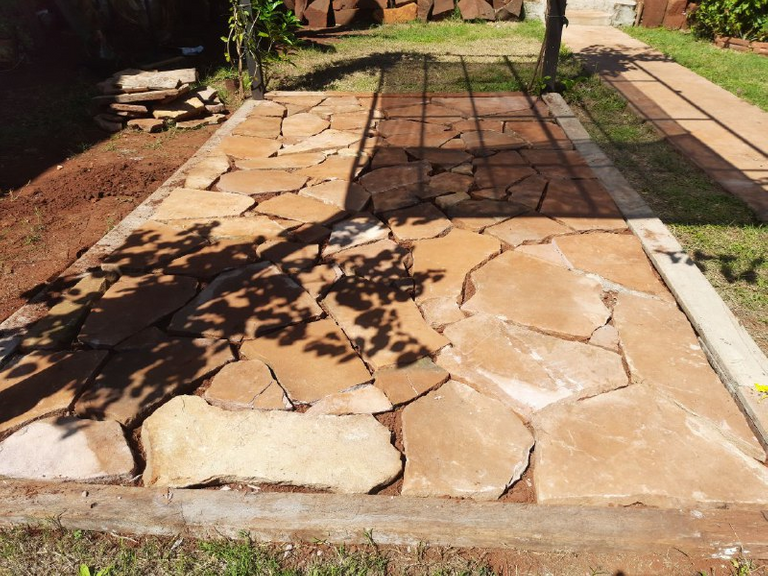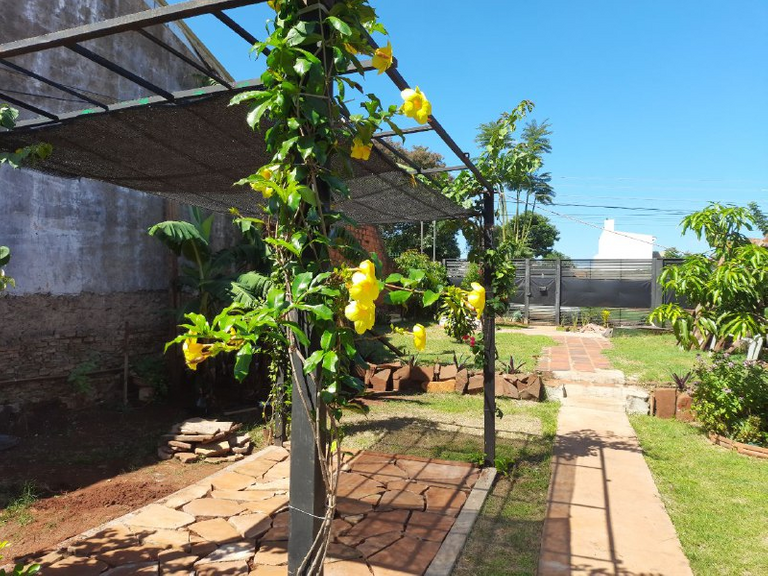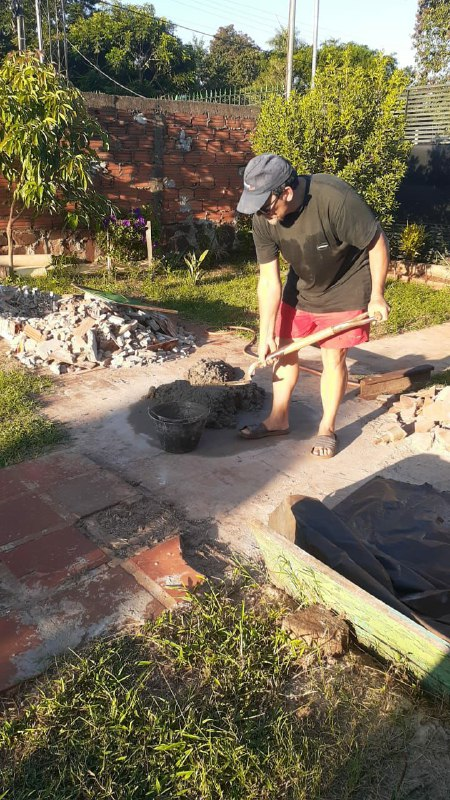 En estas fotos vemos el momento de preparar la mescla de cemento, el cual lleva la siguiente proporción, tres baldes de piedra o canto rodado y tres baldes de arena, por un balde bien lleno de cemento, dicha mescla es para llenar los bordes del piso antes mencionado, luego de haber terminado las juntas que les comente, en el próximo post, seguiré comentándoles como se va terminado el nombrado piso para la pérgola.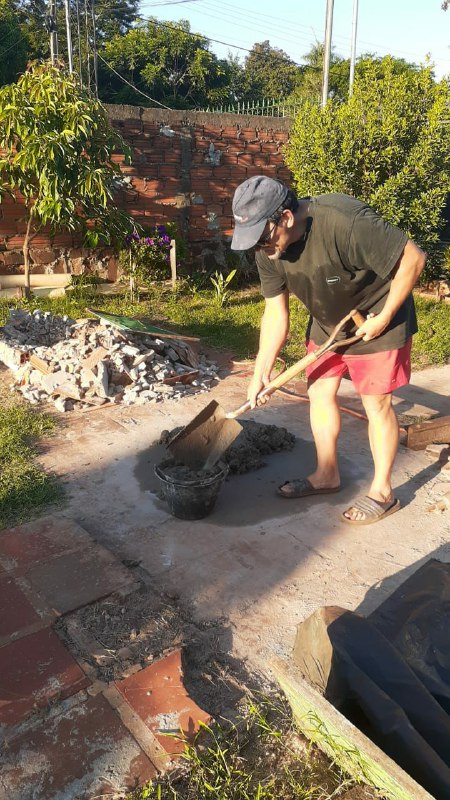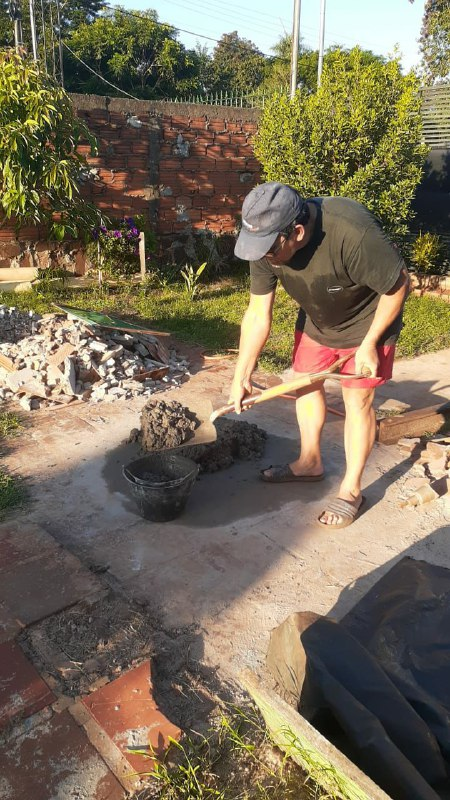 Así es amigos en la manera que podamos hermosear nuestro hogar, mas precisamente el jardín, como en este caso al construir una pérgola, la cual es utilizada para desayunar o merendar, también es de mi agrado en dicho lugar el leer un libro ( la biblia) o efectuar mis publicaciones, es muy inspirador mas por la flores que tengo en cada esquina, como se ve en la foto.
Luego de haber leído mi post, es muy fácil de construir una pérgola, se coloca los cuatro postes, bueno en este caso caños de hierro, sobre los mismos colocar en forma de pequeños cuadros, para que se agarre las ramas de las flores, dando así un bello panorama y por cierto una hermosa vista a la casa, de tal manera de que haya sido de sus agrados quedo a la espera de sus comentarios.
TRADUCIDO EN INGLES.
Hello to all who make up this great social community, I say so social, because all of us who interact in some way, we do it to exchange knowledge in general, that is, I mean all topics, that way we become more knowledgeable filling our souls with illusions that leads us to move forward, into the future,
That is why in this publication I will leave a little knowledge and initiative for those friends who want to do them too, as you can see in the photo it is something very easy, like building the floor of a PERGOLA for the garden with flagstones.
! [image.png] (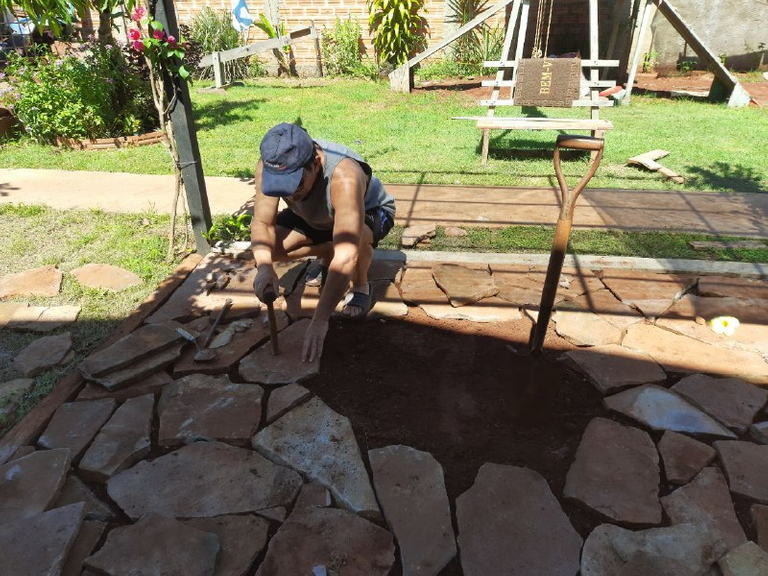 )
The first thing we must do is frame the place where the floor would be built, in this case I did it with boards and braces to have a reference as seen, then level the ground to the most resistant part, that is, hard and that it is very flat, then when starting to assemble the puzzle with the flagstones, it is advisable to place a fine stone and a little sand on top of the ground so that these stones are well matched, in my case as it is a pergola in the garden, which is not so walkable, use only dirt to level the slabs, using an aluminum ruler with the hand level.
! [image.png] (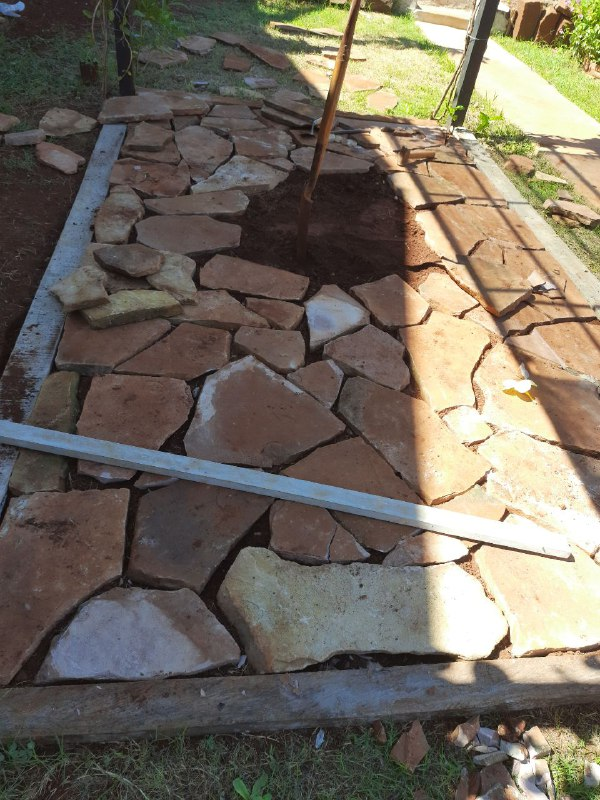 )
! [image.png] (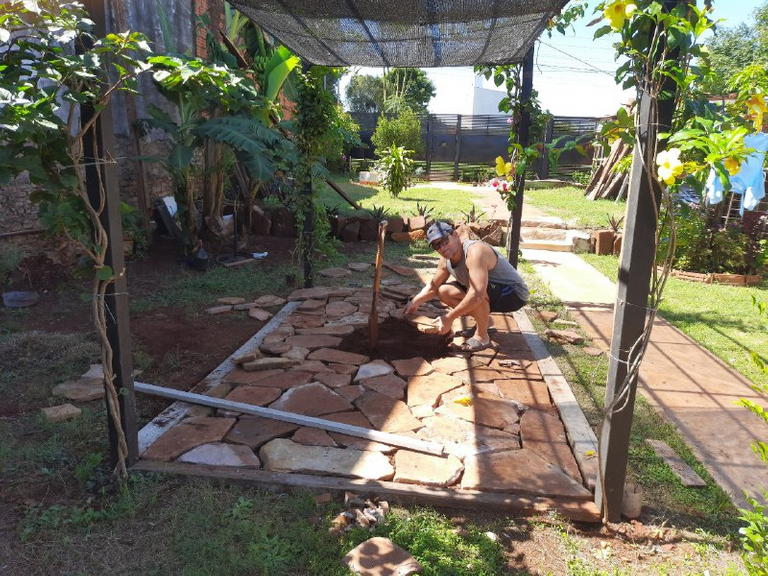 )
In this photo we see how the floor is even, the joints as you see are separated leaving a small space between flagstones and flagstones, the purpose of leaving them like this is for a reason, which I will show you later or in another post.
! [image.png] (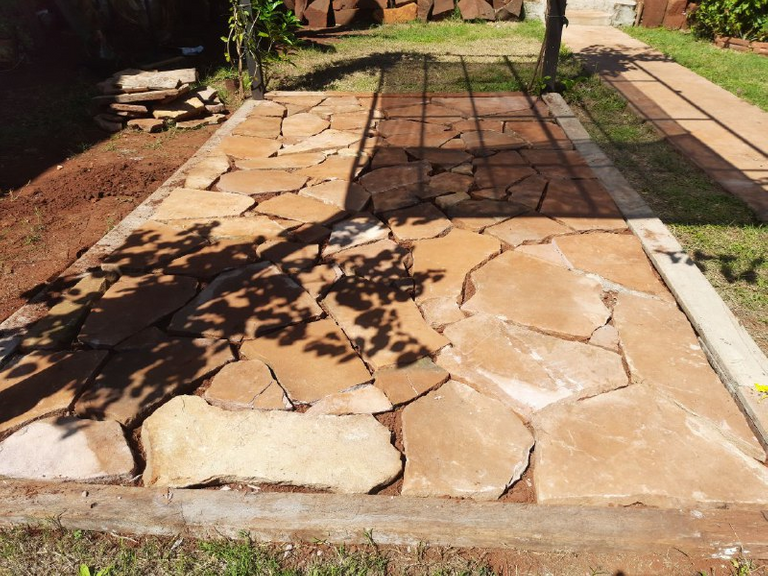 )
! [image.png] (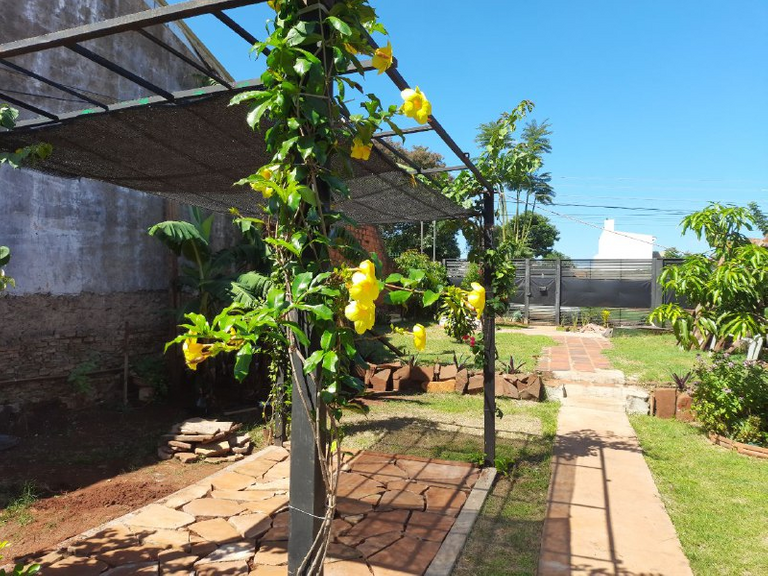 )
! [image.png] (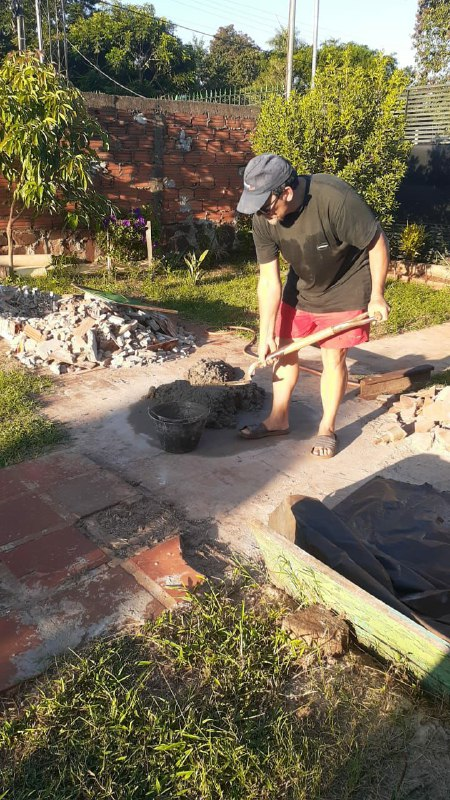 )
In these photos we see the moment of preparing the cement mix, which has the following proportion, three buckets of stone or pebble and three buckets of sand, for a bucket well filled with cement, said mix is ​​to fill the edges of the floor aforementioned, after having finished the meetings that I comment, in the next post, I will continue commenting on how the named floor for the pergola is finished.
! [image.png] (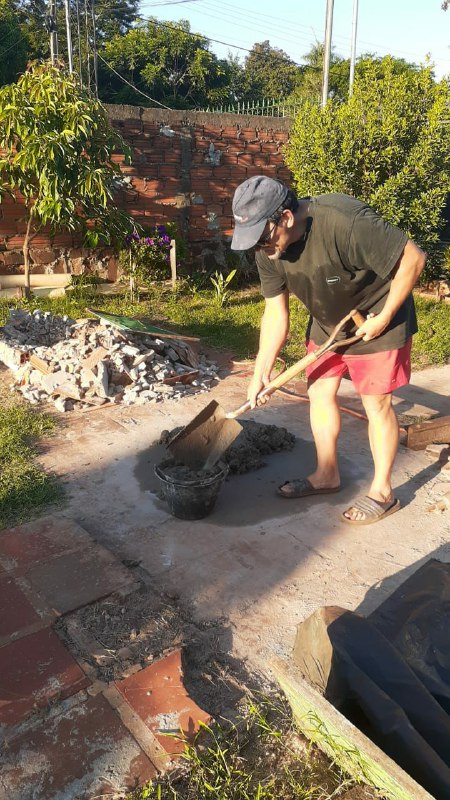 )
! [image.png] (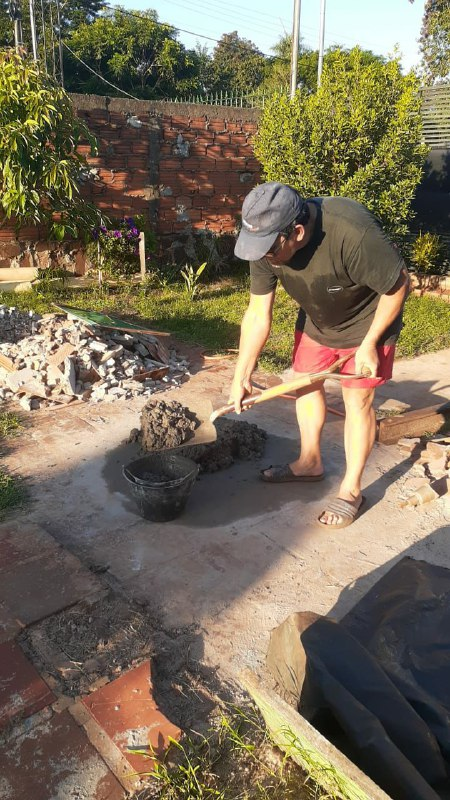 )
So it is friends in the way that we can beautify our home, more precisely the garden, as in this case when building a pergola, which is used for breakfast or snack, it is also to my liking in that place to read a book (the Bible ) or make my publications, it is very inspiring more for the flowers that I have in each corner, as seen in the photo.
After having read my post, it is very easy to build a pergola, the four posts are placed, well in this case iron pipes, on them place in the form of small squares, so that the branches of the flowers are held, giving thus a beautiful panorama and by the way a beautiful view of the house, in such a way that it has been to your liking, I am waiting for your comments.
VERY THANKFUL FIRST TO THE LORD FOR GIVING ME THE CAPACITY AND INTELLIGENCE TO BUILD ALL OF THIS AND THEN THANK YOU FOR FOLLOWING ME AND READING ME, HAVE A BLESSED DAY.
MUY AGRADECIDO PRIMERO AL SEÑOR POR DARME LA CAPACIDAD E INTELIGENCIA PARA CONSTRUIR TODO ESTO Y LUEGO GRACIAS A USTEDES POR SEGUIRME Y LEERME, QUE TENGAN UN BENDECIDO DIA.