Hola a todo los componentes de esta grandiosa comunidad, en la que con un granito de arena que aportamos, publicando nuestros pots, vamos creciendo día a día, crecemos nosotros y al mismo tiempo todos los que conforman esta gran comunidad, a veces en nuestra casa nos toca el cuidado del jardín como ven en la foto, esta ves el jardinero no pudo efectuar su trabajo, así que sin dudarlos puse manos a la obra, como verán esta instalado en dicho jardín un mini parque, por lo tanto para efectuar este trabajo, como siempre lo digo, le tuve que dedicar mucha perseverancia y paciencia también mucho amor que es de la única manera de que salga muy bien y que quede bien.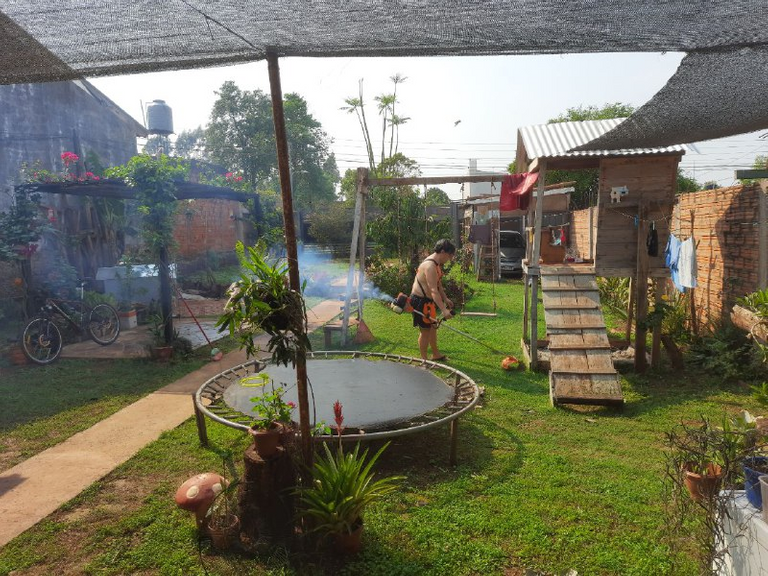 Podemos ver en la foto la cantidad de humo que despide la maquina, es debido a que no me alcanzo la mescla que se prepara con la nafta, al ser muy poca la cantidad que mescle con dicha nafta, eso hace que largue mucho humo, cuando mire la foto, me vino en la mente, de cuando Hera chico de apenas 8 años, veía pasar cerca de mi casa al trena trocha angosta, se llamaba así ese tren porque su locomotora Hera de pequeña circunferencia y muy larga, por su chimenea emanaba gran cantidad de humo, dejando y formando a su paso pequeñas nubes muy blancas y hermosas.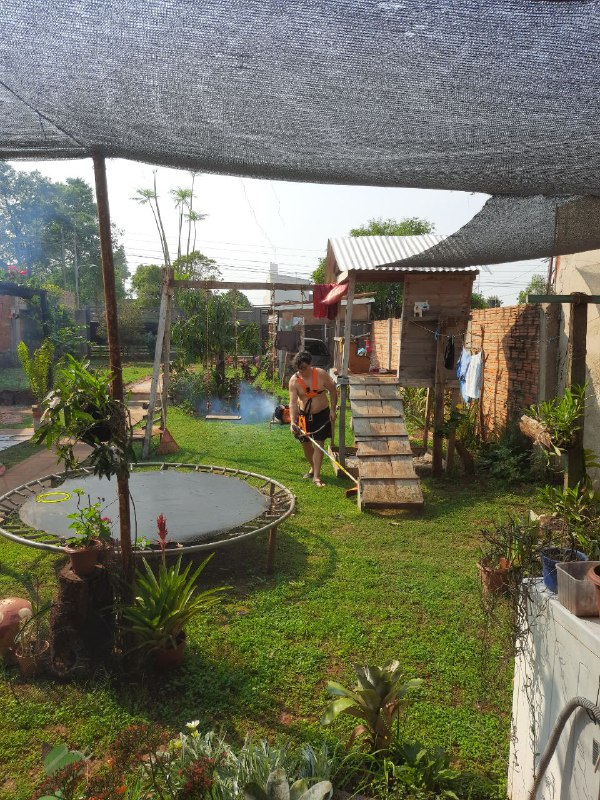 Entonces con este recuerdo a cuesta y disfrutando por lo que estaba haciendo, aparte de hermosear el jardín, disfrutar de un lindo recuerdo, utilizando todos los recaudos necesarios, o sea teniendo en cuenta que se hallaban varios juegos de los niños, fabricados por mi, fui terminando de cortar todo el césped que estaba de mas, así que si les agrado todo lo explayado no dejen de enviar sus comentarios referente al mismo.
MUCHAS GRACIAS POR SEGUIRME Y LEERME, QUE PASEN UN DIA EXCELENTE.
TRANSLATED TO ENGLISH
Hello to all the components of this great community, in which with a grain of sand that we contribute, publishing our pots, we are growing day by day, we grow and at the same time all those who make up this great community, sometimes in our house We have to take care of the garden as you can see in the photo, this time the gardener could not do his work, so without hesitation I got to work, as you will see a mini park is installed in said garden, therefore to carry out this work As I always say, I had to dedicate a lot of perseverance and patience to it, as well as a lot of love, which is the only way for it to turn out very well and to make it look good.
! [image.png] (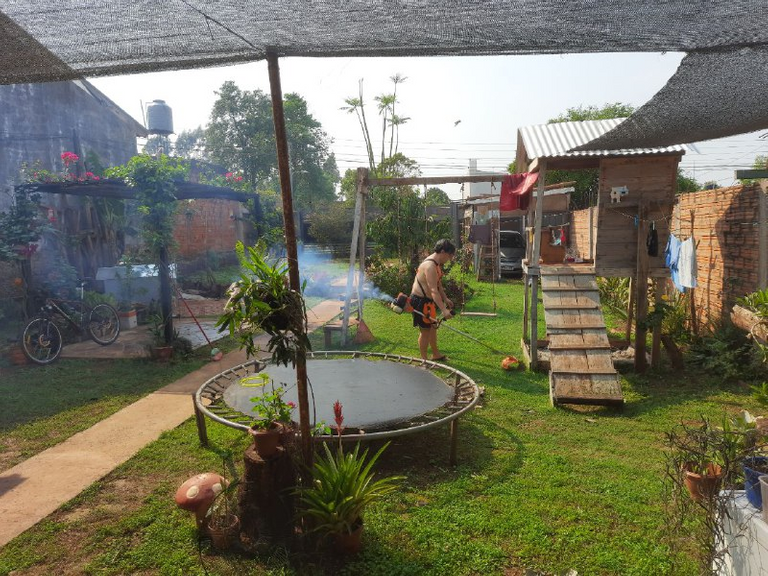 )
We can see in the photo the amount of smoke that the machine gives off, it is because I did not reach the mixture that is prepared with the gasoline, since the amount that it mixes with said gasoline is very little, that makes it release a lot of smoke, when Look at the photo, it came to my mind, from when Hera, a boy of just 8 years old, saw the narrow gauge train pass near my house, that train was called that way because its Hera locomotive, with a small and very long circumference, emanated from its chimney large amount of smoke, leaving and forming small very white and beautiful clouds in its path.
! [image.png] (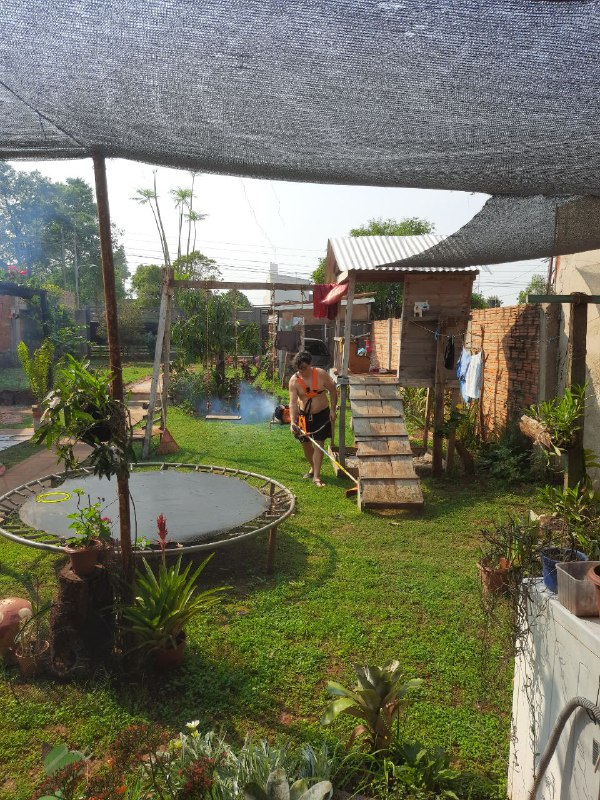 )
So with this memory at cost and enjoying what I was doing, apart from beautifying the garden, enjoying a nice memory, using all the necessary precautions, that is, taking into account that there were several children's games, made by me, I was finishing cutting all the grass that was too much, so if you like everything that was extended, do not stop sending your comments regarding it.
THANK YOU VERY MUCH FOR FOLLOWING AND READING ME, HAVE AN EXCELLENT DAY.