Hola a todos los componentes de esta gran comunidad, a los cuales les deceo que este nuevo 2021 les sea muy propsero, tambien con mucha salud y trabajo sobre todas las cosas, estar tambien siempre a la defensiba por este virus el COVID 19, el cual todavia sigue siendo una amenaza a nivel global, pero no hay que perder la esperanza muy pronto todo acabara y de esa manera podremos haser nuestra vida mas llevadera, lo digo asi porque nuevamente se podra viajar, vacasionar, abrazar a un pariente, un amigo, salir de compras y ya no mas el tapa bocas, que esa es una manera de querer silenciar nuestros pensamientos.
Hello to all the components of this great community, to whom I wish that this new 2021 be very successful, also with a lot of health and work on all things, also always be on the defensive for this virus, COVID 19, which It is still a global threat, but we must not lose hope very soon everything will end and that way we can make our lives more bearable, I say it like this because again we can travel, vacation, hug a relative, a friend, go shopping and no longer cover mouths, that is a way of wanting to silence our thoughts.
Quiero compartir con ustedes este trabajo que he relizado, bueno no soy profesional pero simpre poniendo voluntad, amor y perseverancia en lo que hago en difinitiva sale bien, esta ves se trata de una mesa la cual me pidio mi hija, como se puede observar en la foto comense por buscar y encontre unos pedasos de caños, los cuales siempre guardo, como ven el proposito es que lo voy a utilizar, luego de cortar las medidas que utilizaria, comense a pasarle con la moladora una lija para hierro, de esa manera salio todo el oxido, quedando perfecto para ser utilizados nuevamente, detalle soy de reciclar muchas cosas, todo sirve jajajajaj.
I want to share with you this work that I have done, well I am not a professional but always putting will, love and perseverance in what I do in the end it turns out well, this time it is a table which my daughter asked me, as you can see in The photo began to look for and I found some pieces of pipes, which I always keep, as you can see the purpose is that I am going to use it, after cutting the measures that I would use, I began to pass it with the grinder a sandpaper for iron, that way All the rust came out, being perfect to be used again, detail I am to recycle many things, everything works hahahaha.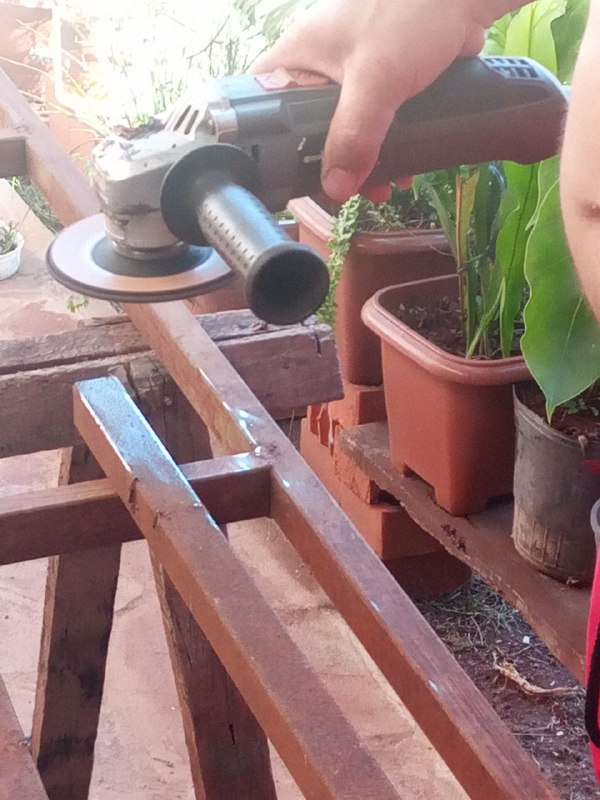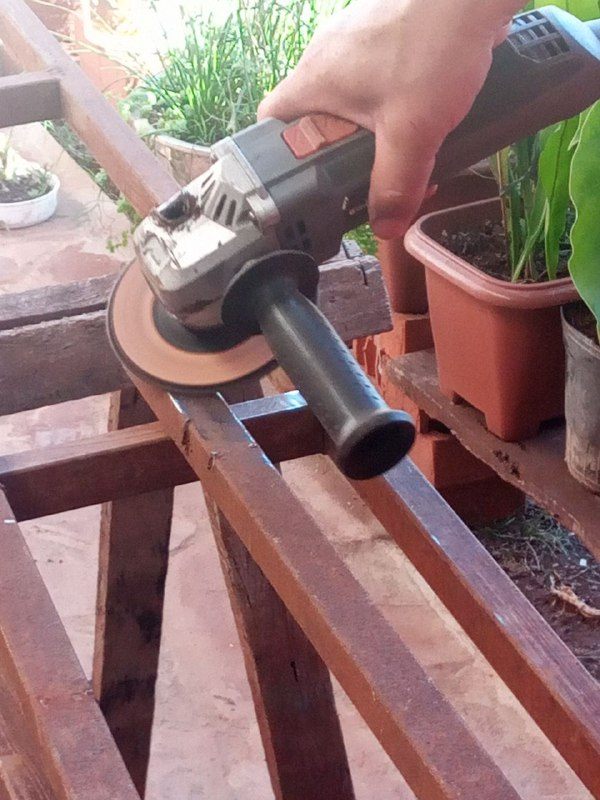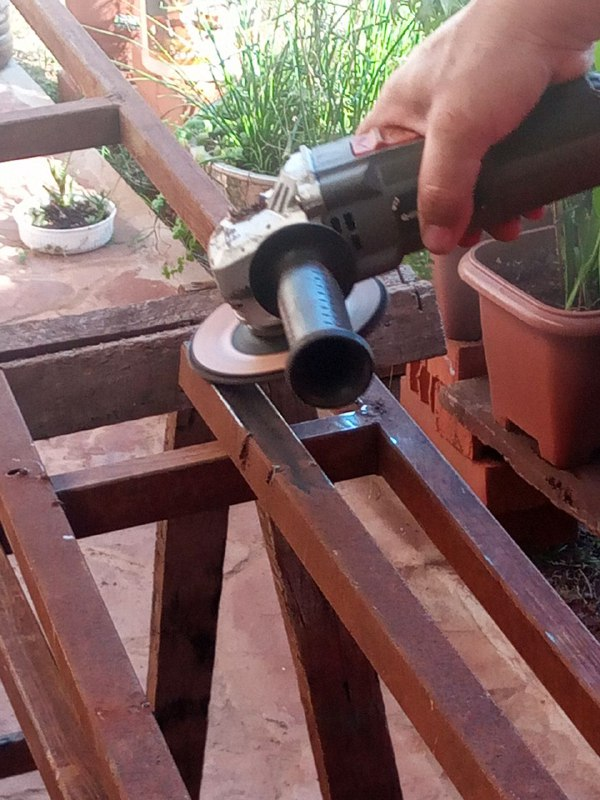 Una ves cortados y lijados el proximo paso es soldarlo, para eso utilise la escuadra imantada y la soldadora inverter, siempre respetando los protocolos o sea mascara para soldar, solde con mucha paciensia, hasta darle forma a lo que seria la mesa propiamente dicha, la parte de donde solde una subi las fotos dado que me hallaba solo, oor ende no pude sacarlas.
Once you see it cut and sanded, the next step is to weld it, for that I used the magnetic square and the inverter welding machine, always respecting the protocols or welding mask, weld with great patience, until you shape what would be the table itself, the Part of where I solde one I uploaded the photos since I was alone, so I couldn't take them.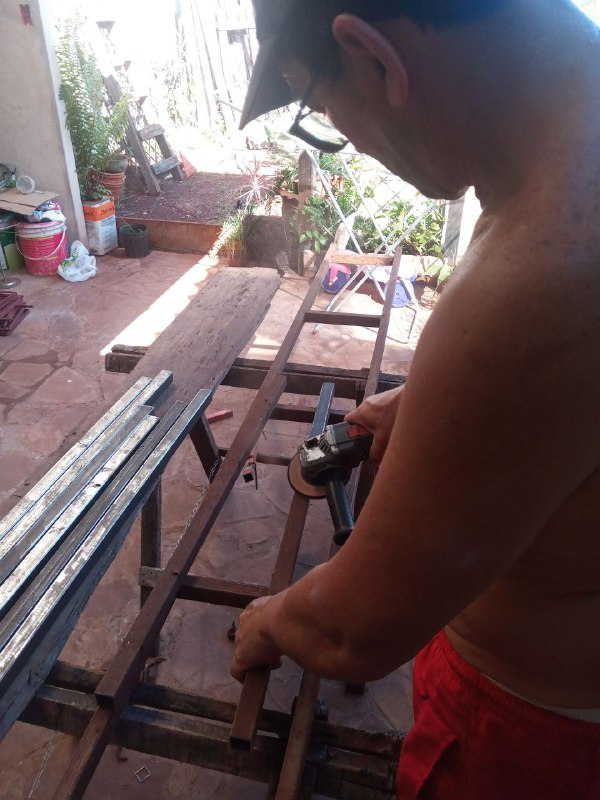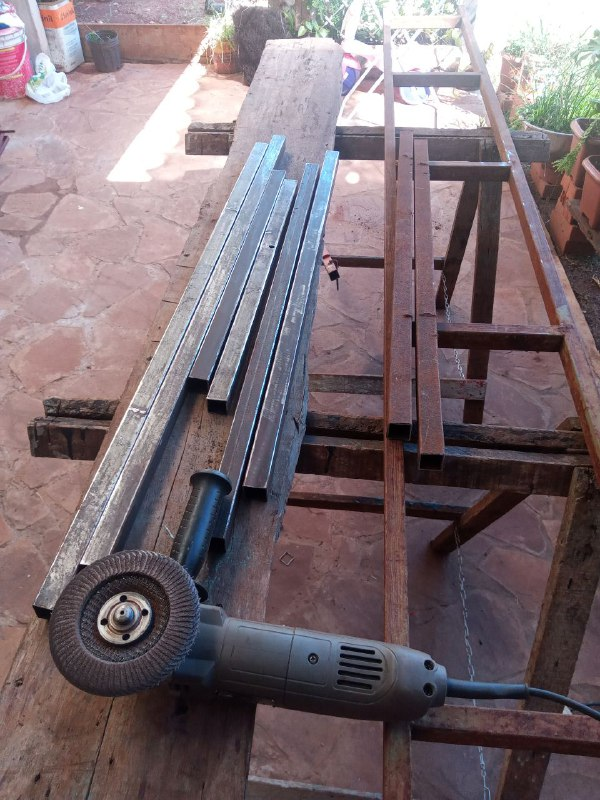 La madera utilizada es aglomerado de una medida de 60 cm. de ancho x 1 metro de largo, el detalle es que todavia no la he pintado, corria el tiempo y tenia que hacer los preparativos para festejar el año venidero, asi que esta es la mesa, de esta manera quedaria para ser utilizada.
The wood used is chipboard measuring 60 cm. wide x 1 meter long, the detail is that I have not painted it yet, time was running out and I had to make preparations to celebrate the coming year, so this is the table, in this way it would remain to be used.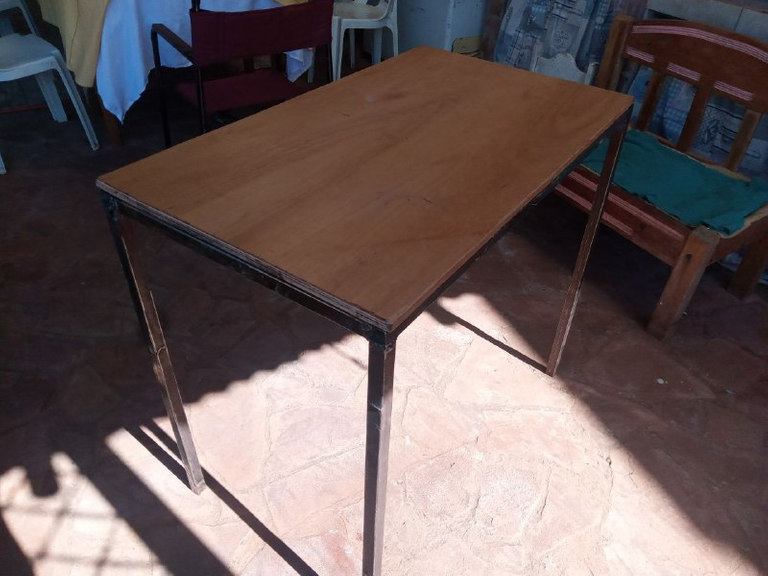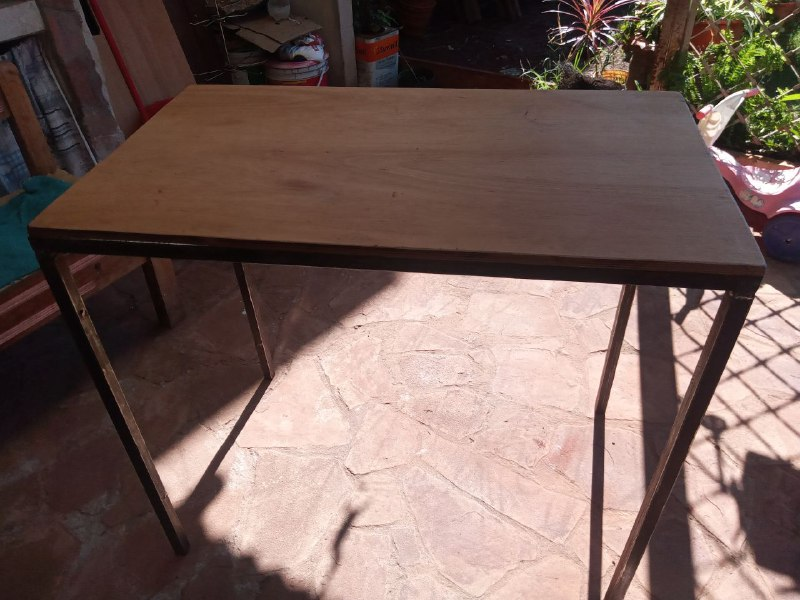 Sabemos que cuando nos proponemos a elaborar, fabricar algo lo podemos hacer, dado que el SEÑOR DIOS, nos dio es capacidad, pero obio que tenemos que poner de nosotros tambien, asi que como dije con perseverancia, amor y paciensia todo se puede de esa manera a nosotros nos queda como una experiencia mas en nuestra existencia y tambien porque hacemos feliz a otros, en este caso a mi hija que la queria para su notebock y la impresora, bueno ella no queria de la que se venden, queria una obra de arte de su papa jajajaja, por cierto quedo muy conforme.
We know that when we propose to elaborate, manufacture something, we can do it, since the LORD GOD gave us the ability, but obviously we have to put ourselves also, so as I said with perseverance, love and patience, everything can be done from that For us it remains as one more experience in our existence and also because we make others happy, in this case my daughter who wanted it for her notebock and the printer, well she did not want the one that is sold, she wanted a work of art of his father hahahaha, by the way I am very satisfied.
Como digo siempre, a todos los integrantes de esta comunidad en donde interactuamos, para de esa manera hacer que unos obtengan la experiencia de otros como en este caso expresando conocimientos, tambien aventuras, paseos, experiencias de vida, de haberles agradado un poco de mi creacion, quedo a la espera de sus comentarios y tambien sus votos.
As I always say, to all the members of this community where we interact, in order to make some obtain the experience of others, as in this case expressing knowledge, also adventures, walks, life experiences, if they have liked a bit of me. creation, I await your comments and also your votes.
FROM ALREADY THANK YOU FOR FOLLOWING ME AND CONTINUING EFFORTS TO MAKE A BETTER WORLD.
DESDE YA MUCHAS GRACIA POR SEGUIRME Y A CONTINUAR ESFORSANDONOS PARA ASER UN MUNDO MEJOR.