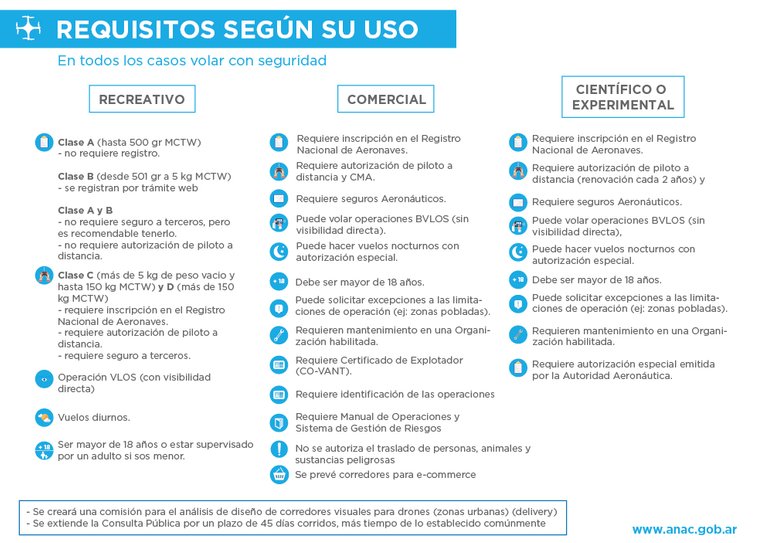 LINK
This is a question that many ask themselves practically when buying their drone, especially if your future ship has professional flight characteristics, that is, it exceeds 120 m in height in its capacity or its weight is more than 300 grams among others.
In Argentina, the use of Drones is regulated and the aeronautical regime is applied and non-compliance with these can lead to a temporary or permanent sanction as well as fines.
The National Civil Aviation Administration establishes the "Safe Flying" premise that encompasses manned and unmanned aircraft, such as drones in this case, bearing the responsibility on those who carry out the maneuvers.
The ANAC is the entity in charge of supervising the aircraft and penalizes non-compliance with the rules. The provisions of the criminal code "Crimes against public safety" also apply.
To fly a drone there are a series of requirements and the main ones are:
You must be registered with the ANAC
Be over 18 years old or if you are 16 you must be accompanied and supervised by an adult.
Request an authorization from ANAC as a "Remote Crew Member".
Have insurance against possible damage to third parties.
Have operations and risk management manuals.
place identification plate on the ship,
It is forbidden to fly in prohibited areas such as airports or heliports.
Flying in crowds of people is prohibited.
These are the current regulations in force, more important than whether or not every drone pilot must take into account when taking off.
If you live in Argentina and want to fly a drone Here is the link, surely you will have to pay good money to carry out the entire authorization process.
Thanks!
---
ESPAÑOL
---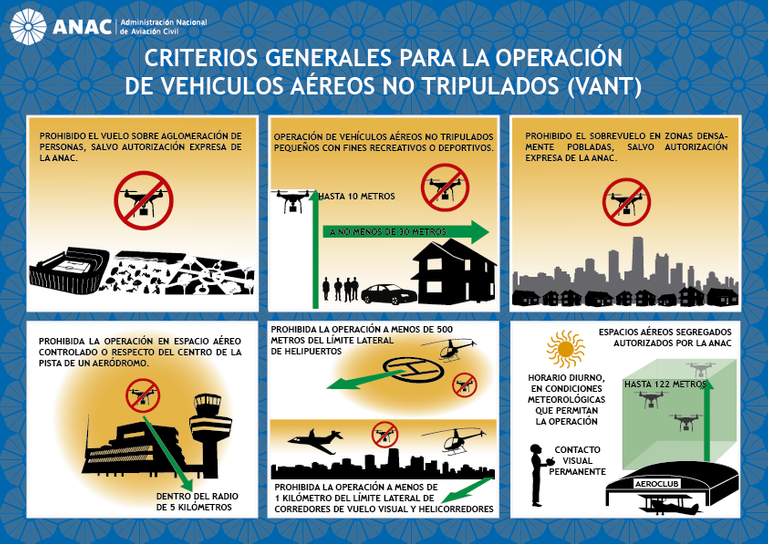 LINK
Esta es una pregunta que muchos se hacen practicamente en el momento de comprar su Dron, especialmente si su futura nave tiene características de vuelo profesiona, es decir, sobrepasa los 120 m de altura en su capacidad o bien su peso es de mas de 300 gramos entre otros.
En Argentina el uso de Drones está reglamentado y se aplica el régimen aeronáutico y el incumplimiento de estas puede llevar a una sanción temporal o permanente así como multas.
La administración Nacional de aviación civil establece la premisa "Volar seguro" que engloba las aeronaves tripuladas y no tripuladas como en este caso los drones cargando la responsabilidad sobre quienes realicen las maniobras.
La ANAC es la entidad encargada de fiscalizar las aeronaves y sanciona el incumplimiento de las normas, tambien se aplica lo previsto en el código penal "Delitos contra la seguridad pública".
Para volar un dron existen una serie de requisitos y los principales son:
Se debe estar registrado en la ANAC
Ser mayor de 18 años o si tienes 16 debes estar acompañado y supervisado por un adulto.
Solicitar a la ANAC una autorización como "Miembro de tripulación remota".
Contar con un seguro ante los posibles daños a terceros.
Contar manuales de de operaciones y gestión de riesgos.
colocar placa identificatoria en la nave,
Está prohibido volar en zonas prohibidas como aeropuertos o helipuertos.
Está prohibido volar en aglomeraciones de personas.
Estas son las normas actuales vigentes mas importante que si o si todo piloto de dron debe tomar en cuenta a la hora de despegar.
Si vives en Argentina y quieres volar un Dron Aquí te dejo el link, seguramente que para realizar todo el trámite para habilitación tendrás que pagar buen dinero.
Gracias!