LINK
There is a project called "CABURE´I-4S" which consists of the work for the creation of a satellite created by Paraguayans CApacity BUilding, REsearch and Innovation - $ Space, this is the name of the project.
We know that the satellites used for observation, communication and navigation have a high weight and cost, but thanks to technological advances and the scope of information in a global way, added to the prominence of private companies in the sector such as SpaceX and Satellogic, among others, they have allowed to raise satellites more economically and quickly.
Many of the emerging countries and among these Paraguay demonstrate that academic training plays an essential role in promoting these space technologies, which is why the AEP (Paraguayan Space Agency) actively participates in public and private universities for the development of these capabilities.
Parallel to this, they are working on the creation of the first Paraguayan satellite "GUARANÍ SAT01", they are developing different jobs oriented to aerospace engineering and the processing of satellite images.
---
ESPAÑOL
---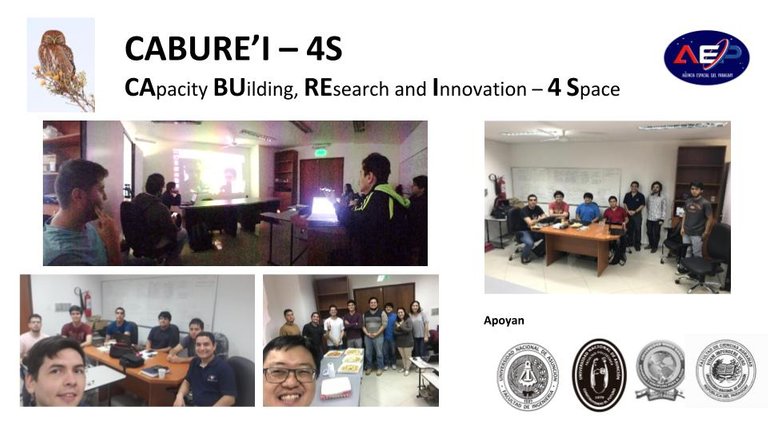 LINK
Existe un proyecto llamado "CABURE´I-4S" Que consiste en el trabajo para la creación de satelite creado por paraguayos CApacity BUilding, REsearch and Innovation - $ Space, así se denomina el proyecto.
Sabemoms que los satélites que se utilizan para observación, comunicación y navegación tienen un peso y costo elevado, pero gracias a los avances tecnológicos y el alcance de la información de manera global sumado al protagonísmo de empresas privadas del sector como SpaceX y Satellogic entre otras han permitido elevar satélites de manera mas económica y rápida.
Muchos de los países emergentes y entre estos Paraguay demuestran que la formación académica juega un papel esencial en propulsar estas tecnologías espaciales, es por ello que la AEP (Agencia espacial del Paraguay) Participa de manera activa en universidades públicas y privadas para el desarrollo de estas capacidades.
Paralelo a esto trabajan en la creación del primer satélite paraguayo "GUARANÍ SAT01", se estan desarrollando distintos trabajos orientados a la ingeniería aeroespacial y el procesamiento de imágenes satelitales.
Gracias por pasar.