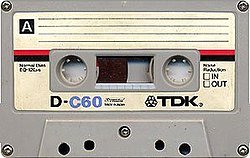 LINK
Surely you have heard that before some types of information were stored in rare devices very different from the current ones, today we have a pendrive with a lot of information such as movies, music, documents, etc. If I tell you that at one point in history, information was stored on perforated paper tapes or magnetic cradles.
Back in 1963, the Phillips company created an audio storage system that consisted of a magnetic tape wound inside a plastic box, incredibly this in a player allowed audio reproduction, by the 80's this had already become popular.
The tape recorder, a large and complicated transport equipment, was replaced and quickly gained popularity as it was licensed free of charge to electronics companies, the "Compact Audio Cassette" reproducing devices were more accessible to the common public and the cassette itself was easy to use and purchase.
This cassette consisted of a magnetic tape of ethereal tracks that moved by winding on one of the reels at 4.76 cm for every second with an approximate durability of 30 minutes per side "Side A and side B", in principle this device stored audio of very poor quality but by the 70s the quality of the tapes was improved allowing a recording with greater fidelity for music, thus the cassette came to occupy the first place in the record market.
In that same decade, the Maxell company launched blank tapes that allowed recording with portable equipment, this allowed a tape to be re-recorded several times, and thus it also began to be used in telephone answering machines and many other devices.
By then some computers such as HP and Apple used it as storage media for their devices, further enhancing their popularity.
---
ESPAÑOL
---
LINK
Seguramente escuchaste hablar que antes algunos tipos de información se almacenaban en dispositivos raros muy distintos a los actuales, hoy tenemos un pendrive con mucha cantidad de información como películas, música, documentos, etc. Si te digo que en un momento de la historia se almacenaba información en cintas de papel perforada o cunas magnéticas.
Allá por el año 1963 la empresa Phillips creo un sistema de almacenaje de audio que consistía en una cinta magnética enrollada dentro de una cajita plástica, increíblemente esto en un reproductor permitía la reproducción de audio, para los años 80´esto ya se había popularizado.
El magnetófono, un equipo grande y complicado de transportas fue reemplazado y rápidamente ganó popularidad ya que fue licenciado de manera gratuita a las empresas de electrónica, los dispositivos reproductores del "Audio Cassette compacto" eran mas accesible para el público común y el propio cassete era sencillo de utilizar y adquirir.
Este cassette consistía en una cinta magnética de pistas etereofónicas que se desplazaban enrollándose en uno de los carreteles a 4,76 Cm por cada segundo con una durabilidad aproximada de 30 minutos por lado "Lado A y lado B", en principío este dispositivo almacenaba audio de muy mala calidad pero por los años 70 se mejoró la calidad de las cintas permitiendo una grabación con mayor fidelidad para música, ,así el cassette pasó a ocupar el primer lugar en el mercado discográfico.
En esa misma década la empresa Maxell lanza las cintas vírgenes que permitían la grabación con equipos portátiles, esto permitía que una cinta permita ser regrabada varias veces, y así se comenzó a utilizar también en los contestadores de los teléfonos y muchos dispositivos mas.
Para entonces algunas computadoras como HP y Apple lo utilizaron como medios de almacenammiento para sus dispositivos realzando aún mas su popularidad.
Gracias por pasar.