About two decades ago the future was something of science fiction movies (you can ask your parents), much of what we live today is part of those predictions on television and today we will see some of that.
Back in 1967 in a television program "The office of the future" was presented, which for us today is something totally old, but at that time when the most advanced was a color television and analog telephones connected by cable, the first ones also emerged. connections between computers.
There was a TV program that consisted of imagining how everything would be in 2001, by then domestic PCs were just appearing with a very different aspect to what we know today.
In the predictions it was said that people would no longer go to work, work would come to the houses for example, having a satellite connected device at home where we could read the news of the day on a screen and print it, see the weather report by a screen or to be able to see in streeming what happens at home, if perhaps at the time this was a sample of madness, today we are experiencing these phenomena and my question is: Is today's technology the result of those follies of the past?
---
ESPAÑOL
---
Hace como dos décadas el futuro era algo de películas de ciencia ficción (Le puedes preguntar a tus padres), mucho de lo que hoy vivimos es parte de esas predicciones de la televisión y hoy veremos algo de eso.
Allá por 1967 en un programa de televisión se presentaba "La oficina del futuro", que para nosotros hoy es algo totalmente antiguo, pero en aquel momento donde lo mas avanzado era un televisor a color y teléfonos analógico conectados por cable, también surgían las primeras conexiones entre computadoras.
Existía un programa de TV que consistía en imaginar como sería todo en el año 2001, para entonces recién aparecían las PC domésticas de un aspecto muy diferente a lo que hoy conocemos.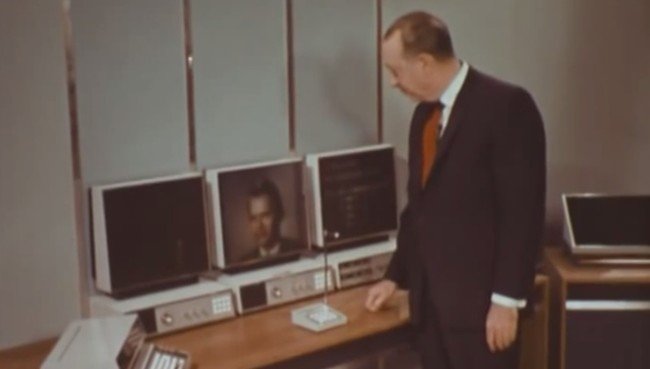 LINK
En la predicciones se decía que las persona ya no irían mas al trabajo, el trabajo vendría a las casas por ejemplo, teniendo en el hogar un dispositivo conectado satelitalmente donde podríamos leer las noticias del día por una pantalla e imprimirlo, ver el informe del clima por una pantalla o bien poder ver en streeming lo que sucede en casa, si quizás para la época esto era una muestra de locura hoy estamos viviendo estos fenómenos y mi pregunta es ¿La tecnología de hoy es resultado de esas locuras del pasado?.
Gracias por pasar.