After BTC kept oscillating between 35,000 for several weeks, it finally surpassed the 45,000 floor, reaching almost 48,000.
The news assures that it has been because of the investment that TESLA has made in BTC, it has acquired more than 1,500 dollars in this currency, the increases in the last hours have exceeded 10% and that is a lot.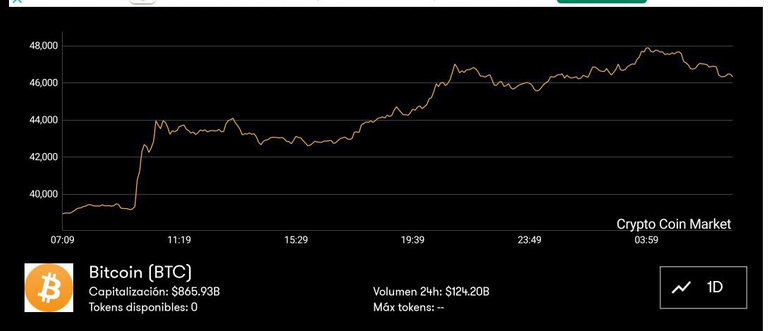 We can observe the main 20 currencies in the market, they have suffered an increase that is possibly the drag originated by BTC, NOT being the case with DOGE that has doubled its value thanks to the movement of WallstreetBest.
Recall that a few weeks ago after Eilon Musk's publication that showed the BTC symbol, the value of the currency increased its value from 32 to 38
K and about $ 57 million in shorts were wiped out in less than ten minutes.
Thank you very much for visiting me, you can leave me a comment and a generous vote :)
---
Después de que durante varias semanas BTC se mantenía oscilando entre los 35.000.- finalmente superó el piso de los 45.000 llegando casi a 48.000.
Las noticias aseguran que ha sido por la inversion que TESLA ha hecho en BTC, ha adquirido mas de 1.500 de dólares en esta moneda, los aumentos en las últimas horas han superado el 10% y eso es mucho.
Podemos observar las principales 20 monedas del mercado, han sufrido un incremento que posiblemente sea el arrastre originado por BTC, NO siendo así con el caso de DOGE que ha duplicado su valor gracias al movimiento de WallstreetBest.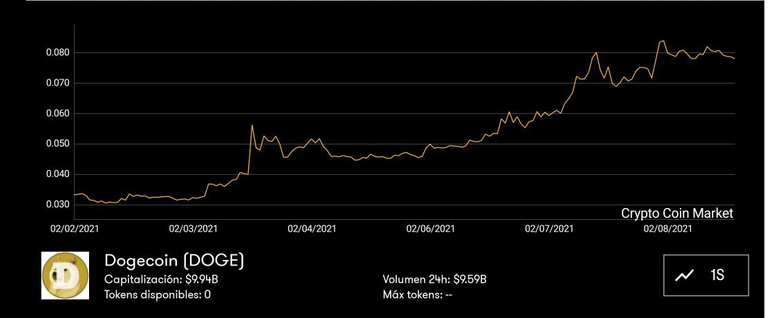 Recordemos que hace unas semanas tras la publicación de Eilon Musk que mostraba el símbolo de BTC el valor de la moneda aumentó su valor de 32 a 38
K y unos 57 millones de dólares en corto fueron eliminados en menos de diez minutos.
Muchas gracias por visitarme, puedes dejarme un comentario y un voto generoso :)