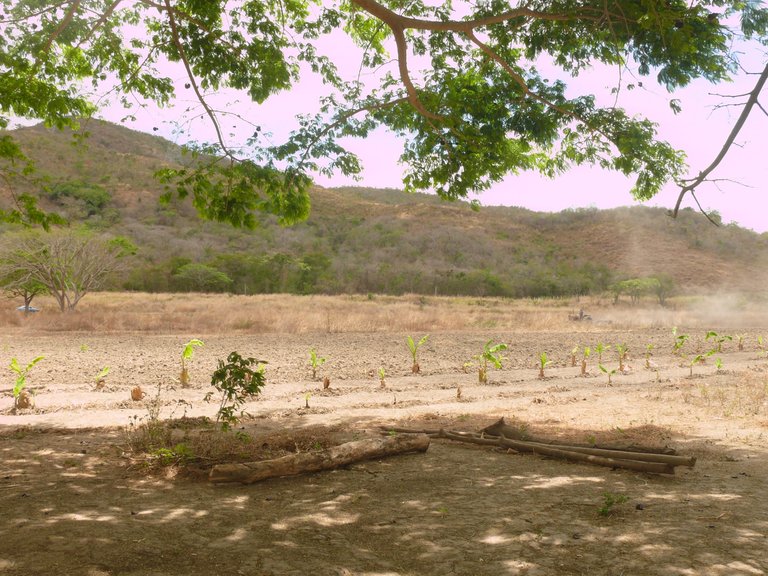 Greetings, my dear Earthlings. I was able to mechanize the work thanks to the increase in the price of the Hive and to you for your support. THANK YOU! For your vote, rent a tractor with the operator to track and prepare the land, taking advantage of the beautiful rise that the price of our beloved Hive has had and with it all the tokens and the LEO that brings a good amount of Hives for its price. I am working hard removing some hoses that were on one side, to pass it to the other and be able to carry the water to the land or my lands where I start the project of "La Colmena del León" as I call my project that is barely in its beginning, it is always the most difficult thing to start, and from then on I have put a lot of effort investing everything I get into shaping the project that I hope will have a great positive impact for my family and the families of those who work or who I have been able to give them a small income by giving them work at least for tasks, about 4 hours a day (for now I cannot cover the full salaries and contractual benefits) but I reached an agreement by paying a little more than what others in the area, in addition to providing them with some of what they are harvesting as help, of course without commitment other than just helping a little, so as not to create a contract of word, that is, I only have to give if it is within my reach, it is better to leave things clear, but always with a positive mind, because if you sow, surely something will reap.

Saludos, mis estimados terrícolas. Pude mecanizar el trabajo gracias al la subida del precio del Hive y a ustedes por su apoyo ¡GRACIAS! por su voto, alquile un tractor con el operador para rastrear y preparar la tierra, aprovechando la hermosa subida que ha tenido el precio de nuestro amado Hive y con él todos los token y el LEO que aporta una buena cantidad de Hives por su precio. Estoy trabajando duro retirando unas mangueras que estaban en un lado , para pasarlo al otro y poder llevar el agua hasta el terreno o mis tierras donde pongo en marcha el proyecto de "La Colmena del León" como llame a mi proyecto que apenas esta en su inicio, siempre es lo más difícil comenzar, y de allí en adelante he puesto mucho empeño invirtiendo todo lo que agarro en ir dando forma a el proyecto que espero tenga un gran impacto positivo para mi familia y las familias de los que trabajan o a los que les he podido brindar una pequeña entrada al darles trabajo al menos por tareas, unas 4 horas por día (por ahora no puedo cubrir los sueldos completos y los beneficios contractuales) pero llegue a un acuerdo pagando un poco más de lo que pagan otros en la zona, además de aportarles algo de lo que valla cosechando como ayuda, claro sin compromiso más que el de solo ayudar un poco, para no crear un contracto de palabra, así es solo debo dar si esta a mi alcance, es mejor dejar las cosas claras, pero siempre con mente positiva, porque si uno siembra, de seguro algo cosecha.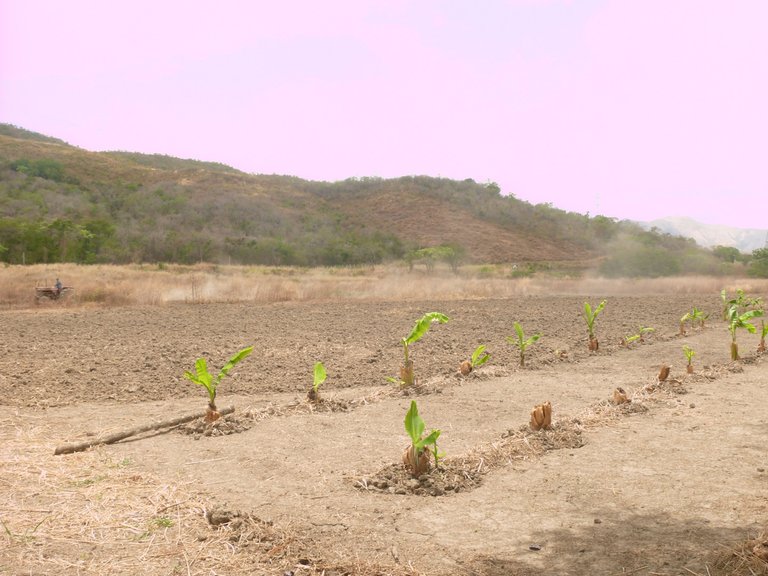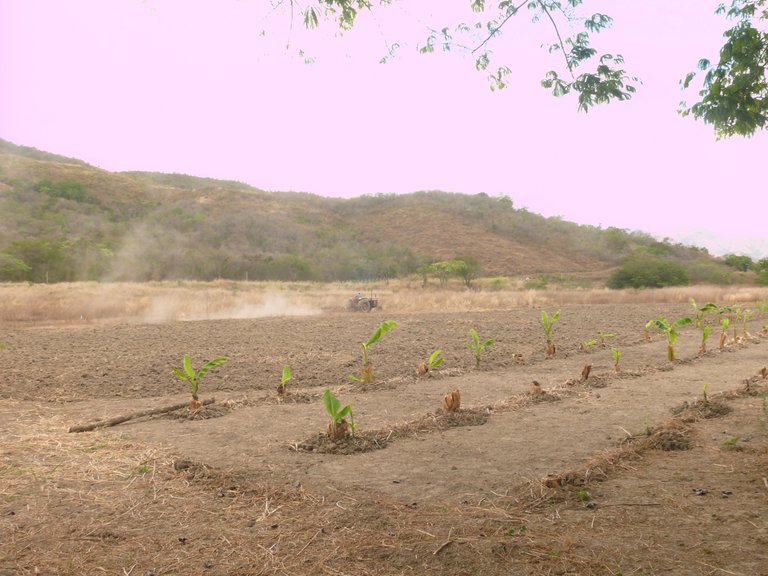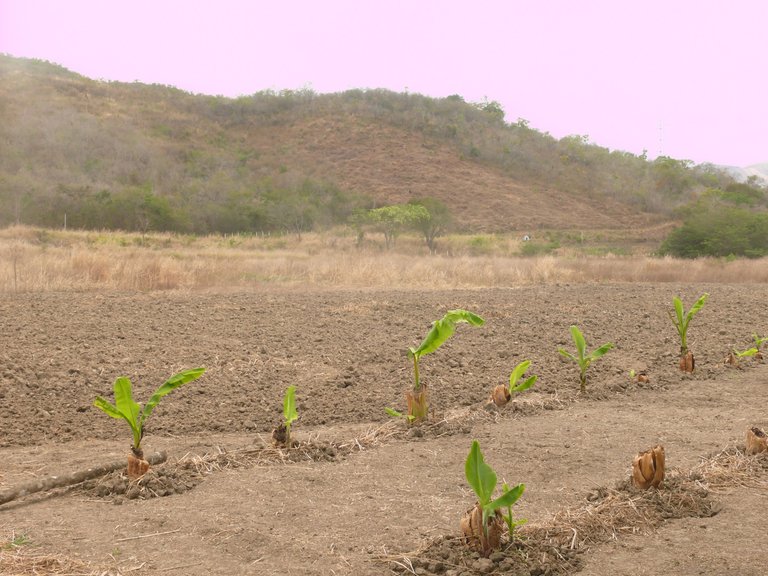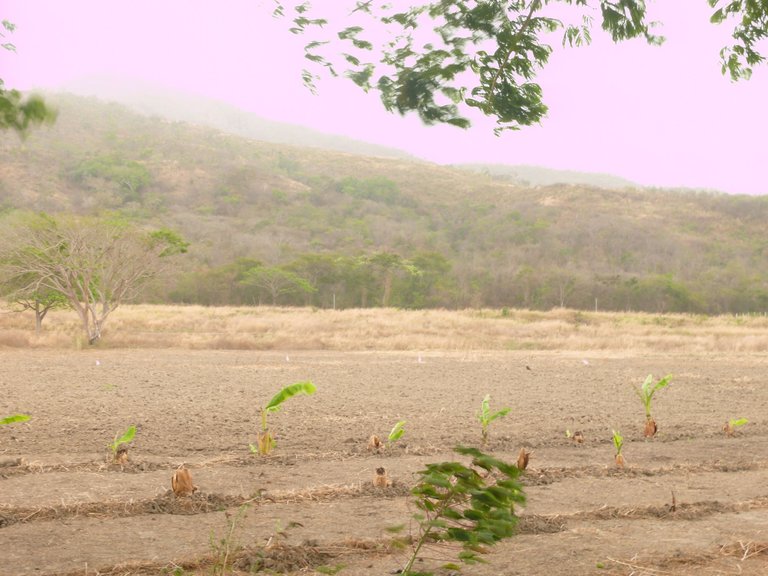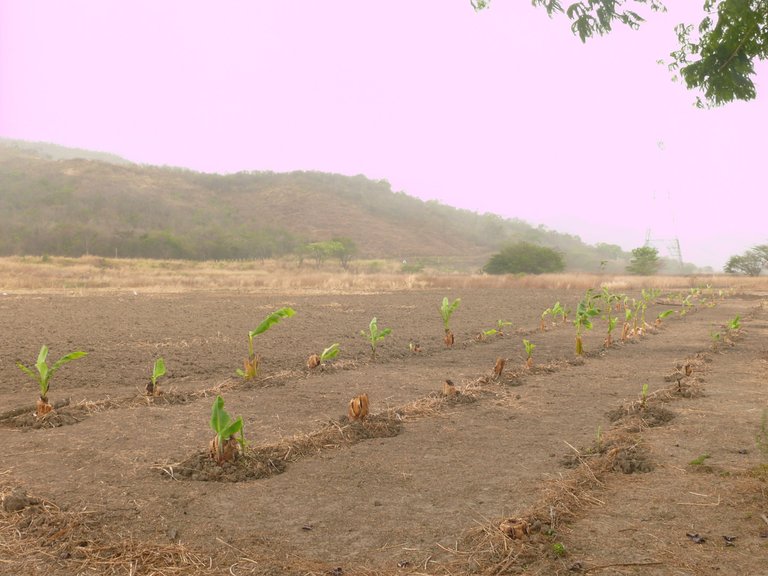 For now, the start-up stage was the banana plants (list that stage with a good percentage of plants that are in good condition) Then some of Yucca, which we already have at least 30% of the total seed that we hope to sow (some 600 plants) The water issue remains to be completed. I also wanted to plant a grain called here, Caraotas, but the delay in the water works makes it very risky to plant them because time has passed, so I will plant about 15 kilos of yellow corn to harvest tender, to make dough for cachapas, for consumption ours and to sell in an agreement that we have been coordinating with neighbors in some neighboring areas, in order to reduce intermediaries and lower the price to the consumer and thus try to create a benefit for people since we consider that we are being hit by intermediaries who many times they are speculators, increasing the price of the product up to 5 times its price.

Por ahora la etapa de arranque eran las plantas de bananas (lista esa etapa con un buen porcentaje de plantas que están en buena condición) Luego unas de Yuca, las cuales ya tenemos al menos un 30% de la semilla total que esperamos sembrar (unas 600 matas) Falta culminar lo del agua. También quería sembrar un grano llamado acá, Caraotas, pero el retraso en los trabajos del agua hace muy riesgoso sembrarlas porque se ha pasado el tiempo, así que sembraré unos 15 kilos de maíz amarillo para cosechar tierno, para hacer masa para cachapas, para consumo nuestro y para vender en un acuerdo que hemos venido coordinando con vecinos de algunas zonas aledañas, para así reducir los intermediarios y bajar el precio al consumidor y tratar así de crear un beneficio a las personas ya que consideramos que estamos siendo golpeados por los intermediarios que muchas veces son especuladores, haciendo incrementar el precio del producto hasta 5 veces su precio.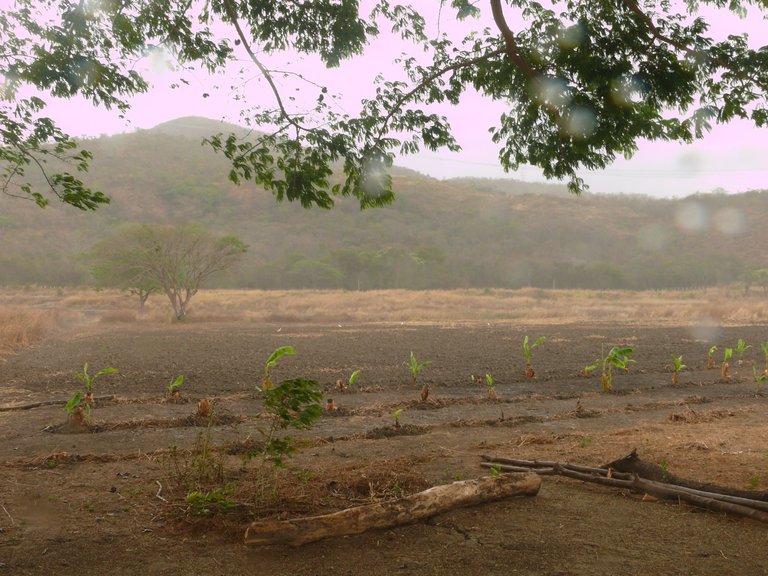 The truth is, despite everything we are being supported by nature, we do not have water and in this time of midsummer, you can see how it has rained, this in a blessing from my mother nature, who with those showers has brought water through the river and has left puddles from where we load to water, because we had an estimated time to complete the work of the hose system, which we would finish much earlier, but the truth of 29 people who own plots in this sector, only 6 are working and many times I I must put the workers that I pay, to be able to cover and try to advance, some people always pretend not to work, but hey, those of us who if we want to prosper must set an example of work and perseverance.

La verdad, a pesar de todo estamos siendo apoyados por la naturaleza, no tenemos agua y en esta época de pleno verano, pueden ver como ha llovido, esto en una bendición de mi madre la naturaleza, que con esos chubascos ha traído agua por el río y ha dejado charcos de donde cargamos para regar, porque teníamos un tiempo estimado de culminar el trabajo del sistema mangueras, que terminaríamos mucho antes, pero la verdad de 29 personas dueñas de parcelas de este sector, solo 6 estamos trabajando y muchas veces yo debo poner a los obreros que pago, para poder cubrir y tratar de adelantar, algunas personas siempre se hacen los tontos para no trabajar, pero bueno, los que si queremos prosperar debemos dar ejemplo de trabajo y perseverancia.

Look how beautiful that land is, that when you plow it and with some water, it changes completely and you can plant whatever crop it is and it will make it grow beautiful, yes, I can't deny it, I love working the land, I'm a peasant and I always do. I will be, haha.

Miren que hermosa queda esa tierra, que al ararla y con algo de agua, cambia totalmente y puede uno sembrar el cultivo que sea y ella lo hará crecer hermoso, sí, no lo puedo negar amo trabajar la tierra, soy un campesino y siempre lo seré, jaja.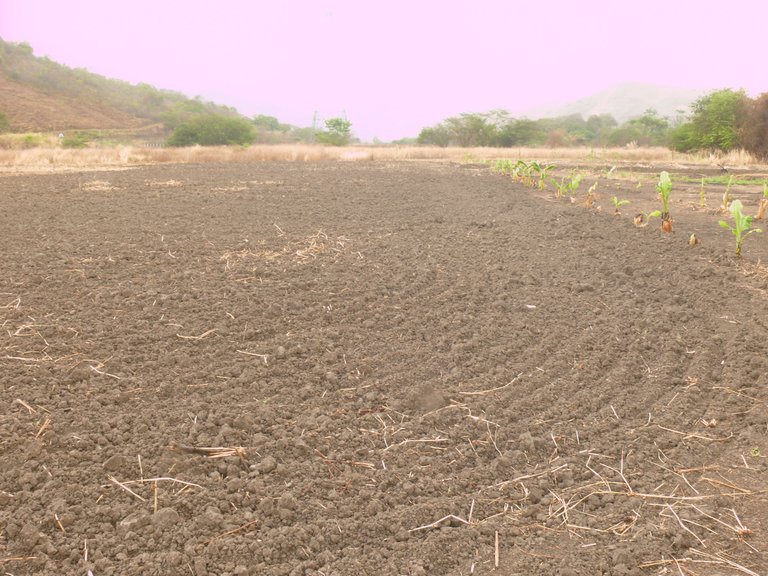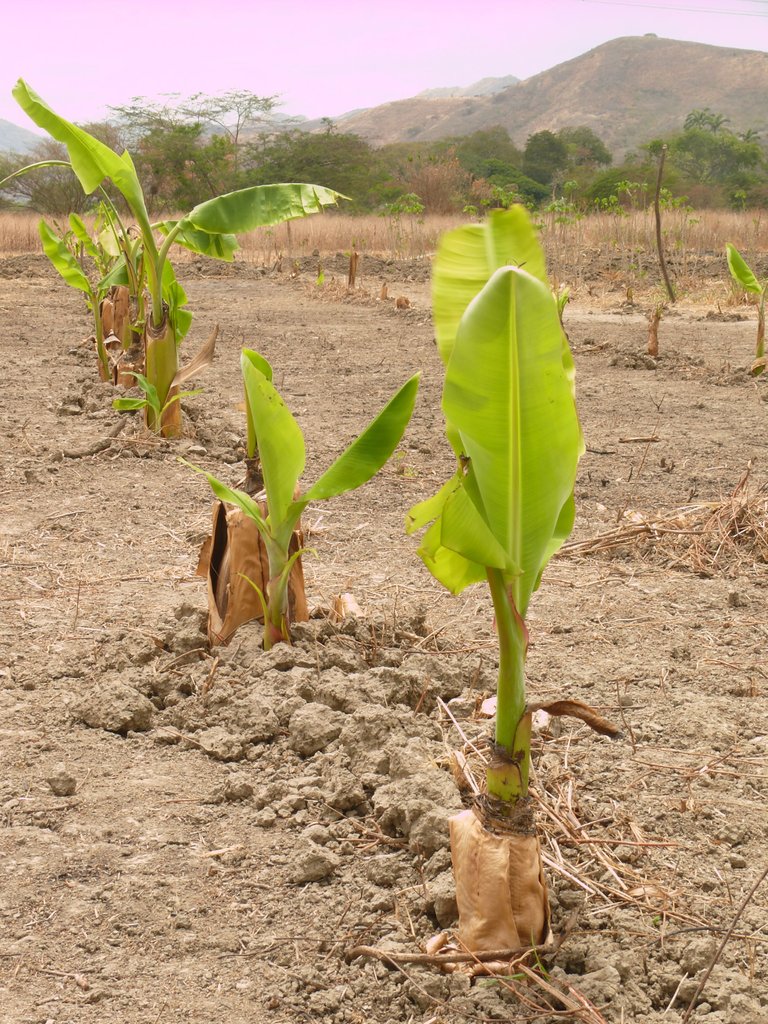 There you can see a photo some time before cleaning the area of ​​the banana plants well and as we only water them to maintain them, you can see that there is a lack of water, however it is enough for this stage, but in 1 day I need to water them better so that the roots can penetrate easier and advance faster and have a better development, and I wait for the water to apply the first dose of fertilizers, although when looking at the little ones I can see with the naked eye which ones need the fertilizer and which ones do not, but I will still add a small dose to all.

Allí pueden ver una foto un tiempo antes de limpiar bien la zona de las plantas de cambures y como solo las regamos para mantenerlas, se nota que falta agua, sin embargo es lo suficiente para esta etapa, pero en 1o días necesito regarlas mejor para que las raíces puedan penetrar más fácil y avances más rápido y tengan un mejor desarrollo, y espero el agua para aplicar la primera dosis de fertilizantes, aunque al mirar a las pequeñas puedo notar a simple vista cuales necesitan el fertilizante y cuales no, pero igual agregaré una pequeña dosis a todas.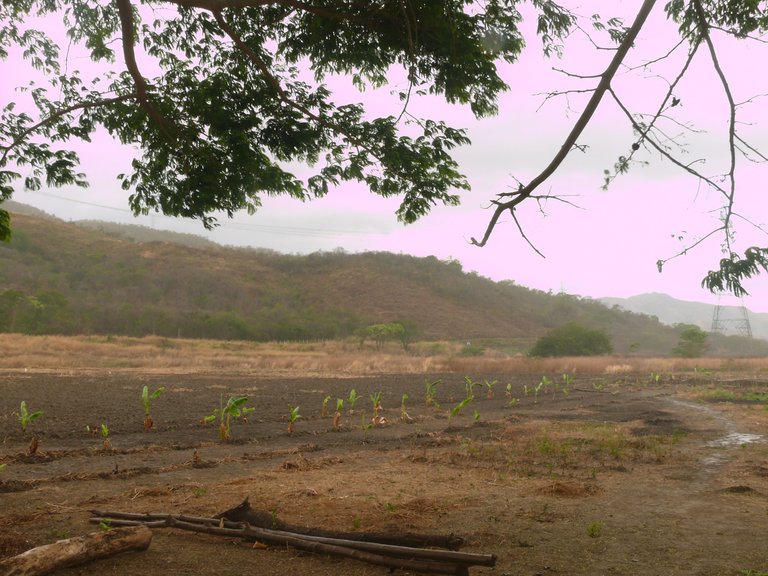 See the change, after the rain, beautiful land, just ask for seeds and water to bring beautiful fruits. By the way, in addition to what I mentioned, I want to plant a box of Sweet Potatoes measuring 30 meters by 30. a kilo of Caraotas, that black bean that I mention, which is one of the most liked around here for daily food, some chili peppers , paprika and coriander, for dressings. Then: papayas, passion fruit and pin, for juices. That is what I estimate to sow in the beginning, then the perennials: lemon trees, orange trees, tangerines, avocados and guavas, but in a previous post I mentioned the price of each grafted small plant and for now I do not have that money, but I really want to , LOL. That which you will see below, are some connections that I have bought that I will need, without putting the ones that go into the main pipe, which are already available and the 3-inch hose rust for my private main matrix and I will be missing the connections and reduction to one inch, plus a 1 inch hose rust.

Vean el cambio, después de la lluvia, hermosa tierra, solo pide semillas y agua para brindar bellos frutos. Por cierto además de lo que mencione, quiero sembrar un cuadro de Batatas de 30 metros por 30. un kilo de Caraotas, ese grano negro que les mencione, que es uno de los que más gusta por aquí para el alimento diario, algo de ajíes, pimentón y cilantro, para aliños. Luego: papayas, maracuyá y patilla, para jugos. Eso es lo que estimo sembrar en el comienzo, luego las plantas perennes: limoneros, naranjos, mandarinas, aguacates y guayabas, pero en una publicación anterior mencione el precio de cada planta pequeña injertadas y por ahora no tengo ese dinero, pero si muchas ganas, jajaja. Eso que verán abajo, son algunas conexiones que he comprado que me harán falta a mi, sin meter las que van en la tubería matriz, que ya se tienen y el royo de manguera de 3 pulgadas para mi matriz principal privada y me faltará las conexiones y reducción a una pulgada, más un royo de manguera de 1 pulgada.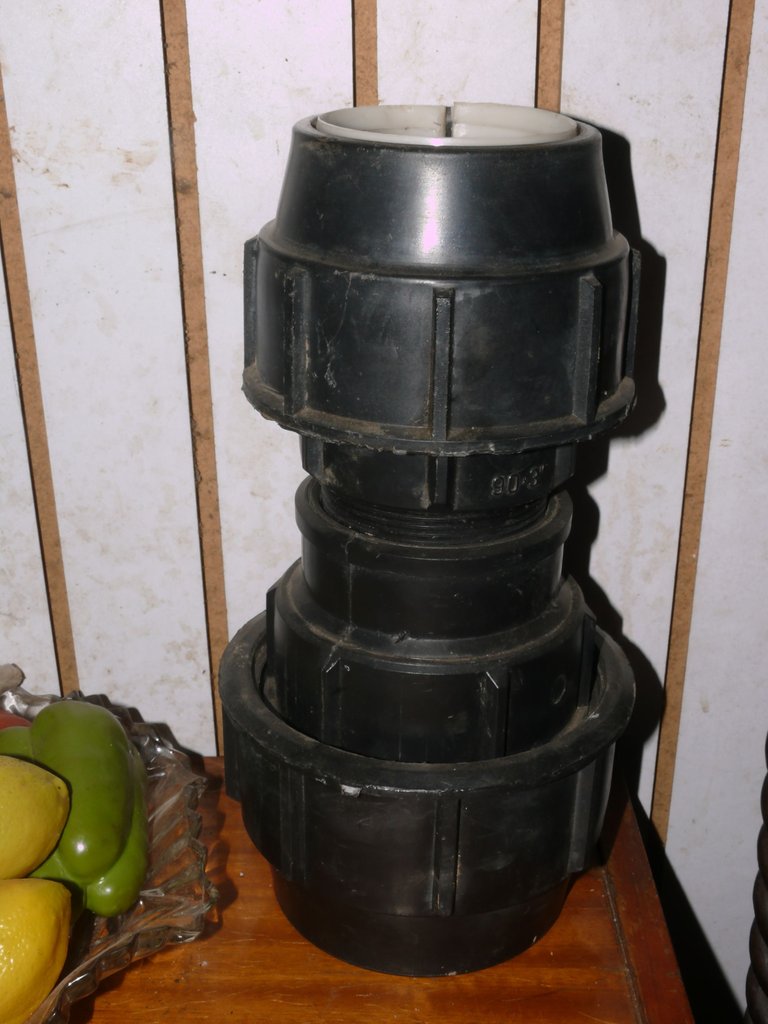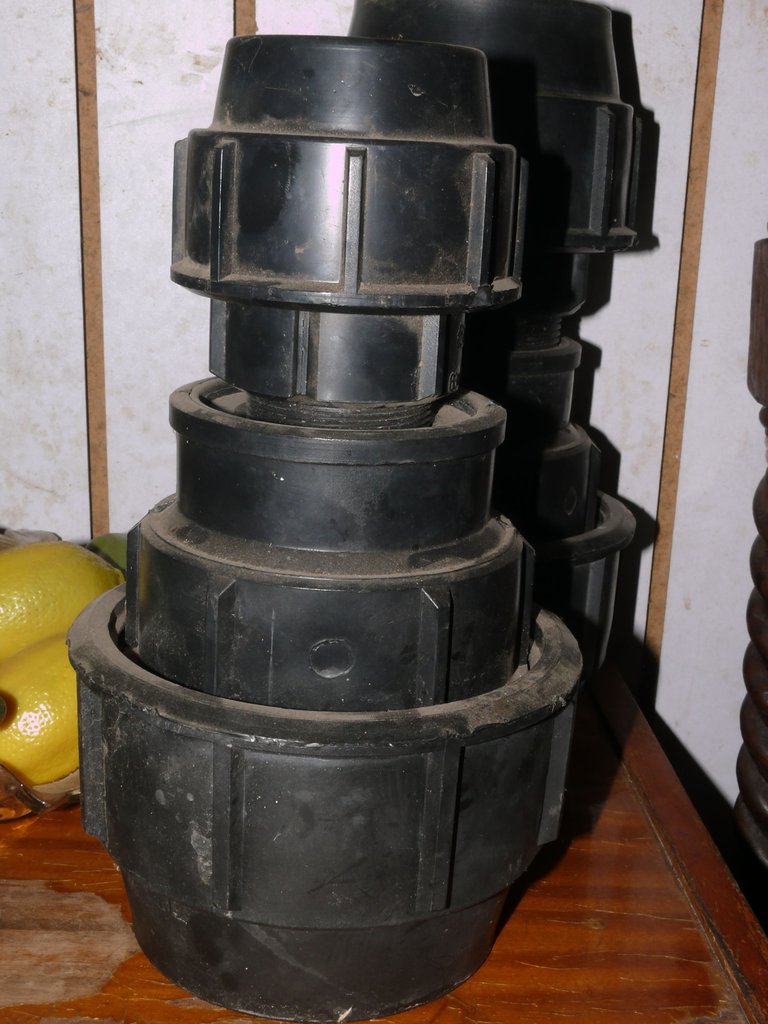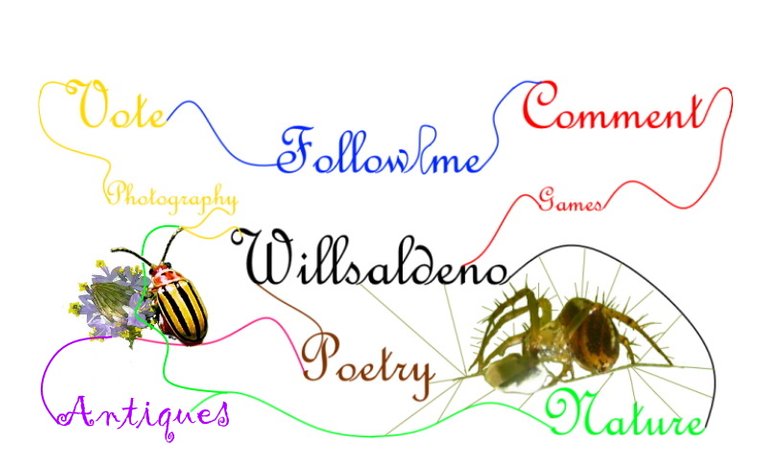 This is where the lyrics go for today, I invite you to continue looking a little more of this world in the next publication, I hope it will be tomorrow, or later, maybe the voice will be seen or will let you see something about games, so if you liked it What is being done for you here, do not hesitate to support the work with something positive, below I invite you to:

Hasta aquí llegan las letras por hoy, les invito a seguir mirando un poco más de este mundo en la siguiente publicación, espero sea mañana, o más tarde, quizás la voz verse o o deje ver algo sobre juegos, así que si te ha gustado lo que se hace para ustedes aquí, no dudes en apoyar el trabajo con algo positivo, allí abajo te invito a: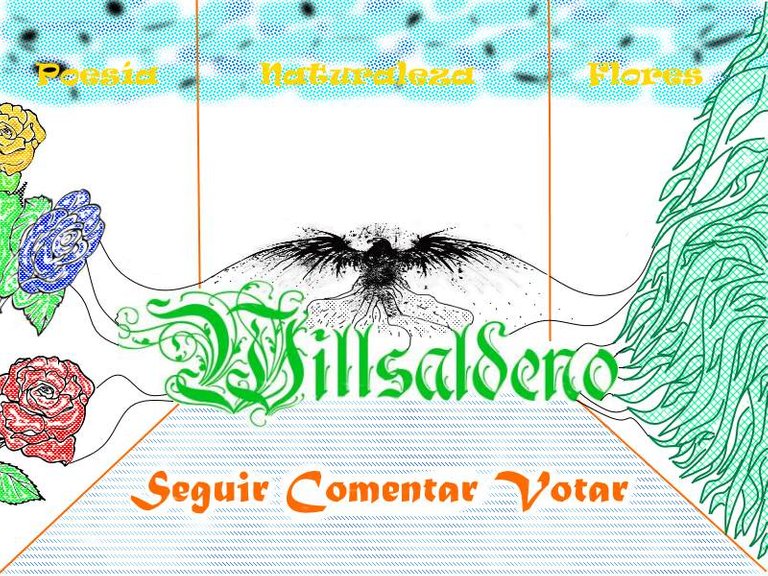 Nota-Note
Bilingüe: Que utiliza dos lenguas al mismo nivel o se hace en dos lenguas
Bilingual: That uses two languages ??at the same level or is done in two languages.
Camera: Panasonic Lumix DMC-FZ50.



Lent: Leica 1: 2.8-3.7 / 7.4-88.8.

Location: Villa de Cura.



Original photographs of willsaldeno, I do not edit the photos, because I like to put only what I achieve with the camera and not something improved with an editor.