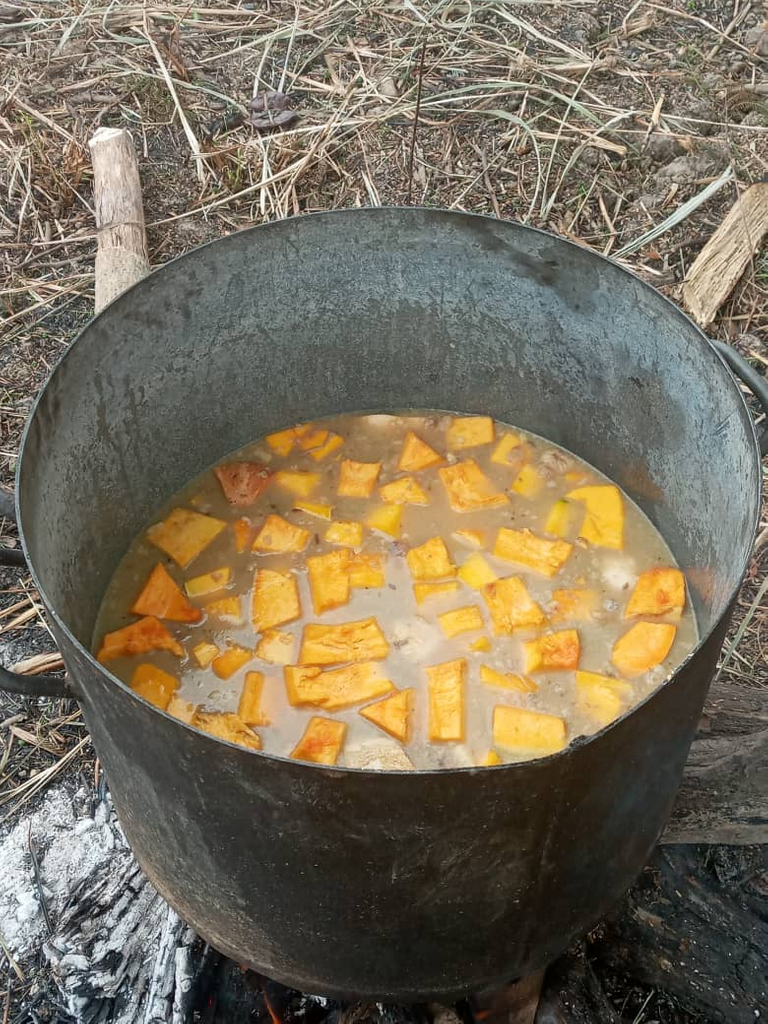 Greetings, my dear Earthlings. This past Sunday we were reunited as a family, in the field where I am developing my planting project with financing of what I generate in profits in this internet ecosystem where I work, mainly: Hive, Leofinance, games: Risingstar, dCity, Splinterlands. I have been explaining my project that is based on making both the same ecosystem and verifying the great positive impact that these can have where I generate some profit to cover the costs while I do the agriculture and self-sustaining project and once this is achieved, return money to Invest in the sites that I mentioned before and try to grow the project more, since I hope to be able to carry out a seed bank and the sale of the food produced directly to people, accepting: Hives, LEOs and a token that I plan to create in Hive Engine . I have been sowing only in winter, the time of year when it rains and thus be able to irrigate with that water, but thanks to the increase in the price of Hive and LEO I have been able to invest a little more in trying to bring the water to the land and we already have it on the plot, so we planted a good amount of banana plants and I will start summer planting. In addition, Hive and LEO through what I earn by publishing and in games, it has allowed me to hire 3 people to work with me and thus we have provided an entrance to 3 more families, the positive impact goes further and that is what I am looking for with this project. Now I try to involve the whole family, to create that sense of belonging, not the one that many are used to, no, this that my mother always taught us since we were children, ours to take care of them, share as a family, contribute and receive and create a cycle, Since everything I have harvested here, a good percentage goes to the family, always as a contribution, without charging, only with the intention of making something softer the difficult situation that we have all been going through in our country for a few years now. years, and that thank God it is not as hard as a few years ago, but that situation that almost became a famine happened and things are better, despite everything that we still go through, but that difficult situation taught us that food is the main thing to live.

Saludos, mis estimados terrícolas. Este domingo que paso estuvimos reunidos en familia, en el campo donde estoy desarrollando mi proyecto de siembra con financiamiento de lo que genero en ganancias en este ecosistema del internet donde trabajo, principalmente: Hive, Leofinance, los juegos: Risingstar, dCity, Splinterlands. he venido explicando mi proyecto que se basa en hacer ambos un mismo ecosistema y comprobar el gran impacto positivo que pueden tener éstas donde genero algo de ganancia para cubrir los costos mientras hago el proyecto de agricultura y autosustentable y una vez alcanzado esto, retornar dinero para invertir en los sitios que antes mencione y tratar de crecer más el proyecto, ya que espero poder realizar un banco de semilla y la venta de los alimentos producidos directo a las personas, aceptando: Hives, LEOs y un token que pienso crear en Hive Engine. He venido sembrando solo de invierno, época del año cuando llueve y así poder regar con esa agua, pero gracias al aumento del precio del Hive y el LEO he podido invertir un poco más en tratar de llevar el agua hasta las tierras y ya la tenemos en la parcela, así que sembramos una buena cantidad de plantas de bananas y comenzaré a sembrar de verano. Además Hive y LEO mediante lo que gano yo al publicar y en los juegos, me ha permitido contratar 3 personas para que trabajen con migo y así hemos brindado una entrada a 3 familias más, el impacto positivo va más allá y eso es lo que busco con este proyecto. Ahora trato de involucrara toda la familia, para crear ese sentido de pertenencia, no aquel que muchos están acostumbrados, no, este que mi madre siempre nos enseño desde niños, nuestro para cuidarlos, compartir en familia, aportar y recibir y crear un ciclo, ya que todo lo que he cosechado aquí, un buen porcentaje va a la familia, siempre como un aporte, sin cobrar, solo con la intención de hacer algo más suave la dura situación por la que todos pasamos en nuestro país desde hace ya unos cuantos años, y que gracias a Dios ya no es tan dura como unos años atrás , pero esa situación que casi se convirtió en una hambruna paso y las cosas son mejores, a pesar de todo lo que pasamos aun, pero esa difícil situación nos enseño que el alimento es lo primordial para vivir. Una buena olla de sancocho entre una parte de nuestra familia (faltaron muchos más ya que siempre que nos reunimos llegamos a unos 100) pero solo nos reunimos los más cercanos, por lo del virus, así que no invite a los que siempre nos juntamos a la hora de hacer un sancocho familiar.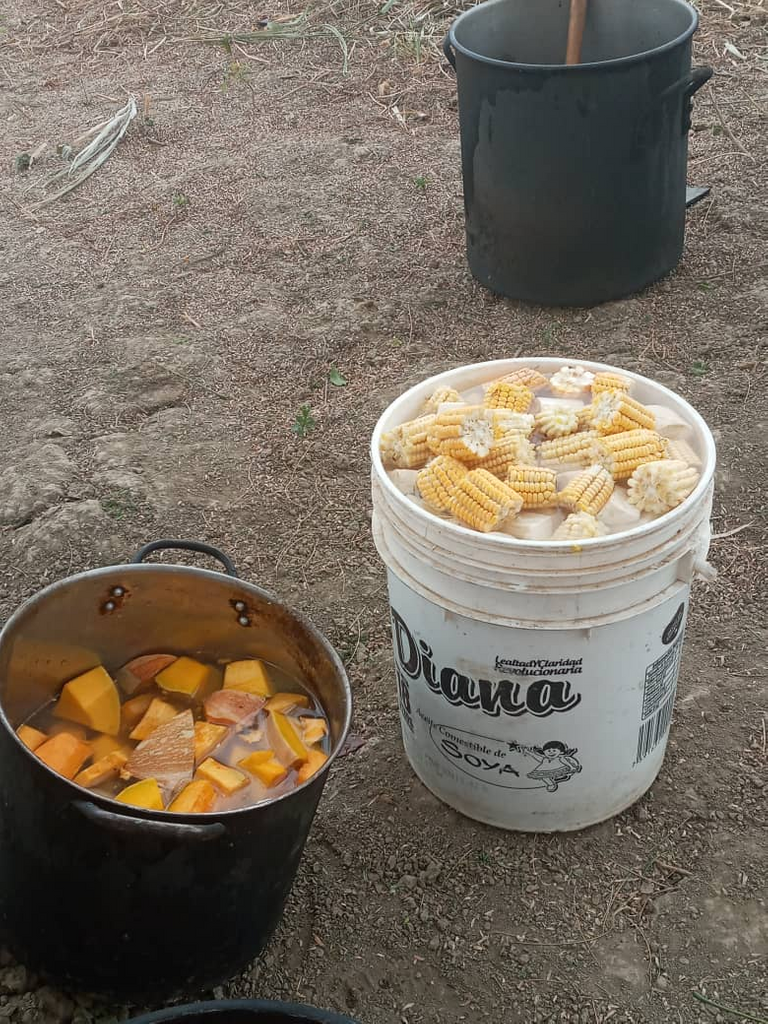 I was able to prepare my famous crossed sancocho: vegetables: potato, yucca, squash, yam, pumpkin or squash, jojoto or sweet corn, sweet potato, celery, green bananas. Meat: cattle leg, tripe, ribs, tail. Dressings: onion, chives, garlic, coriander, chili peppers, sweet pepper, spices, salt. It was the ingredients that I used this time, I miss the black chicken, but we don't have it, so I don't put it, but this soup has that ingredient. That large pot of about 65 liters was prepared, and it was served at the time for about 30 people, some repeated and as usual we distribute what is left to take away, and if you ask me the next day is when this type of dish is better , the bottom remains so it is thicker and has much more flavor, so do not hesitate to save what is left. I do not know if you in your country are used to this dish, but here we consider it one of the tastiest there is, it is rare to see a person who does not like it, although my son Carlos does not eat soups, he takes out meat and puts about the breaststroke, yucca and a different dish is already prepared, their tastes are respected, but the rest in my family we all love great wood-boiled that is crossed (various types of meat) although we rarely eat meat, since most In my direct family: grandmother, mother and in my house, we eat little meat, we are more lovers of vegetables, legumes, everything that comes from the earth, and grows from a bush, fruits.

Pude preparar mi famoso sancocho cruzado: verduras: papa, yuca, ocumo, ñame, auyama o calabaza, jojoto o maíz tierno, batata, apio, bananas verdes. Carne: pata de ganado, mondongo, costillas, rabo. Aliños: cebolla, cebollín, ajo, cilantro, ajíes, pimienta dulce, especies, sal. Fueron los ingredientes que use esta vez, me falto la gallina negra, pero no tenemos, así que no se le coloco, pero esta sopa lleva ese ingrediente. Se preparo esa gran olla de unos 65 litros, y se sirvió en el momento para unas 30 personas, algunos repitieron y como es costumbre lo que quedo lo repartimos para llevar, y si me preguntan al siguiente día es cuando este tipo de platillo es mejor, queda el fondo por lo que es más espesa y agarra mucho más sabor, así que no duden en guardar lo que quede. No se si ustedes en su país estén acostumbrados a este plato, pero acá lo consideramos uno de los más sabrosos que hay, es raro ver una persona que no le guste, aunque mi hijo Carlos no come sopas, se le saca carne y se pone sobre la braza, yuca y ya se le arma un plato diferente, se respeta sus gustos, pero del resto en mi familia todos amamos gran hervido en leña que sea cruzado (varios tipos de carne) aunque pocas veces comemos carne, ya que la mayoría en mi familia directa: abuela, madre y en mi casa, comemos poca carne, somos amantes más de las verduras y hortalizas, legumbres, todo lo que venga de la tierra, y crezca de una mata, frutos.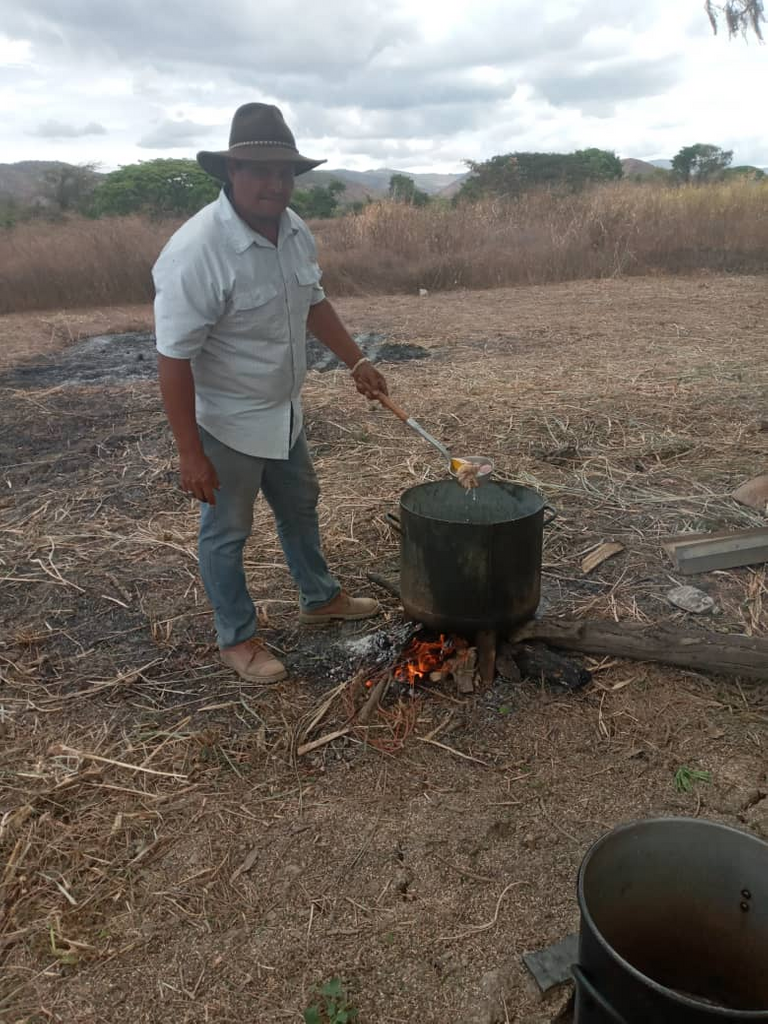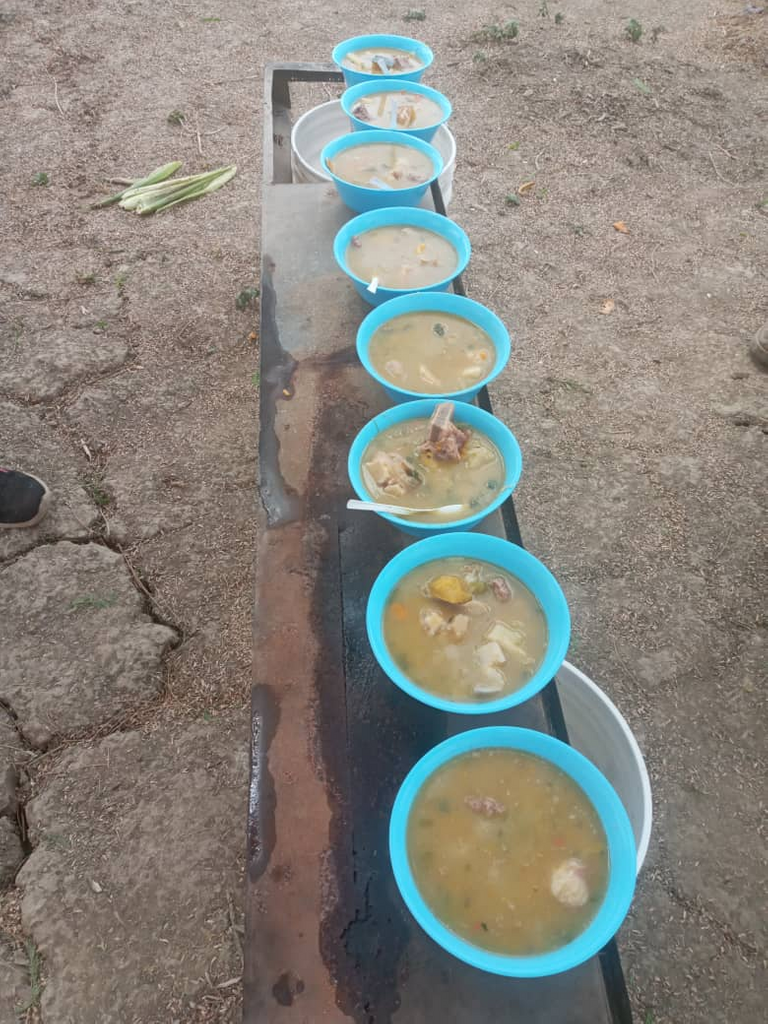 Here I began to serve the cups for the children, the custom should always be given first to them, and second to the older person, we maintain those customs out of respect and we begin to enjoy the food thanking the field for providing the fruits, So this meal was in honor of this land and we asked permission to work it, asking that it bless us with a good harvest in the future.

Aquí comencé a servir las tazas para los niños, siempre manda la costumbre se debe dar de primeros a ellos, y segundo a la persona mayor, mantenemos esas costumbres por el respeto y comenzamos a disfrutar del alimento dando gracias al campo por brindar los frutos, así que esta comida era en honor a esta tierra y pedimos permiso para trabajarla, pidiendo que nos bendiga a futuro con buena cosecha.

My sister María de Lourdes took a selfie, there you can see: my grandmother, my mother, my sister María (worth the redundancy) my foster father and some of the children in the background.

Mi hermana María de Lourdes hizo un selfie, allí pueden ver a: mi abuela, mi madre, mi hermana María (valga la redundancia) mi padre de crianza y algunos de los niños de fondo.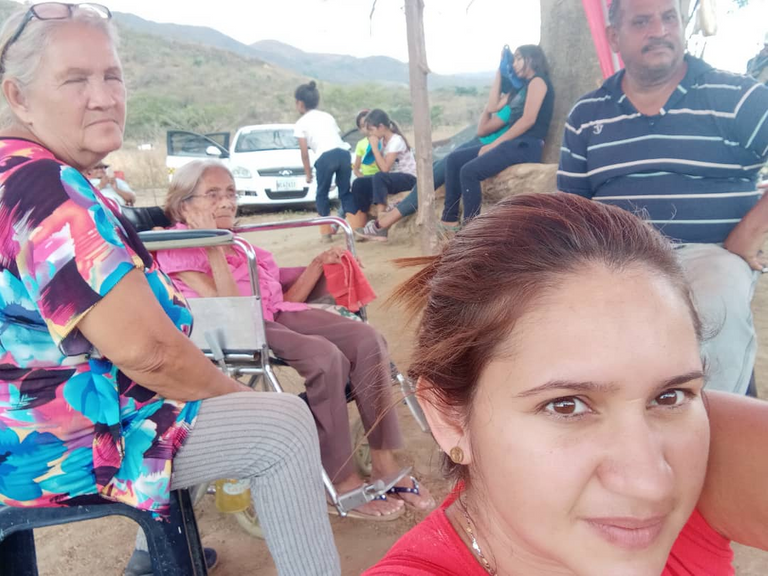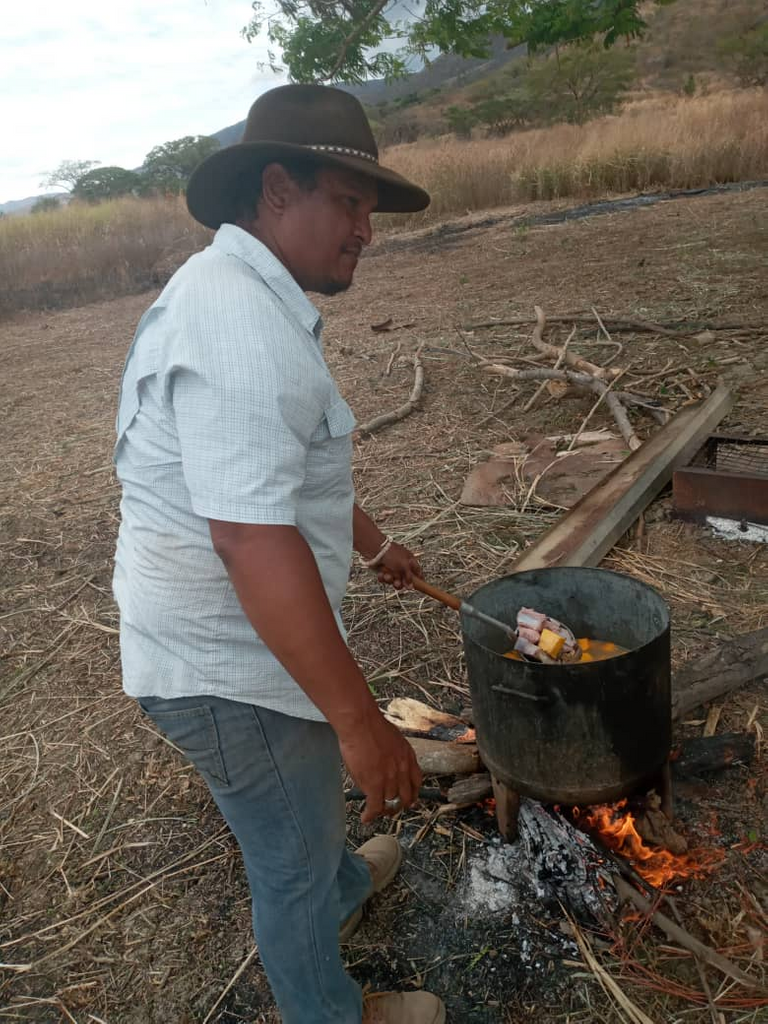 My sister María took a photo of me while she took out a prey of the meat to test if it was soft, but she still had an hour to go, by the way if they are going to make this type of food, the leg of cattle and the tripe or belly must have fire high for 3 hours before the other, because the idea is to leave it very soft at the time of eating, I like to let it melt in the mouth as soon as one bites it and so it remains, exquisite.

Mi hermana María me hizo una foto mientras sacaba una presa de la carne para probar si estaba blandita, pero aún le faltaba una hora, por cierto si van a realizar este tipo de comida, la pata de ganado y el mondongo o panza debe llevar fuego alto por 3 horas antes que lo otro, porque la idea es dejarlo que quede muy suave a la hora de comerlo, a mi me gusta dejarlo que apenas uno lo muerda se deshaga en la boca y así quedo, exquisito.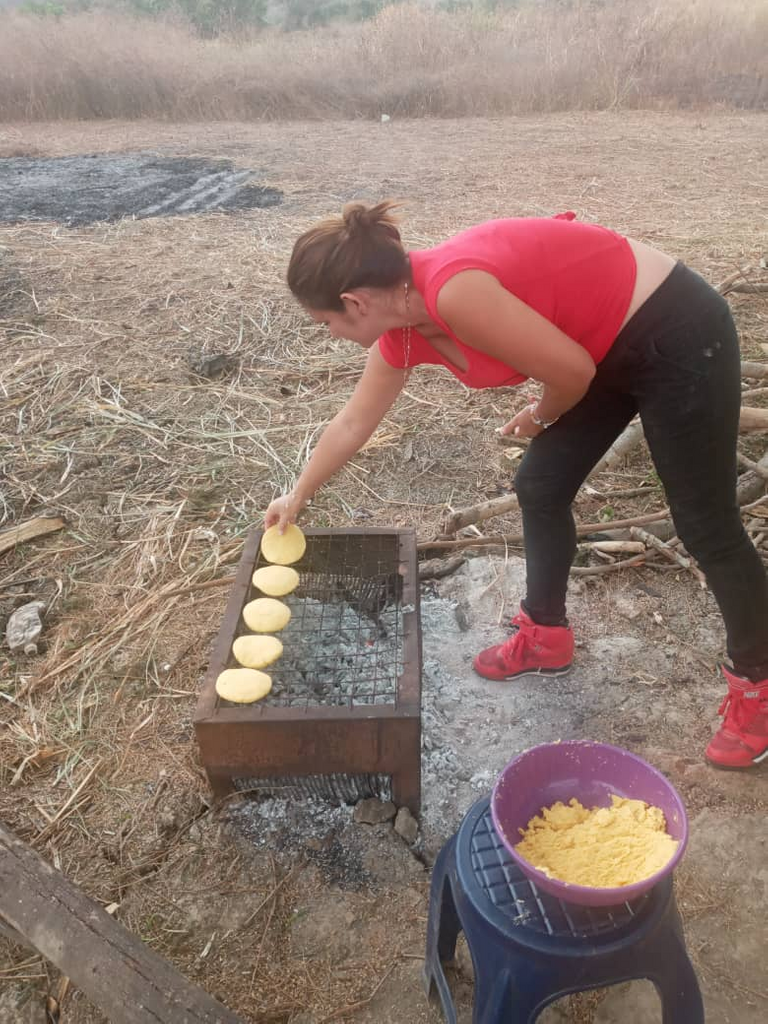 María making the arepas, so the breaststroke is much tastier, they take on the flavor of the firewood and are smoked, the food on firewood always has a peculiar taste, which we in the countryside like more, by the way despite being peasants, my sister is a surgeon, with postgraduate and master's degrees, my other sister is a lawyer, also with higher education, my eldest son is one year away from graduating in law, but we never deny our roots in the field, it is we are more proud to be so, because the countryside is beautiful and the peasant is the food of the people, an honor as our grandfather, the old Chucho, taught us, as we all called the nono, a farmer all his life.

María haciendo las arepas, así a la braza quedan mucho más sabrosas, agarran el sabor de la leña y quedan ahumadas, la comida en leña siempre queda con un gusto peculiar, que a nosotros los del campo nos gusta más, por cierto a pesar de ser campesinos, mi hermana es medico cirujano, con post grados y maestrías, mi otra hermana es abogado, igual con estudios superiores, mi hijo mayor esta a un año de graduarse en la carrera de abogado, pero nunca negamos nuestras raíces del campo, es más estamos orgullosos de serlo, pues el campo es hermoso y el campesino es el alimento del pueblo, un honor como nos enseño nuestro abuelo, el viejito Chucho, como todos les decíamos al nono, agricultor toda su vida.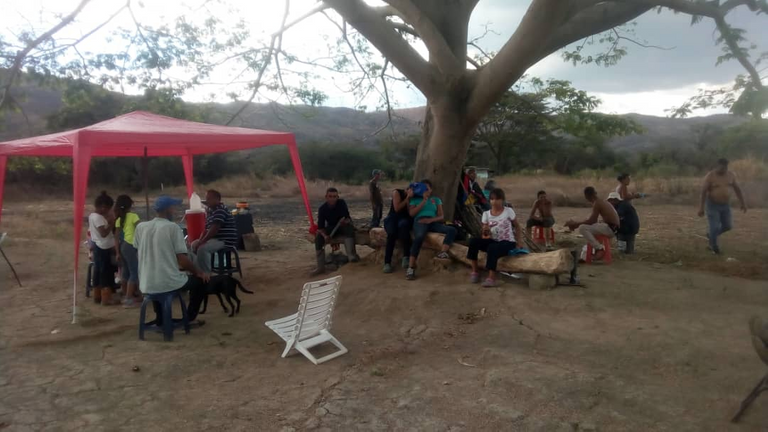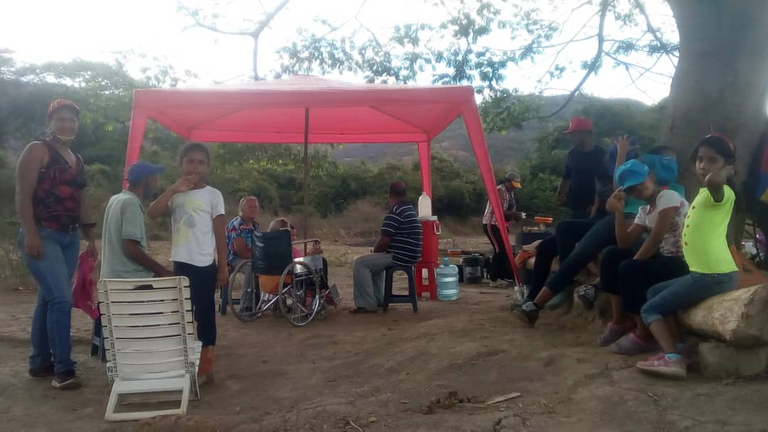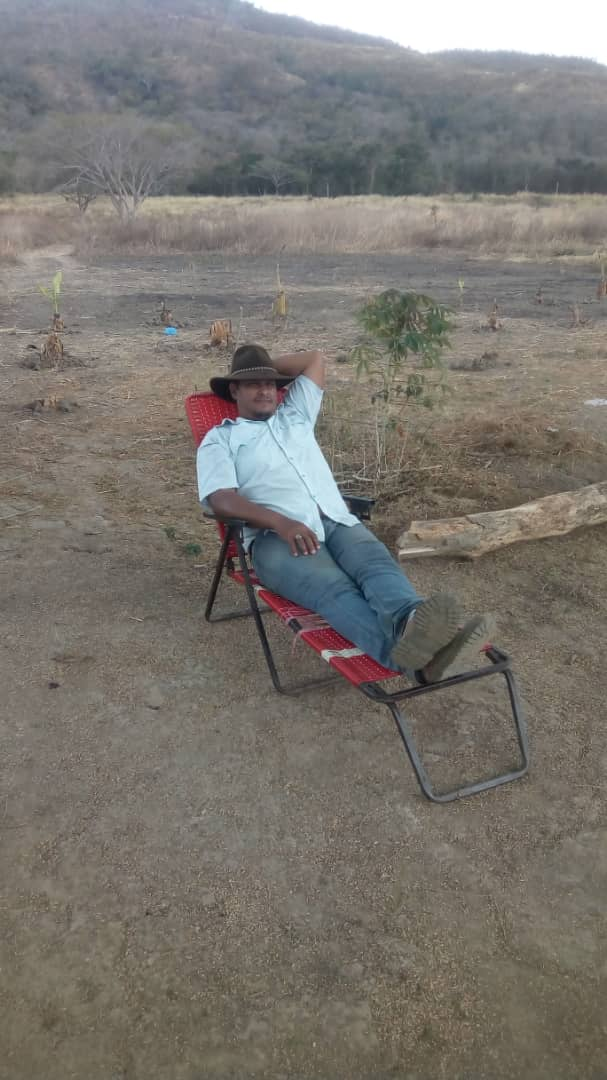 After cooking, I sat for a while in the chair to see my family, the truth is that my eyes were a little watery with joy, seeing my family reunited as in the old days, for that I thank you, because without your support this would not be possible, thank you my people, my invisible friends, that although I do not look them in the eyes, I know that they are there giving me their votes, great support for those of us who seek to create different things, our vision of the world, although something crazy, it is our vision and I look to the future with a futuristic vision and I can already see everything done, all those things that I have thought I want to achieve here on this plot, in La Colmena del León, as we put our land.

Después de cocinar, me senté un rato en la silla a ver a mi familia, la verdad mis ojos se aguaron un poco de alegría, al ver a mi familia reunida como en los viejos tiempos, por eso les doy gracias a ustedes, porque sin su apoyo esto no seria posible, gracias mi gente, mis amigos invisibles, que aunque no les miro a los ojos, se que están allí dándome sus votos, un gran apoyo para los que buscamos crear cosas diferentes, nuestra visión del mundo, aunque algo loca, es nuestra visión y me miro a futuro con una visión futurista y ya puedo ver todo realizado, todas esas cosas que he pensado quiero lograr aquí en esta parcela, en La Colmena del León, como le pusimos a nuestra tierra.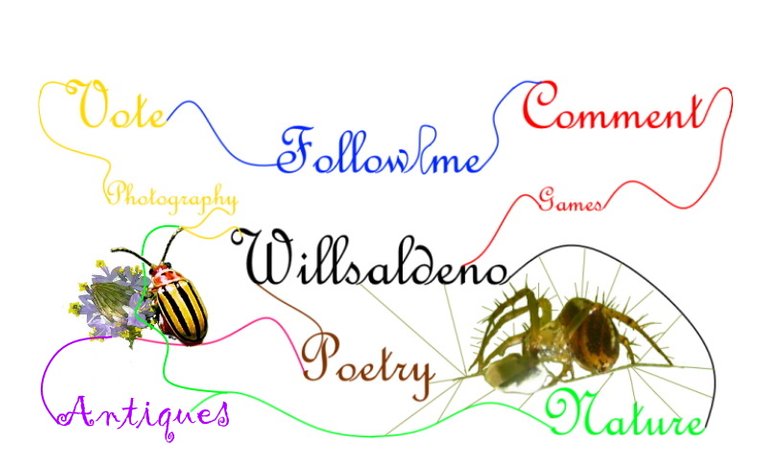 This is where the lyrics go for today, I invite you to continue looking a little more of this world in the next publication, I hope it will be tomorrow, or later, maybe the voice will be seen or will let you see something about games, so if you liked it What is being done for you here, do not hesitate to support the work with something positive, below I invite you to:

Hasta aquí llegan las letras por hoy, les invito a seguir mirando un poco más de este mundo en la siguiente publicación, espero sea mañana, o más tarde, quizás la voz verse o o deje ver algo sobre juegos, así que si te ha gustado lo que se hace para ustedes aquí, no dudes en apoyar el trabajo con algo positivo, allí abajo te invito a: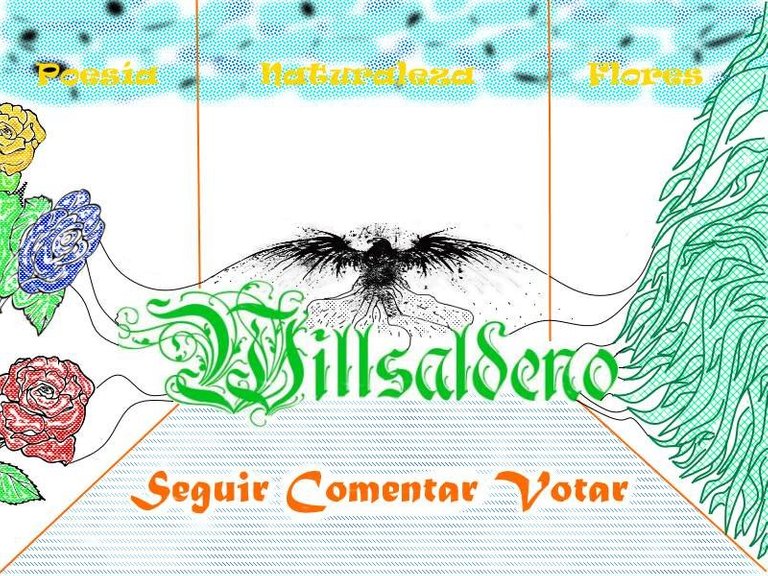 Nota-Note
Bilingüe: Que utiliza dos lenguas al mismo nivel o se hace en dos lenguas
Bilingual: That uses two languages ??at the same level or is done in two languages.
Camera: Alcatel PIXI4



Location: Villa de Cura.



Original photographs of willsaldeno, I do not edit the photos, because I like to put only what I achieve with the camera and not something improved with an editor.