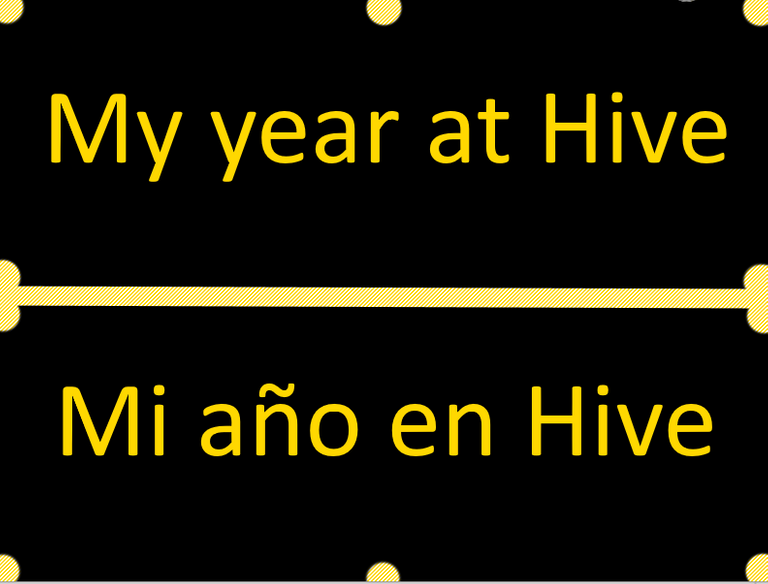 Greetings my dear Earthlings. Wow, my year at Hive, I really consider it very positive and growing, mainly in my fort, the games that are on the Hive blockchain, but since I consider Hive, an ecosystem of much more things, no One, as many see it, I believe that balance must be found in everything, since even in the human relationships that Hive leads us to, attention must be paid (with everything and that I speak little, I am somewhat closed, I think for my madness) haha ​​and in Hive growth is almost always based on the good friendships that you cultivate (although the truth everything in life is based on that, balanced and pleasant relationships for the parties) the truth has not made a great circle of friends, but I think the ones I have found are of quality, so that balances out that I am one of those who goes all day looking for friends, but hey whom I find I think I let them see how I am as a friend. Although I publish often, my strength is games, and where I feel that I have grown and also have given me economic growth, not so high, but at least to make the time I invest profitable, especially to help me support my family (all we know that money is needed) I have seen good successes in each one where I am, not only some economic gain, but also achievements, goals achieved and a good position in the ranks, those things that provide satisfaction to see that things are achieved, and This is great, because earning some money while having fun is everyone's dream and I can say that sometimes I have achieved it. This game dCity is one of those that gave me the greatest joy, its impulse with good economic gains, allowed me to be well placed in the rank and also to be able to invest in it with that same gain in the same game and also diversify in other things, the I really believe that it has been the best of Hive in terms of games despite having fallen a bit economically since its ROI (return on investment) has dropped a lot, but it is still acceptable.

Saludos mis estimados terrícola. Wow, mi año en Hive, la verdad lo considero muy positivo y de mucho crecimiento, principalmente en mi fuerte, los juegos que se encuentran en la cadena de bloques Hive, pero como yo considero a Hive, un ecosistema de mucho más cosas, no una, como lo ven muchos, creo que se debe encontrar el equilibrio en todo, ya que hasta en las relaciones humanas a las que nos lleva Hive, se debe prestar atención (con todo y que yo hablo poco, soy algo cerrado, creo que por mi locura) jaja y en Hive el crecimiento casi siempre se basa en las buenas amistades que cultives (aunque la verdad todo en la vida se basa en eso, relaciones equilibradas y amenas para las partes) la verdad no he hecho un gran círculo de amigos, pero creo que los que he encontrado son de calidad, así que eso equilibra que yo sea de de los que anda todo el día en busca de amigos, pero bueno a los que encuentro creo que les dejo ver como soy como amigo. Aunque publico seguido, mi fuerte son los juegos, y donde siento que he crecido y además me han brindado un crecimiento económico, no tan alto, pero al menos para hacer rentable el tiempo que invierto, sobre todo para ayudarme a mantener mi familia (todos sabemos que el dinero hace falta) he visto buenos éxitos en cada uno donde estoy, no solo algo de ganancia económica, si no logros, metas alcanzadas y buena ubicación en los rank, esas cosas que brindan satisfacción al ver que se consiguen cosas, y esto es magnifico, porque ganar algo de dinero divirtiéndote es el sueño de todos y yo puedo decir que algunas veces lo he logrado. Este juego dCity es uno de los que me brindo mayor alegría, su impulso con buenas ganancias económicas, me permitió estar bien ubicado en el rank y además poder invertir en él de esa misma ganancia en el mismo juego y además diversificar en otras cosas, la verdad creo que ha sido lo mejor de Hive en cuanto a juegos a pesar de haber caído un poco económicamente ya que su ROI (retorno de inversión) ha bajado mucho, pero aun sigue siendo aceptable.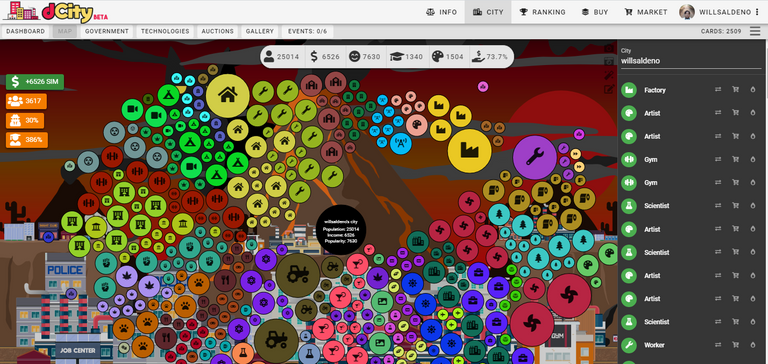 Sourse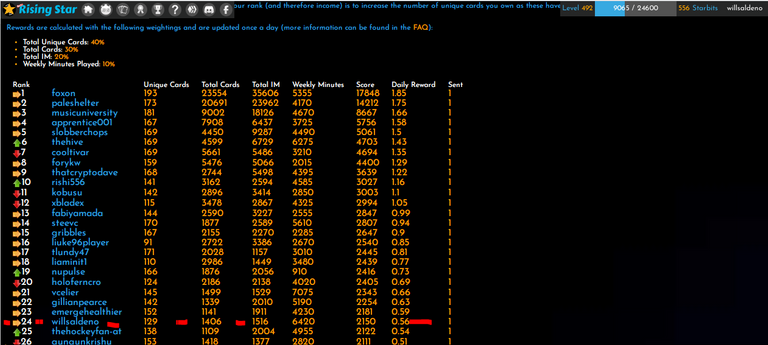 Risingstargame, is a game that I like a lot, because it is about music and I like that, although a while ago they made many changes to reduce the farms of their token, and at first I saw it as something negative, after a while, I noticed that They were right and that has made the game durable, in addition to investing in principle, it was advantageous because I bought many cards at low prices and now I receive a good amount of their Starbits token, it should be noted that it does not make sense to have several accounts in this game, because it is better to invest more in a single account, and do less work, since this game must spend time doing missions if we want to win the token, but the game is very profitable and ceo that it is worth investing in he.

Risingstargame, es un juego que me gusta mucho, porque trata sobre música y eso me agrada, aunque hace un tiempo hicieron muchos cambios para reducir las granjas de su token, y en principio lo vi como algo negativo, después de un tiempo, note que ellos tenían razón y que eso ha hecho el juego duradero, además que invertir en principio, fue ventajoso porque compré muchas tarjetas a precios bajos y ahora recibo una buena cantidad de su token el Starbits, cabe destacar que no tiene sentido tener varias cuentas en este juego, porque es mejor invertir más en una sola cuenta, y realizar menos trabajo, ya que a este juego se le debe dedicar tiempo en hacer misiones si queremos ganar el token, pero el juego es muy rentable y ceo que vale la pena invertir en él.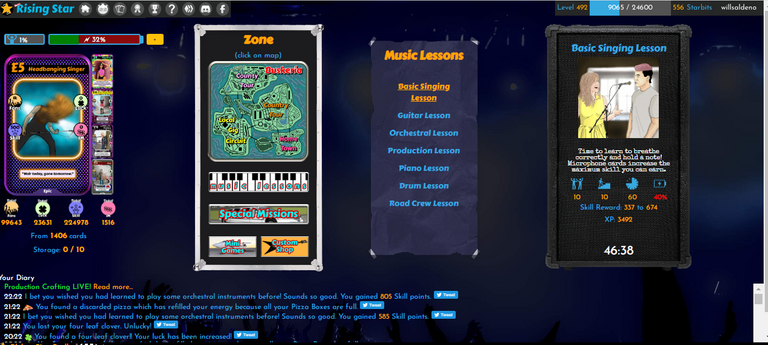 Souerse


Sourse
Here is the approximate value of my cards in the longest running game in Hive, we already know that from the fork, I move on to Hive (most of us come from there and it cannot be denied, although as you can review I leave my voting power in Hive, which I did not do in steemit) I have almost $ 160 invested there, a while ago when I had a lot of free time (I was not working in the field) I invested to try to be among the first of the rank in the bronze league, which I achieved in two seasons and won 3 envelopes, but that requires dedicating a lot of time, so now I only do quests in search of a good card or a great prize, although I have not had luck, And also try to get something to end of the season in the reward (I have not had any luck there so far) but those of us who know this game know that its cards take good value, once some time passes, of course if that card is effective or useful.

Aquí esta el valor aproximado de mis tarjetas en el juego de mayor trayectoria en Hive, ya sabemos que desde la bifurcación, paso a Hive (la mayoría venimos de allí y no se puede negar, aunque como pueden revisar yo dejo mi poder de voto en Hive, cosa que no hice en steemit) tengo casi 160$ invertidos allí, hace un tiempo cuando tenía mucho tiempo libre (no estaba trabajando en el campo) invertí para tratar de estar entre los primeros del rank en la liga bronce, cosa que logre en dos temporadas y ganaba 3 sobres, pero eso requiere dedicar mucho tiempo, así que ahora solo hago quest en busca de que me salga una buena tarjeta o un gran premio, aunque no he tenido suerte, Y además tratar de que me salga algo al final de temporada en la recompensa (tampoco he tenido suerte allí hasta ahora) pero los que conocemos este juego sabemos que sus tarjetas toman buen valor, una vez que pasa algo de tiempo, claro si esa tarjeta es efectiva o útil.

Human History Game, I play it for fun, and with the hope that one day it will become a game that produces a profit, I have invested something there, but only for fun, because I do not generate profit, but I think I support a little good developer that despite not having the support that I think I deserve (much greater support from the Hivegaming community) and it is a matter of an investor coming out and the owner of that game will be able to achieve great things, I have noticed that he he knows what he's doing, he's smart, and he's out of sight.

Human History Game, lo juego por diversión, y con la esperanza de que algún día se convierta en un juego que produzca ganancia, he invertido algo allí, pero solo por diversión, pues no genero ganancia, pero creo que apoyar un poco a un buen desarrollador que a pesar de no contar con el apoyo que creo yo merece ( un apoyo mucho mayor por parte de la comunidad de Hivegaming) y es cuestión de que salga un inversor y el dueño de ese juego podrá lograr grandes cosas, he notado que él sabe lo que hace, es inteligente y se pierde de vista.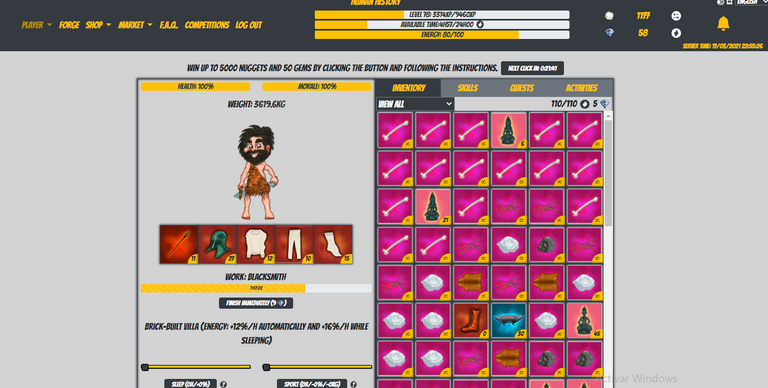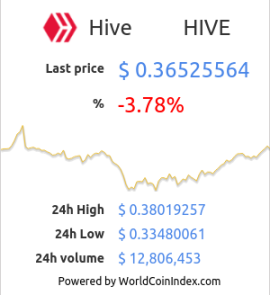 The communities have supported me as a content creator, in my publications, I can't complain, really, and if we add to this the great price that Hive, LEO and a few Hive Engine tokens have taken, which is where they are. the tokens of the communities and games (as many of us already know) this makes it very beneficial for everyone, despite having dropped by -3.78% that $ 0.362 is magnificent, although I dream that at least it touches the price and stays there for 1 $, usf that would be more than great for everyone. We already know that with the pandemic, cryptos have shown their qualities and benefits due to that easy handling and speed in operations and freedom that it provides when it comes to movements, leaving behind the common currencies that most know, it is the future of the world. and sooner or later they will end up displacing those old ways of controlling exchanges of goods and services, so we are fortunate to live a stage in history at the time of the crypto era and especially the era of blockchains like Hive, which It offers a world of possibilities for multiple projects, that is why I have thought about mine and which I am developing, although slow, but with a sure step, and it is a hybrid between the chain of blocks and life outside the network.

Las comunidades me han apoyado como creador de contenido, en mis publicaciones, no me puedo quejar, la verdad, y si a esto le sumamos el gran precio que ha tomado el Hive, el LEO y unos cuantos token de Hive Engine que es donde están los token de las comunidades y juegos (como muchos ya sabemos) esto hace muy beneficioso para todos, a pesar de haber bajado un -3.78% ese 0.362$ es magnifico, aunque yo sueño que al menos toque el precio y se quede allí de 1$, usf eso seria más que genial para todos. Ya sabemos que con la pandemia las cryptos han dejado ver sus cualidades y beneficio por ese fácil manejo y velocidad en operaciones y libertad que brinda a la hora de los movimientos, dejando atrás a las divisas comunes que la mayoría conocen, es el futuro del mundo y tarde o temprano terminarán desplazando a esas viejas formas de controlar intercambios de bines y servicios, así que nosotros somos afortunados al vivir una etapa de la historia al paso de la era crypto y sobre todo a la era de cadenas de bloques como Hive, que ofrece un mundo de posibilidades para múltiples proyectos, por eso yo he pensado en el mío y el cual estoy desarrollando, aunque lento, pero con paso seguro, y es uno hibrido entre la cadena de bloques y la vida fuera de la red.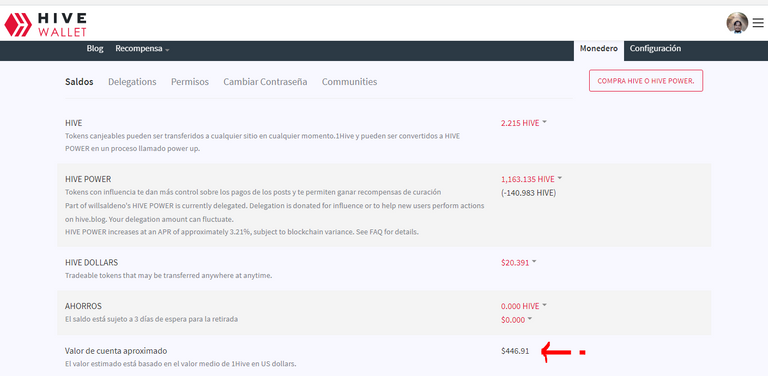 Sourse
Although my economy and living in one of the hardest hit countries in this area, I have had to take what little I have, so once I had a little of my SP, but as you can see it was not much, and it has been growing little by little and I hope in the future to be able to invest in it, of course, it would take good capital to reach the sum that I want to achieve, but we do not know what the future holds, since the world turns and with a blow of luck and hard work things can change.

Aunque mi economía y por vivir en uno de los países más golpeados en ese ámbito, he tenido que tomar de lo poco que cuento, así que una vez dispuse de un poco de mi SP, pero como pueden ver no fue mucho, y ha estado creciendo poco a poco y espero en un futuro poder invertir en él, claro, se necesitaría un buen capital para llegar a la suma que yo quiero alcanzar, pero no sabemos que depare el futuro, ya que el mundo da vueltas y con un golpe de suerte y trabajo duro las cosas pueden cambiar.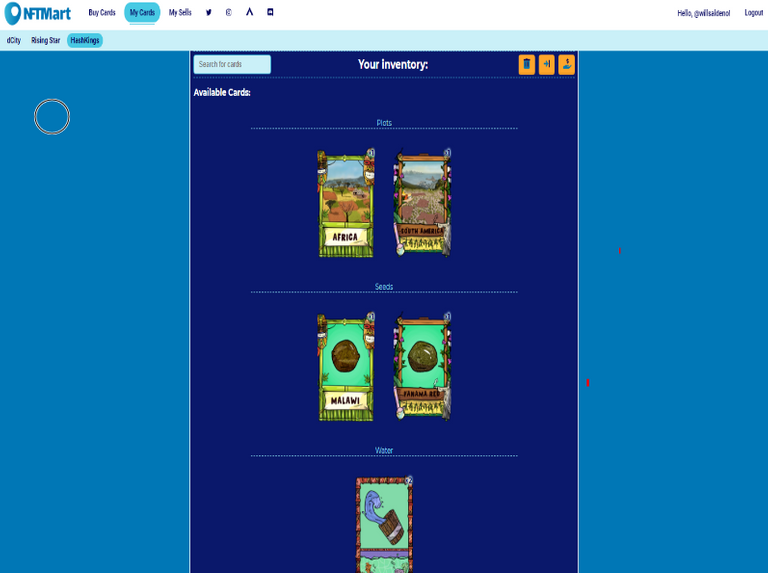 https://www.hashkings.app/
is a game that has not yet started in this new stage, but where I have invested some capital, so I wanted to teach you, just for you to notice something more of that growth that Hive has given me this year, there are a few things, good, I thank everyone, because it has depended on that, the ecosystem, all things together and of course, a lot of work and dedication, much more than you think: it is reading, studying, analyzing , talking with friends and with others that one notices that they know about something, asking and spending time, things rarely happen if we do not look for them, but Hive has allowed me not to believe in another way that is very important to me, as a human being , I know that I am very crazy and few understand me, maybe my economy or finances are not the greatest, nor the most important for some, but at least for me and for my family, and I can only add to finish: Thank you Hive, for everything.

https://www.hashkings.app/
es un juego que aun no comienza en esta nueva etapa, peo donde he invertido algo de capital, así que quise enseñarles, solo para que noten algo más de ese crecimiento que me ha brindado Hive este año, son unas cuantas cosas, que bueno, doy gracias a todos, porque ha dependido de eso, el ecosistema, todas las cosas juntas y claro, mucho trabajo y dedicación, mucha más de la que ustedes piensan: es leer, estudiar, analizar, hablar con amigos y con otros que uno nota que saben de algo, preguntar y dedicar tiempo, las cosas pocas veces se dan si no las buscamos, pero Hive me ha permitido no creer también de otra forma muy importante para mi, como se humano, se que estoy muy loco y pocos me comprenden, tal vez mi economía o finanzas no sean las más grandes , ni las más importantes para algunos, pero por lo menos para mi sí y para mi familia, y solo puedo agregar para terminar: Gracias Hive, por todo.




If you want to participate in this great initiative of @theycallmedan here is the address
Si quieres participar en esta gran iniciativa de @theycallmedan aquí te dejo la dirección: https://peakd.com/hivebday/@theycallmedan/hivebday-initiative-a-look-back-at-your-year-on-hive-invitation-to-hive-meet-up-spanish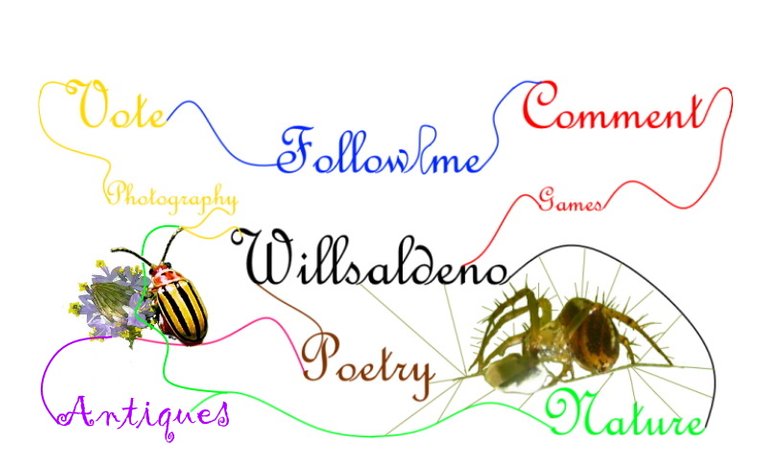 This is where the lyrics go for today, I invite you to continue looking a little more of this world in the next publication, I hope it will be tomorrow, or later, maybe the voice will be seen or will let you see something about games, so if you liked it What is being done for you here, do not hesitate to support the work with something positive, below I invite you to:

Hasta aquí llegan las letras por hoy, les invito a seguir mirando un poco más de este mundo en la siguiente publicación, espero sea mañana, o más tarde, quizás la voz verse o o deje ver algo sobre juegos, así que si te ha gustado lo que se hace para ustedes aquí, no dudes en apoyar el trabajo con algo positivo, allí abajo te invito a: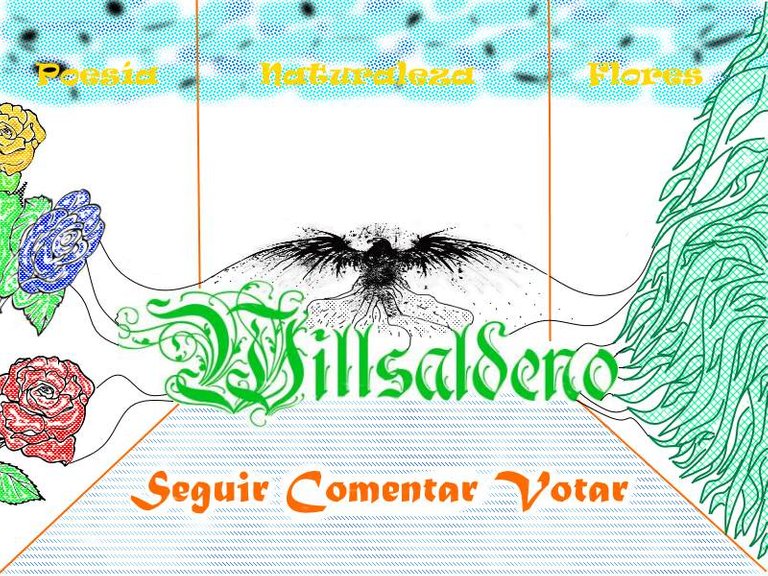 Nota-Note
Bilingüe: Que utiliza dos lenguas al mismo nivel o se hace en dos lenguas
Bilingual: That uses two languages ??at the same level or is done in two languages.
La primera imagen la realice con el programa Paint.net