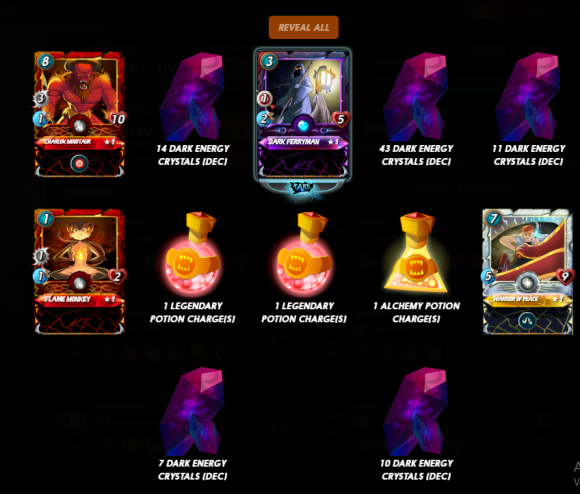 Greetings my dear Earthlings. Today I claimed the end of season recovery, the truth was a well of faith, I thought that this time if it would be the day to take out a legendary dorado (something worthwhile) after so much waiting, I was until the previous season to this fighting for the first places in the bronze league, but almost always I ended up winning 3 pack and only low quality cards and little price came out, so that has disappointed me, after investing a good amount of money (for my pocket) I did not I have a lot of capital to be investing, however I made the effort, but I think that so many hours to always receive things below the value of what a pack costs, the truth is that it does not excite and less attracts you to invest. As you can see, it is not a big deal that I have, so I stopped and the truth was I even thought to sell the cards that have an average value of about $ 130 for what I invested but then I thought about leaving the cards there to see if things get better ROI-wise, because the truth sucks, haha, excuse me but I must tell the truth. I did the daily quest and more of the same, nothing at all, just legendary potions that do not find legendary (so they do not make a player happy at all) but hey, it's not the game for me, I have no luck in Splinterlands, only that I hope that one day my luck will change in this game.

Saludos mis estimados terrícolas. Hoy reclame la recopemsa de final de temporada, la verdad era un pozo de fe, pensaba que esta vez si sería el día de sacar un legendario dorado (algo que valga la pena) después de tanta espera, yo hasta la anterior temporada a esta estaba luchando por los primeros puestos en la liga bronce, pero casi siempre terminaba ganando 3 pack y solo salían puras tarjetas de baja calidad y poco precio, así que eso me ha desilusionado, luego de invertir una buena cantidad de dinero (para mi bolsillo) no cuento con mucho capital como para estar invirtiendo, sin embargo hice el esfuerzo, pero pienso que tantas horas para siempre recibir cosas por debajo del valor de lo que cuesta un pack, la verdad eso no emociona y menos te atrae a invertir. Como pueden ver no es la gran cosa lo que me ha tocado, así que me detuve y la verdad hasta pensé vender las tarjetas que tienen un valor promedio de lo que invertí de unos 130$ pero luego pensé en dejar las tarjetas allí a ver si las cosas mejoran en cuanto al ROI, porque la verdad apesta, jaja, disculpen pero debo decir la verdad. Hice el quest diario y más de lo mismo, nada de nada, solo pociones legendarias que no hacen encontrar legendarias (así que para nada alegran a un jugador) pero bueno, no es el juego para mi, no tengo suerte en Splinterlands, solo que espero que algún día cambie mi suerte en este juego.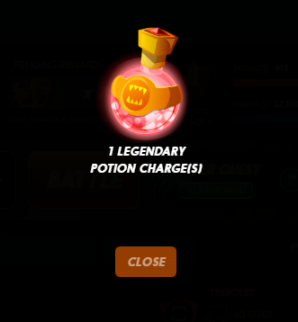 I did the quest in a very simple way, although I lost a battle, because I only place cards without trying to win the highest percentage of the battles, as if it was the case before when I had to take care not to lose a battle, because they took away many points, now the I take it more calmly.

Hice el quest de una manera muy sencilla, aunque perdí una batalla, porque solo coloco tarjetas sin buscar ganar el mayor porcentaje de las batallas, como si era el caso antes cuando debía cuidar no perder ni una batalla, porque quitaban muchos puntos, ahora la cosa la llevo más tranquila.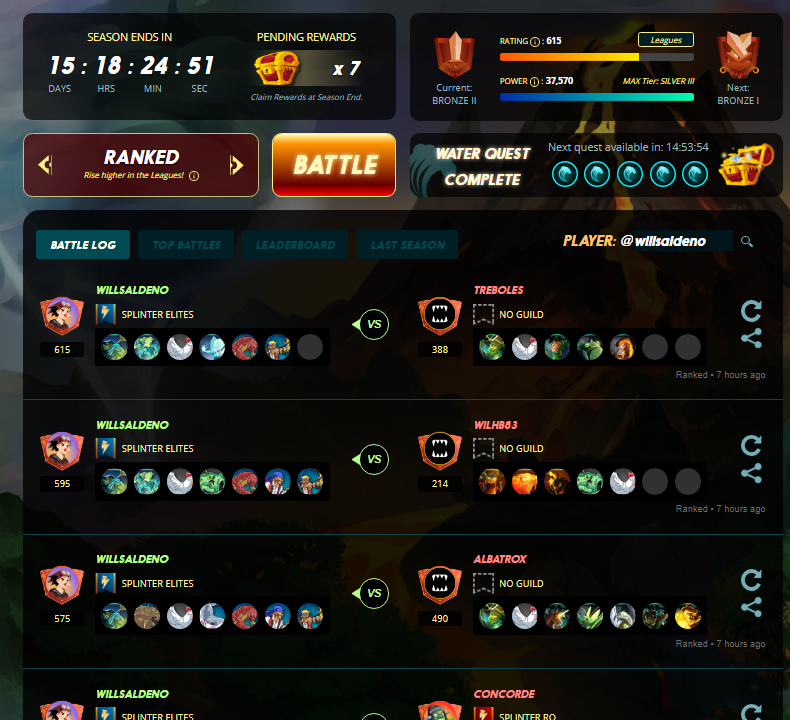 I have not won many DEC to say, as you can see only about 160, you have to play many games to win something decent and the truth lately I have not been able to invest so much time, but when I can I will always do it, it does not hurt to generate something there to buy some card when he gets enough.

No he ganado muchos DEC que se diga, como pueden ver apenas unos 160, se debe jugar muchas partidas para poder ganar algo decente y la verdad últimamente no he podido invertir tanto tiempo, pero cuando puedo siempre lo haré, no esta de más generar algo allí para comprar alguna tarjeta cuando se reúna lo suficiente.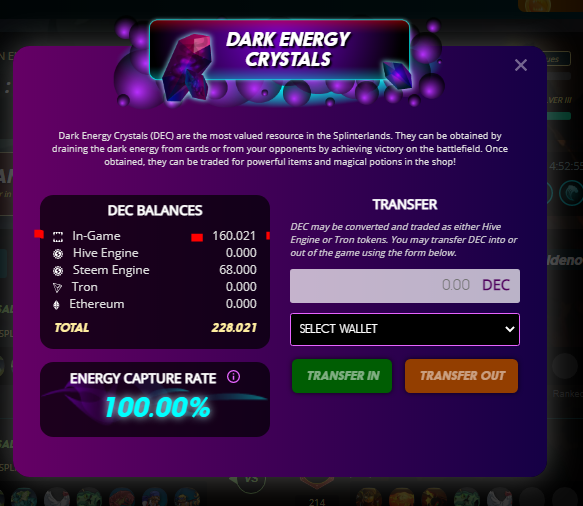 Take advantage of opening the launch of the new card to see (but more of the same) no luck, the same, a great NOTHING, haha.

Aproveche de abrir el lanzamiento de la nueva tarjeta a ver (pero más de lo mismo) nada de suerte, lo mismo, un gran NADA, jaja.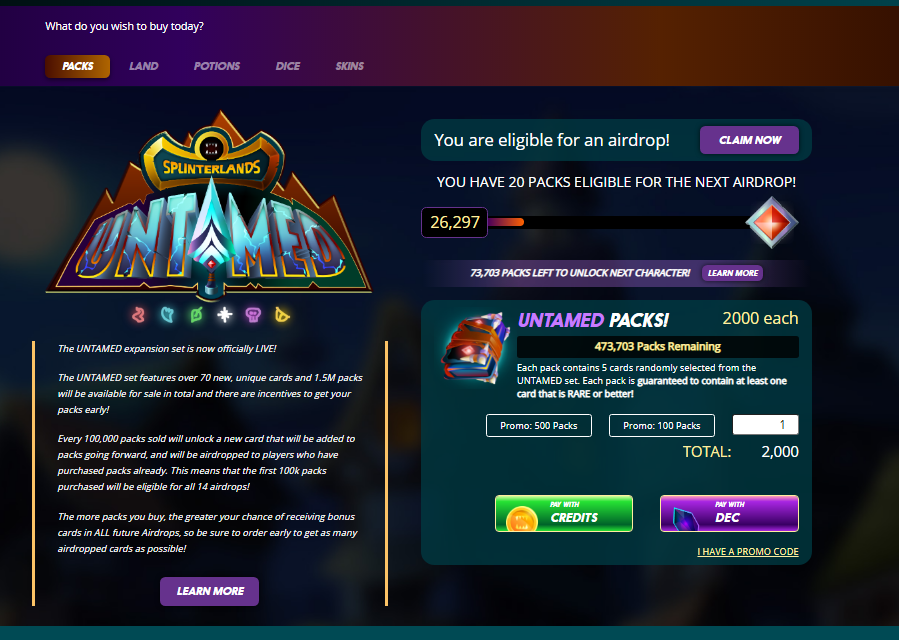 That sign is already well known to me, I hope in the next one to have some luck, although the truth is that I did not buy envelopes, and less I get some in the quests, so I can not hope to find something at launch, but in this game I bought few envelopes, since I prefer to buy the specific card that I need in the market, experience has taught me that.

Ese letrero ya se me es muy conocido, espero en la próxima tener algo de suerte, aunque la verdad no compró sobres, y menos me sale alguno en los quest, así que no puedo aspirar encontrar algo en el lanzamiento, pero en este juego compró pocos sobres, ya que prefiero comprar la tarjeta especifica que necesite en el mercado, la experiencia me ha enseñado eso.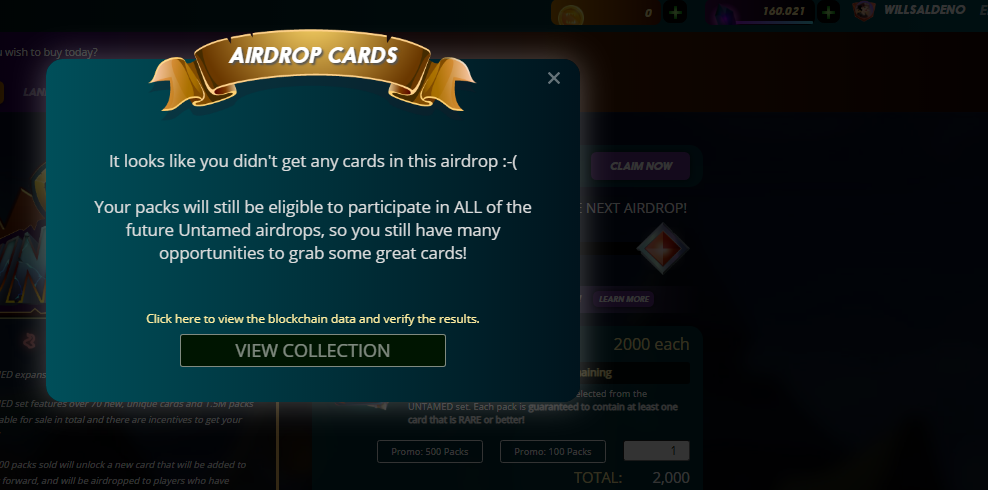 This is where the lyrics go for today, I invite you to continue looking a little more of this world in the next publication, I hope it will be tomorrow, or later, maybe the voice will be seen or will let you see something about games, so if you liked it What is being done for you here, do not hesitate to support the work with something positive, below I invite you to:

Hasta aquí llegan las letras por hoy, les invito a seguir mirando un poco más de este mundo en la siguiente publicación, espero sea mañana, o más tarde, quizás la voz verse o o deje ver algo sobre juegos, así que si te ha gustado lo que se hace para ustedes aquí, no dudes en apoyar el trabajo con algo positivo, allí abajo te invito a: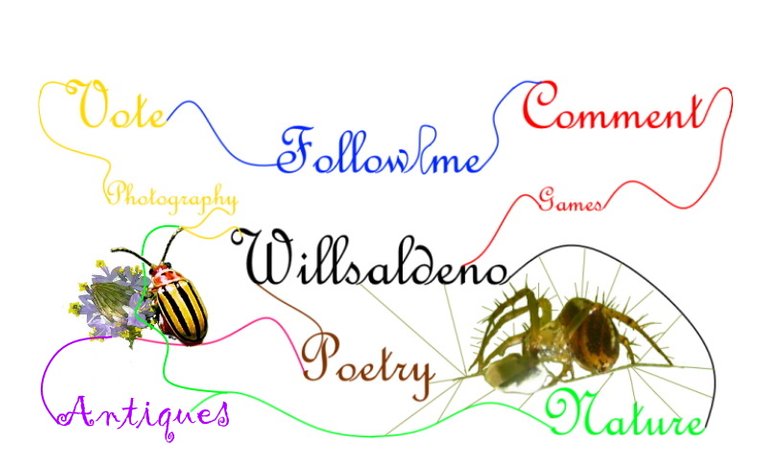 Nota-Note
Bilingüe: Que utiliza dos lenguas al mismo nivel o se hace en dos lenguas
Bilingual: That uses two languages ??at the same level or is done in two languages.
The graphics are true copies in a screenshot taken from each site (you can go to each site and verify, leave the links there) The other images for dividers and backgrounds of the game are screenshots, with alterations to adapt for my publication , is a collage made with the Paint.net v4.2 program. 14, the separator is also a collage, especially to use in publications that deal with Leofinance, it is how I look through my mind, how an original separator should look for this site, the collage is a type of art that is made with cuts, pieces, pieces, different styles and strokes that lead to having something original from the perspective of a person as an artist, leaving the id its original touch. We thank the creators of the images taken, they recognize the copyright of their piece, but I make the collage, as support material for the publication. Some images are screenshots of the different sites, which are taken as support material and promote the ecosystem, to try to achieve growth for all, the copyright is also recognized in them. Excuse the redundancy, but note that if a collage is made, this protocol must be followed to avoid future inconveniences.

Los gráficos son copias fieles en un capture de pantalla tomado de cada sitio (puedes dirigirte a cada sitio y verificar, allí deje los link) Las otras imágenes para separadores y fondos del juego son captures de pantalla, con alteraciones para a adecuar para mi publicación, es un collage realizado con el programa Paint.net v4.2. 14, el separador es también un collage, especialmente para usar en publicaciones que traten sobre Leofinance, es como yo miro a través de mi mente, como debe quedar un separador original para este sitio, el collage es un tipo de arte que se realizan con recortes, trozos, pedazos, estilos diferentes y trazos que lleve a tener algo original desde la perspectiva de una persona como artista, dejando el ello su toque original. Damos las gracias a los creadores de las imágenes tomadas, se le reconoce el derecho de autor, de su trozo, pero realizo el collage, como material de apoyo para la publicación. Algunas imágenes son capturas de pantallas de los diferentes sitios las cueles se toman como material de apoyo y promover el ecosistema , para tratar de lograr un crecimiento para todos, igual se les reconoce a todos ellos el derecho de autor en las mismas. Disculpen la redundancia, pero note que si se realiza un collage, se debe cumplir con este protocolo para evitar inconvenientes a futuro.



Posted Using LeoFinance Beta