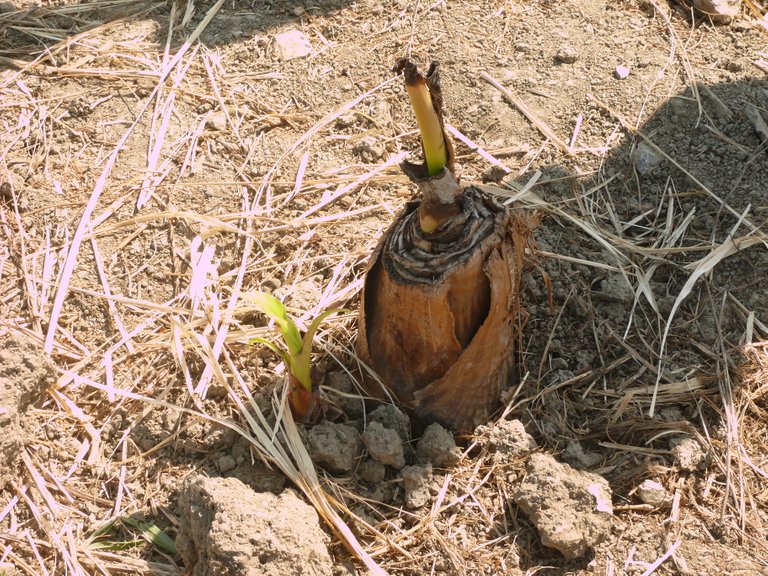 Greetings my dear Earthlings. I have already started the project in its first stage: where it is about making the plot or plot of land productive, I planted about 200 banana plants in advance and I am at work to install the hose system that carries water to the site, I have already invested A good amount of time in working hours, with the increase in the price of the Hive, I decided to invest a little more and hire a crew of workers, to help me and thus perform more, also because the excess of physical work has caused me some problems health, but I continue working at a fast pace, since I need the water to be able to irrigate and having it start with other crops: grains, cassava and chives. Although my main idea is to have a good banana plantation, I must grow other crops to help a little in the natural and monetary balance, produce something to invest more money, at least to pay the workers. Look down there at that hose, it's 3 inches and I just bought it for $ 40 plus $ 10 they charged me to transport it. It is second, hand or used, since new it has a value of $ 157 and it is a lot of money, so I should have bought it that way.

Saludos mis estimados terrícolas. Ya arranque el proyecto en su primera etapa: donde se trata de hacer la parcela o lote de tierra productivo, sembré adelante unas 200 plantas de bananos y estoy en el trabajo para colocar el sistema de mangueras que lleve agua hasta el sitio, he invertido ya una buena de tiempo en horas de trabajo, con el aumento del precio del Hive, decidí invertir un poco más y contrate una cuadrilla de trabajadores, para que me ayuden y así rendir más, además porque el exceso de trabajo físico me ha causado algunos problemas de salud, pero sigo adelante trabajando a ritmo rápido, ya que necesito el agua para poder regar y al tenerla arrancar con otros cultivos: granos, yuca y cebollín. Ha pesar de que mi principal idea es tener una buena plantación de bananos, debo realizar otros cultivos para ayudar un poco en el equilibrio tanto natural como monetario, producir algo para invertir más diner, al menos para pagar los obreros. Vean allí abajo esa manguera, es de 3 pulgadas y la acabo de comprar por $40 más $10 que me cobraron por transportarla. Es de segunda, mano o usada, ya que nueva tiene un valor de $157 y es mucho dinero, así que debí comprarla así.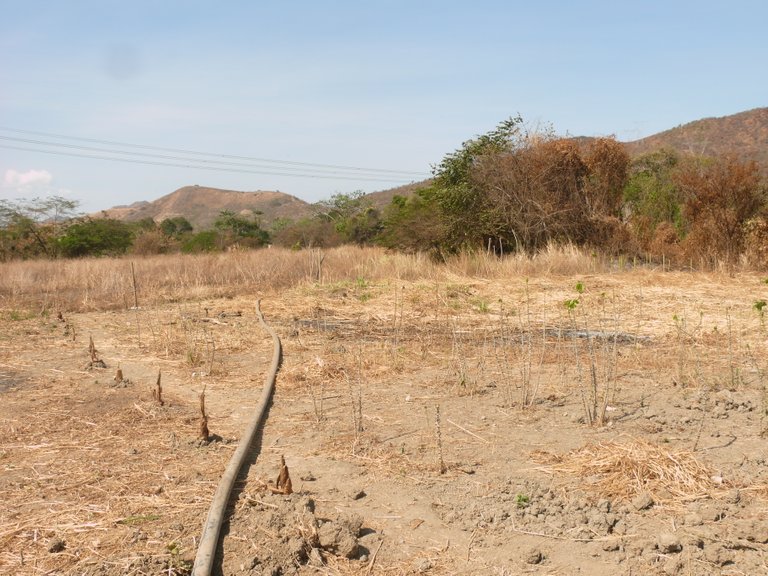 This is only the value of a single rust, because we used for most of the sections, a system of hoses that were already there and we had to change from one side to the other, which deserved a lot of work, because they were put with machines and we had to take them out with a pick and shovel.

Esto es solo el valor de un solo royo, porque usamos para la mayoría de los tramos, un sistema de mangueras que ya estaban allí y debimos cambiar de un lado a otro, lo que amerito mucho trabajo, porque fueron metidas con maquinas y nosotros debimos sacarlas a pico y pala.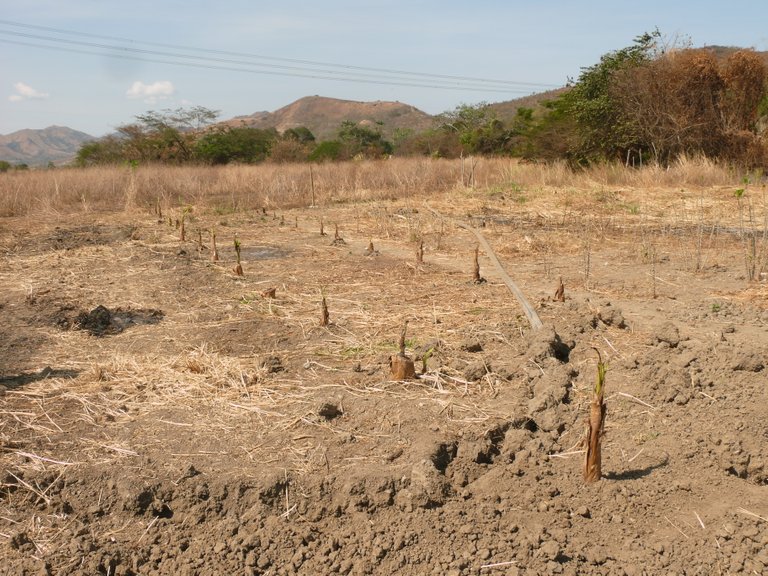 I have already reopened the road, we cut the weeds in about 150 meters of road and the vehicles already pass to the part where we are starting the crops, always from the back to the front, because we took advantage of the river, in case of something we watered to Manually tobos the bananas or bananas plants, as they are better known in other countries. It is a great job to water by carrying pipes from about 150 meters away, which is where there is a small well or puddle even with water, because we are in the middle of summer and as you can see here it is the hardest time without rain therefore the driest.

Ya abrí de nuevo la carretera, cortamos la maleza en unos 150 metros de carretera y ya pasan los vehículos hasta la parte donde estamos arrancando las siembras, siempre desde la parte de atrás para adelante, porque aprovechamos el río, en caso de algo regábamos a tobos de forma manual las plantas de cambures o bananos, como son más conocidos en otros países. Es un gran trabajo regar cargando tobos desde unos 150 metros de distancia, que es donde queda un pequeño pozo o charco aun con agua, porque estamos en pleno verano y como ven aquí es la época más dura sin lluvias por tanto la más seca.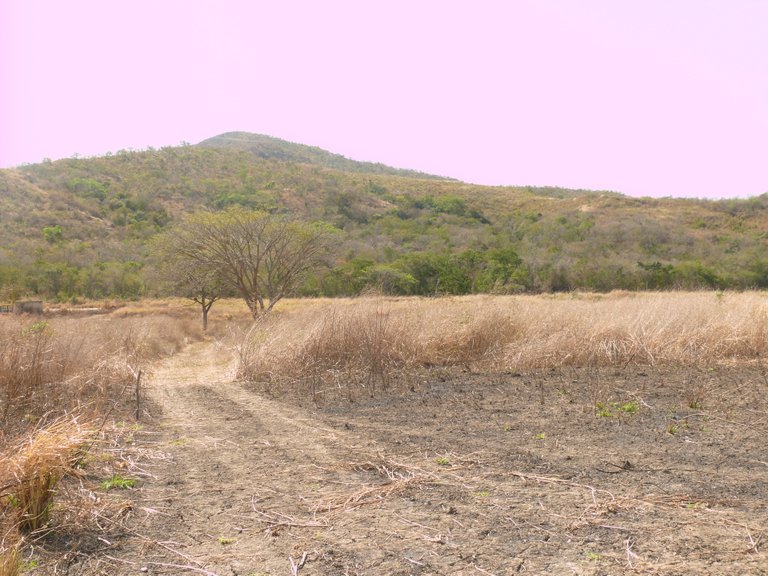 Our babies have already hit 85% and those that cost the most to lift are those that are very small, but we still maintain a high rate of effectiveness, despite the aforementioned things. We are starting with these types of perennial crops, which require irrigation, in summer, because we are already close to having the water supply from the communal well (as I have mentioned before). I am already close to achieving this goal.

Nuestros bebes ya han pegado en un 85% y los que cuestan más levantar son los que son muy pequeños, pero igual mantenemos un alto índice de efectividad, a pesar de las cosas antes mencionadas. Estamos comenzando con éstos tipos de cultivos perennes, que requieren de riego, en verano, porque ya estamos cerca de tener el suministro de agua del pozo comunal (como he mencionado ya antes) Ya estoy a poco de lograr esta meta.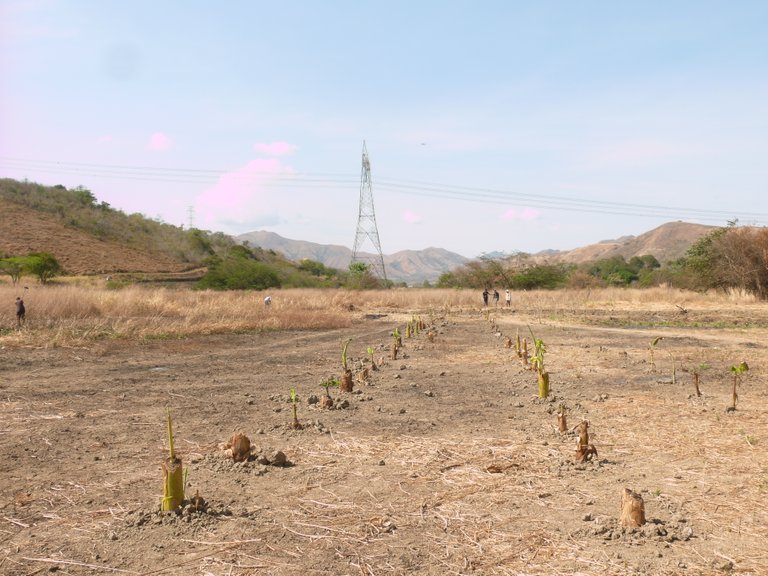 I put myself under the little shade that the big tree of Caro gives, where we always sit, as you can see in the remains of its branches, he is naked, with few leaves, because the sun is increasing, although with some watering of our partly, some leaves have started to sprout. In the distance you can see part of the group that I have working, most of them are known, but this is a great step that Hive and Leofinance, who are my main source of income in the ecosystem, are helping not only me, my family If not, also with this system that it carried out to other people, who in the face of this difficult country situation, I have been able to offer them a part-time job and for tasks, of course, I can only use this way, because I still do not have the necessary conditions to cover Full times or the payments of a company, although I have already explained that to them and they have accepted the agreement, I also explained that I pay them, but that as my project is different from what they know, than what is harvested , I will share part with them, of course it is not a commitment, I do it because I want to and this is based on creating a self-sustaining cycle or ecosystem for which we participate, not only for me and my family. Thanks to all of you, those who in one way or another support me, I try to go further, although I could stay as I was before, just writing and trying to generate profit for me and my family here in the ecosystem, no, I dream of achieve something beyond, a dream that I have always had and that by being here, has become bigger and more visionary, I go step by step, but I always think that the first step is the most difficult and that I have already achieved it, so now I go forward, with more and more desire. In the field is the future, because we peasants are the food of a people.

Me puse bajo la poca sombra que da el gran árbol de Caro, donde siempre nos sentamos, como pueden ver en las sobras de sus ramas, él esta desnudo, con pocas hojas, porque el sol es incremente, aunque con algo de riego de nuestra parte, ha comenzado a brotar algunas hojas. Allá a lo lejos se ve parte del grupo que tengo trabajando, la mayoría son conocidos, pero esto es un gran paso que Hive y Leofinance que son mi principal fuente de ingresos en el ecosistema, me están ayudando no solo a mi, a mi familia, si no ya también con este sistema que he realizado a otras personas, que ante esta dura situación país, les he podido brindar un empleo de medio tiempo y por tareas, claro, solo puedo emplear así, porque aun no tengo las condiciones necesarias para cubrir tiempos completos ni los pagos de una empresa, aunque ya eso se los he explicado y ellos han aceptado el acuerdo, además les explique que yo les pago, pero que como mi proyecto es diferente a lo que ellos conocen, que de lo que se coseche, compartiré parte con ellos, claro no es un compromiso, lo hago porque yo quiero y esto se basa en crear un ciclo o ecosistema auto sustentable para los que participemos, no solo para mi y mi familia. Gracias a todos ustedes, los que de una u otra forma me apoya, trato de ir más allá, aunque podría quedarme como estaba antes, solo escribiendo y tratando de generar ganancia para mi y mi familia aquí en el ecosistema, no, yo sueño con lograr algo más allá, un sueño que siempre he tenido y que al estar aquí, se ha hecho cada vez más grande o más visionario, voy paso a paso, pero siempre pienso que el primer paso es el más difícil y ese ya lo logre, así que ahora voy adelante, cada vez con más ganas. En el campo esta el futuro, pues los campesinos somos el alimento de un pueblo.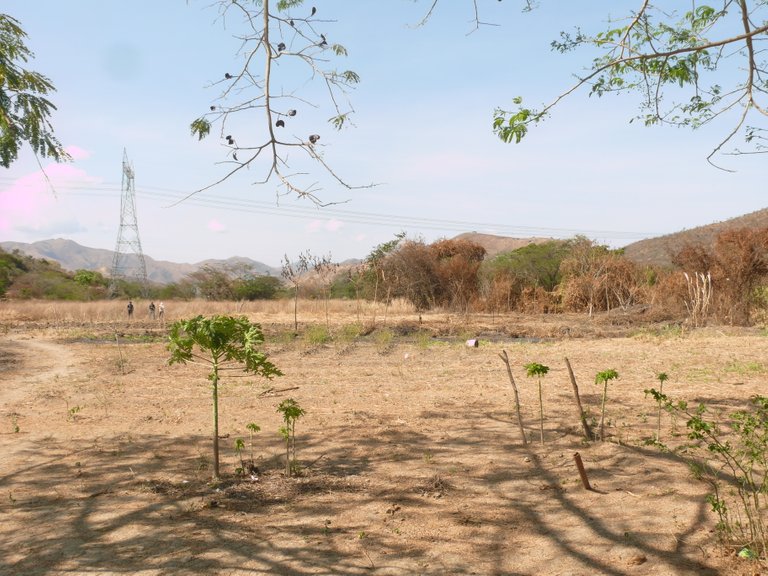 This is where the lyrics go for today, I invite you to continue looking a little more of this world in the next publication, I hope it will be tomorrow, or later, maybe the voice will be seen or will let you see something about games, so if you liked it What is being done for you here, do not hesitate to support the work with something positive, below I invite you to:

Hasta aquí llegan las letras por hoy, les invito a seguir mirando un poco más de este mundo en la siguiente publicación, espero sea mañana, o más tarde, quizás la voz verse o o deje ver algo sobre juegos, así que si te ha gustado lo que se hace para ustedes aquí, no dudes en apoyar el trabajo con algo positivo, allí abajo te invito a: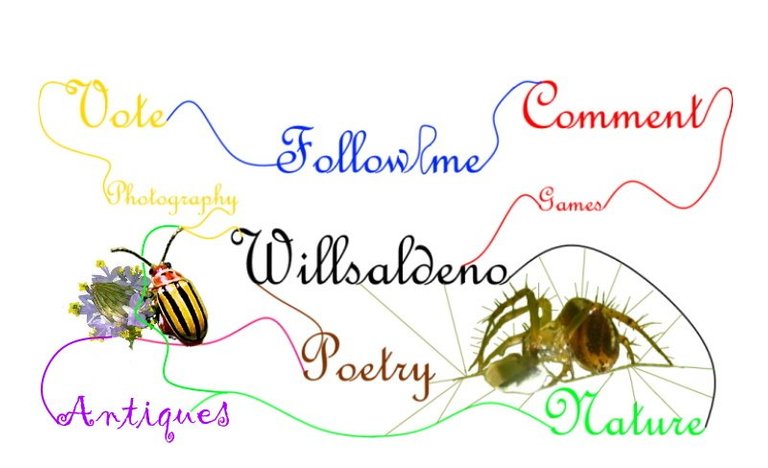 Nota-Note
Bilingüe: Que utiliza dos lenguas al mismo nivel o se hace en dos lenguas
Bilingual: That uses two languages ??at the same level or is done in two languages.
The graphics are true copies in a screenshot taken from each site (you can go to each site and verify, leave the links there) The other images for dividers and backgrounds of the game are screenshots, with alterations to adapt for my publication , is a collage made with the Paint.net v4.2 program. 14, the separator is also a collage, especially to use in publications that deal with Leofinance, it is how I look through my mind, how an original separator should look for this site, the collage is a type of art that is made with cuts, pieces, pieces, different styles and strokes that lead to having something original from the perspective of a person as an artist, leaving the id its original touch. We thank the creators of the images taken, they recognize the copyright of their piece, but I make the collage, as support material for the publication. Some images are screenshots of the different sites, which are taken as support material and promote the ecosystem, to try to achieve growth for all, the copyright is also recognized in them. Excuse the redundancy, but note that if a collage is made, this protocol must be followed to avoid future inconveniences.

Los gráficos son copias fieles en un capture de pantalla tomado de cada sitio (puedes dirigirte a cada sitio y verificar, allí deje los link) Las otras imágenes para separadores y fondos del juego son captures de pantalla, con alteraciones para a adecuar para mi publicación, es un collage realizado con el programa Paint.net v4.2. 14, el separador es también un collage, especialmente para usar en publicaciones que traten sobre Leofinance, es como yo miro a través de mi mente, como debe quedar un separador original para este sitio, el collage es un tipo de arte que se realizan con recortes, trozos, pedazos, estilos diferentes y trazos que lleve a tener algo original desde la perspectiva de una persona como artista, dejando el ello su toque original. Damos las gracias a los creadores de las imágenes tomadas, se le reconoce el derecho de autor, de su trozo, pero realizo el collage, como material de apoyo para la publicación. Algunas imágenes son capturas de pantallas de los diferentes sitios las cueles se toman como material de apoyo y promover el ecosistema , para tratar de lograr un crecimiento para todos, igual se les reconoce a todos ellos el derecho de autor en las mismas. Disculpen la redundancia, pero note que si se realiza un collage, se debe cumplir con este protocolo para evitar inconvenientes a futuro.

https://images.hive.blog/0x0/http://l.wigflip.com/ud30FFtu/screedbot.g!
Posted Using LeoFinance Beta