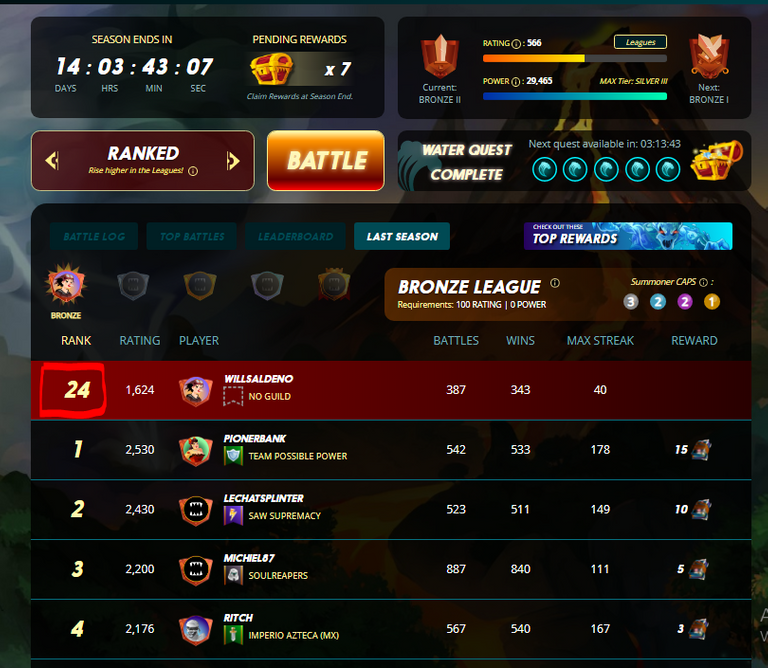 Greetings earthlings. I have been ranked 24th in the Bronze League in Splinterlands this season that just passed. I have been investing in the game, because I seek to diversify, since I think that this provides a greater opportunity to secure a little capital and, in addition, it is growing little by little, I almost always invest in games, since it is one of the issues that I drive better and, the truth is, what has led me to grow a little more.

Saludos terrícolas. He quedado en el puesto 24 del rank de la liga bronce de Splinterlands, en esta temporada que acaba de pasar. He estado invirtiendo en el juego, porque busco diversificarme, ya que pienso que esto brinda mayor oportunidad de asegurar un poco el capital y, además se va creciendo poco a poco, yo casi siempre invierto en juegos, ya que es uno de los temas que manejo mejor y, la verdad lo que me ha llevado a crecer un poco más.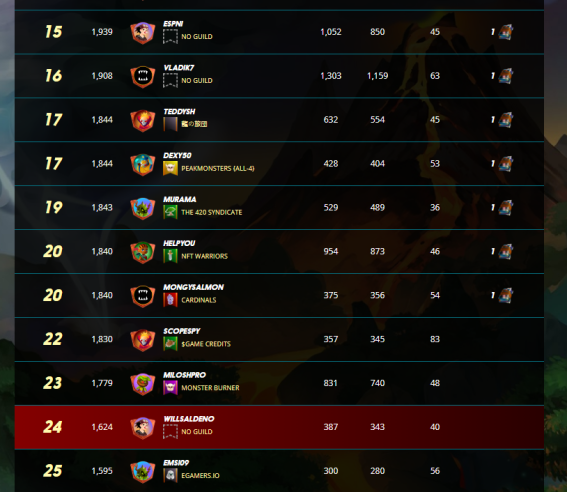 This game does not offer such an attractive ROI, unless you play many hours or are very lucky and you get a legendary gold card, in my way of seeing things, but what it has shown is stability and above all increase of prices on their cards as time passes and more if the circulation of a card disappears, it almost always rises in price, of course we must take into account the benefits offered by each card, but most end up rising, if I had capital In the beginning of this game, a lot of money was won, the truth is, at that time I identified some cards in which you could invest and all ended up increasing 10 and even 15 times their value, in a few years, and perhaps much more. Those cards you look at there were some of the ones I earned in my end-of-season reward. I really like the NIGHTMARE card, it is new, it has just come out and the truth is that I have not tried it yet, but I took it to level 3 so that it is optimal for the level where I should use it.

Este juego no brinda un gran ROI tan atractivo, al menos que juegues muchas horas o tengas mucha suerte y que te salga alguna tarjeta de oro legendaria, en mi modo de ver las cosas, pero lo que si ha demostrado es estabilidad y sobre todo aumento de precios en sus tarjetas a medida que pasa el tiempo y más si desaparece el tiraje de una tarjeta, casi siempre sube de precio, claro debemos tomar en cuenta los beneficios que ofrece cada tarjeta, pero la mayoría terminan subiendo, si yo fuera tenido capital en el principio de este juego, fuera ganado muchísimo dinero, la verdad, en aquel tiempo identifique algunas tarjetas en las que se podía invertir y todas terminaron aumentando 10 y hasta 15 veces su valor, en unos años, y quizás mucho más. Esas tarjetas que miras allí, fueron algunas de las que gane en mi recompensa de final de temporada. La tarjeta NIGHTMARE me gusta mucho, es nueva, acaba de salir y la verdad aun no la he probado, pero yo la lleve ya al nivel 3 para que este optima para el nivel donde la debo usar.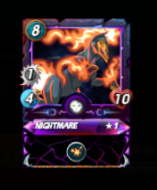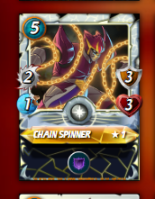 Those DEC is what I produced this season finale, just by selling 1 card and what I take out in the chests, it is a game to invest and recover in the long term, but we already know its stability, which offers some long-term confidence

esos DEC es lo que produje este final de temporada, solo al vender 1 tarjeta y lo que saque en los cofres, es un juego para invertir y recuperar a largo plazo, pero ya sabemos su estabilidad, lo que ofrece algo de confianza a largo plazo.


I have got a pack in the rewards and down there I show what has come out in it, I have rarely been lucky, but I always open them instead of selling the closed pack in the market, I opened it by tying up a good card (very small opportunity, but there is) the truth did not come out of the other world, but I came out better than many other players, that summoner of water is one of the best there is, I like it a lot and it is the one I use.

Me ha salido en las recompensas un pack y allí abajo muestro lo que ha salido en él, pocas veces he tenido suerte, pero siempre los abro en vez de vender el pack cerrado en el mercado, lo abrí ligando sacar alguna buena tarjeta (muy reducida oportunidad, pero la hay) las verdad no salió nada del otro mundo, pero salí mejor que muchos otros jugadores, ese invocador de agua es de los mejores que hay, a mi me gusta mucho y es el que uso.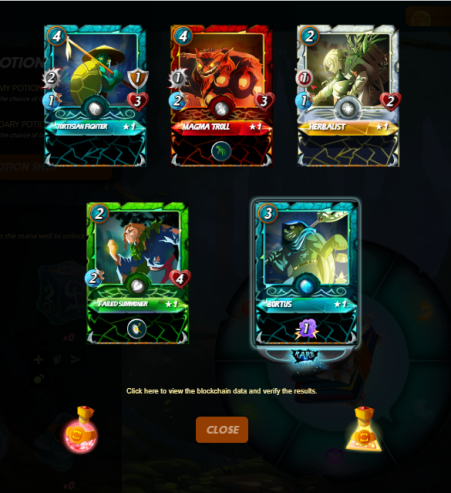 My strategy for always in this game has been to buy cards that I consider to be at a low price for their good function (I invested some time ago in more than 500 Wood Nymphs and I hope one day they will rise a lot) there I will leave them for a long time, The price that I achieve that time I consider it good and something tells me that the future will be very good, if I had capital, the truth is I would buy about 10 thousand and I keep them there for a while, while their amount is reduced with that time.

Mi estrategia desde siempre en este juego ha sido comprar tarjetas que considere que están a bajo precio para su buena función (yo invertí hace un tiempo en más de 500 Ninfas de Madera y espero algún día suban mucho) allí las dejaré por un buen tiempo, el precio que logre aquella vez lo considero bueno y algo me dice que ha futuro será muy bueno, si tuviera capital, la verdad comprara unas 10 mil y las guardo allí por un tiempo, mientras se reducen su cantidad con ese tiempo.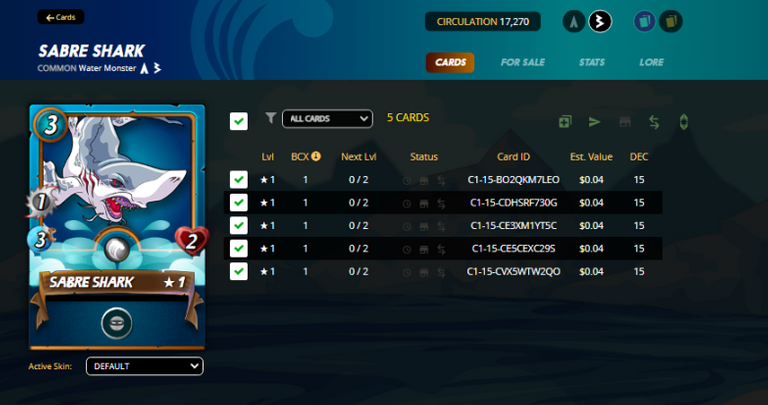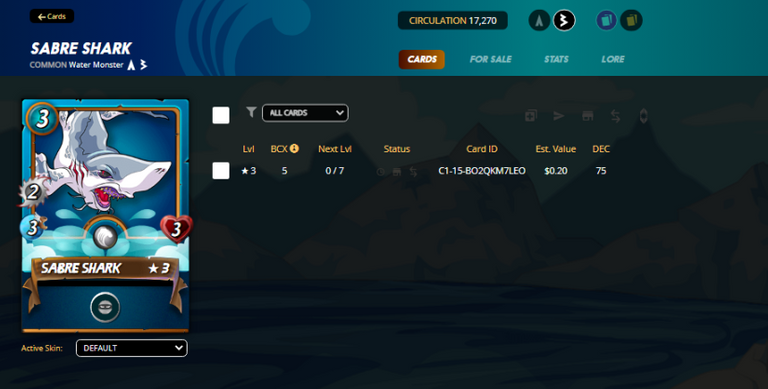 See how I have been investing, not only what I win in the game, but also broken capital from another side to the game and yes, if a good card comes out, I will surely sell it and invest only half, ara do the same and rotate the remaining capital to where you think best.

Vean como he estado invirtiendo, no solo lo que gano dentro del juego, si no que roto capital de otro lado a el juego y eso sí, si llega a salir alguna buena tarjeta, con toda seguridad la vendo e invierto solo la mitad, ara hacer lo mismo y rotar el capital restante a donde crea mejor.


And we close with what my account is worth so far, take the image of the Spliterlands discord channel, where is the bot that shows the approximate value, there
sm_voter-hut My strategy is luck, that's the truth, the only way to recover that capital is to be very lucky and in one of those, get a legendary golden card to come out and, if it is one of the most difficult, I could recover 100% or something else in a single stroke of luck, the rest will take a long time to recover what I invested, of course, take into account that the cards can even increase in price in the future and will always have the possibility of being sold and taking out the capital.

Y cerramos con lo que vale mi cuenta hasta el momento, tome la imagen del canal de discord de Spliterlands, donde esta el bot que muestra el valor aproximado, allí
sm_voter-hut Mi estrategia es la suerte, esa es la verdad, la única forma de recuperar ese capital es tener mucha suerte y en alguna de esas, lograr que salga una tarjeta legendaria dorada y, si es de las más difícil, podría recuperar el 100% o algo más en un solo golpe de suerte, del resto tardaré un buen tiempo en recuperar lo que invertí, claro, tomen en cuenta que las tarjetas hasta pueden aumentar de precio a futuro y siempre tendrán la posibilidad de venderse y sacar el capital.


This is where the lyrics go for today, I invite you to continue looking a little more of this world in the next publication, I hope it will be tomorrow, or later, maybe the voice will be seen or will let you see something about games, so if you liked it What is being done for you here, do not hesitate to support the work with something positive, below I invite you to:

Hasta aquí llegan las letras por hoy, les invito a seguir mirando un poco más de este mundo en la siguiente publicación, espero sea mañana, o más tarde, quizás la voz verse o o deje ver algo sobre juegos, así que si te ha gustado lo que se hace para ustedes aquí, no dudes en apoyar el trabajo con algo positivo, allí abajo te invito a: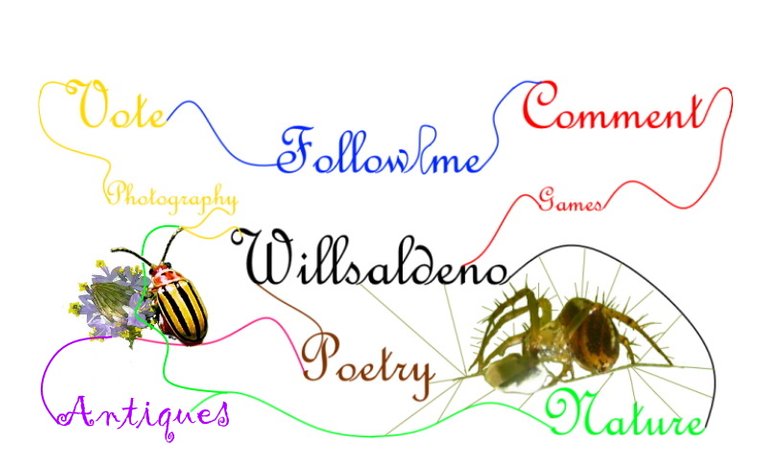 Nota-Note
Bilingüe: Que utiliza dos lenguas al mismo nivel o se hace en dos lenguas
Bilingual: That uses two languages ??at the same level or is done in two languages.
The graphics are true copies in a screenshot taken from each site (you can go to each site and verify, leave the links there) The other images for dividers and backgrounds of the game are screenshots, with alterations to adapt for my publication , is a collage made with the Paint.net v4.2 program. 14, the separator is also a collage, especially to use in publications that deal with Leofinance, it is how I look through my mind, how an original separator should look for this site, the collage is a type of art that is made with cuts, pieces, pieces, different styles and strokes that lead to having something original from the perspective of a person as an artist, leaving the id its original touch. We thank the creators of the images taken, they recognize the copyright of their piece, but I make the collage, as support material for the publication. Some images are screenshots of the different sites, which are taken as support material and promote the ecosystem, to try to achieve growth for all, the copyright is also recognized in them. Excuse the redundancy, but note that if a collage is made, this protocol must be followed to avoid future inconveniences.

Los gráficos son copias fieles en un capture de pantalla tomado de cada sitio (puedes dirigirte a cada sitio y verificar, allí deje los link) Las otras imágenes para separadores y fondos del juego son captures de pantalla, con alteraciones para a adecuar para mi publicación, es un collage realizado con el programa Paint.net v4.2. 14, el separador es también un collage, especialmente para usar en publicaciones que traten sobre Leofinance, es como yo miro a través de mi mente, como debe quedar un separador original para este sitio, el collage es un tipo de arte que se realizan con recortes, trozos, pedazos, estilos diferentes y trazos que lleve a tener algo original desde la perspectiva de una persona como artista, dejando el ello su toque original. Damos las gracias a los creadores de las imágenes tomadas, se le reconoce el derecho de autor, de su trozo, pero realizo el collage, como material de apoyo para la publicación. Algunas imágenes son capturas de pantallas de los diferentes sitios las cueles se toman como material de apoyo y promover el ecosistema , para tratar de lograr un crecimiento para todos, igual se les reconoce a todos ellos el derecho de autor en las mismas. Disculpen la redundancia, pero note que si se realiza un collage, se debe cumplir con este protocolo para evitar inconvenientes a futuro.


Although it goes without saying, but I must do it: I am not an investment specialist, here I only show my finances and show my strategies to earn money little by little and thus grow a little more every day, if you take my words into account, you remain at your own risk.
Aunque esta de más decirlo, pero debo hacerlo: yo no soy especialista en inversiones, aquí solo muestro mis finanzas y muestro mis estrategias para ir ganado alfo poco a poco y así crecer un poco más cada día, si tomas en cuenta mis palabras, quedas bajo tu propio riesgo.
Posted Using LeoFinance Beta