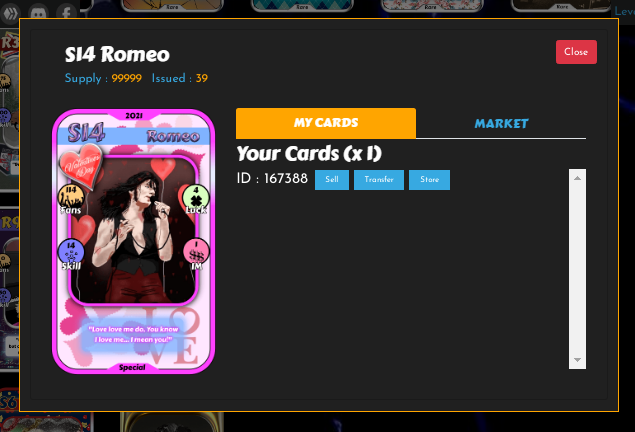 Greetings earthlings. Yes again I, today I show you these game cards
Rinsingstar the first is the singer S14 Romeo, the singer of love, in this month of love and friendship, well why deny it, I am one of the few We are romantics, old-fashioned and, yes I believe in love, hahaha, I love my wife Karla, so in one of my favorite games I bought this singer Romeo to dedicate one of his songs to my beloved. This card is needed to do the special mission for the special month of love, so as soon as they put one on the market I bought it for 2e hives (price that I consider cheap) that card is very difficult to come out, and it has already paid off, since I found an S15 Love Machine in those missions, it is not easy at all, it took a few missions to find this special edition, so they are sold for a good price (they will be few, due to the difficulty) so in the market later In some days, only two such cards appear for sale.

Saludos terrícolas. Sí de nuevo yo, hoy les muestro éstas tarjetas del juego
Rinsingstar la primera es el cantante S14 Romeo, el cantante al amor, en este mes del amor y la amistad, bueno porque negarlo, yo soy uno de los pocos románticos que quedamos, chapado a la antigua y, sí creo en el amor, jajaja, amo a mi esposa Karla, así que en uno de mis juegos favoritos compré a este cantante Romeo para dedicarle una de sus canciones a mi amada. Esta tarjeta se necesita para hacer la misión especial por el mes especial del amor, así que apenas pusieron una en el mercado la compré por 2e hives (precio que considero barato) esa tarjeta es muy difícil que salga, y ya ha rendido sus frutos, ya que encontré una S15 Love Machine en esas misiones, no es para nada fácil, tarde unas cuantas misiones para poder encontrar esta edición especial, así que se venden por un buen precio (serán pocos, por la dificultad) así que en el mercado después de algunos días, apenas aparecen dos tarjetas de esa en venta.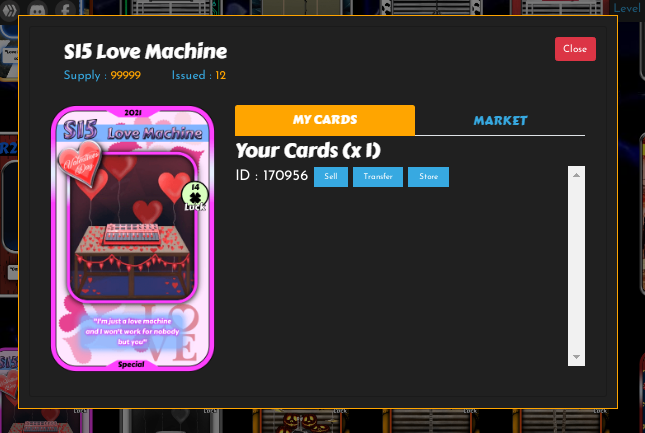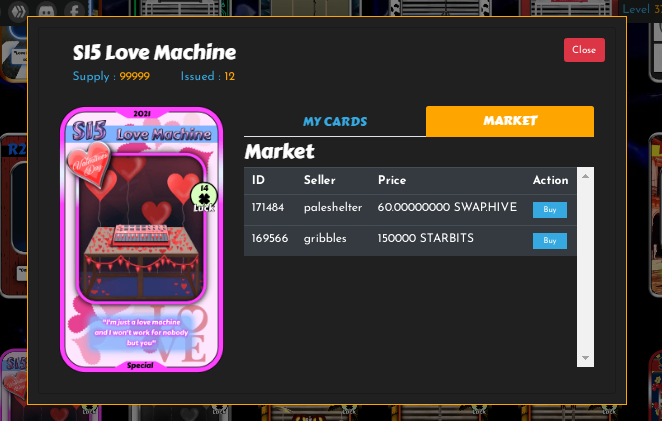 One of these cards, as you can see, can be sold for about 60 Hives, so I have already recovered and by much what I have invested and also I will continue doing that mission in search of more cards, and see if I find the other one that I am missing, because They have taken two different ones for this mission, that other one is called, S16 Heart Beater, you can see it below, and I still don't have it.

Una de éstas tarjetas, como ven se puede vender por unos 60 Hives, así que ya he recuperado y por mucho lo que he invertido y además seguiré haciendo esa misión en busca de más tarjetas, y a ver si encuentro la otra que me falta, porque han sacado dos distintas para esta misión, esa otra se llama, S16Heart Beater, abajo la pueden ver, y aún no la tengo.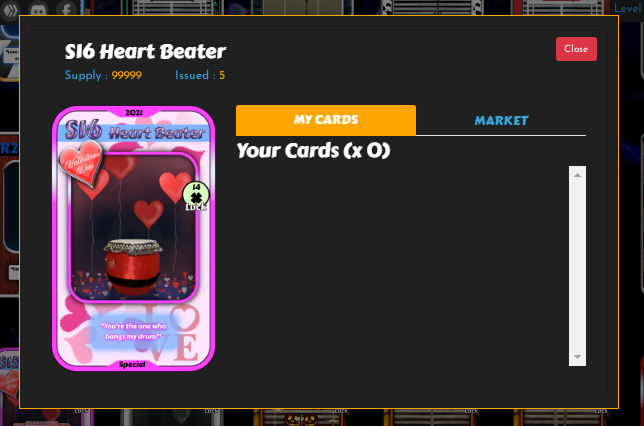 In the game I have invested about 1000 hives, although the truth is I do not keep an exact note of the amount, but most cards have increased in value, so the capital has already increased, but I also produce between 40 thousand to 30 thousand Starbits, depending the time I spend doing missions, which translates to about 14 hives per day, something good for the amount invested, I consider it a good ROi, be careful, although it goes without saying, I am not an investment expert, so it remains whether or not to invest in the game, but at least I am happy with what I win in one of the games that I like the most, of course it is about music and despite not being a musician, I am a collector of music in LP formats, acetate or vinyl, I love RPM: 33, 45 and 78. The sound of this format and old and classic technology is pleasant to my ear.

En el juego he invertido unos 1000 hives, aunque la verdad no llevo nota exactas de la cantidad, pero la mayoría de tarjetas han aumentado de valor, así que ya el capital a aumentado, pero además produzco entre 40 mil a 30 mil Starbits, dependiendo el tiempo que dedique ha hacer misiones, lo que se traduce a unos 14 hives por día, algo bueno para la cantidad invertida, lo considero un buen ROi, ojo, aunque esta de más decirlo, yo no soy experto en inversiones, así que queda de tu parte invertir o no en el juego, pero al menos yo estoy contento con lo que gano en uno de los juegos que más me gustan, claro trata de música y a pesar de no ser músico, soy un coleccionista de música en formatos LP, acetato o vinil, amo las RPM: 33, 45 y 78. El sonido de este formato y tecnología antigua y clásica, es agradable a mi oído.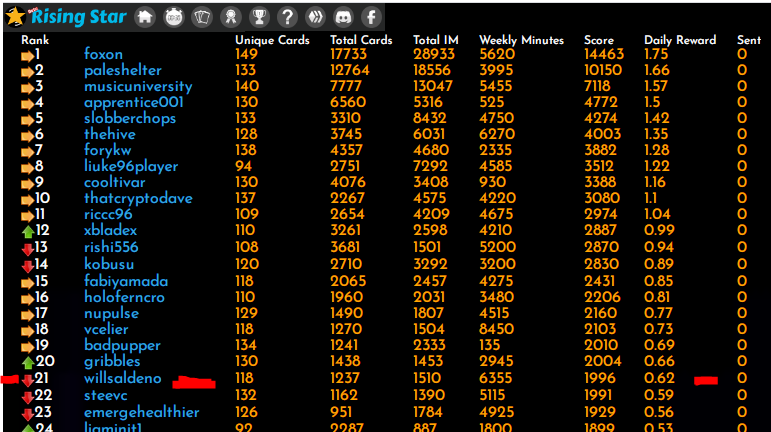 For no one is a secret that I move what I earn from one place to another and then come back and I am, it is the only way for me to try to grow and, thanks to LEO and Rinsingstar game, like other sites in the ecosystem I was able to buy the spare parts from that turntable, and while I write for Leofinance and do my missions in Risingstar, I listen to some records from my collection, haha, I really enjoy being able to see and hear this music player in perfect condition, the money I have taken from here and for I thank all those who have supported me in one way or another, excellent to be able to recover something for posterity, because as you already know, we do not take anything with us when we leave this world and, there it will be left for others to enjoy, so It should be seen from that point of view, when we recover an object that is part of our historical memory, we collaborate with future generations, that is the beauty of this, that is why I consider it so important, to be an antiquarian and collection ist.

Para nadie es un secreto que muevo lo que gano de un lado a otro y luego regreso y así estoy, es la única forma para mi de tratar de crecer y, gracias a LEO y Rinsingstar game, como otros sitios del ecosistema pude comprar los repuestos de ese tocadiscos, y mientras escribo para Leofinance y hago mis misiones en Risingstar, escucho algunos discos de mi colección, jaja, la verdad disfruto poder ver y escuchar este aparato reproductor de música en perfecto estado, el dinero lo he sacado de aquí y por eso doy gracias a todos los que me han apoyado de una u otra forma, excelente poder recuperar algo para la posteridad, porque como ya saben nosotros no nos llevamos nada cuando partimos de este mundo y, allí quedará para que otros lo disfruten, así que se debe ver desde ese punto de vista, cuando recuperamos un objeto que es parte de nuestra menoría histórica, colaboramos con las generaciones futuras, eso es lo bonito de esto, por eso lo considero tan importante, ser un anticuario y coleccionista.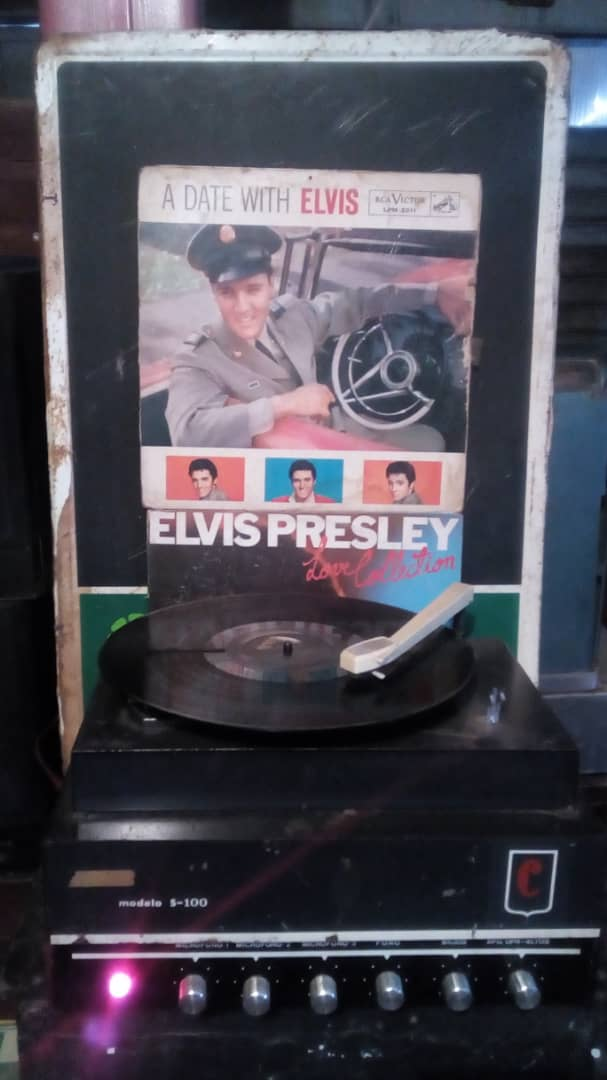 In the rank of the game I win o.62 Swap Hive, for now, another way to generate some profit, I have fallen a few places but I hope to recover a little soon. I was thinking that in that moving the little capital from one place to another, I have not been able to put some LEOs, and the truth I would like, but for now the capital is very little and, here everything increases a lot in price, inflation is already such that the prices of things go up even in dollars from one week to the next, it is a matter of the little national production and this great crisis where they led us to make many bad decisions, it has nothing to do with this ecosystem, but with my finances, maintaining a large family is becoming more and more difficult here which has reduced what I can invest by increasing the costs of basic necessities, some day when this happens, I want to invest as much of what I produce in LEOs, although the truth as we all know in the beginning is always where the best opportunity is, because I believe that at any moment the LEO could shoot up and take a price higher than the dollar and be careful if it does not double it, since we see how this community grows every day to.

En el rank del juego gano o.62 Swap Hive, por ahora, otra forma de generar algo de ganancia, he caído unos puestos paro espero recuperar un poco pronto. estuve pensando que en ese mover el poco capital de un lado a otro, no he podido meter algunos LEO, y la verdad me gustaría, pero por ahora el capital es muy poco y, aquí todo aumenta mucho de precio, ya es tal la inflación que suben los precios de las cosas hasta en dólares de una semana para otra, es cuestión de la poca producción nacional y esta gran crisis a donde nos llevaron al tomar muchas malas decisiones, no tiene nada que ver con este ecosistema, pero si con mis finanzas, mantener una gran familia se hace cada vez más difícil acá lo que me ha reducido lo que puedo invertir al aumentar los gastos productos de primera necesidad, algún día cuando esto pase, quiero invertir la mayor cantidad de lo que produzco en LEOs, aunque la verdad como todos sabemos en el comienzo siempre es donde esta la mejor oportunidad, pues creo que en cualquier momento el LEO se pudiera disparar y tomar un precio superior al dólar y cuidado si no lo doble, ya que vemos como crece esta comunidad cada día.

This is where the lyrics go for today, I invite you to continue looking a little more of this world in the next publication, I hope it will be tomorrow, or later, maybe the voice will be seen or will let you see something about games, so if you liked it What is being done for you here, do not hesitate to support the work with something positive, below I invite you to:

Hasta aquí llegan las letras por hoy, les invito a seguir mirando un poco más de este mundo en la siguiente publicación, espero sea mañana, o más tarde, quizás la voz verse o o deje ver algo sobre juegos, así que si te ha gustado lo que se hace para ustedes aquí, no dudes en apoyar el trabajo con algo positivo, allí abajo te invito a: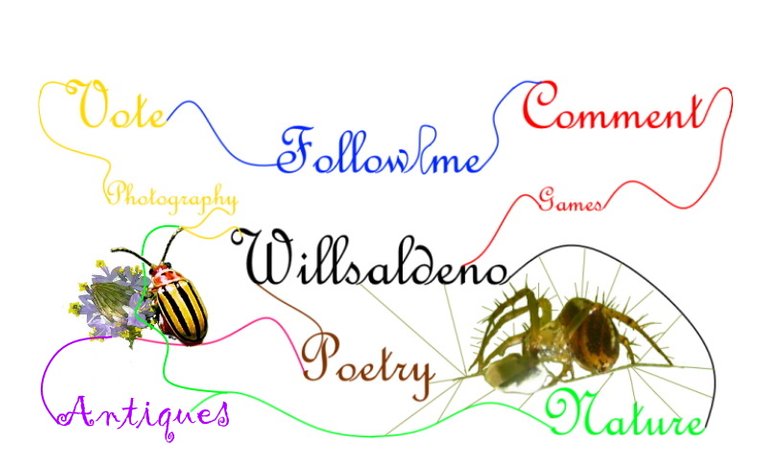 Camera-Cámara: Alcatel PIXI 4
Nota-Note
Bilingüe: Que utiliza dos lenguas al mismo nivel o se hace en dos lenguas
Bilingual: That uses two languages ??at the same level or is done in two languages.
The graphics are true copies in a screenshot taken from each site (you can go to each site and verify, leave the links there) The other images for dividers and backgrounds of the game are screenshots, with alterations to adapt for my publication , is a collage made with the Paint.net v4.2 program. 14, the separator is also a collage, especially to use in publications that deal with Leofinance, it is how I look through my mind, how an original separator should look for this site, the collage is a type of art that is made with cuts, pieces, pieces, different styles and strokes that lead to having something original from the perspective of a person as an artist, leaving the id its original touch. We thank the creators of the images taken, they recognize the copyright of their piece, but I make the collage, as support material for the publication. Some images are screenshots of the different sites, which are taken as support material and promote the ecosystem, to try to achieve growth for all, the copyright is also recognized in them. Excuse the redundancy, but note that if a collage is made, this protocol must be followed to avoid future inconveniences.

Los gráficos son copias fieles en un capture de pantalla tomado de cada sitio (puedes dirigirte a cada sitio y verificar, allí deje los link) Las otras imágenes para separadores y fondos del juego son captures de pantalla, con alteraciones para a adecuar para mi publicación, es un collage realizado con el programa Paint.net v4.2. 14, el separador es también un collage, especialmente para usar en publicaciones que traten sobre Leofinance, es como yo miro a través de mi mente, como debe quedar un separador original para este sitio, el collage es un tipo de arte que se realizan con recortes, trozos, pedazos, estilos diferentes y trazos que lleve a tener algo original desde la perspectiva de una persona como artista, dejando el ello su toque original. Damos las gracias a los creadores de las imágenes tomadas, se le reconoce el derecho de autor, de su trozo, pero realizo el collage, como material de apoyo para la publicación. Algunas imágenes son capturas de pantallas de los diferentes sitios las cueles se toman como material de apoyo y promover el ecosistema , para tratar de lograr un crecimiento para todos, igual se les reconoce a todos ellos el derecho de autor en las mismas. Disculpen la redundancia, pero note que si se realiza un collage, se debe cumplir con este protocolo para evitar inconvenientes a futuro.



Posted Using LeoFinance Beta