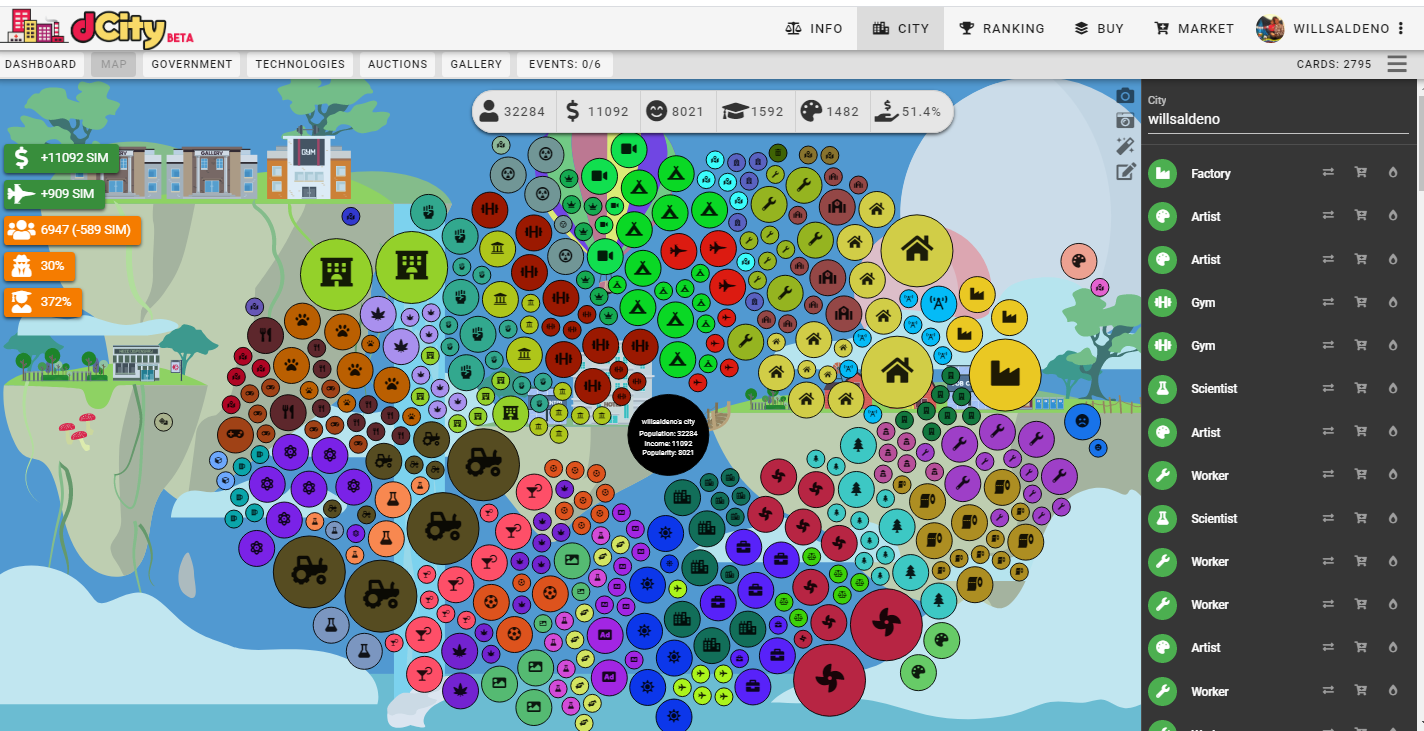 Greetings earthlings. I have continued to invest in dCity, despite the drop in the price of
SIM There you can see the prices in the market. I bet to buy things that according to my analysis will go up when this situation happens, surely when the third edition comes out and those high taxes of 51% that have created a stampede go down, but I still believe in dCity and I know that only those with capital Buy a good amount of cards of those that are in great quantity of offer and the little performance and that reduction of SIM will take effect, the price will go up and taxes will go down, although I think this is a kind of lesson for us to see. which can cause a tax imbalance, I reckon the game is attractive, still up to 38% tax, from then on it creates this stampede.

Saludos terrícolas. He seguido invirtiendo en dCity, a pesar de la caída del precio del
SIMAllí puedes ver los precios en el mercado. Yo apuesto a comprar cosas que según mi análisis subirán al pasar esta situación, de seguro cuando salga la tercera edición y bajen esos altos impuestos de 51% que han creado una estampida, pero yo sigo creyendo en dCity y se que apenas los que tienen capital compren una buena cantidad de tarjetas de esas que hay en gran cantidad de oferta y el poco rendimiento y esa reducción de SIM hagan su efecto, va a subir el precio y bajarán los impuestos, aunque creo que esto es na especie de lección para que veamos que puede causar un desequilibrio en los impuestos, yo calculo que el juego es atractivo, todavía hasta un 38% de impuestos, de allí en adelante, crea esta estampida.


You can see in the images, as I continue to invest, those images I took in the chat
dCity discord you can go there to consult or consult my movement the Hive Engine explorer

Pueden observan en las imágenes, como yo sigo invirtiendo, esas imagenes las tome en el chat
discord de dCity puedes ir allá a consultar o consulta mi movimiento el explorador de Hive Engine


The truth is, I believe that
@gerber
, owner of the game, should analyze what we are going through and make forecasts for the future, the truth is that I think they should implement more things where to burn SIM or stake, the main thing about this problem is that the The game has been stagnant without offering new things where SIM holders spend or invest, especially some new cards, the third edition, I think it has taken too long and people are bored and looking for where to invest their money to diversify, and they are taking Much more than they put in, if it offers new and attractive things, we will surely all invest more in dCity again.

La verdad creo que
@gerber
, dueño del juego, debe analizar esto por lo que estamos pasando y tomar previsiones para futuro, la verdad yo creo que deben implementar más cosas en donde quemar SIM o hacer stake, lo principal de este problema es que el juego ha estado estancado sin ofrecer nuevas cosas en donde los tenedores de SIM gasten o inviertan, sobre todo algunas nuevas tarjetas, la tercera edición, creo que ha tardado demasiado y la gente se aburre y busca donde invertir su dinero para diversificar, y están sacando mucho más de lo que meten, si ofrece cosas nuevas y atractivas, de seguro todos invertiremos más de nuevo en dCity.


I have bought things that in a normal situation I would not buy: Basic, social. The truth is, I prefer cards that produce SIM, I will not deny it, but at this moment I thought that with the low price of the basic ones, it will be the only way to recover something and get something positive out of a bad situation, because I know that this is because what we are going through in dCity, will make that they finally have to release that third edition of cards, and the first edition will disappear, so citizens, raise the price, and I know that the normal price of a basic is, between 0.8 to 1 Swap Hive, so at a price of 0.390 Swap Hive, they are a temptation for me, if they go up at least to their normal price when leaving the game, the price could at least go to normal. not? go up to 1 Hive.

He comprado cosas que en una situación normal no compraría: Basic, social. la verdad prefiero tarjetas que produzcan SIM, no lo voy a negar, pero, en este momento pensé que con el bajo precio de las basic, será la única forma der recuperar algo y sacar algo positivo de una mala situación, porque se que esto por lo que estamos pasando en dCity, hará que deban sacar, por fin esa tercera edición de tarjetas, y va a desaparecer la primera edición, así que los ciudadanos, podrían subir de precio, y se que el precio normal de una basic es de, entre 0.8 a 1 Swap Hive, así que a un precio de 0.390 Swap Hive, son una tentación para mi, si suben al menos a su precio normal al dejar de salir en el juego, se podría ir el precio al menos al normal ¿Y por qué no? subir a 1 Hive.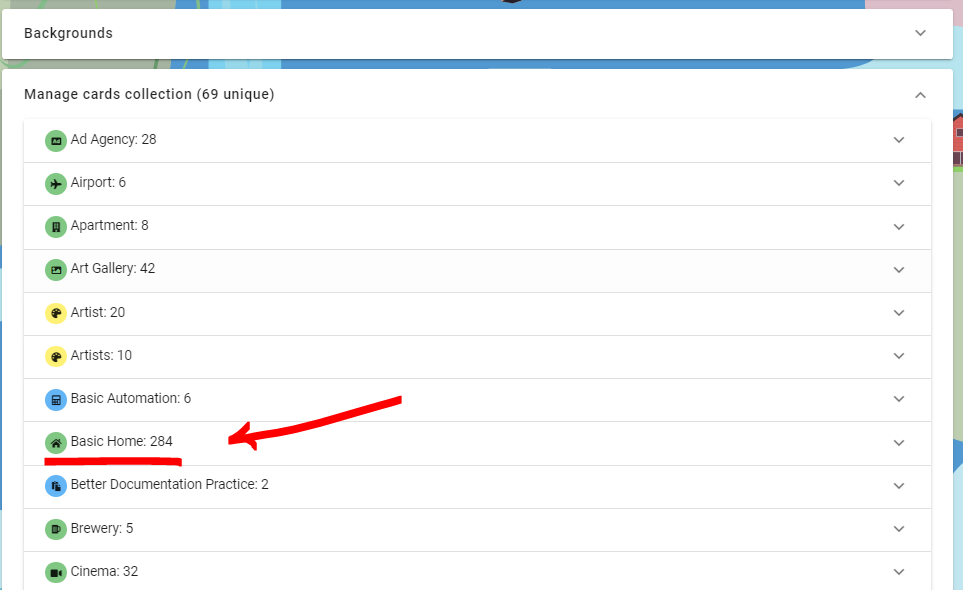 There you can see how my basic amount increases and reaches 284, although I am losing 550 SIM, due to having unemployed overcrowding, there is another thing to take into account, I am trying to keep the position 100 and, go up there after a good while much lower Thus, earn some liquid Hives instead of SIM and that encourages me a little more to buy that card. I still believe in dCity and I know the price is going to pick up soon, for sure in a week or two, but for the great rewards and benefits it has brought, it would be foolish not to hold out a bit in bad times, as I watch many run and They sell their cards at low prices, I will not do that, I will bet on the recovery and if I had capital, they would surely see me rise a lot in the rank, taking advantage of this situation.

Allí pueden ver como aumente mi cantidad de basic y llegue a 284, aunque estoy perdiendo 550 SIM, por tener sobrepoblación desempleados, hay otra cosa a tomar en cuenta, busco mantener el puesto 100 y, subir allí después de un buen rato mucho más abajo, así ganar unos Hives líquidos, en vez de SIM y eso me anima un poco más a comprar ese de tarjeta. Sigo creyendo en dCity y se que se va a recuperar el precio pronto, de seguro en una semana o dos, pero para las grandes recompensas y beneficio que ha brindado, sería tonto no aguantar un poco en tiempos malos, pues miro a muchos correr y venden sus tarjetas a bajos precios, eso no lo haré yo, apostaré a la recuperación y si tuviera capital, de seguro me vieran subir mucho en el rank, aprovechando esta coyontura.

Nota-Note
Bilingüe: Que utiliza dos lenguas al mismo nivel o se hace en dos lenguas
Bilingual: That uses two languages ??at the same level or is done in two languages.
The graphics are true copies in a screenshot taken from each site (you can go to each site and verify, leave the links there) The other images for dividers and backgrounds of the game are screenshots, with alterations to adapt for my publication , is a collage made with the Paint.net v4.2 program. 14, the separator is also a collage, especially to use in publications that deal with Leofinance, it is how I look through my mind, how an original separator should look for this site, the collage is a type of art that is made with cuts, pieces, pieces, different styles and strokes that lead to having something original from the perspective of a person as an artist, leaving the id its original touch. We thank the creators of the images taken, they recognize the copyright of their piece, but I make the collage, as support material for the publication. Some images are screenshots of the different sites, which are taken as support material and promote the ecosystem, to try to achieve growth for all, the copyright is also recognized in them. Excuse the redundancy, but note that if a collage is made, this protocol must be followed to avoid future inconveniences.

Los gráficos son copias fieles en un capture de pantalla tomado de cada sitio (puedes dirigirte a cada sitio y verificar, allí deje los link) Las otras imágenes para separadores y fondos del juego son captures de pantalla, con alteraciones para a adecuar para mi publicación, es un collage realizado con el programa Paint.net v4.2. 14, el separador es también un collage, especialmente para usar en publicaciones que traten sobre Leofinance, es como yo miro a través de mi mente, como debe quedar un separador original para este sitio, el collage es un tipo de arte que se realizan con recortes, trozos, pedazos, estilos diferentes y trazos que lleve a tener algo original desde la perspectiva de una persona como artista, dejando el ello su toque original. Damos las gracias a los creadores de las imágenes tomadas, se le reconoce el derecho de autor, de su trozo, pero realizo el collage, como material de apoyo para la publicación. Algunas imágenes son capturas de pantallas de los diferentes sitios las cueles se toman como material de apoyo y promover el ecosistema , para tratar de lograr un crecimiento para todos, igual se les reconoce a todos ellos el derecho de autor en las mismas. Disculpen la redundancia, pero note que si se realiza un collage, se debe cumplir con este protocolo para evitar inconvenientes a futuro.



Posted Using LeoFinance Beta