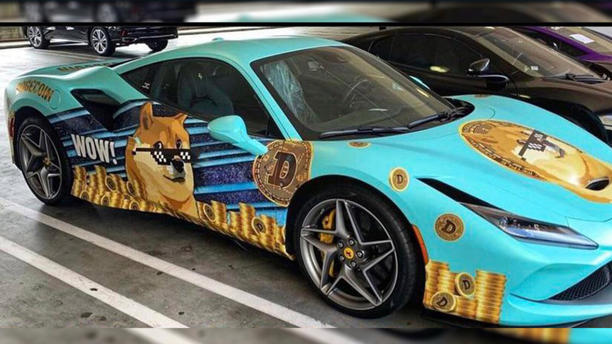 One of the most transcendent car factories in the world is Ferrari, its exclusive, powerful and technological vehicles have been and continue to be the object of admiration and why not say it, also envy and desire.
The Italian brand has been characterized by having two symbols that stand out and differentiate it from other vehicles with similar characteristics, the "Prancing Horse" logo and the red color of its bodywork. It should be mentioned that both one and the other have had variations throughout their history, there have even been vehicles painted in other colors, but the identification, the distinctive, is red; Regarding the black horse rearing up on a yellow shield with the Italian flag at the top, the changes have always been minimal, but its presence in various parts of the vehicle, undeniable.
Ferrari is very jealous of the appearance of its vehicles, it does not look favorably on modifications that change the appearance of the cars designed on its design boards and embodied in its factory in Maranello. In fact, it is known that he has sued several owners of different models precisely for introducing changes that, according to them, undermine the values ​​and distinctive characteristics of such exclusive vehicles.
And these days a curiously plotted Ferrari has been seen taking advantage of the Bitcoin 2021 fair that took place in Miami, an F8 Tributo could be seen, a super sports car with a central engine that delivers 720 horsepower, painted in light blue and with several golden images of the famous Shiba Inu dog among stacks of coins simulating the currently fashionable DogeCoin. This rather particular and enigmatic disguise did not fail to attract attention, mainly in those unfamiliar with cryptocurrencies.
It has emerged that Ferrari is preparing a lawsuit for the friendly owner of such a beautiful and expensive vehicle. Judging by others raised in the past, the jurisprudence would indicate that anyone who dared to change the external appearance of the exclusive Ferrari must return it to its original condition and perhaps also pay some type of compensation.
Will Ferrari accept being paid with Dogecoin?

Una de las fábricas de automóviles más trascendentes del mundo es Ferrari, sus exclusivos, poderosos y tecnológicos vehículos han sido y siguen siendo objeto de admiración y porque no decirlo, también envidia y deseo.
La marca italiana se ha caracterizado por poseer dos símbolos que la destacan y la diferencian de otros vehículos de características similares, el logo del "Cavallino Rampante" y el color rojo de su carrocería. Hay que mencionar que tanto uno como el otro han tenido variaciones a lo largo de su historia, inclusive ha habido vehículos pintados de otros colores, pero el identificatorio, el distintivo, es el rojo; respecto al caballo negro encabritado sobre un escudo color amarillo con la bandera italiana en la parte superior los cambios siempre han sido mínimos pero su presencia en varias partes del vehículo, inclaudicable.
Ferrari es muy celosa del aspecto de sus vehículos, no ve con buenos ojos modificaciones que cambien el aspecto de los automóviles pergeñados en sus tableros de diseño y plasmados en su fábrica en Maranello. De hecho, se sabe que ha demandado a varios propietarios de diferentes modelos justamente por introducir cambios que atentan, según ellos, contra los valores y las características distintivas de tan exclusivos vehículos.
Y por estos días se ha visto una Ferrari ploteada de forma curiosa aprovechando la feria Bitcoin 2021 que se realizó en Miami, se pudo ver un F8 Tributo, un super deportivo con motor central que eroga 720 caballos de fuerza, pintado de color celeste y con varias imágenes doradas del famoso perro Shiba Inu entre pilas de monedas simulando a la actualmente de moda DogeCoin. No dejó de llamar la atención este disfraz bastante particular y enigmático, fundamentalmente en aquellos no familiarizados con las criptomonedas.
Ha trascendido que Ferrari está preparando una demanda para el simpático propietario de tan bello y caro vehículo. A juzgar por otras planteadas en el pasado, la jurisprudencia indicaría que aquel que osó cambiar el aspecto exterior de la exclusiva Ferrari deberá devolverla a su estado original y quizás también pagar algún tipo de indemnización.
¿Ferrari aceptará que le paguen con Dogecoin?
Las fotografías son de mi propiedad excepto las que menciono la fuente.
The photographs are my property except those mentioned by the source.
Héctor Gugliermo
@hosgug
Posted Using LeoFinance Beta