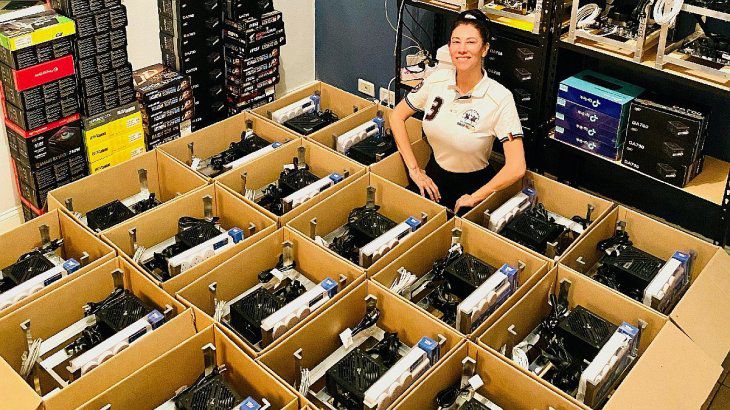 Since the restrictions and even persecutions that the Chinese government is carrying out on companies and individuals dedicated to mining bitcoin and other cryptographic currencies have tightened, miners are moving their facilities to other countries where they can develop their work normally.
Of course, the cost of energy and the infrastructure necessary to set up these large data centers is a factor that makes these companies think a lot since they need to save as much as possible on these issues to maximize the profit that the business intends and needs to.
In Latin America, there is great expectation and even competition to attract some of these specific companies and a ranking of "most convenient" countries has even been drawn up.
In that ranking, Venezuela appears in the first place, although I particularly have serious doubts about that rating since we all know that energy services have suffered and are suffering a huge divestment and flight of qualified employees and managers due to the serious economic and political problems that For several years it has plagued the country and has caused the largest emigration in the last century with more than five million people.
The next on the list of convenience is Paraguay since it has good services and infrastructure and excess energy available, on the other hand, the cost of electricity is very acceptable.
The next is Argentina, here it touches me closely because it is my country and I know it a lot, for now, both the electric power and the Internet work correctly and the infrastructure is available, my only concern and I think that anyone who is looking at this country to decide the location of your mining company is to elucidate if this will be maintained. I remember towards the middle of the last decade with a government of the same political sign and even with many of the current characters, keeping energy rates frozen caused a divestment in the electricity sector that caused a summer with enormous difficulties and many power cuts due to faults in the old equipment. At this time, electric power once again has high subsidies from the state, so its cost is very low. To conclude, I want to clarify that a large part of the energy generated in the country comes from hydroelectric plants and some nuclear plants, clean energy such as wind power, for example, is only just beginning.
Fourth, El Salvador is mentioned, a country that has recently made bitcoin legal tender, according to specialists, this small Central American country could supply electricity through the use of geothermal, important news for those who are looking for better use of resources.
We will see if some of the large cryptocurrency miners decide to settle in any of these countries, I honestly doubt that I know, not at least the big ones. I will stay tuned for updates on this.

Desde que han recrudecido las restricciones y hasta persecuciones que el gobierno de China está realizando sobre las empresas y particulares dedicados a la minería de bitcoin y otras monedas criptográficas, los mineros están mudando sus instalaciones a otros países donde puedan desarrollar su trabajo con normalidad.
Por supuesto que el costo de la energía y de la infraestructura necesaria como para armar esos grandes centros de cómputos es un factor que hace pensar mucho a estas empresas ya que necesitan ahorrar todo lo posible en esas cuestiones para maximizar el beneficio que ese negocio pretende y necesita.
En Latinoamérica hay una gran expectativa y hasta competencia por lograr atraer a algunas de esas empresas específicas y hasta se ha confeccionado un ranking de países "más convenientes".
En ese ranking Venezuela figura en primer lugar, aunque yo particularmente tengo serias dudas sobre esa calificación ya que todos sabemos que los servicios energéticos han sufrido y están sufriendo una enorme desinversión y fuga de empleados y directivos calificados debido a los graves problemas económicos y políticos que desde hace varios años asola al país y que ha provocado la mayor emigración del último siglo con más de cinco millones de personas.
El siguiente en el listado de conveniencia es Paraguay ya que tiene buenos servicios e infraestructura y exceso de energía disponible, por otra parte, el costo de la electricidad es muy aceptable.
El siguiente es Argentina, aquí me toca de cerca porque es mi país y lo conozco bastante, por ahora tanto la energía eléctrica como la Internet funcionan de manera correcta y la infraestructura está disponible, mi única preocupación y creo que cualquiera que esté mirando a este país para decidir la localización de su empresa de minería es dilucidar si esto se mantendrá. Recuerdo hacia mediados de la década pasada con un gobierno del mismo signo político y hasta con muchos de los personajes actuales, el mantener las tarifas energéticas congeladas provocó una desinversión en el sector de la electricidad que provocó un verano con enormes dificultades y muchos cortes de energía por fallas en el vetusto equipamiento. En estos momentos la energía eléctrica vuelve a tener altos subsidios por parte del estado por lo que su costo es muy bajo. Para finalizar, quiero aclarar que gran parte de la energía que se genera en el país proviene de centrales hidroeléctricas y algunas nucleares, la energía limpia como la eólica por ejemplo, recién está en sus comienzos.
En cuarto lugar, se menciona a El Salvador, país que recientemente ha puesto al bitcoin como moneda de curso legal, según especialistas, este pequeño país centroamericano podría abastecer energía eléctrica mediante el uso de la geotérmica, una noticia importante para aquellos que están buscando un mejor aprovechamiento de los recursos.
Veremos si algunos de los grandes mineros de criptomonedas deciden instalarse en alguno de estos países, sinceramente dudo que así se, no al menos los grandes. Me mantendré atento a novedades sobre esto.
Las fotografías son de mi propiedad excepto las que menciono la fuente.
The photographs are my property except those mentioned by the source.
Héctor Gugliermo
@hosgug
Posted Using LeoFinance Beta